Inglenook Estate. While not Napa Valley's oldest winery, it is certainly arguably the valley's grandest. It is what a wine estate should look and feel like with its visually stunning exterior, while collecting layers of history and depth of stories over its 140+ years.
Originally founded as Inglenook, the physical property been referred to by several names throughout its history including Rubicon Estate and Niebaum-Coppola. After decades of using these interim names, the property was finally changed back to Inglenook in 2011 after owner, Francis Ford Coppola was able to purchase the trademark rights to the Inglenook name from the previous owner, The Wine Group. And the 2009 and 2010 vintages were called Inglenook, labeled as such after the name acquisition because they were not yet bottled.
Today the winery bills itself as "America's Grand Wine Estate"; it is easy to see why this storied winery is one of Napa Valley's most venerable estate properties and is among some of the most picturesque wineries in the valley. The estate was among the first Bordeaux-styled wineries in the USA and was created in the early 1870s by William Watson (son-in-law of George Yount – namesake of Yountville). Incidentally, Yount was the first one in the Napa Valley to plant grapes in the winter of 1838/1839). Watson decided on the name Inglenook based on his heritage and feel for the property. An inglenook is a chimney corner – historically a recess set next to a chimney where people would gather seeking warmth – a 'cozy corner', if you will.
Watson planted the first ever grape vines on the property in the early 1870s – approximately 40 acres of vines. After several years, he sold the property to Judge S. Clinton Hastings, founder of the University of California Hastings Law School at UC Berkeley. During these times the property was referred to as the Nook Farm. He did not own the property for very long before selling it in 1879 to Helsinki, Finland born businessman Gustave Niebaum (who had Americanized his name from Nybom in 1873). According to a July 10, 1885, mention in the Napa Register, Hastings was building a wine cellar in Rutherford. Gustave was a partner in Alaska Commercial Co (a company that remarkably in some form is still in business today) and was extremely financially successful from the sale of fur seal pelts through a 20-year lease from the US government operating a seal fishery on the very remote Pribilof Islands (located north of the Aleutian Islands).
After purchasing his property in Rutherford Napa Valley, Niebaum hired several architects to build a winery including Hamden McIntyre who was in part responsible for the Greystone building (currently occupied by the Culinary Institute of America) and Eschol Winery, (now owned by Trefethen Family Vineyards). Hamden was the Howard Backen of the times; Howard is a well-respected contemporary architect responsible for some of Napa's most creative and innovative wineries.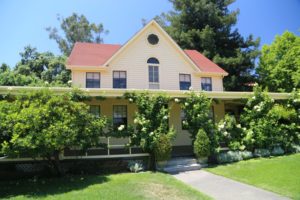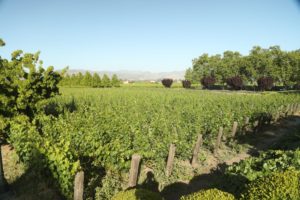 Niebaum oversaw the construction of the winery beginning in 1881; their first harvest was a year later. Over the years their wines won many prestigious wine tasting awards including gold medals at the World's Fair in Paris in 1889. In 1891 Inglenook wine was served at the White House to President Grover Cleveland. And before the dawn of the 1900s, Inglenook was producing some 30,000 cases of wine – quite large for any Napa winery at that time including shipping wines to Mexico.
It was common practice for wineries to deliver wines via railcar to the San Pablo Bay where casks of wine were shipped to San Francisco and were bottled at various locations at either restaurants or by wine brokers. What was unusual back then, Inglenook elected to bottle the wines on site (and vintage date them) and label them as from Napa Valley rather than relying on shipping casks of wine to buyers (basically bulk wines).
Most noteworthy was the 1941 vintage which in 1999 the Wine Spectator chose as one of the 12 greatest wines from anywhere in the world made between 1900 through 1999. This wine was among heady company including wines from Château Margaux, Château Mouton-Rothschild and Château d'Yquem.
The winery was closed during Prohibition (like nearly all wineries in the valley) and the grapes were sold to Beaulieu Vineyard for use in Sacramental wines – but reopened again in 1933 after the repeal with winemaker Carl Bundschu at the helm. Prohibition was repealed on December 5, 1933 – the day after Inglenook hosted a party for some 300 people. Bundschu later founded Bundschu Vineyards in Sonoma County and became very well known in the 1940s and 1950s under the direction of Niebaum's grandnephew John Daniel Jr. During the 1940s Daniel also acquired the iconic Napanook Vineyard in Yountville (today owned by Dominus).
Daniel was instrumental in elevating the quality of wines during his 25 years at Inglenook and is one of the most recognizable winemakers from this period. In the 1950s he built a small dirt runway to the north of the winery. He also flew a small open cockpit plane, and this dirt runway allowed him to fly directly onto his property. Today the runway is no more, and the old airstrip is completely covered in vines although John Daniel Jr's original hangar for the airstrip still stands nearby. A one-acre vineyard that sites at the foot of where the airstrip once was is simply called Runway Vineyard.
Daniel finally sold the winery and some of the vineyards in 1964 to United Vintners. While we were not around to experience the vibe of the valley after the sale, we have heard it was similar to how people felt post sale of Robert Mondavi – shocked and hurt. We can certainly relate based on much small and long-time family-owned producers who we developed a close affinity for – after they were sold.
By by the end of the 1960s the property was owned by Heublein Vintners. Philip Togni (who helped make wine for a number of iconic Napa wineries for several decades starting in the late 1950s) oversaw their 1966 vintage. The end of wine production in Napa Valley under the Inglenook brand occurred by 1989 – the brand was eventually sold in 1994 by Heublein to Canandaigua Wine Company (the company that became Constellation Brands) and the brand was sold again by Constellation to The Wine Group in 2008.
Film director and Napa Valley resident, Francis Ford Coppola and his wife Eleanor of the Godfather trilogy and Apocalypse Now fame, acquired a majority of the original Inglenook estate in 1975 (but not the brand name Inglenook). Coppola has long enjoyed wine (his grandfather used to make home wine in the basement of his New York apartment). Coppola bottled his first vintage in 1978, made in the small carriage house on site, a Cabernet Sauvignon based blend under the brand Rubicon. Early consulting or winemakers under Coppola's ownership included André Tchelistcheff, Steve Beresini and Tony Soter. And then in 1995, the Coppolas finally acquired the old chateau.
In 2002 Coppola purchased a neighboring property originally known as the JJ Cohn ranch (JJ Cohn was a contemporary of John Daniel and his good friend). JJ Cohn's grandson, photographer Brett Lopez then immediately purchased back a smaller section of this ranch from Coppola (with some Cabernet Sauvignon vines dating back to 1946) and began Scarecrow. The Scarecrow wines are sold through a coveted mailing/allocation list.
This is not the only winery he owns; Francis also still partially owns the very popular Francis Ford Coppola Winery in Geyserville in neighboring Sonoma County (complete with a pool, cabines available for rental, a restaurant, movie memorabilia and plenty of wine for visitors) and the nearby Virginia Dare Winery with its restaurant on site and limited mostly weekend hours. And Coppola also fully owns Domaine de Broglie in the Willamette Valley in Oregon. We have visited all four Francis Ford Coppola owned wineries – see below for more in-depth descriptions and photos of each of these properties.
In addition to Coppola's wineries, as of our latest update to this review, he also owns The Family Coppola Hideaways including the following six properties: Blancaneaux Lodge, Turtle Inn, Coral Cay (all in Belize), La Lancha in Guatemala, Palazzo Margherita in Italy and Jardin Escondido in Argentina. And Cafe Zoetrope in San Francisco.
Hospitality

The Inglenook chateau is elegant both inside and outside. A beautiful reflecting pool framed by stately oak trees in front attracts the attention of all visitors. Looking the opposite direction to the east – one overlooks a sea of vineyards.
Inglenook used to be open to the public; today all tastings or tours are by appointment only. As you pull into their driveway on the west side of Highway 29 (almost across from the Rutherford Cross Road and the great Beaulieu Vineyard) you will pass by two tall art ornaments – these were a gift to Francis Ford Coppola from George Lucas. Around dusk, the tops of these swivel down and turn into streetlights. A small carriage house is located next to a crushed stone parking lot to your right; this building, most recently served as a small visitor center and was originally built in 1879 for housing tanks for water storage. As of our latest update to this review, guests are emailed a QR code which one can simply display in front of the gate reader from your phone to open the gate or you may be provided a onetime printed bar code which you can scan on the gate reader and then proceed down the long driveway to the parking lot or the concierge may electronically open the gate for you.
Park in the shaded parking lot; note the miniature library located on one side of the lot. Guests can take and add books here at their leisure. From the parking lot it is a short walk to the grand old chateau; guests will pass one of the oldest structures still standing in all of Napa Valley, the Chiles House which dates from 1856. It was built by Joseph Chiles, an early California pioneer who settled in a part of Napa named after him, Chiles Valley where he operated Chiles Grist Mill. The home wasn't always in this location but was moved here many years ago; today it houses the offices of Inglenook's Human Resources department.
Before the appointment only policy was implemented, this used to be one of Napa's most well-loved wineries – often with crowds of people milling about on the grounds and inside the winery 'museum'. It is a different experience these days; one can walk the grounds in a much calmer and quieter setting. Several tasting/tour options are offered including the Heritage Tasting, the Inglenook Experience (a tour + tasting) and a few select private experiences including a coveted tasting of select vintages of their Rubicon wines. These are wines are all distinctive; during a recent flight of various Rubicon vintages, none of the wines tasted alike.
Visits to the tasting salon are like walking back to another era; the interior feels masculine and is surrounded by stone walls, dark wood paneling, somber lighting and well-dressed hosts in suits, a gentleman's opulence if you will. With that said, the mood is welcoming; during our several visits and tastings in this space, we have noticed groups always having a good time.
Highly recommended is the 60-minute estate tour and tasting which provides an excellent overview of the property's storied history. This tour typically starts with a splash of their proprietary white wine (Blancaneaux) in the 'bar' room next to the reception followed by a visit to some of the displays on the first-floor highlighting Gustave Niebaum and some of the early history of the property. Tours proceed to the courtyard and then up the hill to an overlook above rows of vines extending all the way up to the edges of the Mayacamas mountains. The prominent profile of Mount Saint John is also seen directly to the west as are some of the Coppola family homes including Francis and Eleanor's home – barely seen in the distance through the trees.
Over 400 olive trees grow on the property including numerous ones along the sides of this hilltop overlook. Inglenook produces their own Extra Virgin Olive Oil pressed from olives growing on the property. A very unique olive clone is their Redding Picholine – Inglenook is one of only two properties in the world to cultivate this clone. Olive trees originally planted by Gustave Niebaum have been restored and are again producing olives. And the estate has planted additional varieties (used in their own estate blend).
Tours stop in the old cask room which houses German oak casks brought over to the winery in the 1930s and assembled on site. These casks have not been used for decades but are a reminder of the type of wine making that helped produce some of the valley's top wines for many years. Tours also make a brief stop in the caves followed by a private group tasting in one of the small rooms between the reception and The Bistro.
Unlike some of the other grand historical estates in the Napa Valley, other than a small experimental cellar dug into the hillside in 1883, Inglenook never built caves. This changed in 2003 when Coppola oversaw the drilling of what is now 16,000 square feet of caves into the hillside directly behind the chateau. These tunnels were drilled by Nordby Construction and are now referred to as the Infinity cave and are used for aging barrels of wine.
Starting in 2018 Inglenook began construction of another larger production cave (also drilled by Nordby Construction); it was completed in 2022 with the permits issued to use the space for production given on September 1 of that year, the same day the first red grapes were harvested. This newer addition is 22,000 square feet and including the older cave the total interior space is approximately 38,000 square feet. This brings Inglenook into what we call the Caveman Club of Napa Valley, reserved for large caves, 30,000 square feet or more. This coveted list includes: includes Palmaz (nearly 110,00 square feet), Jarvis (45,000 square feet) Rutherford Hill (41,000 square feet), Far Niente (40,000 square feet), Stag's Leap Wine Cellars (38,000 square feet), Antinori Napa Valley (35,000 square feet) and Pine Ridge (32,000 square feet).
This cave is impressive and is one of the widest winery caves in Napa Valley. It is roughly in the shape of a baseball diamond with the center left undrilled for its structural integrity. Its shape is perhaps appealing to Coppola, given his love of baseball. He drove the excavator that broke through the remaining rock into their old cave.
The cave houses 120 different tanks, each one with its own dedicated pump, all are insulated and are remotely temperature controlled as needed. Even the larger tanks located near the main entrance are equipped with temperature controls. Initially they were going to be only used for blending but Associate Winemaker Chris Phelps suggested they be outfitted to serve a dual purpose if needed, including be available for fermentation. The tank sizes range from 1/2 a ton to 27 tons. Separate rooms within the cave include a space dedicated to several wine presses and another room which is temperature controlled and used for white wines including malolactic fermentation.
Inglenook does not own a bottling line; when needing to bottle (which is conducted for about 2 weeks every year), a mobile bottling truck rolls up to the entrance to the cave which is equipped with everything needing to transfer the wine to the truck.
Vineyards

All estate wines come from their organically farmed vineyards on site; they were among the first vineyards in Napa Valley to obtain their CCOF certification (in 1994). Inglenook farms approximately 235 acres of vines many of which are completely hidden from view of visitors to the winery. Approximately half their acreage is behind the winery to the west on coveted Rutherford bench land soils with the other half in front of the winery extending all the way to Highway 29. Total land under the Coppola's ownerships is 1,700 acres; the entire property is only about 14% planted to grapevines with much of the remaining land hillside forested land located in the Mayacamas mountains including to the top of Mount Saint John (personally measured after climbing to the top at 2,375 feet or 724 meters). One vineyard block is separated from the rest, located at about 1,600 feet and not seen from the winery.
Inglenook has become more judicious in the use of water in their vineyards, at one point reducing their total water footprint by about 70%. Today they use water sparingly and typically will not water until the start of veraison.
Their vineyards are categorized into approximately 120 different growing regions based on soils, microclimates, varieties and various vigor levels. A surprising number of varieties grow on the property (both reds and whites) including varieties not often found in today's contemporary Napa Valley. Some of these include Marsanne, Roussanne and Viognier. Inglenook used to grow, contract for and produce wines from a rather obscure varietal, Charbono but unfortunately these vines were pulled out in the mid 1980s. The first vintage of Inglenook Charbono was in 1941.
We have enjoyed several old Inglenook produced Charbono wines over the years dating from the 1960s and 1970s. Perhaps the easiest way to enjoy these old wines is a visit to Bern's Steakhouse in Tampa Florida, home to one of the largest restaurant wine collection in the U.S. including still a number of reasonably priced old inglenook Charbono wines.
Select wines
Approximately 22,000 cases of wine are produced each year under the Inglenook label and the Niebaum-Pennino brand. Production here is not to be confused with the Coppola labels which are produced in quantities of upwards of 2 million cases a year.
Rubicon
Inglenook's flagship wine is the Rubicon (first vintage 1978), a Bordeaux-style red blend named after the Rubicon River in northeastern Italy which was made famous by Julius Caesar who crossed it in 49 BC.
The 2019 Inglenook Rubicon is a blend of 81% Cabernet Sauvignon, 11% Merlot, 5% Cabernet Franc and 3% Petit Verdot. Grapes were harvested from more than 20 unique blocks on the estate. This wine is deep ruby in color; the aromas are elegant and include scents of red plum, cherry, currant and some dried herbs. The freshness on the bouquet continues onto the palate with flavors of red cherry and plum. The finish is bright and red-fruited, with a supporting light grainy texture of tannins and a lingering note of tobacco spice. This wine was aged in 75% new French oak barrels; the influence of the oak aging shows in the background on both the bouquet and the palate. This balanced bottling is built to age, rather than being built to impress by any sort of heavy structure and opulent ripeness. But it offers plenty of depth and layering.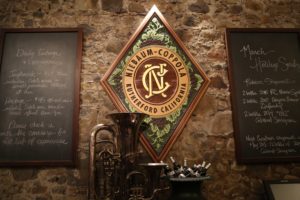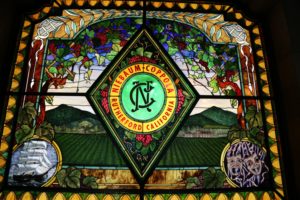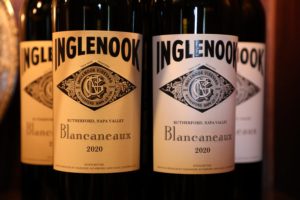 If we were to summarize the Inglenook wines in a single word, it would be freshness. Associate winemaker Chris Phelps and the winemaking team harvests for wines that make you salivate rather than pushing the envelope on ripeness. Inglenook typically picks the majority of their Cabernet Sauvignon in September (rather than October) and as Chris told us, "it is the magic of the site that enables us to do so". Chris spoke of the 2018 and 2019 vintages as being particularly generous.
The 2013 is the first and so far the only vintage of the Rubicon that was 100% Cabernet Sauvignon. The bouquet is dominated by secondary characteristics including cigar smoke, sweaty leather, tar and baking spices. The fruit is there on the bouquet, albeit hidden at times – showing mostly darker fruit aromas. This wine reveals excellent depth of flavor on the palate with a noticeable mouthwatering acidity. Flavors of blackberry and black currant along with various spices show on the finish. It features earthy and long-lasting tannins. No doubt, this wine has plenty of years ahead of it with the proper storage.
The 2010 Inglenook Rubicon is very dark in the glass; it shows minerality notes on the bouquet along with a dusty component and trends towards darker fruit aromas rather than red fruits. It is somewhat savory with aromas of sage more in the background. We tasted this 7 years after the vintage date and it still shows as a very young wine. The tannins are somewhat tight with an astringent note. It offers flavors of spicy plum on the finish.
The 2005 Inglenoon Rubicon (tasted 12 years after its vintage) shows what this wine will become with some age. The bouquet offers a wonderful depth of character which evolves into a diversity of aromas as it opens. It shows notes of plum, mocha and cedar spices and is savory at times. This is a v very balanced wine that seems to be hitting its stride. Hints of toffee, mocha and darker fruit lingers for some time. It is supple on the palate; sweet fine-grained tannins hang delicately. Simply put, this is a delicious wine.
Red wines
The 2019 Inglenook Cabernet Sauvignon is 96% Cabernet Sauvignon and 4% Cabernet Franc. This wine is deep ruby in color; the aromatics show some subtle herbal scents, a note of tobacco spice, dust and a minerality. These aromatics dissipate as the wine evolves in the glass revealing more of its core fruit including cherry. This is a mouth watering savory bottling with a lingering light gravelly texture of tannins and a persistent dust/dryness and slight tartness. The finish begs another sip. It was aged for 19 months in 100% French oak barrels of which 50% were new.
The RC Reserve Syrah is a wine created by the wine making team with the stylistic direction provided by Francis and Eleanor's son, Roman (named after film director, Roman Polanski) Coppola who has long enjoyed drinking Syrah – namely the style often made in parts of Australia including in the Barossa Valley. This wine came about as a custom wine in honor of his 40th birthday. In addition to offering his feedback during blending trials with the winemaker, he also designed the label and packaging.
The 2015 Inglenook RC Reserve Syrah is very distinctive compared to their other wines we tasted, based both on its varietal characteristics and style. This savory wine offers very perceptible notes of tobacco leaf on the bouquet along with aromas of frying bacon fat. Meaty, dark, deep and brooding on the palate, nevertheless it drinks well young and is full of flavor. Perhaps a good pairing would be a cigar such as one of the custom branded Inglenook cigars available for purchase at the winery. This wine is available at a reasonable price point.
White wines
Blancaneaux is the name of a resort that Coppola owns in Belize and it is also the name of a proprietary white wine blend of three estate grown Rhone varieties: Marsanne, Roussane and Viognier. The first vintage of this wine was produced in 1999. Chardonnay used to be part of the blend but is no longer included. Each variety adds its own character to the wine; Viognier the aromatics and alcohol and the Marsanne and Roussane the texture and mineralities. The winemaking team is very careful when they craft this wine, especially with the Viognier which can impart a bitterness if pressed to much and a non desirable pH shift. And wild turkeys enjoy eating this variety especially, so eventually a fence was built around this block to discourage their feeding.
The 2020 Inglenook Blancaneaux is a blend of 36% Viognier, 33% Marsanne and 31% Roussanne; each variety is harvested and fermented separately until the final blend is made. This wine is medium gold in color; one could possibly pick out this wine in a blind tasting due to its distinctive aromatics. It straddles the line between being citrusy and tropical. It offers scents of honeysuckle, a hint of lychee and a subtle note of juniper berry. The elegant bouquet becomes more expressive of the fruit as it opens. The palate offers a rounded but not overly creamy texture with flavors of citrus, honeydew melon, pear and apple. It was aged for 8 months, sur lees in 60% stainless steel and 40% French oak barrels of which 22% was new.
The 2020 Inglenook Sauvignon Blanc is 81% Sauvignon Blanc and 19% Sémillon and was aged in 74% stainless steel and 26% French oak barrels of which 14% was new oak. This wine is pale to medium yellow in the glass; the bouquet offers aromas of freshly cut grass, pomelo, grapefruit, lemon juice, lime, honeydew and citrus blossom. This is a rich expression of this variety on the palate with some of the aromas echoed as flavor including lemon juice, grapefruit, lime and green apple. The finish is bright, fresh, lively and stimulating as wines from this variety should be. It lingers with both mouthwatering acidity and a persistent intensity of fruit. It was aged for 8 months sur lies.
The Sample Room

In what may very well be Napa Valley's first formal tasting room, the small Sample Room dates from 1889 and is where visitors used to enjoy Inglenook wines (closed down sometime in the 1960s). The room was designed to look and feel like being on one of Captain Niebaum's ships; it feels historically elegant with stained-glass windows imported from the Netherlands and oak-paneled walls wrapping around the room providing an additional feel of luxury.
A German made light covering (can be turned on directly outside the room with the light-switch) hangs from the ceiling. This was added to the room later and contains an inscription in German which translates to English as, "Give me a glass of very old wine, so happy can be this heart of mine".
Rubicon Estate Centennial Museum
The grand staircase on the first floor leads up to a small memorability and photography museum and provides a backdrop for any epic Instagram ready photograph. Think Jack & Rose at the base of the staircase in the movie Titanic as you pose smartly for a photography or a selfie.
This museum primarily highlights the estate's history and winemaking heritage but also offers a limited number of items relating to Francis Ford Coppola's film career. A highlight of this space is the Tucker 48, a gorgeous vehicle produced in Chicago in 1948. Only 51 of these prized beauties were ever created and one was featured in Coppola's 1988 film, Tucker: The Man and His Dream. Incidentally, one of these vehicles is also on display at Francis Ford Coppola Winery in Alexander Valley (neighboring Sonoma County).
One of the primary highlights of a visit to this museum is Coppola's extensive collection of zoetropes, also known as magic lanterns. Magic Lantern technology dates back to the 1600s. In 1834 mathematician William Horner invented what he called the Daedaleum which later would be called the zoetrope. Its technology rapidly advanced throughout that century. Milton Bradly popularized the device when it introduced its first one in 1866. By the 1890s it is estimated there were approximately 50,000 lantern showman in the U.S giving up to 150,000 performances annually. Those interested in learning about these devices can read more from the Magic Lantern Society.
Coppola first became interested in prisms, telescopes and a toy movie projector while confined in bed for a period when he was a child due to Polio. His first magic lantern was a gift in the 1960s from Danish filmmaker Mogens Scot-Hansen. Coppola purchased this private collection from another Danish filmmaker, Henning Carlson (died 2014) in 2005; the Henning Carlson Collection contains zoetropes from the 1850s through about 1900. Essentially each lantern contains a candle with a transparent colorful image in front of the lens which is then projected on the wall. The flickering candle provides a sense of movement. Several displays contain many different sizes and shapes of the lanterns.
The first floor contains a diversity of exhibits including history of the Coppola family, the Coppola family tree and Francis's film career. Several old and extremely rare bottles are housed here including some late 1800s empty bottlings with newer labels and a 1910 vintage Inglenook Riesling, presumably with its original somewhat tattered label mostly intact; from close examination, most of the bottle still seems to be filled with wine.
The Bistro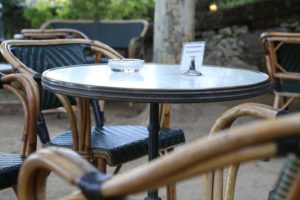 Guests of The Bistro need a reservation to visit; often locals frequent in the mornings for some snacks and or coffee. The Bistro is located on the southern side of the chateau, The Bistro features a cozy space with limited seating, reminiscent perhaps of European café. If weather is not miserable, a number of tables are located on the courtyard outside under the shade of the nearby Sycamore trees this is an ideal place to relax and soak in the history of the property.
A number of small bites are served including cheeses, salamis and select bakery items. Current release wines by the glass or bottle are featured along with a variety of café drinks (various coffees). Cigars branded especially for Inglenook Estate are also for sale. And what is a nice touch, colorful wooden sailboats are available for children (or adults young at heart) to carry over to the courtyard fountain for some 'sailing'.
The Totem Pole, de Young Museum San Francisco

This impressive carving by a Tsimshian carver, dates from the late 1800s and is from western coastal Canada. Most likely this carving was made to be sold rather then used by the native peoples. This totem pole was donated in 1900 by Gustave Niebaum through the Alaska Commercial Company. It is currently located in the de Young Museum (originally opened in 1895) in San Francisco's Golden Gate Park (about a 90-to-2-hour drive from Inglenook Winery, depending on traffic) – next to one of the walls in gallery number 4 in the Native Artists of Western North America exhibition. From the main entrance to the museum, this gallery is all the way to the left once inside the building.
Long on display before the current de Young Museum opened in 2005, this piece was originally mounted above a doorway in the North American Indian Hall of the original Memorial Museum building. The pole depicts a bald eagle, a grizzly bear holding an upside-down human, a whale and a fish.
Inglenook sometimes offers those on their mailing lists access to select events hosted at the winery. Their wines are distributed in select markets across the U.S. and also internationally including on the coveted La Place de Bordeaux. For more information, to join the Heritage Society with two membership options including Excelsior and Rubicon, and or to book an appointment, visit: www.inglenook.com
INGLENOOK ESTATE
Exterior

Caves

Interior

OTHER COPPOLA OWNED WINERIES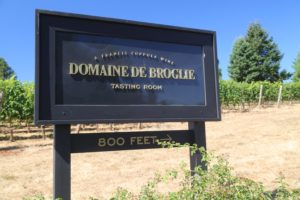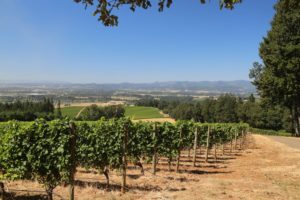 Domaine de Broglie, Willamette Valley, Oregon
Domaine de Broglie (pronounced broylee), formerly known as Vista Hills Vineyard is located in the Willamette Valley in Oregon focusing on Pinot Noir from its 42-acre hillside vineyard estate. Francis and Eleanor purchased the winery and vineyards in late 2018 and re-opened the tasting room in March 2019. The winery is about a 20-minute drive from McMinnville. Note that the wines are not made at this site but rather at Elizabeth Chambers Cellar in downtown McMinnville.
The winery sits in the Dundee Hills at an elevation of about 800 feet only a few minutes' drive from both the town of Dundee and Newberg. Dundee Hills includes some of Oregon's most coveted vineyards for Pinot Noir – the original vines in this sub appellation were planted in 1965 only about a mile away from the winery. Domaine de Broglie was named in honor of Louis de Broglie — a 1929 Nobel Prize winner in physics (Francis has long been fascinated by science). And in the theme of Louis de Broglie's work, the label features a representation of electron waves. The focus of their winemaking is on excellent Pinot Noir – creating single block wines from single Pinot Noir clones. Additional wines produced include a Chardonnay and a Pinot Gris.
Tastings are hosted without needing a reservation (unless groups are 8 or larger). Tastings are at the wine bar or seated within the hospitality building – or outside on the deck weather permitting. From the deck, visitors have excellent views looking down through the trees onto vineyards and the valley in the distance. Of the four Coppola owned properties, this is by far the smallest hospitality center and feels the most intimate. We have visited several times and have always found the staff to be friendly, hospitable and knowledgeable.
The site can also be reserved for special events or for weddings.
Note: Domaine de Broglie's tasting room suffered severe damage from a fire on October 31, 2021, and the offices in the same building were destroyed. For a temporary period of time until the building was renovated, tastings were held at Elizabeth Chambers Cellar in nearby McMinnville and as of our last update to this review, are held at their barrel room, also in McMinnville.
NON WINERY FRANCIS FORD COPPOLA OWNED BUSINESSES
Restaurants
Cafe Zoetrope
Cafe Zoetrope is located on the corner of Kearny and Columbus in San Francisco's North Beach district; this is one of the city's more unique looking buildings. The Sentinel Building is also known as Columbus Tower. Its triangular shape and backdrop of the Transamerica pyramidal shaped tower provide one of San Francisco's most iconic backdrops. This building was under construction in 1906; it was the only building in this part of San Francisco still standing after the earthquake and subsequent fires. It was fully completed by 1907. Cafe Zoetrope is not the first restaurant to be housed here; during Prohibition Caesar's Grill in 1924 created what they called the Caesar Salad (although Caesar salad was supposedly first created in Tijuana, Mexico that same year).
Writers and artists began living in the building in the 1930s. It was a nightclub for several years in the early 1950s. By the late 1950s the building was sold to the Kingston Trio (yes, the band) and under their ownership the building was renamed to the Columbus Tower. The used the building to record a number of their albums and other bands also utilized this space including the Grateful Dead.
Coppola has owned the building since 1972; he purchased it for a space to house his production company, American Zoetrope (located above the café). Films with instant name recognition have been written, edited or sound mixed upstairs including the Godfather II and III, Apocalypse Now, The Conversation, One From The Heart, The Outsiders and Dracula. A number of other filmmakers have worked here including Werner Herzog, Carroll Ballard (who also owns a wine brand in Napa Valley called Luscher-Ballard) and George Lucas.
Cafe Zoetrope opened in this building in 1999. The European style café provides a number of Italian inspired dishes. Seating is on the first floor, both indoors at tables or at the bar or at tables located next to the two sides of the exterior of the building. A downstairs contains the kitchen, several restrooms and a private screening room. Visitors should stop at the 'poetry vending machine' and choose one of three options: one minute, two minute or three minute poem. A random poem will then be printed and patrons can enjoy reading it while waiting for their meal to arrive.
Several framed movie posters are located outside of the café. The walls insides are lined with photographs and mementos from Ford's career in film. The quintessential meal at Café Zoetrope includes an order of Caesar Salad, the house soup (sprinkle a few chili pepper flakes from a jar sitting on every table produced by Coppola's Mammarella Foods Company, and a cocktail or two or perhaps just a bottle of Director's Cut wine bottled by Coppola's namesake winery.
Metered parking if you can find it is located curbside on nearby streets or several small open air private but expensive parking lots are also located within a short walk of the café.
Resorts
Belize
Blancaneaux Lodge | Turtle Inn | Coral Cay
Guatelmala
La Lancha
Italy
Palazzo Margherita
Argentina
Jardin Escondido
NOTE: Francis Ford Coppola used to own both Francis Ford Coppola Winery, Virginia Dare Winery and the Archimedes Vineyard in neighboring Sonoma County but sold these to the Indelicato family of Delicato Family Wines in mid 2021. However part of the sale included an equity stake in Delicato Family Wines, therefore he still retains some ownership in his original properties.
We keep our notes below on both properties for reference.
Francis Ford Coppola Winery, Sonoma County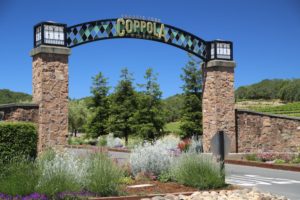 Francis Ford Coppola Winery is located in northern Sonoma County about 1 hour and 20 minutes north of San Francisco California or merely 20 minutes north of Santa Rosa. Take the Independence Lane exit (the winery is just west of the 101). Formerly Château Souverain, Francis and Eleanor purchased this property in 2006 and sold the majority of the winery to the Indelicato family in mid 2021. A visit here and to other local wineries in the Alexander Valley makes a nice day trip from San Francisco and other parts of the Bay Area. Santa Rosa's Charles M. Schulz airport services nonstop flights mostly to cities on the west coast with the following airlines: American, United, Alaska and Sun Country.
The location is a rather bucolic one, the winery is nestled against the hills surrounded by vineyards. The winery is built upon Coppola's travel experiences; when one has traveled the world as much as he has one has perspective on a variety of topics – cuisine, wine, architecture etc. This winery is a compilation of some of the best things Francis has experienced during his international travels.
Take Rustic for example (the restaurant on site); as the name indicates the food here is not meant to be fancy, but rather to provide good food at reasonable prices with a "homemade" element. One can order a hamburger but there's much more than that. The menu features an international flair; start with a Caipirinha from Brazil then order something influenced by Morocco, Italy, France, Argentina or Polynesia. A carefully tended garden is located on the grounds and vegetables from this space are commonly used in their kitchen.
If a pool has a winery (and not many in Napa or Sonoma do), it is often simply eye candy for visitors. Not so here. Two pools, totaling 3,600 square feet are connected by a swim through canal. The inspiration for these pools comes from when Mr. Coppola watched children play around the fountain at Inglenook Winery in Rutherford and felt their frustration at not being able to go into the water.
In the style of some western European beaches, cabines are located around the pool (28 of them); these can be rented per day and include changing rooms, storage space and a private shower. Come for the wine, come for the pool or come for both. A poolside grill and bar services food and drinks poolside. A well-stocked indoor bar is also located on the first floor below the upstairs tasting room.
Another highlight of a visit to the winery is Coppola's personal movie memorabilia collection. The table that Mr. Corleone sat behind in The Godfather films is on display, the car from the movie Tucker, five of Coppola's Oscar statues and various movie props from The Godfather and Apocalypse Now films.
Cory Beck, for several years was CEO and Winemaking Chief of Francis Ford Coppola Winery, started with Coppola in 1998 and helped oversee the transition to the Delicato Family Wines ownership in 2021. Winemaking is in his blood so to speak; his grandfather was vineyard manager for the famed Chateau Montelena and Cory also worked here after college. Cory told us he sources fruit from 100+ growers around the state and as a result has numerous varieties and vineyard locations to work with. His wines are inspired, balanced and are constructed to appeal to a wide range of palate preferences. Two wines to try: Sofia (a lighter styled Riesling – one of Sofia Coppola's favorite varietals) and the "Director's Cut Cinema" a limited production Cabernet Sauvignon Zinfandel blend.
Francis Ford Coppola Winery Too!

Francis Ford Coppola Winery Too!, formerly called Virginia Dare Winery, is located about 5 minutes driving north of Francis Ford Coppola Winery. This property was also formerly the site of Geyser Peak Winery, the evolution of location, name and ownership of Virginia Dare Winery is highly convoluted and complex and features an element of randomness over the centuries. The Indelicato family purchased the winery from Francis Ford Coppola in mid 2021. NOTE: we have heard they will be updating a bunch of things on the property including hospitality and we will revisit once they have re-opened.
The story of Virginia Dare Winery has nothing to do with Sonoma County but rather its viticulture roots date back to 1835 in North Carolina when a vineyard was planted by Sidney Weller in what is now Medoc Mountain State Park (about 1:15 drive from Raleigh). His wine was called Weller's Halifax – this was the first winery in North Carolina. Later after Weller died, three Garrett brothers purchased his vineyard site, expanded the vineyard operations and one of the brothers, Charles decided to call the site Medoc Vineyard and they produced Virginia Dare wines as part of Garrett & Company. The chose the name Virginia Dare in honor of the first child of English parents born in what would become the United States (her birth year was 1587).
In a nod to Virginia Dare's' North Carolina wine roots (including originally producing wines from Muscadine grapes) – a cutting of a Scuppernong (part of the Muscadine family of grapes) was taken from a 400-year-old Scuppernong vine in Manteo, North Carolina and now grows at Virginia Dare Winery.
Eventually Garrett & Company moved to New York and then in 1918 to Rancho Cucamonga in Southern California where they purchased an existing winery built in 1908 called Mission Winery (after leasing the site for several years previously). Garrett & Company soon changed the name to Virginia Dare Winery. The completely remodeled bell tower from the old Virginia Dare Winery is still standing and a few other relic structures – now fully absorbed into part of the Virginia Dare winery business centre on the corner of Haven Avenue and Foothill Boulevard. The Rancho Cucamongua Chamber of Commerce office is located in the Virginia Dare tower. These are our photographs from our visit to this historic space.
For several years Werowocomoco (Wero) Restaurant was located at Virginia Dare Winery and featured an eclectic mix of Native American cuisine served from an open kitchen. This restaurant closed permanently in 2019.
Seated tastings were available by walk-in and private tastings were also arranged by appointment. Weather permitting, an outdoor terrace is also used for tastings. The focus of their winemaking is on a diversity of reasonably priced wines including Chardonnay and Pinot Noir. In 2017 Virginia Dare introduced the Virginia Dare Hard Cider – using locally grown apples from Sonoma County orchards.