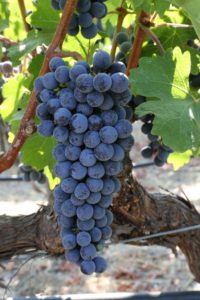 The name Incendium Wines was carefully chosen for several reasons by owner and winemaker Vincent Kalny. Incendium in Latin can mean "in the heat of passion"; it is the passion for details and respect for detailed oriented crafts that led Vince to start studying wine making in his late 40's after several non related careers including his current job with Cal Fire in St. Helena.
The name reflects another character – in Latin it can also mean fire or wildfire. Vince has been fighting fires in the Napa area for the past 10 years. While not having any previous wine making training until founding Incendium, his family does have some wine making heritage. His great grandfather emigrated to Kansas City from Austria and along with this move planted vineyards in Kansas City. His great grandfather had been making wine in Austria as well as beer. Vince's grandfather and father also made beer while he was a child.
Vince's story is not new to Napa – there is certainly a corner of Napa's history that is well endowed with winemakers who have found the wine business later in life after prior careers. His is a story of learning by doing and making mistakes along the way – acknowledging those mistakes and moving forward constantly seeking to learn and striving to always create a better product.
Firefighting took him to the Napa Valley but a fellow fire fighter (who has family in the Napa wine business) is one of the main reason's Vince became a winemaker. This firefighter spotted Vince fixing a diesel engine for the fire department and made a remark about how Vince was incredibly detail oriented while working on the truck's engine. For a year he continued to encourage Vince – telling him he should become a winemaker and put his sense of detail oriented work to good use in a winery. Vince finally relented and enrolled at the Napa Valley College in their Viticulture & Winery Technology (VWT) program.
At the same time as he was taking classes at Napa Valley College (in their wine making program) he was gaining invaluable on the job experience in a lab at a small winery in east Napa County. During the middle of winter (when he started classes) he wanted to make wine to mirror and apply the information he was learning in the classroom. So he purchased frozen must – heated up his garage and became a hobby 'garagist' winemaker that winter.
Today after making several different styles of Chardonnay and experimenting with wine styles he has settled on a Chardonnay that sees some oak (both with fermentation and aging) and undergoes partial malolactic fermentation. He was introduced to a number of yeasts during wine making trials at Napa Valley College and settled on one that he immediately noticed and preferred during his tastings. Vince also runs a cold slow fermentation – that usually takes three weeks to ferment to dryness or near dryness.
Select Wines

The 2012 Incendium Chardonnay is sourced from a vineyard in the Cuttings Wharf area of Napa's Carneros District (close to the San Pablo Bay). This wine has lively aromatics showing citrus blossom, orange zest with plenty of fruit including pineapple and banana (also noticed in some of the earlier vintages). Vince uses a malolactic bacteria that does not produce diacetyl (a byproduct of maloactic fermentation that changes the mouth feel and can add a buttery component to the wine). The wine is balanced on the palate – soft but not viscous.
He has worked with a small hillside vineyard in Deer Park (just below Howell Mountain) since his first vintage. In exchange for managing the vineyard he gets to use the Cabernet Sauvignon. This vineyard is indicative of the amounts of wine Incendium produces – the vineyard is only 1/4 of an acre. Their total production at the time of this review is merely 250 cases with some wines produced in quantities as low as 24 cases.
This vineyard produces a clone of Cabernet Sauvignon that brings great color to the wine. Vince also does a long cold soak prior to fermentation for additional color and flavor. The 2013 Cabernet Sauvignon is dark in the glass. On the bouquet it shows earthy notes with darker fruit aromas including black cherry. Tiny nuances of oak are present along with a hint of pepper. It is balanced nicely between acidity, fruit and tannins.
The 2012 Incendium Napa Valley Cabernet Sauvignon is sourced from the same Deer Park Vineyard they use each year and also a vineyard in Pope Valley. The bouquet is easy on the nose and features elegant and ripe aromas including dark cherry, blackberry and blueberry with a floral note (violets). Good acidity, with higher toned fruit on the palate including black currant and red cherry – framing a finish that features long lasting oak and grape tannins.
The 2011 Incendium Cabernet Sauvignon (their first release) is a lighter style wine then the subsequent vintages we tried. The bouquet shows sweet fruit notes, with a bit of spice including white pepper and aromas of cigar – good acidity and slightly astringent tannins chewy tannins on the finish.
—
It can be challenging as a tiny producer to gain traction in the marketplace. Both Vince and his wife Deanna have been reaching out to restaurants and wine shops themselves. When you are a small producer, the face to face introduction from the owners can be invaluable. Their wines are placed in Brannan's Restaurant in Calistoga, Sunshine Market in St. Helena and Valergos Market in Napa. In addition they are selectively distributed in Los Angeles.
Like the evolution of Vince's wine making – their label has also evolved. Their first vintage honored firefighters with the St. Florian Cross and Phoenix – today the label has evolved to a simple 'I' crossed with a 'W'.
Some proceeds from their wine sales have been used to support The National Fallen Firefighters Foundation. And the tragic Valley Fire in Lake County in 2015 hit close to home (almost literally – where they have a home) effecting firefighter friends and other people they know. Like many in the community, they rallied to support those who were affected.
NOTE: need to verify if still producing wines, last vintage on their website is 2014.