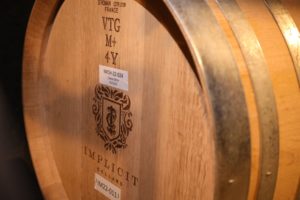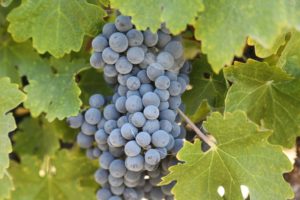 Implicit Cellars was founded in 2017 by three Ohio based couples: Andrea & Tony Granata, Belinda & Leary Cox and Jennifer & Ed Kuchar. Tony (who we have met with several times) used to work at Ticknors Men's Clothiers in Ohio and Leary and Ed were two of his clients. All three discovered they shared a passion for fine dining and wine. Tony first met winemaker and founder of Delectus Winery, Gerhard Reisacher when Gerhard was visiting Ohio as part of a sales trip. Knowing Tony's passion for wine, in 2017 Gerhard called him and offered to sell him grapes from a property in Knights Valley (neighboring Sonoma County). Tony recalls thinking he would have regrets for the rest of his life if he didn't accept the offer. So, he did and for the first three vintages Implicit Cellars produced Privity, their flagship Cabernet Sauvignon from Knights Valley.
The early years were challenging to find consistency; the team had to work with ever changing vineyard sources, several winemakers and production facilities. And then in 2020 due to the Glass Fire, Implicit Cellars did not produce any red wines. Starting in 2021, they pivoted from a Sonoma County only wine producer to Napa Valley. For one year they sourced from a premium vineyard on Diamond Mountain (Tony's favorite appellation within Napa Valley) and in the middle of the year they hired Kirk Venge. With Kirk's vineyard connections in the valley, they started sourcing from several vineyards he has access to, moving from hillside sites to valley floor properties.
Starting and building a wine brand is a challenging proposition, further complicated by the unexpected. Implicit Cellars has forged through a number of obstacles and shown a resilience to adversity. And that resonates with us. As Tony told us, they have come out stronger because of the challenges they have faced.
While the partners all live out of state, they are all actively involved in the business including traveling to Napa Valley at select times throughout the year to participate in critical winemaking decisions including blending sessions.
In order to ensure they have no cork taint (TCA) they use ND corks; each one goes through a gas chromatography process and then labeled with a bar code. Their label is made from cotton (rather than from trees). Through one of Tony's brothers connections, they originally printed the label using a printer in Napa but have since transitioned their printing to an Ohio based printer.
Select Wines
Because of the fires in 2020, the only wine Implicit Cellars produced was their first Chardonnay, bottled under the name Avidity. They weren't planning to make a Chardonnay for at least a few more years but when an opportunity to access a premiere vineyard in Sonoma County was presented to them, they were ready and enthusiastic to make wine from that particular site. Hence the name Avidity, referring to being eager and enthusiastic.
The 2020 Implicit Cellars Avidity Chardonnay Russian River Valley is dark gold in color; their red wines are unfiltered and unfined and so is this wine, hence some cloudiness and it's lightly blurred look. The bouquet offers attractive aromas of honeycomb, ripe papaya, pineapple, ripe melon, assorted baking spices and stone fruit including yellow peach, nectarine and apricot. This wine does not cross into the 'territory' of an oaky or buttery bottling. The palate is creamy without being viscous or heavy and shows flavors of apricot, honeycomb and peach. A note of toasted oak on the finish lingers along with a hint of caramel and hazelnut. Future vintages of their Chardonnay are sourced from a mountain site in the Petaluma Gap (Sonoma Coast). This wine was aged in 100% new French oak barrels.
And non-Chardonnay drinkers and consumers who have had bad experiences with lesser made wines of this variety are often pleasantly surprised by the richness, depth and overall character of this bottling. Tony told us he politely but forcibly encourages non-Chardonnay drinkers to try this wine. The aromas invite one to try the wine, one sip turns into another and soon the entire bottle has been emptied and enjoyed.
The genesis of their Innuendo bottling is rooted in an engaging story. In 2019 a lightly pressed wine intended to be used in their Privity bottling was set aside and bottled in shiners. The total volume amounted to 27 cases which the partners agreed to ship to Ohio and enjoy among themselves and friends. One summer evening, Ed invited the other partners over to his home and opened one of the shiners. Tony recalls they all smelled this wine, and everyone became simultaneously quiet. After the tasting, Tony announced to everyone something we can't print here but which implied a deep satisfaction and then followed his first statement with, "this is too good not to sell". Ed summed his feelings up succinctly by saying, "this is a sexy wine". And it was Ed who suggested the name Innuendo.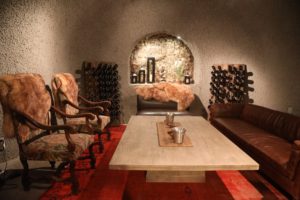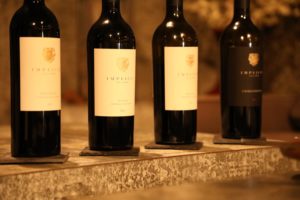 The 2021 Implicit Cellars Innuendo (a tank sample taken one day before bottling) was aged in 80% new oak. This wine is styled to be approachable in its youth and overdelivers quality for the price. It is deep ruby in color; the bouquet offers sweetly fruited aromatics including of blackberry, dark plum, boysenberry and licorice. Showing more in the background while surrounded by all the fruit, are notes of toasted oak and an intriguing darker spice. This wine offers flavors of plum, dark cherry and a lightly toasted oak, especially noticeable on the finish. The tannins show very youthful, a grainy texture, and a lingering light dryness and dusty character.
The 2021 Implicit Cellars Acuity, Rutherford Cabernet Sauvignon (a tank sample taken one day before bottling) is their inaugural vintage. This wine was made from two separate picks from the same vineyard, and each was fermented and aged separately before blending prior to bottling. The bouquet offers a ripe but attractive expression of this variety and vineyard with dark and layered fruit aromatics accompanied by violets, a hint of chocolate and old cedar box. The palate shows layered complexity with flavors of blackberry, dark cherry and plum. In its youth, the dense and grainy tannins far outpace the fruit on the finish; they are full of energy bouncing around the palate like a boisterous teenager. This wine clearly has lots of life ahead of it and it will be enjoyable to see its evolution in 5, 10 and 15 years.
Privity is the flagship Cabernet Sauvignon for Implicit Cellars. The 2019 Implicit Cellars Privity was their last bottling from Knights Vineyard in neighboring Sonoma County before transitioning to Napa Valley. This wine is deep ruby and opaque; the bouquet is darkly fruited including a ripe dark cherry aromatic that vividly reminded us of picking cherries in Brentwood, CA towards the very end of the harvest when the cherries are dark and ripe, but not yet overripe. It also offers scents of dark baking spices, dark chocolate, black licorice, blackberry and as the wine evolves in the glass the aromatics become even more expressive of the fruit. The palate is well-layered and features gravelly noticeably sturdy tannins. Tony spoke about this wine as following an arc across the palate in which it builds to a memorable crescendo on the finish. This wine was aged in 100% new French oak; it is generally held back up to three years post vintage before release. This is their most produced wine each year; in 2021 they bottled 221 cases.
And the name privity refers to a contractual agreement between parties.
When a winery bottles a wine as a reserve it is implied that it is perhaps their most premium wine. Most wineries who bottle such a wine are bottling individual barrel selections; Implicit Cellars produces Unprecedented, their reserve Cabernet Sauvignon from fractional selections from their best barrels. And they have access through Kirk to barrels from some of the most premiere coopers on the planet including Darnajou, Taransaud, Sylvain, Francois Freres and Demptos. The resulting first ever bottling in 2019 was merely 12 cases. Future vintages will be at least a barrel. And this wine is always bottled as a Napa Valley designate allowing the partners the flexibility to in the future source from other vineyard sites and blend in other varieties in as needed.
The name unprecedented was rooted in the global events of 2020. As Tony told us, "to put a name like this on a bottle of wine, you must either be a genius or not very smart, or perhaps we are a bit of both". We tend to align with the genius description in regard to this coveted and very special bottling. All partners had input into creating the 2019 Unprecedented. It was a selection of 70% from their best Demptos Reserve barrel, 20% from a Taransaud barrel and 10% from a La Grange barrel. The 2019 Unprecedented is deep ruby and opaque in the glass with an amaranthine rim; the bouquet offers dark and deeply layered aromatics including a briary/brambly character, toasted oak, old cedar box, sage and a note of dark olive. The layering on the bouquet continues onto the palate which offers flavors of dark cherry, blackberry and boysenberry. The tannins are grainy but rounded and one can feel their density from the entry through to the finish. This bottling lingers juicy, with both dark fruit, a light pepper spice and a hint of chocolate. The tannins and the fruit run parallel to each other on an extended finish, each trying to outpace the other, but never doing so.
A phrase in Latin is written on the back label of all their bottles. It reads: Amicitia Inventus Est In Vinum, or translated into English: Friendship discovered in wine. And this is rooted in the partners' originally connecting through their love of wine.
Visits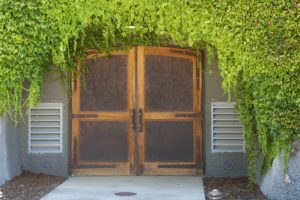 Tastings are hosted at a production winery near St. Helena (where the Implicit Cellars wines are produced) and include a flight of their current release wines. This space is known among local vintners as being a premium custom crush winery – allowing other wineries to 'rent' space within their cave to make their own wines. Different somewhat than other wineries who rent out space, this property allows the winemakers for the individual brands to oversee each of their own brands. Visitors are greeted with a glass of Implicit Cellars Chardonnay and then accompanied into the cave, visiting some of the Implicit barrels before settling into one of two cozy alcoves designed for hosting visitors – while surrounded by the rest of a working cave winery.
And tastings can also be arranged with a representative of Implicit Cellars at Farmstead in St. Helena. Recommended pairings with individual bottlings of Implicit Cellars are made at the time of the lunch.
—
The wines have very limited distribution in California including in Napa Valley at Gary's in St. Helena and top-tier restaurants in select markets in Ohio including in Akron and Cleveland. Total annual production is around 600 cases and may grow slowly to around 1,000 cases. And it was Ed and his love of the Latin language who suggested they use Latin names for their allocation membership levels. Their Trillium Society (Trillium or Trinity flower is Ohio's state flower) priority allocation list guarantees an automatic shipment of their current Privity Cabernet Sauvignon each release. Vita (3 bottles), Vinum (6 bottles) and Veritas (12 bottles). And they also offer a Chardonnay only allocation membership (Solum).
For more information, to schedule a tasting or to join one of their Trillium Society allocation list offerings, visit: www.implicitcellars.com