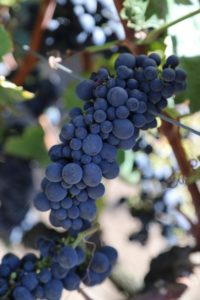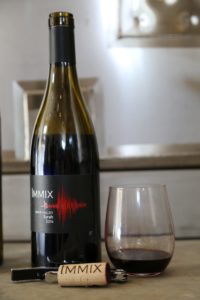 Immix Wines was founded by vintner Morgan Maureze and husband-wife, Nicole and Eric Fink. Morgan met Nicole at Marciano Estate in St. Helena when he was assistant winemaker at the time (he is now their full-time winemaker) and Nicole was working in their lab. Combining Morgan's wine making expertise with Nicole's penchant for sales – while at the same time keeping production low (since both have full time jobs) was an ideal match. And of course, their individual passions for wine.
Nicole spent time working at several wineries in the Napa Valley including Cuvaison, Quintessa and Far Niente. Outside of Immix, she is no longer involved in the wine industry but lives in the Napa Valley and works with Morgan closely as needed, especially during harvest.
Morgan was born in France to a wine-making family (where he only spent several years of his childhood). He moved with his family to the Napa Valley in 1985 where his father became the General Manager of Dominus Winery. Growing up immersed in both the French and the American wine world perhaps it was a natural inclination to follow his family's wine pursuits.
He earned his degree in Viticulture and Enology from UC Davis and then moved to France to continue his education through the University of Bordeaux working at famed wineries such as Petrus and ultimately completing his master's thesis at the storied Domaine de la Romanee Conti. Returning to the Napa Valley he joined winemaker Andy Erickson's team – assisting him at a number of Napa's most premium properties including Screaming Eagle and Dalla Valle among others. Morgan spent 9 years with Andy's team before leaving to focus on winemaking at Marciano Estate and Immix Wines. More recently he has left Marciano Estate to focus on consulting and also building a new brand focused on kosher sparkling wine.
The focus of Immix wines are entirely on the Napa Valley – often utilizing grape sources from friends and connections that Morgan has in the valley. Currently they focus on just two wines, a Sauvignon Blanc and a Syrah. He and Nicole keep the production small – usually only 50 to 100 cases per wine.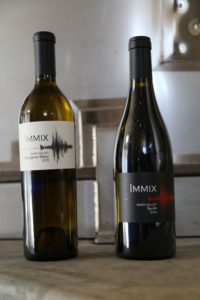 Immix is a seldom used word in English that means to commingle or a blend of something. They chose this word to represent their wine because it appropriately describes their own backgrounds (Morgan's dual heritage between France and the USA – and Nicole's Polish heritage).
They found inspiration for their label from an unlikely source. A 6.1 earthquake struck the Napa Valley (south of the city of Napa) in the early am of August 24, 2014 (we were trekking in Kyrgyzstan at the time when we started receiving text messages from friends and vintners in the valley). Incidentally this was the night after they pressed their first Sauvignon Blanc.
We have met with many vintners who were directly affected by this quake – including a number of vintners who lost full barrels, especially those who stored wine closer to the epicenter. However, this is the first vintner we have met with who has incorporated that particular earthquake into their wine label. The image is of the seismograph produced after this earthquake struck the Napa Valley.
Select Wines
The 2015 Immix Sauvignon Blanc is a blend of Sauvignon Blanc from Wooden Valley (east of the city of Napa) and a Sauvignon Musqué from the well-regarded Hyde Vineyard in Carneros. Straw colored in the glass, this wine is highly aromatic with aromas of pineapple intermingled with aromas of citrus blossom. There is perhaps just a hint of barrel spice clinging to the bouquet especially as it opens more fully. The wine is balanced on the palate with a pleasing mid palate mouth feel. A citrus tartness and oak spice lingers on the finish. Good acidity and very good balance.
The 2014 Immix Syrah was aged in 1/2 new and 1/2 neutral barrels. This wine is noticeably dark in the glass – purple in color. Immediately shows floral notes on the bouquet including violets and an earthy undertone along with notes of black pepper. A juicy palate – with rich fruit (plum & cherry) plus good acidity. Earthy and firm tannins anchor a slightly spicy finish. This wine was bottled unfined and unfiltered.
—
The label on the Syrah is darker (as compared to the label on the Sauvignon Blanc). Just like with his winemaking, Morgan pays close attention to details – he prefers darker labels on red wines so they will not stain after pouring the wine. Makes sense.
Because the production is so limited their focus is on selling direct to consumer. To date it has mostly been to friends, family and friends of friends. They have no distribution other than a few restaurants locally including Redd in Yountville.
Priced affordably from an extremely talented winemaker – these are under the radar wines you will want to make the effort to obtain.
NOTE: this review has been identified as needing a major update.
For more information and to purchase wine, visit: www.immixwines.com