Igneous Wines is owned and operated by Don and Ann Huckfeldt. Don's family owns a 30+ year successful water-well drilling business in the Napa Valley. With a business such as this one he has become intimately aware of most every vineyard in Napa County and has also become friends with many of the local vintners. As a result when he decided to plant an estate vineyard on property that has been in his family since 1969 who better to call then one of the best in the business, David Abreu. Abreu is the vineyard manager "to the stars" so to speak – having provided vineyard management services for some of Napa most high end well known cult wineries including Araujo Estate, Bryant Family, Colgin, Harlan Estate, Grace Family and Screaming Eagle – 6 of the generally 7 recognized cult wineries in Napa…not bad! Long time Napa native and master of the Cabernet Sauvignon, Kirk Venge has been their winemaker since day one.
Igneous's estate Huckfeldt Ranch Vineyard is located in the Coombsville region, a rolling vineyard covered hillside landscape located just east of the town of Napa. While the majority of this small vineyard is planted to several clones of Cabernet Sauvignon, they also have small blocks of blending varietals such as Petit Verdot and Cabernet Franc. The vineyard is planted near a seasonal creek (dry when we visited) and as a result much of the land here is an alluvial soil which provides excellent drainage. This vineyard is fairly new having been planted in 2002 and their 2005 vintage was the first release to incorporate fruit from this estate vineyard.
This is prime Coombsvile terroir – nearby neighbors include a Quintessa owned vineyard and Caldwell. Having sourced fruit since their first vintage in 2002 from the famed David Abreu owned and managed Thorevilos vineyard Igneous knows well the consistent high quality fruit that comes from this particular vineyard and they continue to plan on sourcing its fruit for future wines. For the first few years before their own vineyard started producing, their wine was 100% Cabernet Sauvignon from the Thorevilos Vineyard.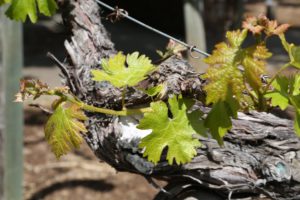 The Thorevilos vineyard is in a fairly isolated hillside location at the base of Howell Mountain. We have visited this vineyard several times throughout the year and the attention to detail is amazing. When we have been here we have always seen vineyard crews carefully managing the vines regardless of the season; the vines look absolutely pristine. Abreu makes his own wine from this vineyard and in 2002 earned a rare 100 point score from Robert Parker…pretty head stuff! As a tribute to both Don's geology background and the type of rock that forms much of Coombsville and the eastern part of Napa Valley, they choose the name Igneous. This is the type of rock that forms after molten lava flow hardens into rock when it comes into contact with the cooler air.
Igneous focuses on one super high end, limited production, hand crafted wine each year. We tried the 2005 vintage soon after its release. It is dark crimson in color with a very aromatic bouquet. Notes of earth, gravel and mocha are interwoven with big fruit aromas which become more noticeable as the wine opens up – most decidedly blackberry and cherry. The palate is well layered and complex with wonderful ripe intensely flavored fruit – black cherry and raspberry. Broad firm tannins provide good balanced structure now, as well as being the backbone to give this wine a fairly long cellar life. With typically only several hundred cases produced each year, the wine is very selectively distributed.
Joining the mailing list now would be a good idea before what we think will be excellent ratings to hit the press in the relatively near future. You can find their wine at a number of high end restaurants in Napa including the French Laundry and Meadowood. They have good placement in New York and also Las Vegas.