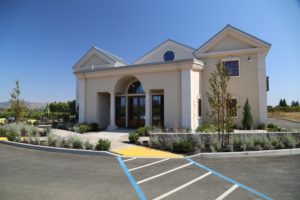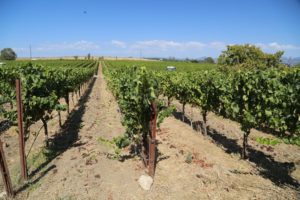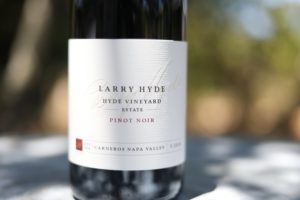 Hyde Wines. In 2006 long time Napa Valley grape grower Larry Hyde acquired a 25 acre piece of property on Los Carneros Ave a very short drive off of busy Highway 121, almost across from the Carneros Inn. At the time this parcel was not planted to vines; it was an old pear and apple orchard. Hyde had nearly all the remaining fruit trees removed and planted both Chardonnay and Pinot Noir. He had the foresight to plant around a patch of land roughly in the center of the vineyard. This was left for a future winery; construction began on the winery in 2014 and was finished in summer of 2017.
Larry Hyde has a long history of farming grapes in Napa Valley dating back to 1979 when his father Richard first purchased property in what is now the Napa side of Carneros. Prior to becoming a grape grower Larry spent several years working at wineries including at Ridge Vineyards, Robert Mondavi and Joseph Phelps. Larry also has an interesting connection to Burgundy; he met his wife Beta (originally from Poland) while working a harvest at one of the world's most storied wineries, Domaine de la Romanee-Conti (DRC) in Burgundy. And this is not his only connection to DRC – his first cousin, Pamela is the wife of Aubert de Villaine, the co-owner and director of Domaine de la Romanee-Conti. In fact, Larry is also a partner with Aubert in Napa's HDV Vineyards (producing premium Chardonnay, among other wines). And in 2020, Larry was awarded the prestigious Napa Grape Grower of Year by the Napa Valley Grape Growers Association.
Larry's family history in California dates back to the late 1700s. He is a descendant of José de la Guerra a prominent rancher and Spanish Military officer who spent time in San Diego, Monterey and Santa Barbara in the early to mid 1800s. His namesake is on several Santa Barbara locations including De La Guerra Plaza. This is a very historical part of town; it where the first Santa Barbara city council met in 1850 and is one of the Santa Barbara's original parks. And of course, one of the border streets is called de le Guerra Street. Incidentally the offices for the Santa Barbara Press newspaper are here, the oldest daily newspaper in Southern California (first published in 1855).
And the old 13-room family adobe home (with a sizable courtyard), Casa De La Guerra dates back to the 1828 and is where José de la Guerra lived until his passing in 1858, although de la Guerra heirs lived here until 1943. His old house which survived several bad earthquakes including sustaining significant damage in the Fort Tejon earthquake of 1857 and surviving the terrible Santa Barbara earthquake in 1925. The 1925 earthquake leveled much of the town and was subsequently rebuilt with old Spanish style architecture, is now a museum, an homage to this family, their contributions to California. The interior contains displays of how life would have been lived during those decades.
Casa De La Guerra, Santa Barbara

Larry's client lists reads like a who's who of some of Sonoma and Napa's premium producers including Aubuert, Dumol, Kistler, Patz & Hall, Paul Hobbs (one of his earliest winery clients), Ramey, Duckhorn, Joseph Phelps and Schramsberg, among others. And many make a vineyard designate from Hyde Vineyards including Duckhorn and Domain Carneros.
It is not just Chardonnay and Pinot Noir that Larry grows, although these are two of his most produced varieties based on the cooler climate of his southern Napa Valley vineyard locations. And it has been Larry's work with these two varieties (along with several other contemporary Carneros vineyard pioneers) that are in part the reason why Carneros is so well known for Chardonnay and Pinot Noir.
His vineyards in Carneros are now spread across five locations encompassing slightly more than 200 acres; the original Home Ranch property located between Highway 121 and Old Sonoma Road – one can see part of this property from the winery (look for the vineyard covered knoll just peaking above the highway), 25 acres where the winery is located, the 15 acre Vistula Vista Vineyard where Larry and Beta live, the tiny Los Olivos Vineyard located across the highway from the winery and the nearby Red Barn Vineyard. In addition to being CCOF certified organic, both their vineyards and winery are certified Napa Green, a certification program by Napa County Department of Public Works and the California Green Business Program overseeing water conservation and reduced energy and waste within Napa based County wineries. Hyde Vineyards is also certified Fish Friendly Farming.
Despite being so close to the very busy highway and well within visual distance of its often backed up traffic; pulling into the winery brings a sense of calm and quiet. A small reservoir is adjacent to the winery and is home to a number of wildlife including at times river otters, various birds and turtles.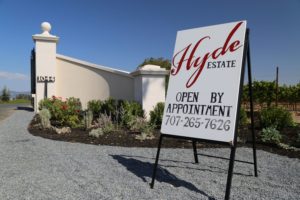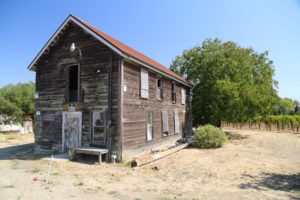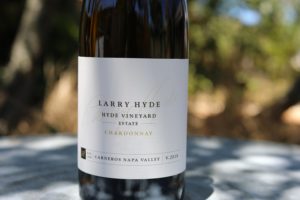 Note the rustic looking barn to the right hand side of their short driveway; this was used for drying fruit from when the property was planted to fruit trees. Eventually they plan on remodeling this including adding a kitchen and potentially offering it as a place mailing club members can stay when in town or offering selective private tastings. Tastings are private for your party, either at their wine bar downstairs (note the barrel stave barstools) or in a private room dubbed "the hideout' located upstairs. This room was a former office and features excellent views of the vineyards to the east. And Larry often stops by the winery as he makes the rounds checking on his various vineyards. Visits are private, highly personalized and unscripted. Guests are greeted with a welcome wine (the Hyde Chardonnay) and weather permitting will generally walk over to some of the nearby vines for a brief overview, then will visit their small reservoir and wander through both the winery and the barrel room before enjoying the sit down tasting. Small bit pairings can also be added to each of the tastings at the time of the reservation.
The winery itself is larger than what is needed for their own production (currently no more than 2,000 cases annually). It was designed to represent a traditional Polish Manor House; Beta provided design input into the look and feel of the building. Note the ceiling in the hospitality room; it is creatively made from staves from old Pinot Noir barrels. Hyde rents out space for several small custom crush clients or those needing barrel storage. And also note the impressive Europress; this is so big it took a crane to unload it at the winery upon delivery. It can process up to 9 tons of grapes at one time although they never fill it to capacity during its use.
The Hyde family had been making home wine for many years, however their first commercial release under Hyde Wines was in 2009. Larry's son Peter made the wines from 2009 until 2016. In early 2017, longtime winemaker Alberto Rodriguez was hired (formerly Assistant Winemaker at Patz & Hall and worked at Honig Winery). Alberto has been familiar with fruit from the Hyde Vineyards since 1990 (the first vintage he helped make at Patz & Hall). Their wines are typically produced in very limited quantities – almost always under 500 cases for each bottling.
Select Wines
The 2018 Hyde Vineyard Estate Chardonnay is medium to deep gold in color; offers aromas of warm butter, melon, yellow pineapple, toasted popcorn, hazelnut and ripe pear. This wine is bright and energetic across the length of the palate with flavors of red apple and mandarin. It is rich in flavor but superbly balanced showcasing a supple texture. It finishes zippy with flavors of lemon and lemongrass along with a light touch of long lingering baking spice and a hint of toasted oak on the very long finish.
The 2018 Hyde Vineyards Estate Pinot Noir is medium ruby in the glass; the bouquet offers generous aromas yet is elegant at the same time. Its more spice driven than fruit driven initially, with notes of black pepper, dried herbs, the spicy skin of a Santa Rosa plum and light notes of old cedar box. The bouquet shows somewhat savory. In its youth, this wine definitely needs some time for the fruit aromatics to evolve. As they do, it slowly reveals aromas of raspberry, red cherry and licorice. The palate is richly flavored including more darker fruits rather than red (plum & cherry). Finishes savory with darker spice notes including crushed peppercorn, toasted cedar and lightly gravelly textured tannins.
The 2012 Hyde Vineyards Pinot Noir is from the Hyde's primary ranch across the highway from the winery. One notices the bouquet immediately with its earthy aromas, mushroom and almost forest floor like smell at times. The spice is there as soon as this wine was opens but it takes a bit more time for the fruit to evolve on the nose. The earthy characteristics of the bouquet do not carry over onto the palate. This wine is very well balanced with flavors of dark raspberry and blackberry. It is also fairly robust (for a Pinot Noir) and shows noticeable lingering tannins on the finish.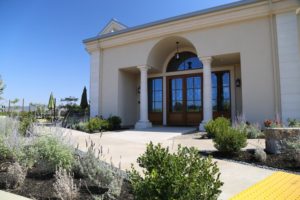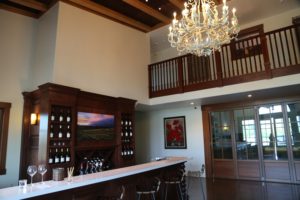 The 2014 Hyde Vineyards Pinot Noir is remarkably a much different wine than the 2012 Hyde Vineyards Pinot Noir. This bottling was made from grapes which surround the winery. The bouquet offers bright fruit aromatics including berry fruits, red currant and licorice with a noticeable white pepper spice. It becomes somewhat floral as the wine continues to open along with a subtle note of chocolate and mocha in the background. This bottling is very balanced yet offers plenty of depth. It drinks well young with good fruit, acidity and integrated tannins.
The 2018 Hyde Vineyards Syrah (100% varietal) is dark ruby in the glass with purple tinges on the rim – this wine is almost opaque; the bouquet offers an initial meaty note along with plenty of other aromatic depth including violets, boysenberry and some hints of old cedar. The palate offers flavors of spicy plum, other dark fruits including blackberry and dark fig, crushed peppercorn and a lingering note of dried tobacco leaf. The finish is filled with dark, and gravelly textured long-lasting tannins. Also noteworthy is this wine's bright acidity and lively fruit. This wine should have plenty of life ahead of it and it will be interesting to see where it's at in about 10 years.
The 2017 Hyde Vineyards Merlot is dark ruby in color; the aromatics are of dark fruit including plum, forest floor and some lesser notes of chocolate, tobacco smoke and leather. This wine is bright across the palate due to its lively acidity with flavors of spicy plum, red cherry and cranberry. The finish shows a bit savory, lingering with a hint of dried tobacco leaf and other dark spices along with dusty, gravelly textured tannins with a medium bodied grip.
The 2014 Hyde Vineyards Merlot was only an 80-case production. This wine is elegant yet ripe on the bouquet at the same time. Reveals aromas of red cherries, dried rose petal and cedar box. Medium bodied on the palate, there are flavors of red currant and red cherry. The tannins show young (still a bit tight), are slightly dusty but are fairly well integrated. Also lingers with a tartness. It has bright acidity and is a versatile wine to pair with a diversity of foods.
—
The wines are very selectively distributed as one might expect when production is under 2,000 cases per year. In addition to selling direct to consumer, Hyde Wines distributes primarily through restaurants rather than retail outlets. Locally, select Hyde Wines are found at numerous restaurants including Bottega, Bistro Jeanty, Goose & Gander, Torc and Morimotos. And their 'neighbor' Carneros Inn also carries some of their wine at their fine dining restaurant, FARM at Carneros. For more information, to schedule a visit to the property or to join one of their two wine clubs (Estate or Farm), visit: www.hydewines.com
Winery Estate

Winery

Home Ranch

Domaine Romanée Conti
When it comes to Pinot Noir and Chardonnay, Bourgogne is the 'mothership'. And within Bourgogne certain sites are more iconic than others including the cozy confines of Domaine Romanée Conti's hallowed vineyards.
One can't mention some of the world's greatest wine producers without mentioning this domaine. And there are reasons for this; they only produce wine from Grand Cru sites (in Bourgogne, unlike in Champagne cru refers to classification by vineyard, rather than village and Grand Cru wines comprise less then 1.5% of Bourgogne's total wine production), their history is remarkable, dating back to a vintage produced in 1232 when the Abbey of Saint Vivant purchased what is now known as Romanée-Conti, their commitment to quality and their extremely limited production.
Its modern-day history dates back to 1869. Presently, Domaine Romanée Conti is equally owned by two families; the de Villaine family has owned half of the estate's shares since 1887 and is the connection with Hyde Vineyards and HDV in Napa Valley and the Leroy family has owned the other half since 1942.
Total production each year across all their properties varies between 6,000 to 8,000 cases. Their vines are older with an average age of 44 years, are planted high density and are farmed biodynamically. Domaine Romanée Conti owns the following vineyards: Romanée-Conti, La Tâche, Richebourg, Romanée-St-Vivant, Grands Échezeaux, Échezeaux and Montrachet (their Chardonnay planting). They farm leased vineyards including in Corton, and in 2018 they began farming and producing another Chardonnay from Corton-Charlemagne. And Romanée-Conti and La Tâche are monopoles controlled entirely by Domaine Romanée Conti.
Visitors to the commune (village) of Vosne-Romanée (population, approximately 350) can make the short walk or drive to the 4.4-acre site of Romanée-Conti. Visually this vineyard may look no different than any of the other nearby beautiful sites. But this small parcel of land produces some of the most iconic and expensive wines in the world. And one knows its special when one sees all the tourists during certain times of the year, lining up across from the stone wall taking pictures including the famous stone cross next to the vineyard.
And this site is a five-minute walk from Domaine Romanée Conti's cellar; as one approaches the winery, if one knows where to look, one can see the winged angel sculpture in their courtyard – easier to see when there are no leaves on the nearby vines.
Depending on traffic, Vosne-Romanée is about a 3.5 to 4+ hour drive from Charles de Gaulle Airport in Paris or about a 30-minute drive from the center of Dijon.
Vosne-Romanée is a cute village and worth spending some time to walk its historic streets. For such a small town, it boasts an inordinate number of restaurants based on its tiny population. Also worth visiting is the ancient cemetery on the northern edge of town.
The best wine bookstore in Bourgogne is Athenaeum in Beaune, located across from the Hospices de Beaune (part of the world's oldest wine charity auction dating back to 1862 held every November). Athenaeum has previously hosted Aubert du Villaine for various wine events, the former co-director of this storied winery for 48 years before he stepped back to an advisory role starting in 2023. Several books worth reading relating to Domaine Romanée Conti are the following: The Prince of Romanée-Conti, Shadows in the Vineyard and Romanée Conti: the world's most fabled wine.
Wilson Daniels is the exclusive importer (since 1979) of the Domaine Romanée Conti wines into the U.S. For more information about Domaine Romanée Conti visit: www.romanee-conti.com