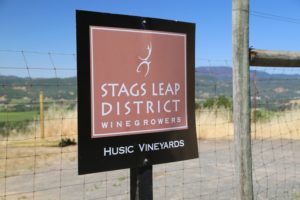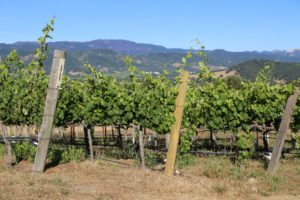 Husic Vineyards was founded by Frank and Julie Husic. Frank (originally from Youngstown, Ohio) has long been involved in investment and financial planning; he has operated Husic Capital Management (based in San Francisco) for several decades. Both Frank and Julie met in 1994, purchased a 120 acre mostly hillside property partially located in the Stags Leap District the following year. Intrigued by prominent vineyard neighbors they began to inquire about planting their own vineyard. Asking neighbors and others they were directed to several vineyard managers – but the ones Julie initially spoke to didn't want to "come down valley". Eventually she met Jim Barbour; he walked the property with her and identified several vineyard sites that could be planted to vines.
If this was today, none of these sites could be planted. But this was in the mid 1990s before Napa County enacted a stronger hillside ordinance prohibiting new vineyards from being planted on slopes greater than 30 percent. Jim helped with the paperwork for getting county approval which ultimately was for approximately 9 acres of vines. This was one of the last steep hillside vineyards planted in all of Napa County. The vines were planted on three sites in 1997 – the larger of the sites is just outside of the Stags Leap AVA (which has a 400-foot elevation limit) while the other two smaller vineyards are within the AVA. The vineyards run from near the valley floor to about 900 feet.
The sites are extremely rocky and, in some parts, greater than a 35% slope (the vines are terraced). The soil is very shallow. Other than two short rows of Petit Verdot, the vineyard is planted entirely to Cabernet Sauvignon. The vines are all west facing. The views from the vineyard are expansive – on a clear day one can look up and down the Napa Valley hundreds of feet below. And to the south, one can clearly see the tall buildings of San Francisco in the distance from their uppermost block.
Their first harvest was 2001 which was released in 2004. Later that same year they received an invitation to a prestigious blind tasting of California "cult cabernets" being organized by Bonhams and Butterfields. Frank knew a wine buyer who worked there and asked him if their inaugural release could be included in the tasting. He agreed and ultimately their Cabernet Sauvignon took second place. The results were posted to the bulletin board forum on the Robert Parker website. The ensuing demand for their wine was quick – remarkably despite being the 'new kid' in Napa's Cabernet Sauvignon scene, their wine soon sold out.
This vintage set the bar high; over the years they have added several additional wines including a Chardonnay and a Pinot Noir from the Sonoma Coast and a rare late harvest Sémillon from a small private vineyard on Howell Mountain. And in addition to their flagship Cabernet Sauvignon – a second label entirely made from estate fruit, the Palm Terrace is release every year.
Celia Welch was their founding winemaker. Mike Hirby has been their winemaker since 2010.
Select Wines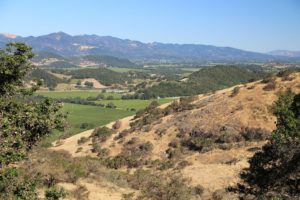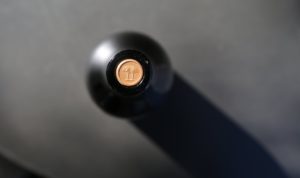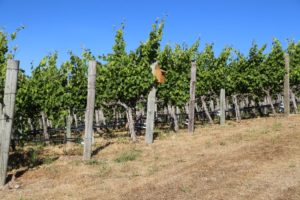 The 2015 Husic Vineyards Pinot Noir is from the Lynch Vineyard located approximately between Sebastopol and Occidental in neighboring Sonoma County. The vineyard site is steep with well drained loamy soils planted to four clones of Pinot Noir originally brought over from Burgundy. The 2015 Husic Vineyards Pinot Noir initially shows earthy notes with some wood spice but as it opens reveals beautiful fruit aromas (mostly raspberry). Nicely balanced and supple on the palate shows mostly red fruits including cherry. Offers a bit of weight mid palate without being heavy. Clean and supple on the finish with long lasting flavors and a lingering red cherry tartness.
We tried both the 2012 and 2013 Dos Palmas Cabernet Sauvignon – the contrast between both of these wines is a prime example of remarkable vintage variation.
The 2012 Husic Vineyards Cabernet Sauvignon reveals aromas of black cherry and black currant along with a noticeable sweetness of fruit including notes of liqueur; the bouquet is unwavering in its aromatic presentation. Shows hints of hints of oak spice, but these are subtleties – certainly not what one first notices on the bouquet. On the palate there is more red fruit than darker fruit with well-integrated tannins and a kiss of mocha showing on the long finish. This wine is more linear in its presentation than the 2013.
The 2013 Husic Vineyards Cabernet Sauvignon immediately offers darker fruit on the bouquet with aromas of mushroom, oak spice, white pepper and an earthy nuance. As it opens more fruit shows including aromas of blackberry and boysenberry. Reveals darker fruit on the palate including blackberry and black cherry complemented by excellent acidity. This is a robust wine with layers of flavor that complement the bigger tannins on this vintage as compared to the 2012. Will love to try this 10 years from its vintage.
—
The wines are selectively distributed in the U.S including in New Jersey, Florida and Texas among other states. Total production in a big year is around 2,000 cases. Internationally the wines are in select locations within Canada and Japan. Frank and Julie have also found a specific niche for marketing their wines – using wine dinners at various country clubs and restaurants as excellent venues for introducing new customers to their wines. And for a few years they were a winery partner at Ma(i)sonry in Yountville where one could taste the current releases of the Husic wines.
In October 2017 terrible brush fires raced across the slopes of the Vaca mountains devouring significant portions of parts of hillsides within the Stags Leap District. While the landscape surrounding much of the Husic Vineyards was seared by the fires, remarkably the Husic vines were not burned (as well as the two homes on their property).
The Caves at Soda Canyon
The Caves At Soda Canyon is a premium underground winery that offers both production and hospitality space for a limited number of small wineries. The property is located in Atlas Peak; while only around a 20 minute drive from downtown Napa, the feel here is definitely hillside remote. We first visited many years ago when it was just under the initial stages of construction. Our early visit was with visionary for The Caves at Soda Canyon, vintner Ryan Waugh who was accompanied by winemaker Craig MaClean. It opened in late 2013 and initially its focus was on production space with limited hospitality available for wines produced by the original four founding winery members: Waugh, Lobo, Patland and Buoncristiani Family Winery. In 2020 a wing of the cave was finally opened for hospitality; over the years the cave is now used for both production and hospitality by additional small family-owned brands. One can make an appointment directly with these brands to taste only their wines, including Husic, or one can make an appointment directly with The Caves at Soda Canyon (where a tasting will highlight select wines from some of the producers).
In the face of natural disasters, this winery has two strong advantages, and it has already been tested twice since opening. Advantage number one is its underground location and advantage number two is it is built into what essentially looks like a giant rock pile. The winery survived the Napa earthquake of 2014 without loss of product (despite significant damage to the relatively nearby city of Napa) and during the Atlas Peak fire of October 2017, again the wine was safe as the fire did not come into the cave, yet it burned all the landscape around the winery and even partially melted some of their outside tanks and the asphalt of their parking lot.
This winery offers a luxurious and well lighted interior alcove for tastings (one of our pet peeves is always caves with bad lighting – one will not find that here), as well as a beautiful space on an outdoor terrace overlooking much of the central to southern part of the valley including the San Francisco skyline in the distance on an exceptionally clear day. An upper outdoor space can also be used for tastings and offers expansive vistas of the southern part of Napa Valley. Husic Wines are available for tastings at the Caves at Soda Canyon and are hosted private for your party.
For more information, to schedule a tatsing or to join their wine club, visit: www.husicvineyards.com