Hunter III Wines is owned and operated by Robert E. Hunter the 3rd. Robert has over 25 years of winemaking in Napa & Sonoma including at notable Napa wineries such as Groth, Keenan, Markham, Schramsberg and Sterling. Today he is winemaker for a number of small wineries.
His family first purchased land in Sonoma County and now run a winery devoted to sparkling wines, the Robert Hunter Winery. Robert III spent his formidable years working in his family vineyards and has winemaking in his blood! Today he runs Hunter III with fruit sourced from premium Napa vineyards – vineyards that he has come to know during his time in the valley.
His first vintage was in 2004 and he focuses on producing high quality Cabernet Sauvignons however as of press time is creating a Sauvignon Blanc sourced from a Pope Valley vineyard in eastern Napa County. This will be a nice addition to his reds. We tried a tank sample of this from 2007. Robert's specialty at a previous winery was producing very aromatic wines and this one is no different. It has a wonderful nose of citrus and other floral aromas. There is lemon lime with notes of white peach on the palate. This is of course a young wine when we tasted and before its bottled some of the grapefruit tanginess and pithiness will drop out.
Robert's philosophy when it comes to Sauvignon Blanc is that the flavor development must happen in the vineyard and the fruit must be allowed to fully ripen if possible. This eliminates the grassy and herbaceous flavors.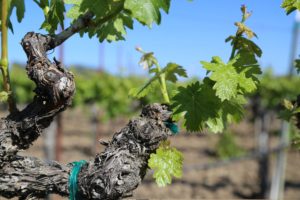 Robert's initial Cabernet Sauvignon offering was merely 150 cases! As a result, it is hard to find but if you do this wine will not disappoint. Its different than his 2005 (more on that in a moment) mainly due to the fruit sources and different terroir. We describe this wine as Napa Valley in a bottle. It is very representative of the mid valley terroir including a unique chalkiness that comes from the Oakville appellation.
When this wine was first released the tannins were almost mouth drying but over time the wine has aged and come together very nicely. There are hints of earth and blackberry jam on the nose with nice black cherry flavors on the palate and some vanilla/cocoa & other exotic spices on the very long finish.
In contrast, the 2005 is a bigger wine which has more of a fruit driven nose (48% of this wine is from a vineyard in Rutherford which typically brings more fruit and jam characteristics to the table). It is very full bodied, inky dark with notes of dusty blackberry and cassis on the palate. It has a pleasant rounded mouth feel. It is always nice to meet directly with the winemaker as we tend to come away with additional wine making knowledge.
Hunter III wines are all hand crafted premium wines. You can find Hunter III wines locally at Cal Wine in the town of Napa or directly through their website.