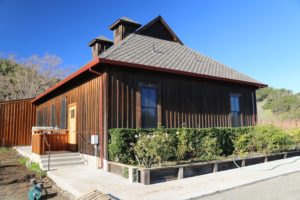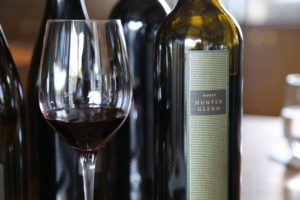 Hunter Glenn Estate was founded by 4th generation Napa Valley family, the brother and sister team of Caroline and Jeffrey Shifflett, Jr., and their mother Ellen. A 120-acre property near the town of Yountville has been owned by the family since 1942. Patriarch Wade Sr. and his wife May purchased this land at the end of Darms lane; the property is gorgeous featuring a diversity of terrain – covering both the valley floor and lower foothills of the Mayacamas mountains up to about 600 feet in elevation.
For decades the property was home to cattle along with peaches, plums, cherries and plenty of hay. Wade Sr's son Wade Shifflett, a Napa County Judge for many years and his wife Olga decided to plant grapes on the property – the first planting was a Chardonnay in 1982. Over the years, the vineyards have been destroyed by Phylloxera and Pierce's Disease and a major replanting occurred in the early to mid 1990s and then again in the early 2000s. Today the property is planted to about 45 acres of vines including the five primary Bordeaux red varieties along with Sauvignon Blanc and Syrah with the intent to eventually plant up to 60 acres in total. Chardonnay no longer grows on site. And most of grapes from the estate are sold to premium area producers – past clients who have purchased grapes from the property included Duckhorn, Raymond Vineyards, Neal Family and Blackbird Vineyards and currently William & Mary Wine Company.
And grapes from the property have in part been used for the the family's own wines. Wade and Olga's son, Jeffrey Shifflett, Sr., former lawyer turned vintner began his own label in 1998 focusing on producing mostly Cabernet Sauvignon wines from both the estate and other parts of the Napa Valley.
Jeffrey Shifflett, Jr. manages the property and is also the winemaker for Hunter Glenn. He worked a harvest in Australia and also worked several harvests at nearby Elyse Winery. Like her brother, Caroline grew up in the Napa Valley (catch up on her wine travels and adventures at Chardonnay Moi); she is responsible for both their direct-to-consumer sales and trade accounts. When deciding upon a name for the wine, they decided to use each other's middle names (Caroline's is Hunt and Jeffrey's is Glenn) opting for Hunter Glenn rather than Hunt Glenn due to its better sounding name.
In addition to using grapes from the family property, Hunter Glenn also sources grapes from the Hunter Glenn Vineyard, 5 acres located in the southern St. Helena City limits. Previously planted entirely to Cabernet Sauvignon, this vineyard is now planted to Cabernet Sauvignon, Cabernet Franc, Petite Verdot and Merlot.
The first vintage of Hunter Glenn was in 2014 – the wine was made at Elyse Winery for several years and bottled at Miner Family in Oakville. After converting an old barn to a winery, their wine making operations are now on site of the Shifflet Vineyard. Small but functional, the winery is plenty large enough to accommodate their current approximately 500 case per year production.
Select Wines
Chardonnay is their only non-Napa wine produced and is sourced from the Starscape Vineyard in the Russian River Valley in neighboring Sonoma County. This is their most produced wine. Ellen's favorite wine is Chardonnay; her input was critical in crafting this wine. She instructed Jeffrey to make a Chardonnay that is crisp and clean yet round and buttery – certainly a unique challenge as often Chardonnay is made either in a style featuring one or the other of these characteristics – not both.
The 2017 Hunter Glenn Russian River Chardonnay offers aromas of citrus blossom, a mineral nuance and an orange peel zest on the bouquet. 50% of this wine was put through malolactic fermentation. On the palate the wine shows a noticeable intensity of flavor from start to finish. Lingers with flavors of citrus, orange peel and mineral notes. The hallmark of this wine is its intense flavor without being heavy or creamy. Directions well followed.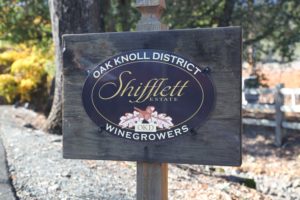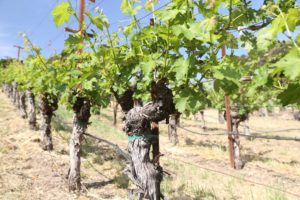 The 2018 Hunter Glenn Russian River Chardonnay (also from the Starscape Vineyard) saw a bit more battonage than the previous vintage. Pale to medium gold in color; very aromatic in its profile shows tropical notes including pineapple, honeysuckle and jasmine. There is an aromatic brightness which is certainly appealing. Very well balanced from start to finish with flavors of finger limes (but without the tartness) and minerality nuances. Shows a slight roundedness, but definitely no oak or butter driven characteristics. Very balanced.
The 2017 was the first vintage of Hunter Glenn Merlot; this wine is medium to dark ruby in the glass – it offers darker fruit aromatics including spicy plum, black cherry, dry earth and notes of dried tobacco leaf. High quality Napa Valley Merlot's have seen a resurgence in the last few years – and by this we mean interesting Merlots. This is certainly one of them. Plenty of complexity on the palate with both red cherry and currant flavors. This wine has great acidity with a bright lively and juicy finish. Very balanced and very food friendly. Nicely done.
The 2016 Hunter Glenn Syrah offers aromas of dark plum, tobacco leaf, licorice and hints of white pepper. Not as meaty or peppery on the bouquet as some Napa Syrah we have tried – although it does have some savory characteristics in its aromatic approach. Balanced – this is not a heavy Syrah on the palate but certainly shows plenty of fruit including blackberry and boysenberry along with hints of cedar box on the savory finish. Well-integrated tannins.
The 2016 Hunter Glenn Red Wine Blend takes some time to open on the bouquet – the aromas are eventually teased out with time in the glass showing cherry cola and raspberry with a hint of mocha. Some wines are made with a versatility of food pairings in mind; this is one of them. With bright acidity throughout the palate – offers flavors of red cherry, currants and cranberry. Shows a lingering tartness of fruit complemented by a very pleasing texture with fine-grained well integrated tannins anchoring a supple finish.
Caroline's husband, Jared Clevenger designed both of the Hunter Glenn wine labels through his St. Helena based design firm, Standards & Greatness. All their wines are limited production; however, the "bookend" label represents their premium specialty wines. In 2014 they produced one wine under this label, a Cabernet Franc.
The 2014 Hunter Glenn Cabernet Franc was entirely sourced from the Shifflett Estate – the wine was aged in 50% new French oak for 18 months. Features a captivating bouquet that one needs to sit with to enjoy all its aromatic nuances as it breathes. Shows plenty of fruit on the nose including blackberry and a raspberry sweetness along with hints of sage, tobacco leaf, a wintergreen nuance and dark chocolate. Reveals more fruit as the wine opens. Nicely balanced and elegant on the palate, the wine offers more red fruit then dark fruit flavors. Lingers with flavors of red cherry – lively and bright, the wine dances across the palate. An excellent food wine – a wine worth seeking out.
—
The wines are selectively distributed in Ohio and New Mexico and a distributor also carries some of the wines in Japan. And they sometimes participate in select wine focused events including the annual Garagiste Wine Festival (a collection of very tiny producers). For more information or to purchase wines, visit: www.hunterglenn.com