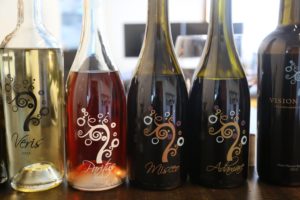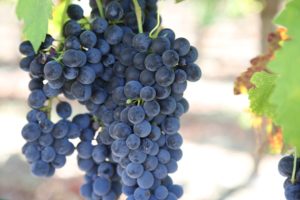 Hugo Family Cellars. We discover Napa Valley based producers a variety of ways – searching for unfamiliar wines in a wine shop, word of mouth and browsing the latest TTB listings for the Napa Valley. We first discovered Hugo Family Cellars by spotting their personalized licence plate in the parking lot at Sunshine Market in St. Helena while doing a lunch run and followed up to taste the wines with winemaker and co-owner Glenn Hugo. He and his wife Pam founded Hugo Cellars with their inaugural vintage in 2007, initially with a focus on Rhône varieties. Over the years, they have diversified their wines and currently produce around 700 cases per year.
Prior to moving to the Napa Valley Glenn worked as a wine buyer for Landry's, Inc., the parent company of prominent restaurants such as Morton's SteakHouse, McCormick & Schmick's and Rainforest Cafe among other brands. It is here that he met Pam. During his time at Landry's he would visit the Napa Valley on sales trips – while on subsequent trips he became less interested in sales (centered around dinners and tastings) but more intrigued by production. He made a point of spending time with vineyard managers and winemakers learning more about their work.
Soon after their honeymoon, Glenn told Pam about his dream to move to the Napa Valley and become a winemaker. As Glenn recalls after one bottle of wine she wasn't so keen on the idea but by their third bottle he was able to convince her about this potentially life changing move. Ultimately both moved to Napa in 2003 – Glenn did not yet have a job lined up prior to their move but soon found two jobs – one working in production at Provenance Winery during the day (with at the time head winemaker Tom Rinaldi) and working the evenings at Bounty Hunter (a wine shop and restaurant in downtown Napa).
Working at Bounty Hunter as their General Manager allowed him to network with those in the wine business. He recalls asking selected guests who ordered beer instead of wine, "what winery do you work for", astutely recognizing the fact that sometimes winemakers simply want to relax after a day of tasting wine, with a cold beer. Over time he befriended some of the local winemakers who frequented Bounty Hunter and offered to assist them during harvest and various production activities in order to further his own winemaking education.
During his time at Bounty Hunter, he also met their consulting winemaker, Marco DiGiulo. Marco soon offered Glenn a job as a harvest intern at Girard Winery – this was in 2006. More then a decade later, Glenn still works at Girard, having seen the sale of the winery, and more recently the move from Girard's Sonoma production facility to a beautiful new winery and property in Calistoga. Glenn is now Girard's Senior Winemaker.
Through his work with Girard and other connections, Glenn has access to a number of premium vineyards in the Napa Valley. The types of wines produced vary depending on the vintage and as Glenn states, he likes to keep his options open especially when it comes to vineyard sources. With Glenn's restaurant background, he looks at winemaking (especially blending) with food in mind – and admits one of the most enjoyable aspects of wine are with food pairings and the elevated moments shared with family and friends. Soft spoken when it comes to his own winemaking, he prefers to let the quality of his wines show for themselves.
Select Wines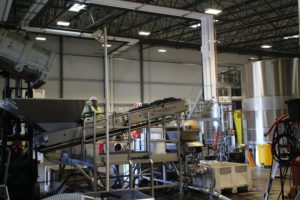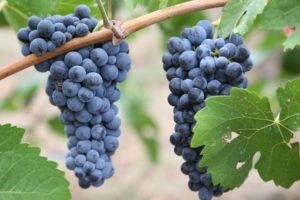 The Hugo Family Cellars 2016 Paritus, Napa Valley Rosé is a blend of Grenache, Syrah and Mouvedre from a vineyard south of Lake Hennessey. The grapes were left on the skins for a short while before being pressed off. Bright red/dark salmon color, opens to aromas of strawberry and red cherry with some floral undertones. A softness shows across the palate – rounded but with some weight. Offers a minerality nuance, a brightness of fruit and excellent acidity. Certainly a varietally unique rosé for the Napa Valley. And with one exception, all of their wines have Latin names – Paritus means to give birth or to create.
The Hugo Family Cellars 2013 Veris, Napa Valley Sauvignon Blanc is from the Girard Vineyard located on the corner of Highway 29 and Deer Park Road just north of St. Helena. Prior the site was planted to Merlot but has since been planted to Sauvignon Blanc. Shows a sweetness of aroma on the bouquet with pineapple, citrus blossom and guava. Immediately evident from the bouquet is that this is not a more grassy style of wine from this variety. A hint of sweetness shows on the palate with a very rounded, almost oily feel to the texture. Plenty of flavor – drinks very well by itself. This wine has been highly popular with their customers in Houston – a patio, porch and pool-pounder if you will. Veris refers to spring time.
The Hugo Family Cellars 2010 Adamare, Napa Valley Syrah (100% varietal) is from a small vineyard that Glenn started working with early on during his Napa winemaking career (Kate's Vineyard) in the Oak Knoll District. Shows dark aromatics that are spicy but not overly peppery – the bouquet lacks the peppery aromatic characteristic that wines from this variety often produce. Also offers aromas of ripe blackberry with hints of cedar, clove and chocolate. Intense on the palate, mouth watering with excellent acidity. A juicy finish with a firm but not over powering textural grip. Adamare refers to falling in love or to be passionate about something.
The Hugo Family Cellars 2013 Vision Quest, Napa Red Blend is a blend of Cabernet Sauvignon, Malbec and Syrah. Each component brings a certain characteristic to the wine – the Cabernet Sauvignon for structure, Glenn loves the Malbec for its mid palate juiciness and dark color and the Syrah is the backbone variety. The color might almost mislead one into thinking this is a Petite Sirah – dark purple with dark aromas, the bouquet is somewhat opulent including aromas of blackberry and boysenberry; it is slightly briary and also shows some savory characteristics in its aromatic presentation. Continues with aromas of leather, dark chocolate and mocha. Shows a pleasing softness on the palate but with a simultaneous density of fruit – the finish is mouth watering and anchored by long lasting tannins with a moderate grip.
—
With Native American roots on his grandmother's side of the family, Glenn decided to honor this heritage by calling this wine, Vision Quest – referring to finding purpose in ones life – with wine fulfilling that purpose.
Pam came across the artwork of Natasha Wescoat many years ago – before she became more well-known. Natasha focuses on bright, colorful and fun works of art – a lighter style of art if you will. Pam and Glenn approached her about creating a label for their wines – she sent them several samples and they adapted a piece of her original works in their final design.
While Glenn handles all aspects of winemaking and vineyard sourcing, Pam is responsible for marketing and selling the wines. The wines are selectively distributed primarily in California and Texas (mostly Houston). Locally you can find the wines at Bounty Hunter in the city of Napa, Meadowood Restaurant and the Oakville Grocery.