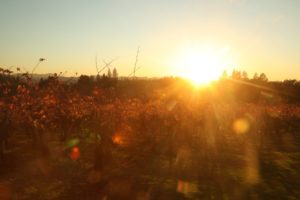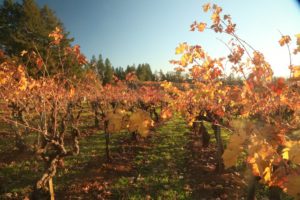 Howell Mountain Vineyards. This was our 1,100th Napa Valley based winery or producer visited with and written about since we started the Napa Wine Project back in 2006. Sure, it's just a number, but it's another milestone number as we work our way through the valley, and for a variety of other reasons, this was a very special visit.
Proprietor, Mike Beatty grew up on a farm about 60 miles outside of Columbus in rural Ohio. His family grew corn, soybeans and raised hogs and cattle among other animals (his family is still involved in farming in Ohio). Mike came to California for college and graduated from Stanford University with a degree in Chemistry. He spent some time as a chemist but grew tired of the lab work. He began to work for Beckman Industries, now Beckman Coulter (incidentally, founder Arnold Beckman invented the first commercially sold pH meter). During his time with the company, Mike worked on both building products and selling scientific equipment. One product he worked on was insulated wire for aircraft, used in the space industry including on the spacecraft for the lunar landings.
Living in Menlo Park in the 1970s, he would often come up to Napa Valley on the weekends. After numerous trips he began looking for property in the valley. He discovered what is now Beatty Ranch from an advertisement by owner in the San Francisco Chronicle. He was immediately attracted to the old vines on the property and its location as being ideally suited to introducing his young children at the time to rural living. He purchased the 34-acre property in 1977.
The backbone of Howell Mountain Vineyards is the 34-acre Beatty Ranch located at 1,800 feet in elevation. The old vines were originally planted by Fred Dominigos (who married into one of Napa Valley's old winemaking families, the Pestonis). The property has had only a few owners over the 100+ years since the first vines were planted; following the Dominigos family, two business partners owned the property for about 15 years prior to selling to Mike.
The special vines at Beatty Ranch are clearly the Zinfandel – the oldest vines date from 1914. About 8 acres of these dry-farmed vines still exist; these are the oldest vines on Howell Mountain still commercially producing. It is rare to have a block of this size and of this age still surviving. The obstacles over the decades are great: disease, perhaps an owner who favors Cabernet Sauvignon and higher production younger vines, and Prohibition, to name but a few. Apparently, the grapes were sold to home winemakers during Prohibition which helped justify their survival. When Mike acquired the property, these vines were being farmed extremely low to the ground. When he took over the farming – he trained the vines much higher; walking through this vineyard block one can still see the burls in most of the vines about 1/3 of the way up the trunk, indicating their former height. All farming of Beatty Ranch is done in house overseen by both Mike and his son Patrick.
And Beatty Ranch also has the oldest Cabernet Sauvignon vines on Howell Mountain, the oldest of which date to 1970. Around the mid 1990s Mike heard that Primitivo might be one of the parents of Zinfandel, so he planted these vines, but soon found out from research being done by Dr. Carole Meredith at UC Davis that this was not true. Regardless, he kept the vines in the ground and today Howell Mountain Vineyards produces a single bottling from this block called Primitivo Clone Zinfandel. Other varieties on property include Cabernet Franc and Petit Verdot.
The site features quintessential Howell Mountain red, rocky, volcanic and iron rich, but nutrient deficient soils (Aiken Loam). A number of more rocky outcroppings are found throughout parts of the vineyard. Frost can be an issue despite the wind fans; in 2008 Mike recalls being the last year they used their return stack heaters to try and protect the young shoots. They lost about 50% of their crop that year. Generally, the site has good wind flow, often in the afternoons and mold has not been a huge issue, even during the cold and damp 2011 growing season. Due to its elevation and exposure, harvest often extends into November; the fog that often blankets the valley floor and into the surrounding hillsides is nonexistent here.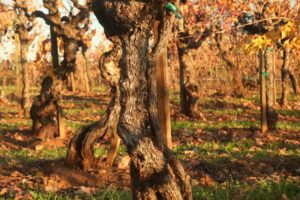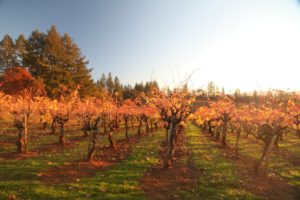 Howell Mountain Vineyards was founded with the first vintage in 1988, a Zinfandel blend with fruit from both Beatty Ranch and Black Sears Vineyard. Mike started Howell Mountain Vineyards with business partners, Jerre Sears and Joyce Black (later founders of Black Sears Winery). The partnership lasted until 2004 when Jerre and Joyce sold their percentage of Howell Mountain Vineyards; today Mike and his family are sole owners of Howell Mountain Vineyards.
A number of prominent winemakers have crafted their wines over the years including James Hall (Patz & Hall), Ted Lemon (Littorai), and Dave Phinney, (Orin Swift). Current winemaker, Bryan Kane has been winemaker since 2012 and was first introduced to Beatty Ranch fruit when making a Beatty Ranch vineyard designate wine for Vie Winery, San Francisco's oldest winery (est. 2004). Production facilities for Howell Mountain Vineyards have changed over the years including at the old Flora Springs property (now Cathiard Family Vineyard), Honig and Black Sears.
Beatty Ranch has sold to a number of producers including to Duckhorn for their first vintage. Mike remembers Dan Duckhorn personally helping out with the 1978 harvest on the ranch the year that Duckhorn produced their first Merlot with fruit from the now iconic Three Palms Vineyard. Duckhorn winemaker at the time, Tom Rinaldi told us he added about 15% Cabernet Sauvignon to that particular wine from Beatty Ranch. Based on the Dominigos family heritage, Pestoni Family Winery sourced some cuttings from the old Zinfandel vines for their own planting. Biale Vineyards produces a Beatty Ranch Zinfandel from the old vines.
Mike was one of the founding members of the Howell Mountain American Viticulture Area, along with Bill Smith (WH Smith Wines), Bob Brakesman (Summit Lake Vineyards), Randy Dunn (Dunn Vineyards) and Bob Lamborn (Lamborn Vineyards). Their first meeting was held at Mike's house. Mike remembers that the impetus for creating the appellation began when Cakebread Cellars began labeling one of their wines Howell Mountain Beatty Ranch. Several others also did this in the early 1980s including Ridge Vineyards. Howell Mountain Appellation was approved in 1983; Napa Valley as an appellation had only been created two years prior. Howell Mountain was the first sub-appellation within Napa Valley – now there are 16, the most recent being Coombsville, approved in December of 2011. For reference the first American Viticulture Area in the country was in Augusta, Missouri, with approval granted on June 20, 1980.
Select Wines
With the exception of a Sauvignon Blanc, all wines produced are estate from Beatty Ranch and all are 100% varietal. In 2020 the first ever Howell Mountain Vineyards rosé was produced. Special bottlings are labeled reserve wines and are created from a barrel selection of the best lots.
The 2017 Howell Mountain Vineyards Beatty Ranch Zinfandel is medium ruby in color; offers hints of white pepper on the bouquet along with a higher-toned sweetness of berry fruits, currant, raspberry and red licorice. This is not a high alcohol, ripe and jammy style of Zinfandel; as a result, this wine has not lost its true varietal characteristics and sense of place. This wine's vitality and vibrancy are at its core – both with bright acidity and higher-toned red fruit flavors. Shows flavors of red and black cherry along with currant; the finish lingers with dried tobacco leaf and dust. The tannins are firm yet nicely integrated and display no sharp edges. Shows a varietal character including a spiciness on both the bouquet and the palate, that riper style wines from Zinfandel simply do not have. This is a beautiful and balanced bottling.
Because of their age, these vines consistently produce balanced wines each year, regardless of drought conditions (a common story we have heard from owners of other ancient vineyards).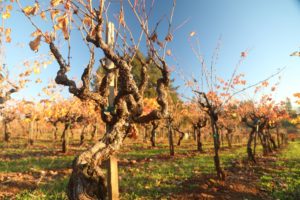 This ranch produces wines with plenty of resulting mountain tannins from the seeds and skins so Bryan uses oak as a supporting factor for mid palate structure, not for flavor or to add more tannins, but to complement the site, the variety and the vintage. And this is especially true for their Cabernet Franc which is aged in once-used French oak barrels. The 2016 Howell Mountain Vineyards Beatty Ranch Cabernet Franc is medium to dark ruby in color; initially shows a burst of fresh fruit including of plum and blackberry but then as it evolves in the glass offers additional layers of aromatic complexity including of darker spices and hints of mushroom. Shows an herbal note but no greenness; one can smell the varietal characteristics. It is an elegant bouquet. Lingers with a medium grip of youthful but integrated tannins showing a slightly dry character along with flavors of red cherry and a note of tobacco smoke. This wine features a lovely tension between fruit, acidity and texture. Very food friendly.
A number of different clones of Cabernet Sauvignon are planted on the property. Typically clone 6 is primarily used but sometimes during lower yielding years, clones 7, 191, 337 and 685 may be used. The 2017 Howell Mountain Vineyards Beatty Ranch Cabernet Sauvignon is dark ruby in color with purple tinges on the rim; the aromatics are luscious, deep, dark and fruit driven including notes of ripe blackberry and boysenberry and deeper into the aromatics, a subtle hint of leather. The palate is lively and bright with a noticeable juiciness from start to finish. Offers flavors of red and darker fruits with a long-lasting medium grip of gravelly well-textured tannins. Shows a slight dusty nuance on the finish. This wine clearly has plenty of life ahead of it.
Total production is around 2,000 cases annually, but with the vineyard size, they do have room to grow production as needed. The wines are very selectively distributed in certain markets across the U.S. and also sold direct to consumer. Several accolades have brought additional exposure to the brand including their 2015 Zinfandel being awarded the #40 of Top 100 Cellars selections in 2018 by Wine Enthusiast Magazine and the 2016 Cabernet Franc awarded the Top Cabernet Franc in the World, Judge's Selection at the TEXSOM Int'l Wine Competition.
For more information, and to purchase wine including select older vintages, please visit: www.howellmountainvineyards.com