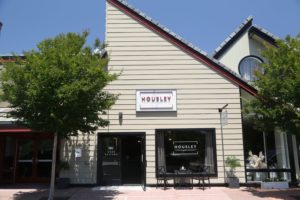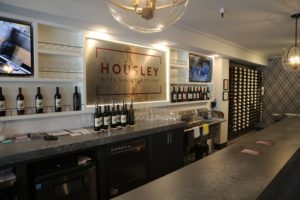 Housley Napa Valley was founded in 2011 but their roots go much deeper into Napa Valley. Art Housley moved to Napa in 1969 and raised his family here; he is 5th generation from the San Francisco Bay Area. Wanting to get away from the south bay and its impending urban sprawl, he chose Napa as a less crowded more rural environment for his family. Working for PG&E at the time, he later left his job there and branched out into other businesses including starting a community market in Napa in January 1977 and calling it Ranch Market. This market still operates in its original location, in a building that was built in 1967 on Soscol Avenue north of downtown. About a year later he purchased a tiny store in Yountville, called Cash & Carry, previously owned by Bud and Barbara Dulinsky. He changed the name to Ranch Market Too! and later remodeled and increased the size of the building; it is still family owned (Art's son Arik and his wife Hannah now own the store). This market is one of the last places in Yountville where one can get a reasonably priced sandwich at the deli and basic food provisions. Art used to run a liquor store, meat market, a video game space and had a yacht charter business on the Napa River.
The family has owned a vineyard along the southern part of the Silverado Trail since 1977. Today they own two vineyards, both originally planted to Chardonnay but currently both planted to Cabernet Sauvignon including a 2.5-acre block and another larger 6-acre block (in the Oak Knoll/Stags Leap District part of the valley). They continue to sell some fruit from their vineyards; in 2014 they produced their first ever estate Cabernet Sauvignon.
Ranch Market Too!, Yountville

Ranch Market, Napa

Art's son Adam and his wife Tamera oversee the brand and tasting room in downtown Napa. Both have led intriguing lifestyles – Adam grew up in Yountville, was a former minor league baseball player and later became an Emmy Award winning journalist as a news correspondent for Fox News Channel spending time as a reporter in Napa, Chico, Sacramento and Santa Rosa. During his time as a reporter, he covered both local news as well as some of the world's major news events with his reporting taking him around the world.
German born, Tamera is an actress with a number of television shows to her credit including Sister Sister, Tia & Tamera and The Real. In addition to an accomplished television career, she has acted in a number of films including Twitches (a Disney Channel production), Double Wedding (a Lifetime movie production) and had a role in The Hot Chick starring Rob Schneider.
Tasting Room Napa
In early June 2019, Housley Napa Valley opened a tasting room in downtown Napa. The prior occupant was Uva Trattoria; this restaurant was open from 1999 through 2017 which is almost an eternity in Napa's always changing culinary scene. This tiny part of downtown Napa used to be called "Spanish Town" – referring to the immigrant community who lived here from the 1860s through the 1930s – with residents often from Hispanic speaking countries in South and Central America. And for decades, it was also Napa's red-light district (reference the Vintner's Collective building just down the street from the Housley tasting room) and was the city of Napa's Chinatown.
With Tamera's oversight and insights into interior décor, the lengthy space has been completely transformed from a restaurant layout to a more open space with an attractive bar as well as sit down areas. Adam and Tamera refer to their inside tasting room as 'the living room' and their outside seating space as 'the deck'. A number of locally made and sourced products are available for sale within the tasting room including candles and wooden cutting boards – often a result of either Adam or Tamera's personal relationships with artisan producers.
The focus of the tasting is on both the Housley Napa Valley wines, bottlings from the family's Century Oak Winery in Acampo (Lodi) and wines sourced from other northern California counties. It should also be noted that their wines are extremely reasonably priced for the quality.
And through Adam and Tamera's connections in the world of entertainment and in wine – sometimes select events will be hosted at the tasting room featuring the wines from some of their friends in the industry. The vibe here is fun, casual and generally youthful.
Adam is also a partner in Napa Pedal Crusher, a 2023 model 15 passenger pedal bike which offers public transportation in the downtown corridor, stopping at various tasting rooms and wine bars including Housley Napa Valley. This pedal bike can also be rented for private tours. It is recommended to have at least 8-10 passengers pedaling.
Select Wines
The 2022 Housley Napa Valley Pinot Grigio was fermented in stainless steel tanks; this wine is pale yellow in color. The bouquet offers scents of pineapple, pear, freshly mowed grass, lime, kiwi, passionfruit and citrus blossom. If one could translate running one's fingers across soft velvet to how it feels on the palate, this wine's texture would be very similar. Richly flavored, crisp, clean and very well balanced, this bottling offers flavors of green apple, pear, kiwi, honeycomb and lingering citrus notes. This is a very refreshing bottling, supported by it's bright acidity. We would like to pair this with some Thai giant prawns and accompanying spicy nam prik sauce.
The 2019 Housley Pinot Noir Carneros is pale ruby in color; we wrote one word to describe its bouquet: spicy. But there is more here including notes of raspberry, red currant, white pepper, a well worn baseball mitt being used on a hot day, damp earth, Mexican mole, mushroom and cherry cola. Bright, as lively as their busy tasting room on a Saturday afternoon, and fresh across the palate, this wine delivers flavors of raspberry, red cherry, red licorice, cranberry and currant. The rounded and dark tannins are accompanied by a dark spice, some earthiness and bright acidity. This is a savory showing and refreshingly smells and tastes like the variety. We recommend paring this with roasted lamb.
The 2018 Housley Napa Valley Cabernet Sauvignon is medium to deep ruby in color; the bouquet is somewhat savory offering notes of crushed black pepper, dark plum, ripe blackberry, Pakistani mulberry (shoutout to Jay Ruskey at Goodland Organics in Goleta for that one), old cedar box, toasted oak, dried herbs, dark chocolate, espresso and mocha. This wine offers flavors of red cherry, blackberry and currant. The acidity is bright and keeps this wine fresh across the palate. The tannins show a grainy and lightly pixelated texture, lingering with notes of crushed pepper, a woodsy cedar note and a dryness framed by a mouthwatering juiciness. We don't eat much beef these days, but this wine made us think of a well-marbled steak, medium rare from the BBQ.
The 2014 Housley Napa Valley Cabernet Sauvignon was the family's first ever Cabernet Sauvignon from Napa Valley. It was harvested from their 6-acre vineyard and is 100% varietal. Offers a pleasant bouquet with plenty of aromatic layers including raspberry, blueberry, sweaty leather, old cedar box and sage; it is also somewhat meaty or savory in its presentation. Rounded and plush on the entry this seamlessness continues nicely across the palate revealing higher toned red fruits and blackberry with a textured well-defined finish – but not overly grippy or harsh in its lingering feel. It is an approachable Cabernet Sauvignon with depth and refreshingly is available at a reasonable price point (not words we often use when describing single-vineyard Napa Valley Cabernet Sauvignon).
The 2016 Housley Adam & Tamera's Field Blend was made from Lodi grown fruit and is a blend of 40% Cabernet Sauvignon, 35% Zinfandel and 25% Petite Sirah. The bouquet offers darker fruit with darker spices and a recently wet earth nuance. A crowd pleaser – the palate shows both red berry and blueberry fruit with red currant and red cherry. Very approachable young, the wine is layered but not heavy. Mouthwatering acidity, but not tart – the finish lingers pleasantly with soft tannins, a hint of mocha and subtle darker dessert spices. And this wine has proven to be popular with those who have followed Tamera's career.
Barnhouse Brews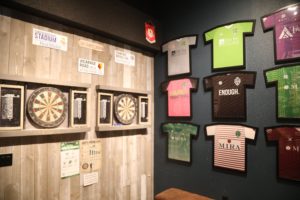 This pub/coffee shop/hangout opened in October 2021 at 1004 Clinton Street, merely several doors down from the Housley Napa Valley tasting room. This space was envisioned by Adam Housley and his friend and business partner Eric Barnes; the same design team that renovated the Housley Napa Valley tasting room were also responsible for the interior design in Barnhouse Brews. Both men met when working for Fox News, traveling around the world covering major newsworthy events including the tsunami in southeast Asia and parts of Africa in 2004. And astute readers will notice the name of their business is from creatively combining part of each of their last names.
Barnhouse Brews has quickly become a hangout for both locals and also visitors to the valley. Clinton Street offers several beverage and dining establishments; this street can be very busy, especially on the weekends. Arguably the business that began its mini renaissance was Housley Napa Valley as both Tamera and Adam's exposure from their other careers has been a magnet in bringing visitors to this part of downtown. Some locals use Barnhouse Brews as a workspace catching a coffee in the morning while working on their laptops.
Several tables are located outside in front along with casual seating inside near the main counter. Several spaces are also located to the rear of the building including the Shack In The Back, complete with darts, shuffleboard and a wide screen TV, most likely playing various futbol matches. For those who like to drink, this is a one stop shop offering beer, mead (wine made from honey), wine (including from Housley Napa Valley and Housley Century Oaks), cider and coffee. A number of pastries and other breakfast type breads are also available. The focus of their products is on local and includes various snacks.
Barnhouse Brews is open daily from 7am until the evening.
Housley's Century Oak Winery, Acampo – Lodi
Located about an hour and 15-minute drive from downtown Napa, Century Oak Winery was built by the family in 2000. Named after the massive Valley oak tree on the property surrounded by rows of vines, this prominent giant has been dated to more than 100 years old (and also serves as the image for their logo). The property is planted to 37 acres of vines.
The tasting room is homey and welcoming – with a small bar and wine related gifts for sale. Also, plenty of awards and medals line one of the walls won in various tasting contests and a few pictures of celebrities holding their wines – based on Adam and Tamera's connections in the world of entertainment. The tasting room connects to the winery – one can take a peek in to see all the tanks and barrels. A tasting is very relaxed and features both their Lodi wines as well as select Housley Napa Valley wines. Open 12-4pm on Saturday and Sundays or by appointment the rest of the week.
Housley's Century Oak Winery, Acampo CA

Century Oak, Oak Tree

Total production between both Housley Napa Valley and Century Oak is around 6,000 cases a year. They maintain distribution in a select number of states and the wines from both sites are sold at both tasting rooms. For more information visit: www.housleynapavalley.com and www.centuryoakwinery.com