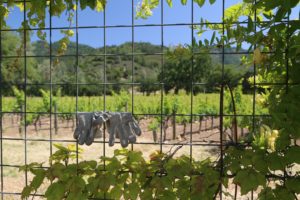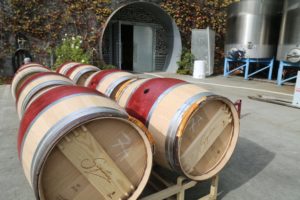 Hourglass Wine produced their first vintage in 1997 and for many years their entire production was from the single 4 acre Hourglass Vineyard just north of St. Helena. Today they own two vineyards – the original estate Hourglass Vineyard (purchased in 1975) and the Blueline Vineyard in the Calistoga sub appellation (purchased in 2006).
The Smith family has lived in Napa Valley since the mid 1960s; Hourglass is owned by Jeff Smith (who we first met with) and his wife Carolyn. Jeff's father Ned Smith was a real estate developer and broker and had the foresight to recognize that people would be captivated not only by the scenic beauty of the Napa Valley but also by the wines produced from this region. Two of his most famous land transactions were to iconic wineries; he found and showed property that would eventually become the nearby Grace Vineyards (Dick & Ann Grace) and Stags' Leap Winery (Carl Doumani).
In 1975 Ned built the Wine Country Inn & Cottages located off of Lodi Lane, about a 5-minute drive north of the town of St. Helena. This property is still one of the Napa Valley's best kept secrets – located behind Freemark Abbey, the resort offers a quiet stay but is within a few minutes' drive of downtown St. Helena and nearby restaurants.
The Smith family sold Wine Country Inn in 2016 and the new ownership continues to operate this resort. While having foresight, Ned also had a practical side – the inn was constructed so that it could readily be converted back to apartments if there ever was a shortage of visitors. Fortunately, this never was a problem and in 1976 they planted 4 acres to Zinfandel. They sold this fruit to Caymus Winery until 1990.
In the early 1990s Jeff's mother was interested in selling the property; at the time Jeff was living in San Francisco and working in management at Skyy Vodka. Jumping at the chance to move back to the valley, and convincing his mother not to sell the property, Jeff soon took over the vineyard management. At this time phylloxera hit the valley and as Jeff discussed with us this caused an immediate paradigm shift within the wine industry. Before the onset of phylloxera in the late 1980s and early 1990s, the Napa Valley was farmed with a mindset similar to Bordeaux. Phylloxera was like a reset switch in which soils, rootstock, clones, trellising, vine row positions and many other factors were looked at in a new light. After phylloxera, in 1991 the Hourglass vineyard was replanted entirely to Cabernet Sauvignon although there is a single Chardonnay vine within the vineyard and its grapes always are always a part of the 100% varietal Cabernet Sauvignon produced each year from this vineyard.
Aside from managing the vineyards and discussing viticulture Jeff's other passion is terroir and geology. The name "hourglass" is an appropriate name for the original estate vineyard. During Jeff's early involvement with this vineyard, he realized he needed to introduce someone to the site who was trained in viticulture and who also had a background with the soils of the Napa Valley. Dr. Mark Kliewer (who was Dean of the viticulture program at UC Davis) visited the property and proclaimed this vineyard as potentially one of the great vineyard sites in the Napa Valley; it was Dr. Kliewer who described the location as being the middle of an hourglass. If one looks at the Napa Valley from a bird's eye view the valley pinches down just north of St. Helena and then opens up again to the north. Their vineyard is located right at this geographical narrowing between the Mayacamas mountains to the west and the Vaca mountains to the east.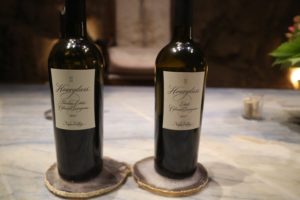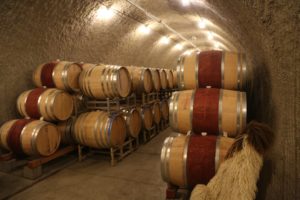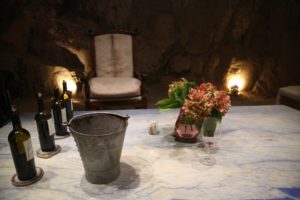 As a result of this unique location – there is a fairly large diurnal swing in daily temperatures during the summer. The warmer part of the valley to the north combined with the cooler part of the valley to the south creates afternoon breezes and wind currents over the vineyard. In addition, the vineyard tends to hold the fog later in the morning. So, what does this all mean to the vines? Because of the unique location the grapes tend to hang on the vine longer and their ripening is slowed down leading to balanced evenly ripened fruit.
Having a rock component to the soils is a very important aspect of great hillside vineyards and Hourglass certainly has this in both their vineyards. The Hourglass Vineyard is composed of a fractured bedrock which extends under the vineyard jutting out as a single arm from the Mayacamas mountains. The Hourglass vineyard is also located in a great "wine" neighborhood; nearby neighbors include Grace Family, Vineyard 29, and Colgin's Tychson Hill property.
The newest acquisition is the 20-acre Blue Line Vineyard located on a 40-acre piece of property along the Silverado Trail south of Calistoga. Jeff spent several years looking for a second vineyard to complement their Hourglass vineyard and at one point called off his search as it was becoming too difficult to find a desired piece of property. One day he saw property for sale while making a drive to the nearby dump. He stopped and walked the land – and realized this would be an excellent addition to their vineyard portfolio. Similar to the Hourglass Vineyard the Blueline Vineyard is mineral rich but nutrient poor. Jeff knew they had a good vineyard site during a particularly rainy winter when walking the property, he saw very little mud building up – the site features rocky (river cobble) porous soil that is very well drained. Driving into this property, one will easily see all the rocks lining the soils at the base of the vines. This vineyard is planted to five Bordeaux red varieties including Cabernet Sauvignon, Cabernet Franc, Merlot, Petite Verdot and Malbec.
This name is again a geographical reference as "blue line" is the line on US Forest service maps to indicate riparian zones including creeks and in this case is named after the two creeks on the property. These creeks connect to the Napa River and incidentally are spawning creeks for Salmon (fingerlings) which remarkably make it this far from the San Pablo Bay to the south of the Napa Valley.
2009 was the first vintage produced in their own winery (prior to this they were custom crushing at other wineries). Well-respected winemaker Bob Foley (Pride Mountain Vineyards, Switchback Ridge, Foley Wines) was their founding winemaker. The cave is state of the art – built with functionality in mind in part with input from Bob. It was designed by San Francisco architectural company, Lundberg Design (Rudd Estate in Oakville and the Slanted Door Restaurant in San Francisco, two of their more prominent projects). The cave is built into the hillside towards the back of the property and was dug into almost solid rock. As a result, no wall facing was needed (gunnite) and the inside walls of the cave reflect all the marks from the drill bits.
The original plan for the Blueline Vineyard was to create a Bordeaux style red blend but as Jeff says, "sometimes mother nature wins out"; during their blending trials they were quite impressed with each wine as a standalone variety. As a result, all of their Blueline label wines express varietal characteristics and are all 100% varietal. These wines include Merlot, Cabernet Sauvignon and just a tiny production of Cabernet Franc. 2006 was their first release from the Blueline Vineyard.
Both the Hourglass and Blueline vineyards produce dark wines which feature excellent natural acidity and pleasing structure in their youth but possess all the hallmarks for aging; the Cabernet Sauvignon from the Hourglass Vineyard already has a 20+ year history to prove that.
Select Wines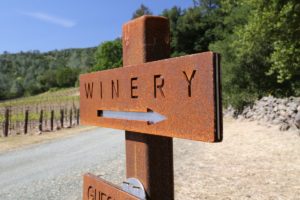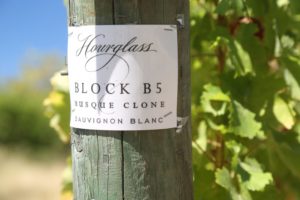 As Jeff says the key to Merlot is having the correct soils. This Merlot is growing in an ideal part of the Blueline Vineyard property; those who perhaps don't care for Merlot may reconsider their preference after trying this particular wine. The 2006 Blueline Merlot is very dark in the glass with an elegant fruit forward bouquet showing some minerality characteristics, floral notes and subtle hints of cedar. The palate is smooth and voluptuous – with a juicy entry. Red plum, and raspberry flavors are well balanced by refined slightly earthy tannins. This wine shows more red fruit rather than dark fruit flavors. It has great acidity and will pair well with food. The finish is super long with well-integrated but a noticeable density of tannins. A fine showing.
The 2006 Blueline Cabernet Sauvignon is a dark ruby color in the glass. Notes of toffee and espresso from the particular barrel program show as underlying aromas on the bouquet. As the wine breathes more aromas of cherry dominate. The palate has a slightly tart expression showing dark fruit. Broad tannins form the finish to this medium to full bodied wine. Again, this is an ideal food wine.
The 2006 Hourglass is 100% Cabernet Sauvignon. Terroir also includes what grows on a site and in this case, there are several Eucalyptus trees as well as wild fennel growing near and among parts of this vineyard. Fruit from vines growing close to these are kept separate and fermented separately from the rest of the vineyard. These do influence the wine to some extent although Jeff says as the vineyard has matured their influence has become more muted, rather complementing the wine. Winemaker Tony Biagi told us this vineyard is full of obsidian rock. The Hourglass Vineyard is typically picked several times each harvest. One can tell this is a rich complex wine simply from the bouquet. Subtle hints of menthol and black licorice are found along with vanilla, cigar box aromas and dark ripe fruit. Complex layered flavors show on the palate including blueberry and ripe blackberry. The finish shows structure but in an elegant kind of way; this is very well-balanced wine.
During a revisit 10+ years after our first visit we tried the 2018 Hourglass Cabernet Sauvignon from barrel. At the time of our barrel tasting, we wrote: "this is going to be truly an exceptional wine – one that serious collectors will want to seek out. Despite still being in the barrel and its obvious youthfulness, arguably its most impressive attribute is its superb balance." Several years later we tasted this wine from bottle. This wine is 100% varietal Cabernet Sauvignon. It is dark ruby in color with aromas showing an initial note of tea leaf, dried herbs and mint along with dark cherry. The tannins feel dense but with a pleasing silty almost chalk-like texture. This wine lingers with notes of dried tobacco. It showed just as balanced as the first time we tasted it.
A second label, the HG III Red Blend is also produced created from purchased grapes along with some grapes from the Blueline Vineyard.
The 2019 HG III Proprietary Red Blend (Merlot, Cabernet Sauvignon and Petite Sirah) is noticeably dark ruby in color and is almost opaque to look at; the bouquet is fruit forward with ripe aromatics of blackberry, black licorice and dark plum along with some darker dessert spices. The influence of oak is noticeable on the bouquet but is more so on the palate, especially on the finish. The palate is juicy and rambunctious with flavors of plum and blackberry. This wine features dark, chewy and gravelly textured tannins. It lingers with notes of old cedar. This is a boisterous and big wine that over delivers on quality, especially considering its very appealing price point.
—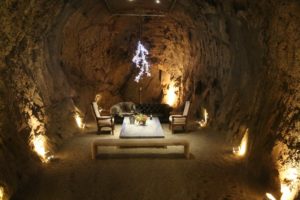 Hourglass wines are in high demand and there is a rather substantial waiting list to get on the mailing list however one can sometimes find the wines locally at ACME Fine Wines in St. Helena. Incidentally, the owners of ACME at the time played an important role in getting their initial vintage some quick premium exposure when in 2001 they pitted Hourglass wines against some Napa Valley prominent notables including Harlan Estate, Bryant Family and Screaming Eagle during the week of the Napa Valley wine auction. During tastings by professional tasters the Hourglass wines were always rated very highly and were much more affordably priced then these other "cult" wineries.
A visit to the Blueline Vineyard and cave is for serious wine enthusiasts and mailing list customers. A small cave grotto located with the primary cave serves as an impressive tasting room – with a small Swarovski crystal chandelier overhanging complemented by a comfortable couch and several chairs. It can be easy to whittle away a few hours in this part of the cave with excellent wine and conversation.
Hourglass is a partner winery of The Vines, a private member only club geared towards serious wine enthusiasts and explorers, with winery partners located in select wine regions around the planet. Membership gives one access to winemakers and select private winery hosted educational and social events. The Vines is associated with the Vines of Mendoza in Mendoza, Argentina (see our extensive notes from our visit under our review on Revana Vineyards).
Total production is usually between 3,500 to 4,000 cases a year of the Hourglass wines. For more information, to join their mailing list or to schedule an appointment, visit: www.hourglasswines.com
Hourglass Vineyard

Blueline Vineyard