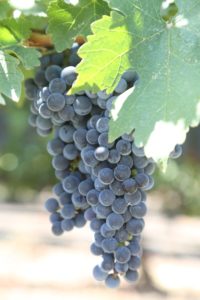 Hossfeld Vineyards. Henry and Susan Hossfeld moved to this part of the Napa Valley in 1980 from Marin County. Henry owned and continued to operate a successful home construction and remodel company. After acquiring the property, he and Susan decided to grow crops on site. Initially they looked at planting kiwis but then were encouraged to plant grape vines from others already in the valley. The rocks on site became a formidable challenge during the development of the vineyard. The site is 50 acres of which about 20 are planted and is firmly nestled between the Stags Leap District and Atlas Peak. The vineyard is planted to 5 Bordeaux red varietals including Cabernet Sauvignon, Cabernet Franc, Merlot, Petite Verdot and Malbec.
And it's not only vines they grow but the family also has a green thumb led by Susan. Their gardens and orchard are a beautiful oasis on the property with a variety of fruit trees, apples, avocados, vegetables and a Zen part of the garden planted to a number of flowering plants.
The property has its own character – primarily its rocks and often steep slopes. One doesn't have to look far at all to discover rocks in this volcanic riddled site. So prolific are the rocks on this property that when Henry decided to plant vines in 1981 – in parts of the vineyard he dynamited every hole for each vine. And some sections of their vineyard have absolutely no soil; one area in particular is solid rock and has never been planted – although vines grow around the perimeter of this section. The upper part of their vineyard is around 1,000 feet; the vineyard is divided into 8 different blocks. From sections of their property there are 360-degree views, looking up valley to the north and on clear days one can see Mt. Tamalpais and into downtown San Francisco to the south.
At one point early in the vineyard development Henry bought in the football team from Napa High School to help drive stakes into the vineyard – they lasted all of one day, based on the difficulty of pounding stakes through rock. They have not been back since.
This vineyard could not be planted today based on the Napa County ordinance prohibiting planting grapevines for commercial use on steep slopes and or terracing. Henry was working full time and despite the size and scope of the work needed to maintain the vineyard, he considered grape growing his hobby. Henry learned viticulture by 'doing' along with taking select classes at Napa Valley College and at UC Davis. Today the vineyard is farmed entirely organically.
Resilience is a very important attribute in the wine business as is persistence. These two words are cousins. And these are attributes the Hossfeld family knows well. The vineyard had to be replanted in the early 1990s as the vines were planted on AXR rootstalk (not resistant to phyloxxera). When Henry died far too young in 2009 the family came to a crossroad – should they sell, or should they keep the property? Fortunately, they decided to hold on to the property. Then in 2017 devastating fires tore through this part of Napa Valley and severely damaged their property, burning the family home, other buildings and destroying some 75% of their entire vineyard. They replanted these destroyed vines in 2019. And then in 2020 some of their already fermenting wines were stored in a winery which almost completely burned down in the north part of the valley.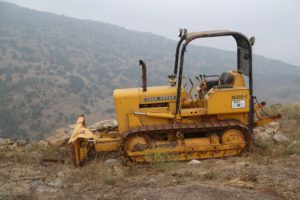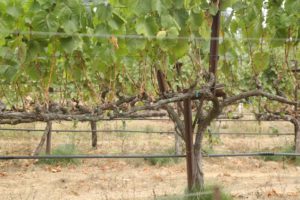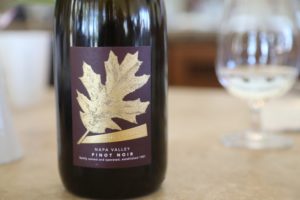 After Henry died, his daughters took over key roles. Lucia is their vineyard manager overseeing several employees and Hayley is the winemaker (she has also made wine in France, Spain and New Zealand and has her master's degree in Innovative Enology from the Universidad del País Vasco (University of Basque Country) – in tandem with Napa winemaker Chad McComber, Lucia's husband.
We first discovered the Hossfeld Vineyard many years ago when we tried a Carter Cellars Coliseum Block Hossfeld Vineyard designate. This block is named for its geography; it is curved like a coliseum, steep and bowl-like and is located on the east side of their property just above Soda Canyon Road. After the fires of 2017 one can now easily see this block while driving on Soda Canyon Road about 1.5 miles before reaching the driveway for the Caves at Soda Canyon winery.
The majority of their grapes are sold to a limited number of Napa Valley based producers. Hayley recalls her mother thumbing through the yellow pages years ago eventually locating the phone number for Stag's Leap Wine Cellars and cold calling their founder and owner, Warren Winiarski. She convinced him that Stag's Leap Wine Cellars needed some south Napa Valley hillside fruit. Her persuasion was successful. Today Hossfeld Vineyard continues to sell grapes to a variety of producers. However, in 2014 they began to make tiny lots of their own wine from the estate and in 2016 produced their first wine bottled under the Hossfeld label.
Select Wines
The 2021 Hossfeld White Wine Napa Valley is a blend of Malvasia Bianca and Pinot Grigio. These varieties were co-fermented and then aged for 6 months in stainless steel barrels. This wine is medium golden in color; the aromatics quickly catch one's attention because they are sweetly floral and simultaneously fruity. And they are not shy. The bouquet offers scents of warm honey, lychee, pineapple, assorted tropical fruits including mango, ripe pear and star jasmine, honeysuckle and citrus blossom. When smelling this wine we were virtually transported to the Hossfeld property, walking through their well kept and vibrant arboretum like space some warm mid spring day. Or perhaps visiting a citrus grove in spring in the southern San Joaquin Valley. Based on the aromatics alone, one might be tempted to think they are about to try an off-dry or even dessert wine, but that is not the case. The palate sports flavors of orange melon, pineapple, tangerine and granny smith apple. This wine's texture is rounded and creamy supported by mouth-watering acidity, especially felt on the finish. The flavors are long lasting. Simply put, this wine is delicious.
The 2019 Hossfeld Los Carneros Sparkling Chardonnay (pétillant natural, meaning 'naturally sparkling' in French) was bottled during its fermentation allowing the fermentation to finish within the bottle – with the CO2 by-product trapped within, creating the resulting sparkling wine. The very few we have seen in the Napa Valley tend to be made by younger innovative winemakers. Deep golden in color the aromas show notes of honeysuckle, lime, kiwi, green apple and pear. Light, and off dry, the wine glides smoothly across the palate with flavors of citrus and melon and a lingering, but tempered sweetness.
The 2019 Hossfeld Napa Valley Red Wine is a unique Napa Valley blend of 40% Malbec, 40% Merlot and 20% Cabernet Sauvignon. This wine is deep ruby in color; the bouquet offers a pretty union of both fruit and a slight herbal note. Its scents include dried tobacco, plum, violets, sage and a light complementary toasted oak character. This wine's brightness of acidity is immediately felt with red fruited flavors of cherry, raspberry, plum and licorice. The palate delivers a pleasing opulence but without being overly ripe. The tannins are grainy and linger with a moderate grip alongside lightly toasted oak. We had no hesitation in calling the finish savory.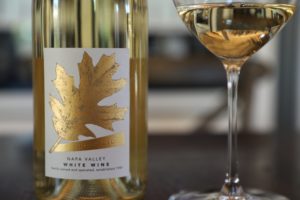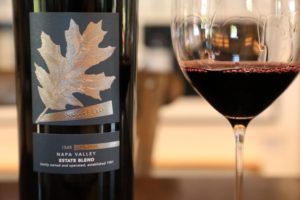 The 2017 Hossfeld Napa Valley Merlot is ruby red in color; the wine initially offers aromas of leather along with dark berry fruits and cherry with some darker spice nuances and dark chocolate. The bouquet is appealing. After trying the wine, we wondered if any Cabernet Sauvignon was blended in – the answer is no, this is 100% varietal Merlot. Big yet balanced, its depth and structure are important characteristics. Great acidity with bright fruit showing across the palate. Granular, long-lasting tannins with a decent and long grip, anchor the finish. The wine was fermented in stainless steel tanks – and aged about 18 months in all French oak, about 70% new. This beauty has plenty of life ahead of it.
The 2016 Hossfeld Napa Valley (100% varietal) Malbec is deep purple in color; this wine offers ripe fruit (blackberry & boysenberry) with an earthiness and a mushroom note to the bouquet (which dissipates after the wine opens further). Also, some floral notes including violets. Slightly briary – slightly savory. Very well concentrated yet well balanced with bright acidity across the palate. Flavors of plum and red cherry. Some white pepper. A gentle texture lingers on the finish with nicely integrated tannins. Drinks very well by itself. And impressive offering from a variety that is rarely made as a standalone wine in Napa Valley.
—
The elegant and attractive label design was created by one of the best graphic designers and label artists in the Napa Valley, Michael McDermott. He visited the property and gathered a number of leaves that had dropped on the ground – using these leaves as the inspiration for their label. The oak leaf on their label is from a Black Oak tree.
Hossfeld also produces a very limited production Pinot Noir from Hayley's childhood friend's vineyard on the Napa side of the Carneros district. And for fun (not for sale), Hayley makes cider using apples grown on site.
Typically, less than 500 cases are produced each year with distribution primarily through their website and a member only mailing list. Locally select wines may be found at V Wine Cellars in Yountville and at the Oakville Wine Merchant. For more information and to sign up for their mailing list, visit: www.hossfeldvineyards.com