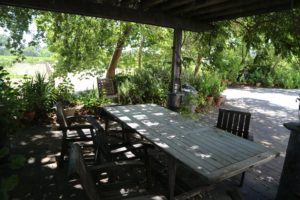 Hopper Creek Winery is open by appointment only and is located close to Bell Winery just minutes south of Yountville. Their address is on Washington Street which runs through Yountville but the winery is not actually located in Yountville proper.
The actual winery is quite old for Napa standards, dating back to the 1970's and has changed hands several times since the original owners. Hopper Creek does not necessarily have that Napa gilded, polished look that some of larger area wineries are known for. This is not a bad thing and is refreshing to find in the valley. Today the property is owned by Dieter Tede and two partners – who have family backgrounds in the wine industry. Dieter is originally from Germany but has lived in the USA since 1958. His family is not new to the wine industry; in the 1860's his great grandfather established a wine and beer distribution business. Six acres of vines are planted on site to Merlot and Cabernet Sauvignon.
The tasting is in the old winery building and is very relaxed and casual. There is an awning and small deck outside which is a nice place to also taste, weather permitting. Dogs will be walking around, the barrels are stacked nearby and typically some nice mellow non mainstream music provides background ambiance.
Their Chardonnay is quite appealing – with a first vintage dating from 2005. They also make a Sauvignon blanc. For reds, they produce a Merlot, Cabernet Sauvignon and a Zinfandel. Some of their older Merlots are tasting real nice now and sometimes their tasting room manager will make his "own" Merlot blend on the spot for you to taste. Their wines are all hand crafted in small quantities.
A glance inside the tasting room will quickly reveal this is not one of the "normal" contemporary Napa tasting rooms. One quickly feels at home entering this cozy room – similar to Prager Portworks, dollar bills hang on the wall, many of them signed during fun tastings at the winery. You know guests have had lots of fun here when you glance at all the photos hanging on the walls of guests helping out during harvest and drinking wine.
Be sure to glance at their well worn old leather bound guestbook – the comments mirror the fun photos hanging on the wall. Production is only several thousand cases total. Tasting is in one of three places either in front of in back of the winery (both have good views of surrounding vineyards) or inside the tasting room.
The winery is often not open, even during busy summer weekends. Also hard at times to reach anyone to make an appointment because there is no voice mail for their tasting room phone number.
Note: this winery and accompanying vineyard sold to the Hoopes Family in September 2017. We will update this review accordingly once the transition in ownership has settled and the new owners have moved in. If the Hopper Creek wines will no longer be produced, we will archive this review.