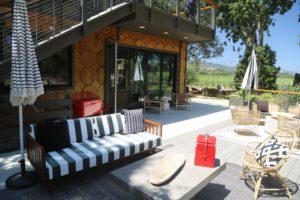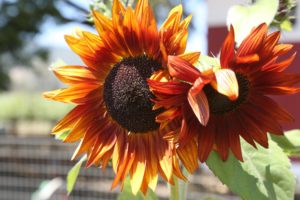 Hoopes Vineyard was founded by Spencer Hoopes (who we originally met with), with the roots of the winery a 10-acre vineyard that Spencer purchased in the Oakville appellation in 1981. This gorgeous piece of property is located off of Yount Mill Road just north of Yountville – right on the dividing line between the Oakville and Yountville sub appellations.
Their vineyard is only about a mile from one of Napa Valley's most historical sites (located to the southeast of the Hoopes Vineyard) – where George Yount built a log block house a a two-story adobe house in 1837. For reference, the first 'western' recorded exploration of the Napa Valley was only 13 years prior in 1823 led by Padre José Altimira, the founder of Mission San Francisco Solano in the town of Sonoma.
Yount also built a grist and sawmill on a section of the Napa River that he diverted to power his grist mills. This is also where Napa's first grapes (possibly Mission grapes) were planted by George Yount – in our historical research, we have come across multiple sources indicating varied years when this occurred from the mid to late 1830s – with an 1856 Official Report of the California State Agricultural Society reference to George Yount's vineyard and orchard planted 18 years prior which would have been the winter of 1838/1839. A historical landmark along Yount Mill Road is the only reminder in this area of this treasured history.
Spencer was raised on a farm in Arizona – but did not pursue his passions for farming immediately. He enjoyed a long career in anti-trust law and various entrepreneurial endeavors including as a wholesaler of automotive parts; now retired from his previous careers he has handed the reins of the operations over to his daughter Lindsay. She joined the family business in 2013 and has since taken over the day-to-day management of the winery and is now the creative force steering the direction of their brands. Like her father, she also has her law degree – and has worked for Williams-Sonoma and also as an Assistant District Attorney in San Francisco.
Spencer was originally introduced to Napa Valley during a visit many years ago, and like so many others, fell in love with both the visual beauty of the valley and its wines. He also began collecting wine and even created a wine club with some friends.
After Spencer purchased his first property in Napa Valley in the southern part of the Oakville sub-appellation, he oversaw the planting of 10 acres of Cabernet Sauvignon in 1983. This part of the Oakville appellation along Yount Mill Road actually extends into the nearby Yountville Hills. Their property is called the White House Vineyard; it's nearly 40-year-old vines were replanted in 2022. Spencer told us it was never his original intention to get into the wine business but today he and Lindsay own two labels (Hoopes and Hoopla), several properties and a physical winery. Initially Spencer sold all the fruit from his Oakville vineyard to an area winery for a number of years. In 1999 his friend Mitch Cosentino (founder of Cosentino Winery) helped him make a small amount of Cabernet Sauvignon which became the first commercial vintage of Hoopes Vineyard.
From 1999 until 2007, Hoopes focused their production on a single wine – a Cabernet Sauvignon. However, the 2007 harvest was an exceptional one and Spencer decided to keep wine from one block within the vineyard separate – called Dante's Block; this was bottled as its own wine. Production has certainly increased since then and today Hoopes produces a number of different wines – typically between 2,500 and 3,000 cases a year.
While taking their wine extremely seriously, Spencer also has a sense of humor easily seen throughout their packaging. He loves dogs and has nicely incorporated a canine theme and the play on his last name into several light-hearted labels. The Hoopes wines feature a dog jumping through a hoop (Dante); select wines are bottled with a ceramic medallion attached to the actual bottle. The Hoopla wines depict Dante with one of the hoops in his mouth.
Initially Hoopla wines focused entirely on white wines but later diversified to a wider variety of wines including several reds. In any case these are 'fun' and affordable wines that over deliver on the quality to price point ratio.
Select Wines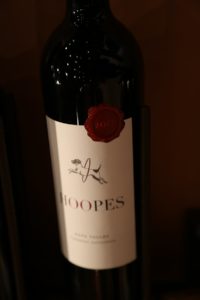 The 2017 Hoopes Vineyard Rosé of Cabernet Sauvignon is an intriguing wine. The aromatics show notes of strawberry and a jolly ranch watermelon note. But the pure hedonism is found on the palate – with considerable weight and texture – it is creamy, oily almost saline in its feel. Flavors of watermelon, tropical guava (not the pineapple guava that grows in California). The weight is complemented nicely with the brightness of fruit and a freshness. Not tart, seamless across the palate. With just a hint of grapefruit on the finish. A fun drinking summer wine.
The 2004 Hoopes Vineyard 100% Cabernet Sauvignon is from their Oakville vineyard; it is a beautiful wine. Spencer strives to create wines that are soft, and devoid of harsh tannins, even in their youth (but have the acidity to age gracefully). He has done an excellent job with this vintage. The wine is a bright ruby color; the bouquet opens up to seductive elegant aromas of red plum and cherry with touches of spice and vanilla. The fruit shows across the palate but especially so on the finish which is velvety smooth and of great length. This wine will pair very well with food.
Wine enthusiasts who seek out "value" in a higher end Napa Cabernet Sauvignon, take note – their Cabernet Sauvignon is always priced reasonably for the quality and pedigree of their vineyard site.
The 2014 Hoopes Vineyard Maya's Block Merlot is a captivating wine that was sourced from a vineyard high on Howell Mountain. A number of the Merlots we taste in the Napa Valley are from the Oak Knoll District (valley floor, further south in the valley); tasting this wine is a significant contrast from these valley floor Merlots. Well layered on the bouquet, offers aromas of earth, mushroom, cedar, hints of pepper and chocolate – it is a savory showing. Well-layered on the palate, features mainly darker berry fruits along with black cherry. Shows darker spices and dusty tannins on the finish. This is a Merlot with plenty of 'stuffing' if you will.
The 2014 Hoopes Vineyard Dante's Block Cabernet Sauvignon Oakville offers a diversity of aromas including blackberry (somewhat briary), a hint of cedar box, toasted oak, cocoa powder and a darker spice nuance. Shows mouthwatering acidity on the palate – packed with plenty of flavor this wine is a savory delight. Finishes with earthy, somewhat gravelly feeling tannins. Plenty of length on the finish with all the stuffing to be able to age for years to come.
The 2015 Hoopes Vineyard Oak Knoll Syrah is dark purple ruby color in the glass with a pretty union of aromatics including dark plum, lavender along with some dried herbs, pepper and hints of dark chocolate undertones. Slightly savory. Juicy with plenty of red fruit tartness including cherry and currant – especially lingering on the finish. Mouthwatering. The tannins are grippy and long lasting. Give the wine time to breathe or perhaps decant to soften the tannins. Or simply throw some tri-tip at it 🙂
—
Spencer purchased the long time Howell Mountain based brand Liparita Cellars in 2006, although not the original stone winery which still stands near the entrance to Las Posadas Road on Howell Mountain. Historically this brand produced several white wines (including Sauvignon Blanc); and for many years produced both select white and red wines including a non-Napa Valley Cabernet Sauvignon. Hoopes no longer produces wines bottled under Liparita.
During their production, these wines were all about the specific terroir from which they were sourced from, and the label featured contours (like on a topographical map) representative of this. As of our latest update to this review, we heard that the Liparita wines are no longer being produced and some of the fruit that was going into these wines – is now used for the Hoopes Cabernet Sauvignon.
For many years, Hoopes Wines were available for tasting at what was Napa Wine Co's shared tasting room in Oakville where the Hoopes wines are produced. But as of January 1, 2019, this tasting room stopped representing all vintner members other than their own three brands.
Oasis by Hoopes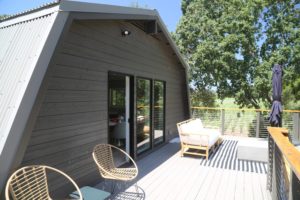 Hoopes acquired the old Hopper Creek Winery and accompanying vineyard in September 2017 (location: just south of the town of Yountville off of Highway 29). Out of more than 1,000 Napa Valley based wineries, producers and tasting rooms visited with to date, the old Hopper Creek winery production facility and tasting room was one of the rare old school Napa wineries with character, still left in the valley. We recall old money and Polaroid photographs of happy customers hung on the walls – along with other non-contemporary Napa like decor.
The winery building is quite old for Napa standards, dating back to 1981, it changed hands several times since the original owner Bradley Terrill (possibly the same individual associated with Terrill Cellars in Lake County to the north of the Napa Valley). Prior to Hoopes, the property had several owners including French vintner Edmond Maudiere and Associates and then Dieter Tede (died in 2019) and Noah Taylor and Alan Haywood. Dieter was originally from Germany, moved to the USA in 1958 and spent decades in international shipping including co-founding the Marine Chartering Company of San Francisco. His family was not new to the wine industry; in the 1860's his great grandfather established a wine and beer distribution business. It was under Dieter's ownership that the property became known as Hopper Creek Winery. Incidentally Noah's family still owns Retzlaff Vineyards in Livermore.
Over a span of several years, the winery was completely renovated and opened for visits by reservation in mid 2020. Beautifully done, the décor is both elegant and casual. No wine is served by the glass – wines are available by the bottle and visits are by reservation only. In addition to several wine varieties planted on the 8-acre property (Cabernet Sauvignon, Malbec, Petite Verdot and Chardonnay), the property also serves additional uses including as a regenerative farm, rescue animal sanctuary and gardens. The gardens are sizable with seasonal fruits and vegetables available for sale throughout the year. A number of herbs and other spices are also grown here.
Oasis by Hoopes is a very cool space to hang out – a relaxing and gentle place where one can easily lose track of time due to good conversation and excellent wine. Perhaps some soothing classical music will be playing during your visit, interrupted only by the occasional crowing of a rooster. The quintessential day here is working one's way slowly through a bottle while hanging out in the shade, lounging back in one of their most comfortable chairs while being caressed by refreshing breezes.
—
Hoopes Brandy
And in a creative use of grapes with smoke taint, from the 2017 crop (a year filled with devastating fires, especially in October), after meeting master Distiller Marianne Barnes at a dinner during a wine trip to Kentucky, both women decided to partner and produce a smoke-tainted brandy. This minimum 2-year aged brandy is made from grapes from Hoopes' own vineyards but also from friends and neighbors who were going to compost the grapes rather than make wine (potentially a profit-sharing opportunity). This brandy should be available for sale sometime in the next few years.
Smitten Ice Cream, Hoopes Cabernet Sauvignon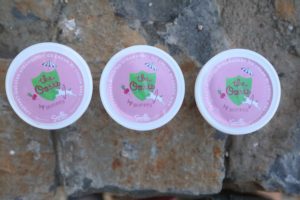 In 2021 through a collaboration with San Francisco based Smitten Ice Cream, a special ice cream was released using Hoopes Vineyard Cabernet Sauvignon, Cabernet Roasted Strawberry Ice Cream with Cocoa Nibs. Smitten Ice Cream was founded in 2009 by Robyn Sue Fisher after she built her own ice cream machine and began selling her limited quantity products on the streets of San Francisco from the back of a Radio Flyer wagon. As of our latest update to this review, Smitten operates 5 retail locations throughout the San Jose Bay Area.
We are eating this ice cream as we write these notes. Creamy in texture, refreshingly this ice cream is not only about the sweetness as dessert makers often produce overly sweet offerings to satisfy the American palate. Lightly strawberry flavored, the tiny cocoa nibs add a pleasing textural crunch and hint of chocolate flavor. We have never been a fan of strawberry ice cream – but this one is deliciously different and one we were immediately attracted to. Very refreshing, especially on a hot summer's day. This ice cream is sold at the Oasis by Hoopes, at the Smitten Ice Cream retail outlets and like the other Smitten Ice Creams, can be shipped nationally. Sold in pint sizes only.
For more information or to signup for one of their membership options, visit: www.hoopesvineyard.com.
Oasis by Hoopes

Oakville Vineyard + Property

Old Liparita Cellars Winery

Hopper Creek Winery (photos for historical reference)