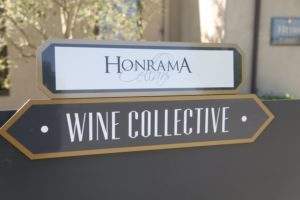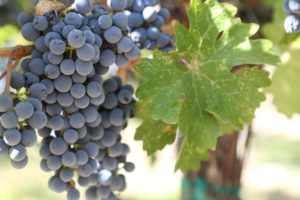 Honrama Cellars is a boutique producer, initially they focused on two varietals: Cabernet Sauvignon and Sauvignon Blanc but have since expanded their wine portfolio to offer additional selections. The wines are produced by winemaker Juan Puentes with the business operations overseen by his wife Miriam.
Their story begins in Mexico. The Ramirez-Mata family immigrated to the United States from Guanajuato Mexico when Miram was two years old. She was born in Mexico City. They moved to Bakersfield and her parents worked in the fields of southern and central California – neither spoke English so Miriam would often help translate for them. Eventually Miram's father Honorio moved the family and settled just north of St. Helena across from Freemark Abbey where Miriam was raised. Honorio took a job at Caymus Vineyards. Her father worked in the vineyards and then in the cellar for 16 years.
At the time of her father's untimely passing from cancer at the age of 38 he was the cellar foreman at Caymus Vineyards. There are a number of long time Napa Valley based wine families who are well respected throughout the valley. The Wagners at Caymus are certainly one of these families – they stepped up and helped Miriam's family after her father's death – ultimately supporting her through college.
Miriam was taking child Psychology courses at Napa Valley College when her father encouraged to take wine and business marketing classes. This was valuable advice as today she handles all the sales and marketing for Honrama.
The name Honrama was created in honor of Honorio and combines the first few letters of his full name – Honorio Ramirez Mata. He dreamed of making his own wine someday – a dream that was ultimately realized by Miriam and Juan with the release of their first vintage from the 2008 harvest (500 cases of Cabernet Sauvignon).
Miriam speaks of the memory of her father in every sip of their wine. That is truly special.
There is an element of pride one feels about the Napa Valley when one sees a number of Latino producers over the past 5-10 years. For decades Latino workers have been the backbone of the Napa vineyards, possessing highly specific knowledge about the vines.

But until more recently there have been few Latino wineries/producers in the valley who have made the jump to producing wine commercially. Today, these producers are typically founded by the second generation, children of hard-working parents who immigrated to the Napa Valley often several decades ago.
When Juan and Miram first met, Juan was working for SBC Telecom, Inc. in the Sacramento area with no background in wine. Perhaps it was for love or perhaps it was Miriam's persuasion skills that convinced him to make a lifestyle change. And then Miriam created a resume for Juan and sent it to a number of Napa Valley based wineries. One replied and hired Juan despite his not having any experience in the wine industry at the time.
A few years later, Juan decided to switch jobs, so Miriam again sent off his resume. He was soon hired by a company that specializes in mobile filtration systems for wineries. Miriam recalls Juan showed up on his first day of work and was asked to perform a cross flow filtration on one of their client's wines. Juan had never done this type of work before. In any case, he quickly learned and his time at this company exposed him to different technologies, numerous cellars and winemakers and vineyard sites throughout the Napa Valley. And he supplemented his wine making knowledge with classes at Napa College. These were all important educational tools for when he and Miriam began Honrama Cellars.
Select Wines

The label represents their story and personal interests – an image of the two horses is homage to their two sons Juan and Andres as well as to the family's passion for horses. Juan uses his initials 'JP' as the brand on his own horses – and this also is displayed on their label.
The vineyard sources for Honrama have been secured through Juan's personal connections throughout the Napa Valley – these sources typically change every year.
The 2017 Honrama Cellars Paula's Rosé was made from Cabernet Sauvignon. The wine is fairly dark in the glass with an orange salmon color, the bouquet immediately offers bright and lively aromatics. Shows aromas of citrus blossom, orange peel, strawberry and cut grass. On the palate offers a noticeable intensity of flavor – yet retains its crispness; this is no thin rosé! Lingers with notes of citrus and some spice notes.
The 2012 Honrama Cellars Cabernet Sauvignon was sourced entirely from Rutherford; this wine is dark ruby in the glass – the aromas are elegant showing blackberry, red cherry, dusty notes and an appealing mocha and caramel nuance at the edge of the bouquet which becomes more pronounced as the wine breathes. Structurally the wine is soft and elegant on the palate – the finish shows just a kiss of both oak and fruit tannins – equally are silky smooth in their nature.
The 2012 Honrama Cellars Sauvignon Blanc is 100% varietal sourced from Yountville. It is pale straw color in the glass. It initially shows notes of graphite opening to citrus blossom, grapefruit and as the wine continues to breathe – overtones of pear and red apple. The bouquet becomes "prettier" as it breathes. On the entry, it is soft and rounded with a richness of fruit mid palate through to the finish. A slight creaminess lingers on the vibrant finish.
The 2014 Honrama Cellars Cabernet Sauvignon was sourced from a vineyard in the heart of Rutherford on the valley floor. Immediately offers very ripe fruit aromatics including prune and other ripe fruits. A sweetness persists throughout the bouquet along with a hint of underlying cedar notes. Rounded and supple on the entry, offers ripe fruit, dessert spices and a juiciness that persist on the long finish. The tannins show decent grip but are not muscular. Good acidity.
The 2014 Andres Selection is in a 'serious' bottle – heavy duty glass with wax dipping over the cork. Named in honor of Juan and Miriam's son Andres with an image of Andres dressed in traditional charro clothing sitting on a horse in homage to his participation in the rodeo team "Charros de Honrama". This vintage was sourced from Howell Mountain; the bouquet is darker, earthy with notes of cedar, pepper, plum and as the wine breathes, dark chocolate. Plenty of depth with flavors of cherry and darker currant. Great acidity, mouthwatering. The mountain fruit shows up in the structure – robust, long lasting and even 6 years after the vintage date, still somewhat tightly woven tannins.
The 2011 La Chica Late Harvest White Wine (named in honor of Miriam by Juan) is Chardonnay that was infected with natural botrytis (otherwise known as noble rot) in the vineyard and then harvested late in the year after the grapes turned raisin like (they become desiccated due to the botrytis spores growing on the bunches of grapes). This is 100% Chardonnay. We are often leery of one-off California dessert wines made in this style due to too much residual sugar, heavy texture and sometimes cloyingly sweet finishes. Not so with this wine. Very dark amber in color it offers aromas of honeycomb, honeysuckle, caramel, toffee and ripe apricot. Has a leanness on the palate but with a gentle texture – the sweetness is there but is nicely tempered by the acid. Balanced. Flavors of golden delicious apple, pear, peach, nectarine and almond. Clean bright finish. A wine definitely worth seeking out for dessert wine enthusiasts.
And in 2021 Miriam partnered with fellow vintner Lola Llamas to produce a sparkling wine from the Napa Valley bottled under the brand Las del Vino and called the Las Amigas Cuvee, sparkling wine. We tasted the first release in 2021. The Las Amigas Cuvee Napa Valley Sparkling Wine is golden in the glass with aromas of green apple, kiwi, steely mineralities and subtle yeast notes. Pleasant and balanced across the palate with flavors of granny smith apple and mandarin. Crisp and refreshing.
Tasting Room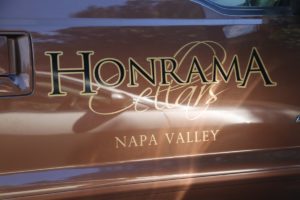 Honrama Cellars operates a shared tasting room space at 22985 Burndale Road in a small complex called Heirs of my Dreams with several other tasting rooms. This 'wine village' is owned by Armando Ceja, younger brother to Pedro Ceja, co-founder of Napa/Sonoma Ceja Vineyards. At last count there are 6 producers occupying this complex, all in separate spaces. And the winery on site is used as a custom crush facility where the small brands rent space to produce their own wines.
This location is directly off of Highway 12 on the way to the city of Napa – only about a 10-minute drive from the Sonoma Plaza. This complex is within walking distance of the ever-popular Lou's Luncheonette (over a span of about 2 years, their third name change) roadside along the other side of the heavily trafficked Highway 12. Juan produces the Honrama wines in the winery directly to the rear of the tasting room.
The property features several outdoor garden type areas for guests to relax including a patio next to their tasting room with tables and umbrellas where guests can enjoy the wines or possibly with some food.
Rancho Honrama
On his return trips from shopping at Costco in Fairfield Juan would always take what locals sometimes refer to as 'the shortcut road', North Kelly Road located south of the city of Napa. Juan and Miriam had been looking for property for some time but hadn't yet come across the right piece at the right price. Juan noticed a for sale sign on the far western edge of North Kelly Road. They followed up with the agent and discovered that it had been on the market so long because a sale of the property required both lots to be sold simultaneously.
Juan asked the agent to ask the owner if she could finance one of the parcels – the agent thought this was out of the realm of possibility but said he would ask. When the owner, Phyllis Manley, an artist heard their request she asked the Puentes to write her a letter. They did so and described their family and their desired use of the property. Phyllis was moved by their letter and agreed. In 2017 Juan and Miriam purchased two parcels totaling 7 acres.
Their efforts on the property have been nothing short of remarkable in so short of a time period. And it's not just their own efforts – through good friends and family, others have helped develop the property. Vintner friends, the Robledos offered them materials left over from a former horse arena (gates, panels and fencing) so the Puentes moved this sizable arena to their property and now use it for both private events and also for events through Asociacion de Charros.
A number of animals are kept on site including horses, pigs, a bull, goats and chickens. And the property has become a gathering place of sorts for family and friends – with those stopping by to say hi or to offer help as needed.
The first vines went into the ground in February 2020 by Guillermo Herrera, owner of Heritage Vineyard Management and Herencia Wines. He planted slightly less then 1,000 vines in a single acre – entirely to clone 73 Pinot Noir
Production has remained small – usually between 1200 and 1500 cases each year.
The family also operates Puentes Wine Co, a business that sources bulk wines and then creates private labels for a diversity of businesses and also sells farm equipment.
The wines are fairly well distributed in the Napa Valley – from wine shops (the Bottleshop in St. Helena) to restaurants (Celadon in Napa). To join the mailing list, or one of their wine clubs, visit: www.honramacellars.com