Honig Winery is a family run winery whose first commercial vintage dates from 1980. Patriarch Louis Honig ran a successful advertising business in San Francisco when he decided to buy land in Napa Valley. He purchased 68 acres here in 1964 from the Wagner's (owners of nearby Caymus Vineyards). The stage was set for what would eventually become the Honig wines; this vineyard was planted to two varieties, Cabernet Sauvignon and Sauvignon Blanc. For a number of years, the grapes from this property were sold to other area vintners.
Their first vintage of wine was a Sauvignon Blanc made in 1980 (merely several hundred cases) as a tribute to Louis Honig. Founding winemaker was Rick Tracy who was also the Honig General Manager and a general partner. After winning a Gold Medal at the Orange County Fair in Southern California the Honig family realized they might have something special in their vineyard and they decided to build a winery on the property which was completed in 1982. The Honig property was originally called the HNW Vineyard – the three initials taken from the names of the early partners including Louis Honig and San Francisco based judge Daniel Weinstein.
They made additional vintages – but did not have the sales and marketing expertise to promote this very good wine. At one point the family considered selling the property. Grandson Michael Honig realized at an early age that if they sold this property, they would never be able to afford to buy additional property in the valley. After discussion with his father (Bill Honig who in 1975 had been appointed by Governor Jerry Brown to serve on the California State Board of Education and later elected to three terms as California's Superintendent of Public Instruction), it was jointly decided Michael would drop out of school at age 21 and focus on building their fledgling wine business. At only 22 years of age, he took over the management of both the vineyard and the winery. That was in 1984.
He would load the wine into his car and drive around to wine shops and restaurants making each sale by hand. Initially this was difficult as there wasn't much Sauvignon Blanc being produced in Napa at this time, but he continued to market the wine and they slowly grew. Today Michael continues to maintain a busy travel schedule promoting their wines domestically and internationally. And his wife Stephanie who has worked in the beverage industry since 2000 (including for Clicquot, Inc., and Napa Valley's Rudd Estate) is also a partner in Honig Winery and has been instrumental in their success. She is also a co-founder of Yolo Brand Group, a company that focuses on marketing and branding for the cannabis industry. As of our latest update to this review, she also serves as the President of the Napa Valley Cannabis Association.
Their growth has been remarkable, and this is certainly one of Napa Valley's more inspirational family-owned business success stories.
Honig embodies the spirit of Napa Valley with their hard work ethos yet clearly understands hard work is not all about themselves. They are active in the local community, maintain a strong role with the Napa Vintners Association and are one of the pioneers and leaders in the industry for sustainable farming.
Today their wines are sold in all 50 states with distribution in 49 states, the exception being California where they sell direct. In addition, they have a solid international distribution with parts of Asia being a focus as well as Europe, the Caribbean, Canada, India and parts of South America among other countries and regions.
The winery is located off of Rutherford Cross Road; they like to refer to themselves as the "50-yard line winery of Napa Valley" – or perhaps more appropriately the "heart" of the valley. If you look on a Napa Valley Wine map you will see that geographically they are nearly the center point in the valley.
Honig concentrates on two varietals rather than many. They currently make two stylistically different Sauvignon Blancs, a primary Cabernet Sauvignon and several vineyard designated Cabernet Sauvignon wines. Honig in German means honey – and one will see an image of a honeybee on the label of all of their wines.
Select Wines
Their Napa Valley Sauvignon Blanc is their most produced and widely distributed wine. The 2013 Honig Napa Valley Sauvignon Blanc saw no malolactic fermentation and was aged in stainless steel tanks. Aromatically it shows notes of citrus including orange and lemon with a floral component. On the palate it is clean and balanced with notes of grapefruit and lingering mineralities.
The Honig Rutherford Sauvignon Blanc is blended slightly with 10% Semillon and Muscat. Unlike their Napa Sauvignon Blanc, this wine sees oak during its aging. Aromatically there are a number of differences. The 2013 Honig Rutherford Sauvignon Blanc shows baking spices and tropical notes on the bouquet. Flavors include white peach and pear with plenty of fruit lingering on the clean finish. As a result of this blend and winemaking practices this wine features a creamy mouth feel and carries some decent weight.
Their Napa Cabernet Sauvignon is widely distributed. The 2012 Honig Napa Valley Cabernet Sauvignon was blended with smaller percentages of Petit Verdot and Cabernet Franc. The resulting wine is one that is elegant and more feminine than some of the masculine "big" Napa Cabernets we have tried in the valley. The bouquet is appealing and elegant; stylistically it is soft and smooth on the palate with flavors of both red and darker fruits including plum and cherry. It has a lively finish.
Several of their Cabernet Sauvignons showcase individual vineyards and it is interesting to taste these wines side by side and notice the differences (when taken into account the grapes were picked at similar sugars and treated similar in the winery). After a contract came up for grapes from the Bartolucci Vineyard, a vineyard in Spring Mountain managed by long time growers in Napa Valley, Michael convinced them to sell him the Cabernet Sauvignon from their vineyard in 1999. This has since turned into a strong grower/winery relationship and Honig makes wine from this vineyard every year.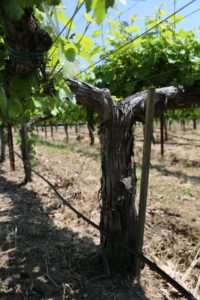 The 2010 Honig Bartolucci Vineyard is 100% varietal. It is a vineyard that grows on the lower slopes of Spring Mountain and does not display a huge mountain backbone as one might find in vineyards located higher in this appellation. It is rounded upon entry and surprisingly soft yet complex. Notes of black cherry, black plum, blackberry and tar are found on the palate. The tannins initially show on the palate in the front and linger for some time, slowly working their way to the back.
The late harvest Sauvignon Blanc has been picked anywhere from early November all the way through the first week in December. It all depends on the particular vintage. The 2012 Honig late harvest Sauvignon Blanc is yellow golden in the glass and shows honey and tropical floral notes on the bouquet followed by a rich palate with broad flavors of apricot, mango and honey. This is followed by a long warm finish. The palate is certainly rich and sweet, but not cloyingly so. Sip this without food in front of a roaring fire in a log cabin in the middle of winter. We've done it; Lake Tahoe – all snowed in.
We enjoy dessert wines and for the complexity of taste as well as the price, this late harvest Sauvignon Blanc is hard to beat. This wine does not remain aging in our cellar for very long!
Honig also makes a Cabernet Sauvignon rosé for sale strictly at the winery. Some of the proceeds go directly to a local hospital to support fighting breast cancer benefiting women who cannot afford mammograms and other necessary testing.
—
Honig has always practiced sustainable farming and currently employs several cutting-edge bio dynamic farming techniques – one of which is using sniffer dogs to find harmful bugs among the vines. Golden retrievers have a sense of smell many times more powerful than of a person and they are able to smell the scent given off by particular pests among the actual grape vines.
Honig uses solar to power the winery, has a number of owl, bat and bird houses around the vineyards, maintains honeybee hives and uses drought resistant plants for landscaping. In addition, their wines are bottled in lighter weight glass saving both themselves and the customer needless costs. And they no longer use foil on their wine bottles.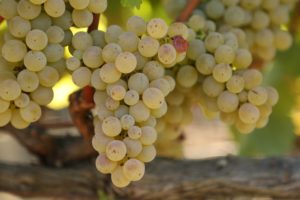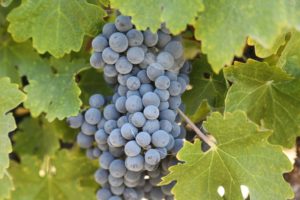 Honig offers a number of tasting experiences. Their Classic tasting, depending on the weather, is either held inside their elegantly furnished tasting room or outside under the small trees. Because of all the trees and their somewhat hidden location this is an ideal spot for an intimate quiet tasting. The VIB room (Very Important Bees) is also within the main hospitality building – often used by club members. The reserve room is located upstairs in another building slightly to the rear of their primary tasting room.
From the Reserve tasting room there are excellent views overlooking their vineyard to the west. The Reserve tasting is private per group and focuses on Honig's single vineyard wines, all of which are produced in very small quantities – usually around 100 cases per wine. This tasting is paired with assorted cheeses and focuses to some extent on the educational component of growing grapes and making wine. Note the chandelier overhead; Michael saved this from his mother's home when it was sold in San Francisco.
A third tasting is offered, the Eco-Tour. This involves a personalized tour of the vineyard (you are driven on their 6-passenger cart) where you will learn firsthand and see in action some of the practices they implement for sustainable farming and vineyard management along with a tasting of their current release wines. This tour has limited availability and is offered once a day at 10am, Monday through Thursday.
Also, of note, there used to be a small house where their gravel parking lot currently is, and it was here that Chuck Wagner Jr. of Caymus Winery was born – the property was formerly known as the Wagner Ranch.
The staff is friendly, knowledgeable (from observation over the years, they tend to work here longer than the average employees at most wineries in the valley) and they can recommend other good local wineries and specific wines. If you dislike Chardonnay or know someone who dislikes this common very popular wine, be sure to purchase one of their humorous anti-Chardonnay shirts or hats!
Unlike many Napa Valley wineries, the tasting fee is applied towards any bottles purchased. Visit: www.honigwine.com