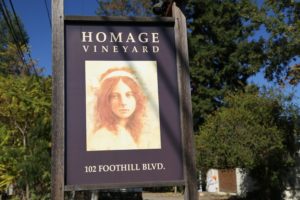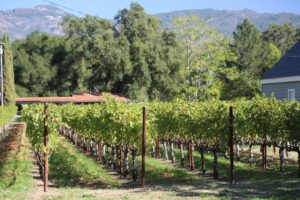 Homage Wines was founded and was owned by the husband wife team of Avia and Simon Hawksworth. As of our latest update to this review, the brand Homage is now owned by Kathryn Green and Homage is an accompanying label to Grace Family Vineyards. Avia has long been involved in the culinary and hospitality industries. Growing up in New York she would look forward to her summer vacation trips outside of the city where she would connect with the land. It is this connection to the land and what it produces that ultimately took her and her husband to Napa.
She is a graduate of the Culinary Institute of America, Hyde Park (the New York campus before there was the St. Helena campus) – has been a butcher, a chef and more recently held an interesting position of "forager" with Long Meadow Ranch at their Farmstead Restaurant in St. Helena. She was responsible for developing humane ways to butcher livestock, finding vendors for the restaurant and in part conducting culinary research. Today her primary focus is managing all the day to day aspects of building their wine brand – spending her time focusing on Homage.
Their estate vineyard is located in Calistoga and is 5 acres of vines that was originally planted in 1973. Zinfandel grew there but in 1999 the vineyard was changed over to Cabernet Sauvignon. When the Hawksworth's purchased the property in 2005 the vineyard was in a state of neglect. Over the next few years they lovingly brought the vines back to their potential. Today, the vineyard is planted to one clone of Cabernet Sauvignon and they focus on one wine each vintage. The property borders the Napa River and the soils here are gravelly loam with plenty of rounded river cobble.
Fruit from the property has in the past gone to a number of premium Napa wineries including Plumpjack and Vine Cliff. Today the Hawksworths still sell grapes from part of the vineyard but hold back enough to make their own wine. They keep the fruit well managed – usually to between 2 and 3 tons. A typical vintage is just over 300 cases.
Since originally focusing on a single wine from their estate vineyard, they have added to their portfolio. Today they work with several vineyards in St. Helena and a rare and coveted planting of Riesling in Carneros.
For several years they exclusively sold fruit and were "garagiste" winemakers – holding back some grapes to make their own home wine. These few years gave them the opportunity to experiment with their vineyard and the wine-making – trying different barrels, blends and determining the vineyard's "sweet spots". Then the recession hit in 2008/2009, the economy slowed and they could not find a winery home for their grapes. They decided to take the fruit from this vintage move from home producers to commercial producers.
With a small vineyard and a commitment to quality – each vintage is carefully evaluated before release. 2011 was a challenging year in the Napa Valley due to weather – namely rains and humidity continuing after storms. Like a number of other small premium producers in the valley, they decided not to release this vintage.
The name Homage is a tribute to both family and friends. Avia makes the analogy to the children's book, "Stone Soup" where someone goes into a village with a large pot of water and villagers start showing up with the ingredients to cook a soup. She has experienced this same community support with their wine – many friends have been so generous with their time and support of their project. Employees have become good friends – and both Avia and Simon's vision and hard work has been validated.
The image on their label is of a lady, a reproduction of one of Avias' father's paintings. For nearly 40 years, Avia's father was a professor of Fine Arts at the New York Institute of Technology. He painted this piece in the early to mid 1970's and Avia remembers it hanging in their home when she was growing up. Unfortunately, her identity remains a mystery – no one in the family knows who she is.
As is often the case, a number of chance wine related encounters in the Napa Valley occur at bars in restaurants. Avia and Simon met Rudy Zuidema, who was their winemaker for several years – at a bar in Redd Restaurant in Yountville. Bonding over beer – he was hired to make their wine and also ultimately became a part owner in the label. Their vineyard was the first client for one of Napa's newer Vineyard Management company's in the valley, Victoria's Vineyards – a father son team of "Papa Juan" and Victor Fuentes. The Hawksworth's also gave them an interest in their wine.
Select Wines
The 2009 Homage Cabernet Sauvignon is their first release. It shows bright lively fruit on the bouquet – notes of cedar, dried rose petals – more red fruit than dark fruit. Immediately, the wine begs for another sip and that certainly is the focus of a well made wine. The palate is very balanced with lingering delicate tannins. Delicious is an often overly used word for describing wine – but with a balanced palate and pleasing flavor profile, this is an appropriate word to describe this wine.
There is a consistency in this vineyard that shows up from vintage to vintage – starting with the bouquet. The 2010 at the time of our tasting had not yet been released. It needed some time to breath before opening – but revealed a similar nose as the 2009 vintage. This is a pretty wine – with a kiss of mocha on the palate with gravelly and earthy, yet delicate tannins anchoring the finish.
During a later visit we tried the Homage 2010 Cabernet Sauvignon. This vintage is dark in the glass. Aromatically it shows pleasing dusty aromas – almost gravelly with hints of cocoa powder. The finish is lively and a bit spicy showing white pepper with both red darker fruit characteristics. The tannins are well integrated throughout – they start on the front of the palate and then slowly finish. This is a well balanced wine with a long clean finish – where the fruit rather than the alcohol or tannins lingers for some time
—
During the 2013 San Francisco International Wine Competition, the 2009 vintage was one of only five wineries in the competition to earn a Gold Medal ($65 and over category).
Because the production is so small, they focus on selling directly to the consumer. Visits are for serious wine enthusiasts and are by appointment. Their wine is carried in a few local restaurants including Solage and Farmstead, local wine shops and some select restaurants in Los Angeles. For more information and to purchase wine visit: www.homagewine.com
NOTE: this review has been identified as needing a major update. The last update we have is this brand was sold to Kathleen at Grace Family. The original Homage property was for sale as of late 2021.