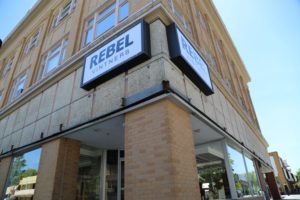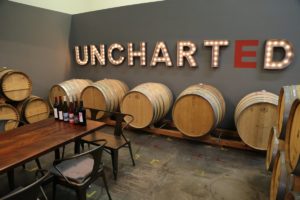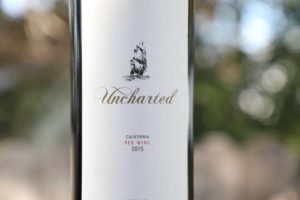 Holman Cellars was founded in 2010 by Jason Holman and Helen. These are people you will want to meet. Both are passionate about wine, young and just in the beginning of what will hopefully be long careers in the wine industry. Their path to owning a winery in Napa Valley is an interesting one. Both met on their first day attending law school in Seattle. Jason is the winemaker; it is Helen's family who is responsible for his second career after he retired from law. Helen introduced Jason to Napa and wine making through "learning by doing". His first winery experience came during the fall in the middle of the busy harvest season. This time of year, while often chaotic in the wineries is a great time to learn the process of wine making.
Helen's uncle is long time Napa vintner John Kongsgaard. Kongsgaard taught Jason less about winemaking analysis and "making numbers match" – but more about invoking the senses and exploring the artistry of making wine including things as simple as how does yeast smell and how does fermentation sound at various stages.
Jason also worked with Andy Erickson at Favia Wines, at Ovid Winery on Pritchard Hill and spent some time wine making in South Africa. All of his wine making skills are from real world experience, working with some of the best in the business. He started making home wine in a old barn in Coombsville (just east of the city of Napa) in 2008 and 2009 and then made the transition to commercial production in 2010. His total production is merely 400 cases and only a few barrels are usually produced of each wine.
Their winery is located in south Napa in a business park; the current space is a bit closer to the city of Napa than their last location. One could spend a week or more just visiting Napa industrial park located wineries; there is even an association of select Napa industrial/business park wineries (of which Holman is a member). A visit here as Helen says, "is one in which you come as a friend but leave as family". Tastings are by appointment and are highly personalized – usually meeting Jason.
Select Wines
Holman Cellars produces both creatively made and a diversity of wines including sometimes one off bottlings. Some of their recent products have included skin fermented white wines, Pétillant Naturel (pet nat) and in 2023 a Sauvignon Blanc from South Africa which Jason personally helped make at Vrede en Lust Wine Estate.
The 2016 Holman Cellars Uncharted Skin Fermented Chenin Blanc Clarksburg. One immediately notices the color of this wine both from the age (7 years post vintage at the time of our tasting) and also due to its skin fermentation; it is deep golden/amber. The bouquet offers a wide diversity of aromas including marmalade, dried orange peel, overripe cantaloupe, toffee, coconut, toast and honeycomb. As the wine breathes it reveals more baking spice notes. The palate shows flavors of melon, papaya, peach, ginger, chamomile and honeycomb. This wine still shows a brightness from the acidity although the fruit has presumably developed additional characteristics beyond its youthful freshness from several years ago.
Jason tends to age his reds for 36 months in barrel including some new but most once or twice used oak. As a result, current releases are usually a minimum of 4 years old.
The 2016 Holman Cellars California Red Wine is medium to deep ruby in color; the bouquet is brooding offering meaty and savory characters including dried herbs, mushroom, grilled meats, forest floor, pipe tobacco, maybe even some tar, bramble, blackberry and dark plum. This is a bouquet with character and is a refreshing change of pace compared to the more fruit-forward Napa Valley red wines we often taste. The palate offers some of the similar savory characters found on the bouquet; it is dark fruited including plum accompanied by bright and energetic acidity, gravelly-textured but very well-integrated tannins and notes of crushed peppercorn and old cedar. This wine is drinking in a sweet spot, 7 years post vintage. Very food friendly. Bring on the BBQ please.
The 2010 Holman Cellars Uncharted Vineyard Blend is from a vineyard in Winters (Yolo County) – long time fruit orchard farmers grew their trees in the flatlands but never utilized their hillside land. They experimented with some grapevines from UC Davis – planted them, had success and soon planted out more of their hillside land to vines. Jason sources the grapes from their vineyards but he has complete control of how he wants his portion of their vineyard managed. This wine is composed of Syrah, Tempranillo and Viognier. The bouquet is very floral with aromatics influenced by the Syrah and the Viognier in particular. This bottling offers hints of white pepper on the nose. The palate shows delicious red fruit notably red cherry. The wine shows good concentration with decent structure anchoring the finish.
The 2010 Uncharted Red Wine is a blend of Cabernet Sauvignon, Merlot and Cabernet Franc sourced from both Coombsville and Atlas Peak. The nose is showy and aromatically reveals pleasing notes of blackberry, cocoa and strawberry. This is the biggest of the three 2010 vintage wines we tried with robust tannins that initially show more in the front of the palate than on the finish.
Only 40 cases of the 2010 Fate Wine was produced. This is a blend of Cabernet Sauvignon, Merlot, Cabernet Franc and Petit Verdot. It shows fairly dark in the glass; the bouquet is lively, bright and very aromatic with an underlying component of spice showing – perhaps a touch of white pepper. The tannins are well integrated in the long finish. This is a very well balanced wine.
Then in 2011 Jason took the opposite approach with several of his wines; they are 100% varietal including a rare for Napa Valley bottling, 100% Petit Verdot.
NOTE: this review has been identified as needing a *major update* including tasting notes for current release wines.
—
Holman Cellars also runs a "make your own wine barrel" program – with the idea to provide passionate consumers additional education about the actual wine making side of the industry and at the same time, be the proud owner of a barrel of wine. Individuals can put in as little or as much time into this program as they like. Work along side Jason and learn about wine making – such as using a refractometer, how to rack a wine barrel, titration and more. And they offer custom bottling services.
In addition to the winery, they also operate DemiJohn Imports. Jason enjoys travel and often visits France. During his trips he seeks out and builds relationships with small family run French wine producers – focusing on Bordeaux and Burgundy. When he is doing research for which wines to bring to the United States he always ask one question, "Who is doing unique and creative wine making in these traditional old world wine regions?" This has led him to a number of small producers whose only distributions in the USA is through DemiJohn Imports.
A visit to the winery is not only about trying the wines of Holman Cellars but also these hard to find French wines. It is interesting to contrast the Napa Valley style of wine making based on its terroir versus the French style of wine making. And you can try both styles of wines side by side.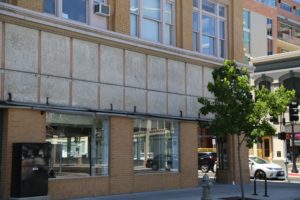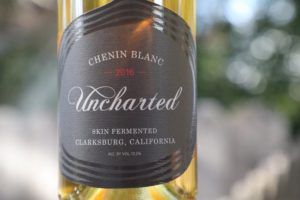 While Jason is a retired lawyer turned vintner, Helen is mostly retired from law. She used to offer historical walking tours of downtown Napa through the company, Walking Tours of Napa, dressing up in period clothing along with noted historian, George Weber. We have been on one of George's historical tours; this organization does a great job of bringing historical Napa to life.
Holman Cellars opened a shared tasting room (Rebel Vintners) on 1201 1st Street in downtown Napa in May 2018 with vintners and personal friends Tim Keith of Leaf & Vine and Kevin Cadle of Cadle Family Wines. Wines from all three vintners can be tasted here and no appointment is required. Visitors can stop by and taste at the bar or choose one of the sit-down options (tables). The vibe here is inviting with conversation easily flowing between those pouring the wines and those enjoying them. Tim is often here behind the counter. With a commercial kitchen on site and a strategic partnership with locally based Monday Bakery, they offer guests the options to taste with small bites, charcuterie and cheese plates and various baked goods.
And for those looking to imbibe in something other than wine, they also offer ciders on tap.
The tasting room changes its vibe somewhat after 5pm and becomes more like a wine bar and a lounge space, serving wines by the glass with games showing on the big screen opposite the wine bar. An old school gaming machine is available for anyone old enough who wants to relive their past gaming prowess with games such as Pac-Man, Frogger and Galaga. And for those looking to just hang out for a while, especially in the evening, order a bottle of wine and play one of the board games on site.
For more information, to purchase wines or to join their mailing list, please visit: www.holmancellars.com