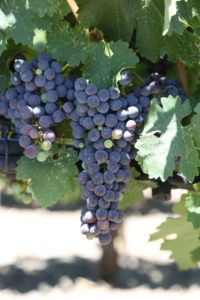 Hollywood & Vine Cellars, pays tribute to the famous intersection in Hollywood, Ca and its association with film and television. True to its name, this winery was founded by two men with backgrounds in the entertainment industry. Actor Doug Barr founded Hollywood & Vine winery and later recruited his friend and old college roommate, Bruce Orosz. Bev Brown (who handles the day to day operations) joined the team in 1999 and is who we met with.
After acting in a number of well-known TV series, Doug and his wife began looking for a more rural environment (compared to the urban jungle of Los Angeles) to raise their son. A copy of the St. Helena star ended up in front of him fortuitously; this was his first introduction to the Napa Valley. After visiting and falling in love with the Napa Valley he moved here in 1996 – as with so many others before him, once you live in Napa often something called the "Napa allure" begins to take affect, usually leading to involvement in the wine industry.
Doug moved into the old house of Maynard Amerine, a pioneer in the California research of grape growing and wine making and the first research professor at UC Davis (professor of Viticulture and Enology). Previously this was Dr. Myron Booth's home (a doctor who was practicing in St. Helena as early as the 1920s). Maynard began his career at UC Davis in 1935; he died in 1998. Over his career he was a prolific writer, authoring 16 books among his 400 or so publications. And early in his career he helped develop the Winkler Index, categorizing wine growing regions by total heat hours in each region (with applications relating to varietals and wine styles). He also made valuable contributions with wine making techniques and wine judging. Several old timers we have met in the valley have spoken very highly of Maynard and several took his classes while they were at UC Davis.
Doug soon discovered Amerine's cellar which contained old bottles of wine, Amerine's hand written notes and one of his wine making textbooks. Incidentally one of Amerine's favorite wines was California grown Zinfandel. After Doug discovered the textbook, he became interested in wine making. With no vineyards growing on site, Hollywood & Vine always sources grapes from premium vineyard sites throughout select parts of the Napa Valley (often St. Helena, Rutherford or Oakville) and today focus on two varietals, Chardonnay and Cabernet Sauvignon. Until more recently, they also produced a Bordeaux-style red blend called Short Ends (a second label), however, the last vintage of Short Ends was in 2014.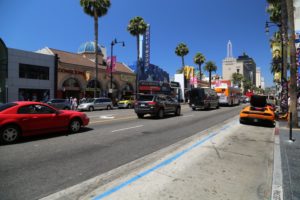 Both men have been actively involved in film and television throughout their careers. Doug has been an actor and a writer and directed various Fox network series – he continues to write for network and cable television films. He is also well known for his role in the ABC hit series The Fall Guy. Bruce founded a major events and film production company called ACT Productions in 1981. This company has evolved over the years and now provides production services for political, music, sports, and fashion events.
Founding winemaker, Celia Welch has crafted every vintage of Hollywood & Vine; she specializes in consulting for ultra-premium wineries and is well known throughout the valley for her attention to detail and working with premium vineyard sites. Celia is a well-regarded long time Napa based winemaker (she has been making wine in the valley for more then 30 years) and has consulted for select premium clients over the years including Scarecrow. She also produces her own small label called Corra.
Born and raised in Medford, Oregon – her introduction to wine came early on – through her fathers passion for wine. He was a home winemaker and collector and she grew up helping him make wine. Her first introduction to the Napa Valley was in the 1960's during trips with her family. She graduated from UC Davis in 1982 with a degree B.S. degree in Fermentation Science at a time when a number of now prominent women winemakers were enrolled including Pam Starr and Heidi Peterson Barrett and others who work in Napa and beyond.
Continuing her education after graduating, she embarked in extensive travels through a number of wine regions including domestically in the Pacific Northwest, on the east coast and then New Zealand – finally working in the Barossa Valley in Australia. She then moved to the Napa Valley and worked at a number of wineries including Silverado Vineyards in 1987, was assistant winemaker at Robert Pepi Winery (now the home of Cardinale) and began her consulting career in 1992 for Staglin Family Winery.
Her focus of consulting is generally for premium producers who own their own vineyards (rather then labels who source fruit) – often (but not always) from hillside locations in the valley. And her work has been highly recognized throughout the industry – in 2008 she was named Winemaker of the Year by Food and Wine Magazine and has been inducted into the Winemakers Hall of Fame through the organization, Women for Winesense.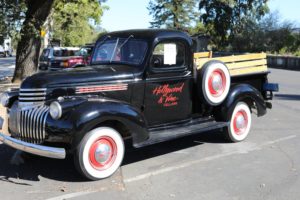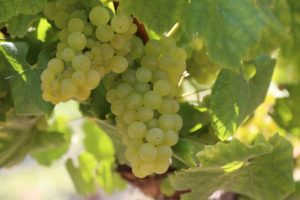 When you hear about Chardonnay in regards to Napa production invariably Carneros is mentioned in the same breath. Not so with the H&V produced Chardonnay. The source for these grapes is two individual blocks on Atlas Peak from a variety of clones, each of which contributes individual flavor characteristics to the wine.
Chardonnay does well in cooler growing regions of the Napa Valley (i.e. Carneros) however parts of Atlas Peak due to its elevation and relatively close airline mile proximity to the San Pablo Bay also provide a relatively cool growing climate. The 2006 Hollywood & Vine Chardonnay is a Burgundian style wine, aged sur lie with 2x a week lee stirring (battonage). The result is a golden colored crisp wine with rich layers of apple, and pear flavors on the palate. The finish is smooth and clean.
The 2005 Hollywood & Vine Cabernet Sauvignon is sourced from several Napa based vineyards. Each vineyard selection is aged individually and if one of the vineyard selections doesn't make the cut for high quality, it is left out before the final blending. This Cabernet Sauvignon has a very elegant nose and offers notes of blackberry and raspberry on the juicy palate. The finish is slightly smoky but soft and supple.
Labels on their bottles are simple – merely the number 2480 which is a tribute to Maynard; 2480 was the street address of his old house on the outskirts of St. Helena. One can sometimes find their wine locally at Backroom Wines in the city of Napa and the Wine Connection in Yountville. They also have very good distribution across the country. For more information, or to join one of their wine clubs (each level of membership is cleverly named with a Hollywood theme), visit: www.hollywoodandvinewine.com