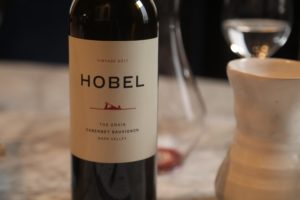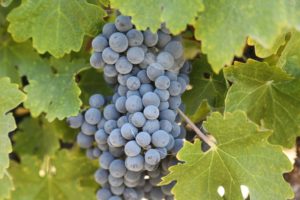 Hobel Wines. Cameron Hobel grew up in Los Angeles and graduated from the University of California Santa Barbara with a degree in Biology. His father was a physician and Cameron decided to follow in his footsteps – originally on a pre-med track. One day his father looked him squarely in the eye and said, "if you want to become a doctor, you will not become a doctor". Cameron wasn't sure what field to pursue after college, so he took 7 months off and surfed in New Zealand, Tahiti, Fiji and Australia. While his parents drank wine for pleasure it wasn't until he was in Margaret River in Western Australia that he experienced his first pull from the world of wine; it was at a tasting at Leeuwin Estate.
After he returned to California one of his mother's friends inquired about his future plans. This friend of the family told Cameron that she used to date someone who owned a vineyard in Mendocino County. And she suggested that perhaps Cameron might be interested in working a harvest. That individual was Allan Green, owner of Greenwood Ridge Vineyards in Philo. Cameron called him up and after a brief phone interview was offered the job at $6/hour which included a place to live on the property. This was in the mid 1990s.
It was here Cameron learned the basics about making wine, "trial by fire" as he puts it both in the cellar, in the tasting room and also with vineyard development. He spent about 8 months here and then returned to Los Angeles. Now what? He recalls one of their neighbors driving by their family home and chatting with his mother while inside the car. She said her daughter worked at Christy's in Beverly Hills and was getting ready to launch a wine division. Cameron was one of four interviewees for the position – he remembers he got the job in part because he was the only one of the four who wore a suit to the interview.
During his time at Christy's, he worked with auctioneers Ursula Hermacinski and Fritz Hatton. He recalls making Fritz an offer: if he could oversee and land a potential large sale, in return he wanted to become head of the wine department at Christy's in Beverly Hills. He was successful with the sale and was remarkably soon overseeing their operations at only 24 years of age, the youngest person at the company at that time ever to do so.
He was introduced to Napa Valley when he took a senior level position at WineBid.com. Cameron first met Thomas Brown in 1998 who was assistant winemaker at Turley Cellars. He recalls as early as 2001 telling Thomas that he might like to work together at some point on a wine brand. But first Cameron moved to Switzerland to take a position with Arcum Wine Trading, a wine broker. Based on his contacts he made in Europe when he returned to California, he began Milton Road Trading Company in 2004, an import company focusing on distributing wines from parts of France, Italy and Germany to California and other domestic markets. Cameron continues to run this company.
Cameron's wife Bahaneh helped him with some of his early wine licensing needs. She became a consultant in wine law for the Napa based firm, Dickenson Peatman & Fogarty. Her talents were quickly evident and now she is a partner in the firm and is head of their Alcohol Beverage and Wine Law groups. She has become one of the foremost wine related law experts in the country.
In 2008 Thomas called Cameron and said some grapes might be available the next year. The inaugural vintage of Hobel Wines was in 2009 from what was known as Engelhard Vineyard in Calistoga (later the name changed to Ciminelli Vineyard). Hobel produced wines from this vineyard from 2009 through the 2017 vintage.
Select Wines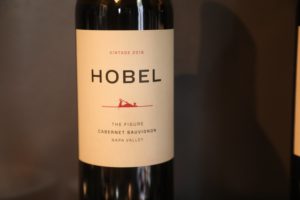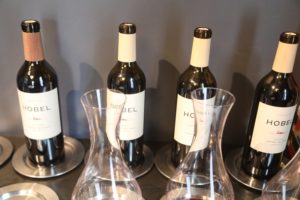 The first vintage of Hobel was in 2009. The focus of their very limited production is on 100% varietal Cabernet Sauvignon wines from single vineyards generally in the northern part of Napa Valley (primarily Calistoga). Rather than vineyard designate each wine, each bottling is given a proprietary name related to wood working. While at a dinner at Martini House in St. Helena (now home to Goose & Gander), Cameron and Bahaneh began to discuss possible names for their wine, mentioning some of the top producers in the valley use their surnames. The name Hobel in German means a woodworking plane, an image of this is on all bottlings. And what is a very unique visual look for a wine bottle, the neck of each of the bottles is wrapped in a wood veneer. Their label designer suggested this might look interesting; over the years they have used a variety of different woods but ultimately settled on white oak.
These wines are meant to showcase each vineyard and its specific site characteristics. While the bottlings also showcase Thomas's style and youthful approachability, each of the wines have their own personalities.
The 2019 Hobel Wines, The Arris is dark ruby with a bouquet that features aromas of plum, blackberry, dried herbs and a hint of tobacco smoke deeper into the aromatics. As it opens also offers hints of brown chocolate and old cedar box. The aromatics are engaging. The wine's texture is a hallmark characteristic with its chalky, grainy and broadly distributed tannins which roll gently over the palate. For such a young wine at the time of our tasting, it is already quite well balanced. Lingers with notes of dark cherry and licorice.
The 2019 Hobel Wines, The Birdseye (inaugural vintage for Hobel) is sourced from Larkmead Vineyard in Calistoga. Shows some initial savory notes on the bouquet including dust and old cedar but opens further and reveals notes of violet. This wine needs time to open in its youth, but when it does the fruit aromatics start to shine. Very balanced; its texture offers firm and dense but finely dispersed tannins – almost a little silty or chalk-like in their feel. This wine also has great acidity. Lingers with ripe tobacco smoke on the finish. It was made with clone 7 Cabernet Sauvignon whose previous genetic heritage is traced to two significant vineyards in Oakville.
The 2018 Hobel Wines, The Figure is dark ruby in color; offers a slightly meaty characteristic with darker spices including cardamom and clove. Also, espresso as the bouquet continues to evolve. Reveals dark fruits on the palate including blackberry. The tannins are extremely well integrated, especially on the finish (medium grip). Lingers with a brightness and a liveliness. Refreshing. The grapes for this wine were sourced from Pozzan Vineyard along Franz Valley School Road (near Calistoga), a vineyard neighborhood that includes nearby property owned by Levy & McClellan, The Heritage House and Grgich Hills. This wine takes some time to open. The 2019 vintage The Figure, while a year younger is already perhaps even more integrated than the 2018.
The 2017 Hobel Wines, The Arris is dark ruby in the glass with purplish tinges on the rim; the nose is initially savory, and earthy with hints of truffle oil. The aromas are elegant and continue to evolve revealing notes of dried herbs, old cedar wood, dark chocolate and bright fruit including plum. This wine needs some time to breathe. Features a mouthwatering bright food-friendly finish with gravelly tannins along with a hint of tobacco smoke. This vintage of The Arris was sourced from the benchland/hillside Sodhani Vineyard on the lower slopes of the Mayacamas mountains, a short drive north of St. Helena. The wine is 100% varietal, made from clone 337 and 7. Only 4 barrels were produced, aged entirely in Taransaud and Darnajou French oak.
The 2017 Hobel Wines, The Grain is their last vintage from the Ciminelli Vineyard in Calistoga. This wine is noticeable dark ruby in color offering an immediate aromatic intrigue with its layers including primarily dark fruit notes including blackberry and boysenberry along with chocolate brownie, and a variety of holiday baking spices. Shows flavors of blackberry and raspberry and lingers with a sweetness of mature fruit flavors. The tannins are dusty and well-integrated – its supple texture is an appealing characteristic on the palate.
Heron House, Yountville
Hobel was a member of the Heron House in Yountville until December 11, 2022, when the Heron House closed permanently. We keep these notes and photographs for historical reference. This retail wine tasting space in SoYo (South Yountville) opened the day after Thanksgiving 2019 and featured a select number of small-brand producers who did not maintain their own tasting rooms. These winemakers were friends of Allison Steltzner (the driving force behind the space) or work with Allison.
The Heron House was setup to feel like walking into someone's living room – comfortable, cozy and inviting. The retail portion of the space was open during normal business hours and included mostly locally crafted products including select works of art – reflecting the Steltzner's love of art. Two private tasting rooms were available by reservation. Several curated flights were offered, each containing wines from the various producers represented including two flights showcasing the Hobel wines among several other producers. Allow up to 90 minutes for a visit. Hours are subject to change, but as of our latest update to this review, this space is daily from 10am until 6pm with the last tasting appointment at 5pm.
Hobel Wines produces on average only between 300 and 400 cases of wine a year. For more information, to join their mailing list, to schedule an appointment at Heron House or to purchase wines, visit: www.hobelwines.com