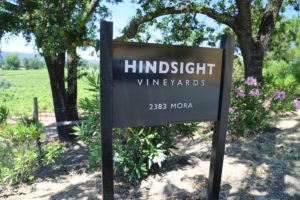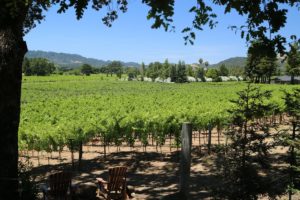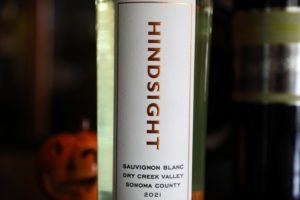 Hindsight Wines. Incidentally this review is a milestone for the Napa Wine Project; it was the 800th Napa Winery or producer we have visited with, tasted the wines and reviewed over the past 9+ years. At the time of our visit, our goal was to reach over 1,000 unique Napa wineries and producers reviewed on this site – which we completed in 2019. We are now well over 1,100 visited, tasted with and extensively reviewed to date. A huge thank you to all the Napa vintners and everyone who has been a part of this project thus far.
Hindsight was founded by three partners: long time Napa Valley resident Keith Hargrove and Seth Gersch and his wife Alisa Gean, MD. Seth grew up in Napa Valley, having moved here at the age of eleven when his father relocated the family for work. Seth remembers in the early 1970's how some people thought those who were pulling out healthy producing plum trees and walnuts and replacing those orchards with grapevines were perhaps a bit crazy. In actuality, they were both smart and lucky – in hindsight, having secured their foothold early before Napa's wine industry really took off helped in part during this time by the Paris Tasting of 1976.
Keith worked in the wine business in Napa for several decades including at Schramsberg as well as more than twenty years at Bennett Lane Winery before helping start Hindsight Wines.
Seth moved to California in 1983 (San Francisco Bay Area), joined a securities firm and was initially bitten by the wine bug through their various conferences.
Seth is on the board for the San Francisco 49ers Charity Foundation – several Napa wineries pour their wines at these events – and it is at one of these tastings 10+ years ago that Keith met Seth. They realized a shared interest for wine, and soon discovered their tastes in wine are very similar.
The name Hindsight is a tribute to the vision we all wish we could have – especially in the wine industry.
Seth has known winemaker Jac Cole for many years through the connection between wine and Seth's charity events. Timing is sometimes everything; Jac had just left Spring Mountain Vineyards and Seth and Keith spoke to him about possibly making Hindsight Wines. He was soon hired and was the winemaker from their first vintage (2012) through 2020.
The partners entered with wine industry with a clear and very focused vision of the style of wine they wanted to produce, how they would sell the wine and where it would be sold – anchored by a solid business plan. Their Silver Label wines are their most produced wines, and the majority of these wines are sold by the glass in select restaurants. One such restaurant, the Ruth's Chris Steak House in Irvine was voted the number one restaurant in Orange County by the readers of the Orange County Register and the Hindsight wines are the most sold wines at this restaurant.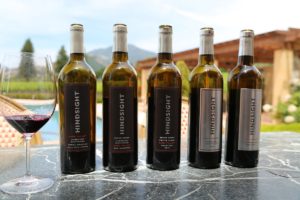 Their philosophy is to make a non-homogenous wine each year – a wine that has character. They work with good vineyards and then craft wines that have good weight, mouth feel and length of finish. There can be value in wine at a variety of price points – their single vineyard Black Label wines are well priced for these premium wines. And so are the Silver Label wines; these are among Napa's better quality to price wines.
Their label was carefully designed. It was created with an easy-to-read font – large letters to be clearly seen by as Seth says, "their own aging eyes" and to stand out in dimly lit restaurants. They have certainly succeeded with. Their Black Label wines are from single vineyard locations within the Napa Valley and are produced in quantities of usually around 300 cases.
A year and a half after they started Hindsight, Seth and Alisa purchased a ten-acre property in Calistoga – of which six acres were already planted to vines (3 acres to Cabernet Sauvignon and 3 acres to Petite Sirah). While the vineyard is small the soil type changes dramatically throughout. The Cabernet Sauvignon is planted on a slope – Silverado Trail Bench-land if you will – while the Petite Sirah is planted on the valley floor. The soils on the hillside are a gravelly loam – which continues somewhat into the valley – but this picks up more clay. The vineyard next door is nearly entirely a clay-based soil.
In light of water usage and the ongoing drought – they have a storm water recovery system built into the vineyard – during heavy rains, water is captured from the nearby hills in which water runs down into their vineyard and is kept in cisterns for use during drier months.
Select Wines
The 2021 Hindsight Sauvignon Blanc, Dry Creek Valley Sonoma County is medium to deep gold in color; the initial citrusy burst offers aromas of pomelo, grapefruit, honeydew melon, a flinty/minerally character and a lemon zest. But additional less citrus-driven scents quickly evolve as the wine breathes including of pineapple, passion fruit, pineapple guava, and a sweet note of vanilla. Refreshing and lively across the palate, this wine offers flavors of mandarin orange, pineapple, guava, green apple and pomelo. The bright acidity continues to persist on the mouth watering finish. Serve with clams and a Thai spicy nam phrik.
The 2013 Hindsight Chardonnay was sourced from the Oak Knoll District in the southern part of the Napa Valley. On the bouquet there are notes of honeysuckle, peach and toasted oak. This wine has a pleasing weight without heavy viscosity. It is rounded on the palate and slightly creamy accompanied by bright acidity. The finish is lively and lingers for some time with notes of red apple.
Stylistically the Silver Label red wines are big wines featuring robust tannins and are crafted to be paired with food – both red wines we tried would be ideal "steak" wines.
The 20/20 Hindsight proprietary blend takes its name from those in the industry who told Keith they wished they had this type of vision when it came to decisions, they would have made in the wine industry. Seth also calls this his "one wine he would choose if stranded on a desert island with no other choices". Aromatically this wine is big – featuring plenty of fruit, ripe but not over ripe and surprisingly there is even a certain amount of elegance in the aromatics on the bouquet. On the palate this wine features red (cranberry, red cherry) as well as dark fruit, spice notes including white pepper and very good acidity – mouthwatering on the finish. The finish is very long anchored by robust tannins.
The Napa Valley Cabernet Sauvignon was designed to be their workhorse wine at restaurants – it is available primarily by the glass at select restaurants across the country. The 2013 Hindsight Napa Valley Cabernet Sauvignon shows a nose that is complex and layered both with fruit and the influence of oak – a certain lusciousness if you will. Weighty tannins anchor the long finish.
Not all owners have the privilege of working exclusively with their winemaker's private vineyard. Jac owns just under three acres of Cabernet Sauvignon, the Bella Vetta Vineyard at his home at about 2,000 feet up on Howell Mountain. The production from this vineyard is small – usually only about 300 cases are produced of this wine.
The 2012 Hindsight Bella Vetta Vineyard Cabernet Sauvignon is made in a completely different style then the Silver Label red wines – and this is noticeable as soon as you try the wine. It shows a very pretty and appealing bouquet. It has a baking spice note with a noticeable cedar box component and as the wine breathes notes of caramel and red licorice show. There is a nice softness in the mouth – it sits on your palate like silk and finishes nearly as softly.
The 2012 Hindsight Estate Cabernet, Seth calls the "big brother" of their Howell Mountain Cabernet – which perhaps isn't always the case when comparing a valley floor wine (Calistoga) versus a wine grown at 2,000 feet on the slopes of Howell Mountain. The wine is dark reddish purple in the glass. The bouquet is lively showing bright fruit aromas. The entry is soft, plush and rounded – with a dense mid palate that is somewhat chewy. The tannins are well integrated in this wine – certainly noticeably and linger well after you swallow but are fine grained in nature rather than being course.
The 2012 Hindsight Petite Sirah is always among their last grapes picked – often at the end of October and sometimes into early November. The sugar never gets super high in these grapes – this wine is at 13.7% alcohol. It is a dark wine with a sweet-smelling bouquet – black chocolate, baking spice – candy for your olfactory nerves! The wine is chewy, powerful with intensity of flavor, yet a nice acid balance. The tannins are gripping on the palate and linger for quite some time.
—
Their wines are selectively distributed by a number of distributors across the United States, Canada and parts of Asia. Their wines are generally distributed via restaurants (along with some small retail outlets) and online.
VAULT Wine + Artifacts

Hindsight is part of a select group of vintners hosting tastings by appointment in VAULT Wine + Artifacts in Calistoga. This space was previously the home of ROAM Antiques; in early 2021 ROAM Antiques closed permanently, and the building underwent a major renovation which was completed by late summer 2021. The VAULT Wine + Artifacts space anchoring the south side of Lincoln Avenue on the far west side of Calistoga is a partnership between Mario Sculatti and Trevor Mallett.
The space re-opened as VAULT Wine + Artifacts in Fall 2021, a wine tasting space for several brands owned by Trevor and Mario, along with select other wines from Stringer Cellars and Sarah Francis, among others. In the spirit of the previous antiques business, a number of historical wine objects are displayed inside. These include winemaking equipment, hand-blown glass and an impressive collection of corkscrews. Other than the large items, most everything is for sale in the gallery.
The centerpiece of the space is an old Roman press, whose heritage Trevor told us, is possibly from either Austria or the Ukraine. Old wooden Roman presses are extremely rare in Napa Valley. The only two wineries we know of who own Roman presses from earlier winemaking days are Nichelini Family Winery and Yates Family Vineyards. Another smaller wooden press is from Germany with words in German engraved in the wood which roughly translate to: "In good times and in bad times we still make red and white wine"!
As of our latest update to this review, VAULT Wine + Artifacts offers three tastings including Valley Floor, Mountain and Unique Varieties. Visits are preferably by appointment, but staff will try to accommodate walk-ins if not busy. A side room seats up to 8 people for a private and more intimate tasting. A large mirror greets visitors inside this room; it doubles as a secret door to another room, containing a library and office.
The Hindsight wines used to be available in a shared open to the public walk-in tasting room in downtown Calistoga called Up Valley Vintners. Up Valley Vintners used to pour their wines at the tasting counter and guests were allowed to bring glasses of wine back to the open-air patio to the rear of the tasting room (which made for a nice place to taste weather permitting). NOTE: Up Valley Vintners is no longer open.
Serious wine enthusiasts can call to make a special appointment with Keith to meet at the winery just south of Calistoga where their wines are made. For more information and to join their mailing list or wine club, visit: www.hindsightwines.com