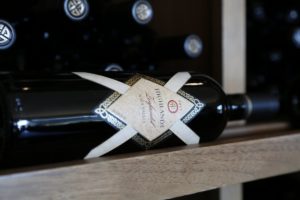 Highlands Winery dates back to its days of being owned by another Napa winery, Freemark Abbey. It was sold in 2005 and today it is privately held by two partners, Paul Segas and Dave Cofran, both Napa wine industry veterans. Dave (who we met with at his home) has a long history in the wine industry dating back over 45 years. He is a graduate of UC Davis during the mid 1960s from a class that produced industry pioneer winemakers for Napa including Justin Meyer (Silver Oak Cellars), Ric Forman (Forman Vineyards) and Nils Venge (Saddleback Cellars and Envy Winery). Dave's first job in Napa Valley was with Christian Brothers Winery in 1967 eventually assuming the role of their winemaker. He worked for them for 20 years until taking a job at Silver Oak Cellars in 1987 and becoming their National Sales Manager. Then he became their General Manager and worked for Silver Oak until 'retiring' in 2004. In the 1980s he served as second vice president for the American Society for Enology and Viticulture, was a founding member of the Napa Valley Viticulture and Tech Group and spent time judging wines for the Orange County Wine Society in southern California.
We also visited with Dave for a review of another winery he was involved in at the time, called Strata. Dave passed away in late 2022 in Sebastopol (neighboring Sonoma County).
Paul worked as an executive at IBM in the early 1970s, had a desire to get into the wine industry, but had very little wine related knowledge. He acquired Napa property, planted vineyards, took viticulture classes and in a relatively short amount of time his vineyards were being highly coveted by select wineries including Chateau Montelena, Joseph Phelps and Robert Mondavi.
Highlands Winery dates back to 2000 when Paul met the owners of Freemark Abbey (now owned by Jess Jackson Artisan and Estates Group). Paul met their winemaker at the time, Bruce Scotland and together both men decided to create Highlands Winery and has never been associated with Freemark Abbey. In 2005 Paul switched partners; he purchased Bruce's share of the company and brought on Dave as his business partner. The timing was ideal as Dave had recently retired from Silver Oak Cellars.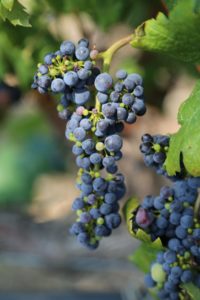 And a third partner was also added in 2005, Thian Hoo (TH) Tan. TH was born and grew up in Penang Malaysia – his story is a fascinating one from how he grew up in the slums to taking the helm of a billion-dollar company. He was CEO of Komag Inc., before ultimately retiring in 2006. He has helped promote the Highland wines in a variety of ways including in the Silicon Valley and select parts of Asia.
The initial focus of Highlands was fairly specific, a 100% varietal Cabernet Sauvignon and Zinfandel each year, always from two select vineyards on Howell Mountain. Incidentally Howell Mountain was the first AVA within Napa, formed in 1983; today there are 16 AVA's with Coombsville being the newest and probably the last for some time. Production has somewhat expanded and today they also produce a Merlot, Pinot Noir and a Zinfandel.
One of their vineyards deserves special mention. It is the Black Sears vineyard and is highly sought after by those in the know who produce Zinfandel & Cabernet Sauvignon (D Cubed, Turley etc.). There are only several other vineyards in Napa County higher than this one including Lampyridae Vineyard on Mt. Veeder owned by Merryvale with a high elevation of just over 2,500 feet and the Harris Blue Ridge Vineyard in eastern Napa County at over 2,700 feet.
The uppermost part of Black Sears Vineyards is located at an elevation of just below 2,500 feet. The vines are completely organically farmed, and the older vines are still head-pruned. This is also a unique site because it is one of the few places in Napa Valley where on an extremely clear day one can look far to the east and see the tops of the Sierra Nevada mountains (parts of Howell Mountain and Atlas Peak are the best places in all of Napa to enjoy these stellar views of the Sierra).
The other vineyard they source from is Beatty Ranch which is located at about 1800 feet (also in Howell Mountain). This vineyard is source for the oldest Zinfandel grapes on Howell Mountain with vines still in the ground dating back to 1914. About eight acres of these old vines still exist growing at an elevation about 1,800 feet. Two regions within Napa Valley are known for producing Zinfandel: Calistoga and Howell Mountain and today there are still a number of Zinfandel producers and vineyards in both these sub appellations.
Select Wines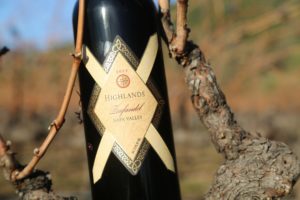 The 2015 Highlands Zinfandel Napa Valley. Hillside vineyard. Medium garnet in color shows aromas of raspberry, licorice, cassis, toasted cedar and white pepper. Some spices but not overly spicy aromatics. As it opens reveals aromas of mocha and warm chocolate brownies. Shows a lighter tension across the palate with flavors of raspberry, blackberry, pomegranate and cherry cola. Drinks very easily by itself. Lingers with desert spice notes – a light touch of vanilla and tannins that are super fine and blend seamlessly within the finish. Very supple in its texture. Aged 18 months in French oak before being bottled. 15%+ alcohol. 175 cases produced.
The 2004 Highland Wines Zinfandel is produced with mountain grown fruit; the nose is a characteristic of a full-bodied rich Zinfandel. The aromas are intense which lead to a plethora of up-front fruit flavors including various berries including blackberry and raspberry with a structured slightly spicy mid palate to finish.
—
One can find their wine locally at Backroom Wines in downtown Napa or possibly taste select releases at Silenus Vintners (located near Yountville). With approximately 2,000 cases produced each year the wines are also found in a limited number of retail locations within major markets across the U.S.
For more information or to join one of their wine clubs, visit: www.highlandswinery.com
NOTE: For a short while we spotted some Highlands wines at the Fairwinds Estate tasting room along the Silverado Trail (just south of the town of Calistoga) but prior to their tasting room, we noted their wines were no longer being sold or poured there.
This review has been identified as needing a *major* update.