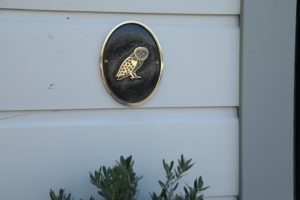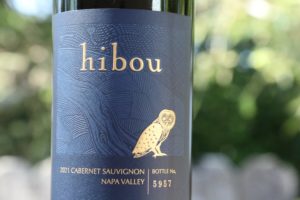 Hibou (pronounced ee-boo) was founded by winemaker Jason Driscoll and his wife Hilary with their first vintage produced in 2014, a few barrels of Pinot Noir from Marin County and also the Russian River Valley. The name is French for owl. During a trip to Burgundy, Jason was inspired by 'golden owls', the city of Dijon's 'symbol'. One of these owls is on the historic Notre Dame de Dijon. Its heritage is traced back to Athena the Greek goddess of wisdom; she was sometimes portrayed as an owl. Dijon even offers an 'owl trail', with owls marking historic sites on a walking tour.
Jason was not trained in winemaking; after graduating from Pepperdine University in Malibu he took a job at age 22 for Campbell Soup Company. His days involved waking at 430am and visiting some of his 95 grocery store accounts primarily in the neighborhoods of Compton south to Long Beach. He started work in the early morning hours when products were being stocked; his job involved building displays in each of the stores. His accounts included Pavilions, Safeway and Ralphs. This was in 2009 right after the economic recession; he remembers driving around in a silver mini van with a license plate that read: MMM GOOD. He was pleased to have a good job at such a young age and especially during challenging economic times. He worked there for 6 months until a friend mentioned he might be more comfortable away from the corporate grind and suggested working at a winery. That winery was the tiny Elsom Cellars in Woodinville, Washington. He and Hilary moved from Los Angeles to Washington where he worked a harvest for Elsom Cellars while also working stage for free for Café Campagne in Seattle's Pike Place.
With a continued interest in becoming a chef, he and Hilary then moved to Napa Valley where he attended the Culinary Institute of America in St. Helena. He kept working stage at several restaurants including Bouchon and Terra. After graduating from the Culinary Institute of America he continued to work restaurant jobs until eventually he became tired of arriving home at 2am every day after long hours in the kitchen. He made a career change and began working in the cellar at HUNNICUTT Winery, a year after they opened.
HUNNICUTT is different than other wineries who rent out space; HUNNICUTT allows winemakers for individual brands to oversee each of their own wine production. Walking through the cave is like being in a candy shop for premium Napa Valley boutique producers with wine from some of Napa's finest under the radar producers crafted here. Working in this cellar in particular, provided Jason invaluable hands-on experience and perspective on different winemaking styles. HUNNICUTT is like a think tank where one can bounce ideas of others and relationships are cultivated.
One day while working at HUNNICUTT he was told he would be assigned to a winemaker who was referred to as, "the professor". This was winemaker David DeSante. DeSante eventually hired Jason as an assistant winemaker for his various winemaking projects. Jason considers DeSante one of his mentors in the wine industry.
Jason and Hilary also founded another wine brand, Tilth in 2014. They produced wine for this label until 2021; it was sold at a different price point than the Hibou wines).
Select Wines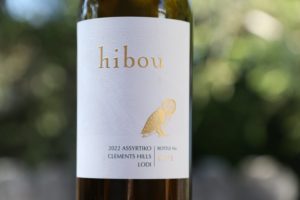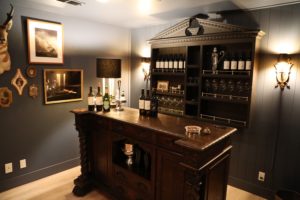 Assyrtiko is a white grape variety native to the Greek island of Santorini. Dr. Harold Olmo brought the first cuttings to the U.S. in 1948. We were initially introduced to this variety years ago while visiting Paros, Greece and then again when we were in Greece on another trip in Thessaloniki. And we remember being unable to identify it in a blind tasting held at the Napa Valley Wine Academy. There is so little of this variety in California that it's not even directly listed in any of the recent California Grape Crop Reports. The only producer we know of who has some planted in Napa Valley is Neal Family at their vineyard in Rutherford.
Jason was introduced to this variety through brothers Jeff and John Perlegos; he had been purchasing Zinfandel from them for several years. The brothers harvested the first grapes and made wine from their 1.5-acre block at their property in Clements Hills-Lodi AVA in 2021.
The 2022 Hibou Assyrtiko, Clements Hills Lodi is deep straw in color; we often use the word savory to characterize certain red wines, but not as much to describe white wines. However, this bouquet offers some savory characteristics including of flinty mineralities, mint and dried herbs including lemongrass. It also shows some floral notes (jasmine, citrus blossom) along with lemon juice. The aromatics need some time in the glass to fully develop; like the other Hibou wines we tried, this wine had been previously bottled only 2 weeks prior to our tasting. As the wine continues to open, it reveals additional fruit including peach, Golden Delicious apple and subtle hints of pineapple. Its texture is immediately noticeable, offering a rounded and creamy like feel across the palate. It reveals flavors of green apple, white peach, not fully ripe pear and lemongrass; this wine finishes bright and richly flavored.
This was the first ever vintage Jason produced of Assyrtiko, and he is still learning how to best treat it in the cellar. The 2022 vintage was on the skins for 24 hours before he pressed it to neutral barrels. It was aged for 6 months with no lee stirring in the barrels on its gross lees before being bottled. Future vintages may see less skin contact and may be fermented and aged in a combination of stainless-steel vessels and concrete.
Jason sources his Sauvignon Blanc from a small 'front yard' vineyard near St. Helena, located off of the Silverado Trail next to Boeschen Vineyards. This 1/2-acre site, the Burkett Vineyard is planted entirely to Sauvignon Blanc. It is low yielding, usually between 1.5 and 2 tons per year. Jason oversees the farming of the site; he produced his first Sauvignon Blanc from this vineyard in 2015. The wine is pressed directly to barrel and aged on the gross lees for 7 months before bottling.
The 2022 Hibou Sauvignon Blanc. This wine is medium gold in color; the bouquet offers both sweetly fruited and floral aromatics including honeysuckle, jasmine, honeycomb, ripe nectarine, apricot, pineapple, very ripe banana, mango, pineapple guava and passion fruit. It also shows a hint of vanilla deeper in the bouquet and as it fully evolves, begins to show a scent of lemon zest. There is nothing green nor grassy about this bottling. One of the hallmarks we noticed across all of the Hibou Wines are the numerous aromatic layers; this Sauvignon Blanc is a great example of this. It shows an intensity of flavor including of lemon juice, apple, grapefruit and pomelo. Its brightness is balanced nicely by a rounded texture. This wine offers a rich and long lasting finish.
There is not a lot of Chardonnay planted up valley. One such site is the Star Vineyard in Rutherford directly to the south of Rutherford Cross Road and bordering La Luna Market. This property is owned by Jack Oliver; part of the same family who owns the historic El Molino Winery north of St. Helena. Pinot Noir is also planted here. The 2021 Hibou Napa Valley Chardonnay is sourced from both the Star Vineyard and a small vineyard in Carneros and is a blend of clones 4 and Calera. It was aged in 50% new French oak and fermented with indigenous yeasts. It was pressed direct to barrel. This wine is deep gold in color; the bouquet is not shy and offers aromas of honey, ripe apricot, peaches in light syrup, mango, pineapple on the edge of being overripe, toffee and caramel candy. Or if one wants to summarize its aromatics in one word, it would be dessert. As this wine ages we would expect some of the aromatics to develop into more of a baking spice character. There is some oak spice here to, but it's overshadowed by the fruit. This wine is richly flavored and well textured; it is creamy and rounded. Some of the aromas are mirrored on the palate; this wine offers flavors of warm butter, mango, yellow peach, apricot and pineapple. It lingers with various stone fruit flavors, light vanilla bean and a slight bitter note.
The 2021 Hibou Napa Valley Cabernet Sauvignon is primarily from the Star Vineyard in Rutherford but there is also a small percentage from Oakville. This wine was aged in 30% new French oak barrels including from coopers Darnajou and Taransaud. This wine is deep ruby in color with some purplish tinges on the rim. We always enjoy smelling and drinking Cabernet Sauvignon which shows a freshness and a savory quality. Not all contemporary Cabernet Sauvignon from Napa Valley are harvested for these characteristics. This wine was, despite its listed nearly 15% alcohol. It offers an elegant bouquet with some light herbal notes including jalapeno, anise, sage, dust, tobacco spice, a hint of clove and cinnamon and other baking spices along with pipe tobacco and chocolate. As the wine evolves in the glass it offers scents of toasted oak. It is very well layered. But there is also plenty of expressive, bright and present fruit here including blackberry and boysenberry. Juicy and mouthwatering this wine offers flavors of cherry and plum. Its texture shows lightly grained and well-integrated tannins. The finish lingers dark and savory with flavors of crushed peppercorn, a woodsy spice, dark plum, some earthy notes and dried tobacco leaf. This wine calls out for a warm Napa Valley evening, preferably up valley with friends and some sort of red meat slow grilling on the BBQ.
Hospitality
Hibou opened a tasting salon in downtown Napa in mid 2023 (visits are by prior appointment). The space was previously a law office; the downstairs was converted into a speakeasy-like hideaway with access through an interior door that doubles as a bookshelf. Jason was raised on the east coast; he has always noticed more of these types of spaces in that part of the country and often visits them when he is on wine focused trips. Those speakeasy-like spaces inspired him to create the Hibou tasting lounge.
The only 'sign' in front of their space is that of an owl next to the entrance. Walking in here is like walking into another era. The interior is decorated with as Jason puts it, "items from flea markets". Or from other sales they discovered including a wooden bench in one room which formerly served as a pew in a church in Sebastopol (neighboring Sonoma County).
The wines are primarily distributed but with their tasting space, they have a growing direct to consumer presence. Locally, one can sometimes find the wine at the Oakville Wine Merchant, Press Restaurant and ACME Fine Wines in St. Helena, and sometimes at Angele or Grace's Table restaurants in the city of Napa. For more information, to purchase wine, to join their mailing list or the Hibou Seeker Society (wine club) or to schedule a visit to the 'hideaway', visit: www.hibouwine.com
NOTE: we have heard from one reputable source Hibou may have closed their tasting room/speak easy and may have ceased production of their wines. Once we have more details, we will update and or archive this review.