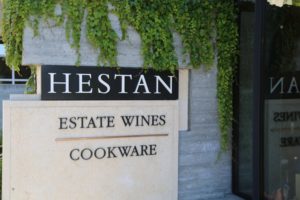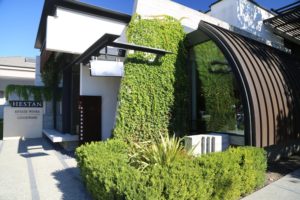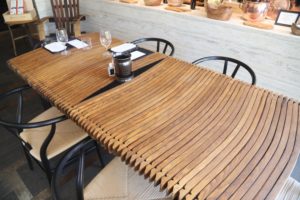 Hestan Vineyards is owned by Stanley and Helen Cheng and their vineyard and name of the wine comes from combining parts of their first names. Stanley currently runs the largest cookware company in the USA and the second largest in the world. His company, Meyer Corporation has their US headquarters in nearby Vallejo. Stanley is a pioneer and innovator in the world of cooking; he patented Circulon, the original hard-anodized nonstick cookware and following this invention Stanley developed the first flat-surface hard anodized non-stick cookware line under the brand Anolon – this was the first cookware that was dishwasher safe. And the non-scratch NanoBond cookware. Hestan Commercial installs high end commercial kitchens primarily to restaurants (but also for residential).
Stanley and Helen have enjoyed fine wines for many years and in 1996 purchased a former cattle ranch in the southeastern part of Napa County – just minutes from the Solano County line. This property is 237 acres, 110 of which are planted to the major five Bordeaux varieties. We have walked some of these vineyards before. The vines are planted on rolling hills; with a property this size there are a variety of exposures and orientations.
While the property was not planted to vines at the time of the Cheng's purchase, the property next door was purchased the previous year (Nepenthes Vineyard) and vines were also planted. This part of Napa County is called Gordon Valley, home to a number of small vineyard growers in the region. It is not its own recognized sub appellation but rather borders the Suisun Valley sub appellation (became an appellation 2 years before Howell Mountain became Napa Valley's first sub appellation).
Hestan is a rare Napa Valley based producer with not only one but two winemakers. As a result of their winemaker's styles, they produce two very distinctive types of wine. Stanley and Helen were eating dinner one night in a well-known restaurant in Yountville when they happened to try a Merus wine. At the time winemaker Mark Herold was running Merus as a garagiste winery at his home in Napa. Enjoying this wine so much they soon contacted Mark and he became their original winemaker for the Hestan and Meyer wines. His wines showcase the Napa Valley ripeness very well – big in both structure and intensity of fruit yet both in balance with each other.
Hestan produces four labels: Hestan, Meyer, Stephanie and Vincent Christopher.
Winemaker, Thomas Rivers Brown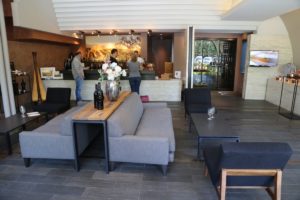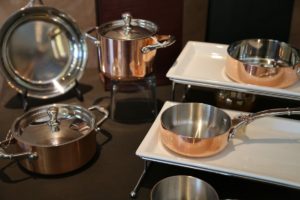 Thomas is one of the busiest wine makers in Napa Valley. Several producers have showed us lists of all the Napa brands that he consults for and or provides direct winemaking services; this is an extensive list. He is from Sumter, South Carolina and developed an interest in wine while attending the University of Virginia where his major was not wine related (he studied English and Economics).
He moved to the Napa Valley in 1996 and took a job at All Seasons in Calistoga (known for their California cuisine, wine selection and long time in business – but unfortunately the All-Seasons Bistro permanently closed in 2020). While there, Thomas met winemaker Ehren Jordan who was working for Larry Turley at the time of Turley Wine Cellars. Thomas took a job with Ehren in the cellar at Turley in 1997 – spent several years there before beginning his own career and starting to consult for various clients (some of which were clients that Ehren was already working with).
And within only 10 years of making wine in the Napa Valley Thomas received two 100-point scores from Robert Parker – regardless of what your perception is of scores, creating several wines within a short period of time that receive 100 points from Parker was a watershed moment in Thomas's consulting career.
Today Thomas is highly sought after for his winemaking services, experience and access to premium area vineyards. And while he was once the student, over the years he has become the teacher. We have met with a number of winemakers who worked under Thomas – and consider him one of their mentors. These are winemakers who have gone on to establish their own brands or consult for other Napa Valley based brands.
Thomas crafts the Hestan and Meyer wines.
Winemaker, Jeff Gaffner
For a number of years Hestan sold their fruit to several other producers in the Stags Leap District including Clos du Val. However, it was after tasting wine from their neighbor at a blind tasting that they were introduced to Jeff Gaffner, their neighbor's winemaker. They found his wines to be true varietal expressions of the grapes and he was soon hired as their own winemaker. Jeff is known for his winemaking work with Bordeaux varieties and produces elegant, refined wines. He makes the Stephanie Wines (named after their daughter). Look for the image of Stephanie's concert harp on all these wines – this is in honor of her musical talents.
Jeff has strong ties to the neighboring Sonoma County wine scene. He began what has become a long career as a winemaker in 1981 at Chateau St. Jean in Kenwood. A name that rings a loud bell in Sonoma County is Dick Arrowood, Jeff's mentor at the time who taught him the equal importance of keeping an eye on details both in the vineyard as well as in the winery. Jeff helped make some very well-regarded wines at Chateau St. Jean including the 1996 Cinq Cepages which earned the Wine of the Year from the Wine Spectator.
In 1997 Jeff launched his own wines – Saxon Brown, named after the heroine in Jack London's book, "Valley of the Moon". The focus of the Saxon Brown wines is on old vine Zinfandel and Sémillon – using field blends. Along with these varieties Jeff also produces a wide range of other wines sourced from various vineyards throughout Sonoma County.
Select Wines
The 2019 Hestan Vineyards Sauvignon Blanc Napa Valley is medium yellow in color; still slightly closed on the bouquet at the time of our tasting, shows aromas of green apple, mint and pear. Refreshingly doesn't smell like other Napa Valley Sauvignon Blanc wines. Extremely supple, with a liquid velvet like textural feel across the palate. Shows flavors of green apple, mandarin and lime. Finishes clean and fairly quickly with a perceptible note of acid that continues to linger, keeping the palate refreshed.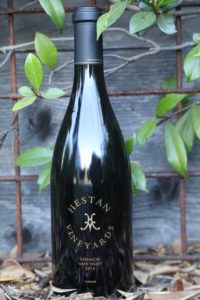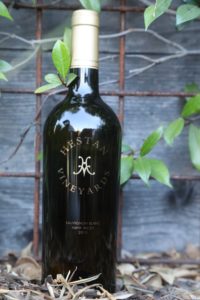 The 2007 Hestan Vineyards Chardonnay (the one white wine from Hestan) is from a vineyard in Vallejo not far from the cooling influences of the bay. This fairly rich wine sees 100% malolactic fermentation and is unfined and unfiltered. It shows a nice golden color in the glass with notes of baking spices on the bouquet. The palate is rather soft and somewhat creamy with notes of ripe pear, browned sugar, a unique nuttiness and melon. The finish is clean and lingers pleasantly.
There is not much Grenache planted in Napa Valley and it's a joy to find Napa Valley wines made from this variety. This Grenache is grown on their estate property. The 2016 Hestan Vineyards Grenache is medium ruby in color; offers a diversity of aromatics including darker spices (pepper, but not peppery), mint, dark olive, cherry cola and old cedar notes. Certainly, one can describe the aromatics as slightly savory. The bouquet reminds us of chocolate covered cedar balls if there ever were such a thing. Or perhaps more understandable, aromas of KIT KAT® chocolate bars. Juicy across the palate with a slight perception of sweetness (from fruit not from any residual sugar). Offers flavors of red cherry and berry fruits, dried herbs and lingers with old cedar box. The savory note on the bouquet is also evident on the palate. The tannins are earthy with a light to medium grip. Decent acidity.
The 2006 Stephanie Cabernet Sauvignon shows some pretty spice and dark chocolate notes on the bouquet with a mix of elegant red and black fruit aromas. The palate is refined with lively acidity and pleasing fruit flavors including berry and red cherry.
One of our favorite Stephanie wines during our visit to the estate property many years ago was the 2006 Stephanie Red Bend, a Bordeaux styled wine. The nose is elegant with a soft entry on the palate showing plum, red cherry and boysenberry. Despite the soft entry, this wine builds in structure nicely leading to a beautiful balanced finish between flavor, structure and length.
In contrast to the Stephanie wines is the 2006 Hestan Cabernet Sauvignon. This is a big, bold, bright and powerful Napa Valley Cabernet which shows off tons of fruit and structure. It was aged entirely in new French oak. The darkness in the glass hints at the complexities to follow – both on the bouquet and palate. The nose shows mostly dark fruit leading to a concentrated palate with a complexity of flavors. This is a mouth filling wine anchored by meaty tannins and a super long finish. For those who enjoy a big Napa Cabernet, this is an excellent choice.
—
In addition to his cookware company, Stanley also owns Meyer Solar and as expected their estate property is entirely run by solar power. A good-sized pond is also on the property that is both creek and spring fed and provides for the vineyard's water needs.
Note the labels on all their wine, you won't see these from many producers in the valley – they are silk screened in 24k gold. Hestan currently produces about 6000 cases between the four brands. One can sometimes find their wine locally at ACME Fine Wine Shop in St. Helena.
Hestan Tasting Room, Yountville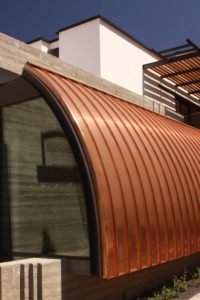 We initially visited the vineyard estate property for our first tasting but then Hestan opened a beautiful standalone tasting room in Yountville in mid 2013. The space is located slightly north of Bouchon Restaurant and just down the street from the French Laundry. The architectural firm, San Francisco Bay Area based Essalat Architects had established a reputation for building residential homes; this was the first commercial building they designed. Despite its diminutive stature, it is visually intriguing and aesthetically pleasing to the eye. The building even incorporates a nod of appreciation to their cookware company (IE the copper siding on the building which was bright golden when the tasting room opened but has since significantly faded over time due to the elements).
Visitors can choose from two tasting options, Portfolio which features select current releases from their various labels and Library which features older wines. In addition to the wine, a number of quality cooking pots and pans are available for sale inside – even their Yountville 'neighbor', chef Thomas Keller uses Hestan products for some of his restaurants including at the French Laundry. There is no dedicated parking lot for the tasting room, rather parking is available street side, next door or across the street.
Hestan Napa
In late 2023 plans were announced by Hestan to open a retail store at 1300 First Street, Suite 291. Their space will be used to sell Hestan cookware and other culinary appliances. It is located across from Compline Wine Shop and also Kitchen Door Restaurant.
We will visit and update our notes and photography here once the space is open.
For more information, to join their wine club, to schedule a visit to the Hestan Estate or to purchase wines, visit: www.hestanvineyards.com
Estate (more photos coming in 2023 or 2024)

Yountville Tasting Room