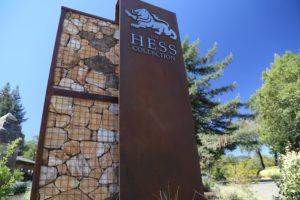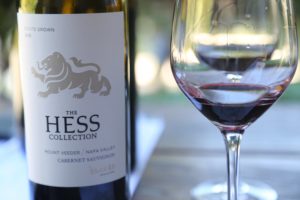 Hess Persson Estates opened to the public in 1989 (their first release was 1976) and was founded by Swiss born businessman Donald Hess (died in early 2023 at his home in Switzerland) and his wife Ursula. Hess was not the first Swiss vintner in Napa Valley with that last name; reference Frederick Hess, the founder of La Jota Vineyard Company on Howell Mountain. The winery is located in the Mt. Veeder sub-appellation in the southern part of the Mayacamas mountains, a short drive from the city of Napa. Mt. Veeder is named for the German Presbyterian pastor, Peter Veeder who is buried in Tulocay Cemetery in the city of Napa. Formerly known as the Hess Collection, the current name change was made in 2021.
Donald Hess was originally trained in his family business to brew beer (the Hess family owned a small brewery in Bern Switzerland since 1844). Donald's father owned a 65-room hotel in Tangiers (Hotel Rif), Morocco and early in his career Donald would divide his time between Switzerland and Morocco. Along with several partners at age 24, Donald purchased a mineral water source in Vals Switzerland. The company was called Valser Wasser which ultimately grew to become the largest mineral water company in Switzerland. Donald eventually bought out his partners and sold the company in 2002 to Coca Cola Company.
Vals is located at about 1,250 meters above sea level and is about a two hour drive from Zurich. It was founded in the 12th century, although the region was inhabited much earlier. Today the village is home to about 1,000 people and about 1,000 sheep. And about 1,000 beds for visitors. One of its primary attractions are the natural thermal baths at the 7132 Thermal Baths Resort & Spa. Valser Wasser is still in business with their water plant located on the edge of Vals. For one weekend in early November every year the facility opens to the public with tours and tastings offered.
This tiny picturesque mountain community is well worth a stop if you find yourself in this part of Switzerland. Its not a town you happen to drive through as its not on any major highway; its a place you must seek out. During a visit, we stopped at the information center and met an elderly woman who knew Mr. Hess well. The information center also provides copies of the printed Stories of Vals, highlighting the changing of the seasons, activities & experiences including hiking, chapels, architecture, local farmers and the thermal baths.
Donald remained very active in the hotel business that his father began, significantly expanding operations in Morocco through the hotels he inherited from his father (Hotel Riff in Tangiers and a third interest in Mansour hotel in Casablanca). And in addition, he rented several other hotels; at one point he was operating 1,100 rooms and employed more than 1,000 employees. He sold this business in 1978, the same year he first purchased property on Mt. Veeder in Napa Valley from vintner William Hill after Donald fell in love with the region during a business trip.
Valser Water

Vals, Switzerland

From a viticulture perspective this property is very historic; parts of Mt. Veeder are strongly associated with German pioneers and it was a similar story on this property. Vineyards were first planted on site in 1864 and its first small stone winery was built by German born Herman Hudeman sometime between 1876 and 1884 – at one point he owned several thousand acres in what is now the Mt. Veeder appellation and operated a botanical garden and pond (and also a 12-acre vineyard) that he called the Spout Farm (named after four water spouts built into four ponds on the property – although we have also seen historical references to Sprout Farm). His property was a favorite place to picnic during the warmer months by locals.
In 1877 Hudeman had to foreclose on the property and in the early 1880s, it was acquired by winemaker Robert Jordan. Hudeman fell on hard times – he died at age 70 in 1892 from heart disease in San Francisco where he spent the last years of his life as an assistant shop keeper at the original San Francisco Custom House on Battery Street between Jackson and Montgomery Streets – a far cry from his lovely property that he lovingly tended to and turned into an oasis of sorts. He was buried in an unmarked grave in the Masonic Cemetery in San Francisco.
After Jordan's purchase, he changed the name of the property to the Lotus Farm. Some of his early winemaking experiences were firsts in Napa Valley – keeping fermentation cool and inoculating with strains of cultured yeasts.
The property was sold again in 1900 to German born Colonel Theodore Gier (immigrated to the USA in 1881 and came to California in 1882) and three years later built the large three-story stone winery from rock quarried from local mines which Hess Persson Estates uses to house their visitors center, barrels and art gallery.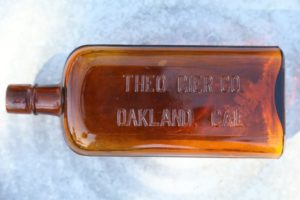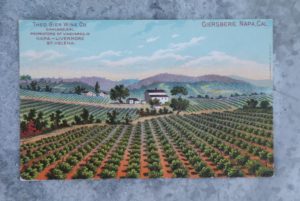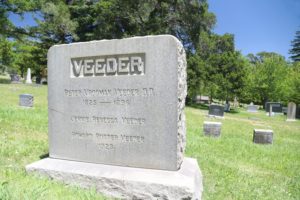 Gier was an incredibly successful businessman and active in politics – most often associated with Oakland where he initially owned several grocery stores. Newspapers (today: various media) tend to gravitate towards men like this who are successful, outgoing and flamboyant – and as a result, this character makes hundreds of appearances in northern California newspapers from the 1890s through the 1920s. He died in 1931 at age 70 years old at his beautiful house in Piedmont at 503 Park Way.
Gier was in the banking business and in wine including as founder of Theodore Gier Wine Company based in downtown Oakland at 571-581 18th Street (selling both foreign and domestic wines including wines from the original Schramsberg). At one point he was an owner of Cresta Blanca Winery in Livermore (now a historic site owned by the Wente family of Wente Family Vineyards). He was one of the founding members of the Oakland Chamber of Commerce; in 1903 he was nominated for the Mayor of Oakland, but we never found any records he actually ran for the office. And he played an important role in the building the Caldecott Tunnel – when an impasse on cost was reached between both Alameda and Contra Costa counties, Gier stepped in and guaranteed to raise the final amount that was needed for the construction.
Soon outgrowing space at his property on Mt. Veeder, he expanded his operations by renting space inside what was Sutter Home Winery (well before the Trinchero family acquired this eponymous name) and Edge Hill, both located near St. Helena. Later he purchased Bergfeld Winery, also in St. Helena – today home of Hall Winery. His primary wine brand was bottled under the Giersberger label, and his main whiskey brand was bottled as Metropole.
In 1923 he fell victim to the Volstead Act for continuing to produce and sell alcohol – and was sentenced to three months in jail and had to pay a fine along with jailtime and other fines for various employees. And numerous barrels and casks of wine were destroyed – according to a St. Helena Star article from November 13, 1925, some 20,000+ gallons were destroyed from his winery on Mt. Veeder and dumped into the local canyon.
This was not his first foray with the law – in April 1918 (World War I would later end this same year) a scandal ensued after he was caught associating with a group of people at Cresta Blanca Winery in Livermore who after drinking began singing pro-German songs and a toast was possibly made to the German Kaiser Wilhelm II. According to a front page leading article in the Oakland Tribune from April 15, 1918 Gier indicated the word kaiser was not used in the men's conversation but rather they were debating as to whether the beverage in their glass was a sparkling wine or a champagne and the word for white in German was instead used, weisser – (to the untrained American in the cadence of German speech, presumably sounded similar to the word kaiser). Regardless of what truly happened, this incident made for some real juicy news – even resulting in a confrontation at a California Development Commission board meeting called to dismiss Gier where a lady in attendance confronted him several times requesting he kiss the American flag in front of all present.
At the height of his wine operations, he owned over 1,000 acres and maintained a sizable wine warehouse in downtown Oakland and over the years earned numerous medals in various California State Fairs, world fairs and expositions. He sold 220+ acres just south of St. Helena in 1920 and finally sold his Mt. Veeder property in 1930. Prohibition was not kind to his business.
—
Besides Hess Persson Estates, the Hess family owns two wineries in northern Argentina and six vineyards, also located in that part of the country and MacPhail Vineyards in neighboring Sonoma County. See our notes towards the end of this review based on our visits to these other properties.
Donald was attracted to hillside vineyards; the location of Hess Persson Estates certainly fits this profile. From the upper reaches of the vineyards at about 2000 feet, on a clear day one can see the shimmering buildings of San Francisco far to the southwest and looking in a different direction, parts of the floor of Napa Valley. Hess Persson Estates owns 5 primary vineyards in Napa Valley and one in Monterey County (Shirtail Creek) and also in neighboring Sonoma County.
Donald stepped back from running the winery in 2017 and today his stepdaughter Sabrina, and her husband Tim Persson oversee the day-to-day operations of Hess Persson Estates.
Christian Brothers Connection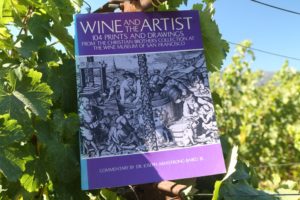 The Christian Brothers, an organization with deep roots founded in 1680 and formally recognized in 1725 – originated in Reims, France (Champagne). The Christian Brothers purchased this property in 1929 and built out their noviate over the next several years. They held a grand open house for the citizens of Napa County on Sunday December 6, 1931. The brothers used the old winery to produce wines bottled under the Mont La Salle label – overseen by one of the most recognized winemakers in Napa Valley for five plus decades, always referred to as Brother Timothy (whose real name was Anthony George Diener, died in 2004). At one point the Christian Brothers owned about 1,300 acres in Napa Valley. For decades their wines were always non-vintage but in 1976 they introduced their first vintage dated wine, a Gewürztraminer.
Growing up in Los Angeles, Brother Timothy eventually joined the Christian Brothers in 1928 and moved up to the San Francisco Bay Area to teach chemistry, among other subjects. He was also known for his impressive corkscrew collection which is currently on display on the first floor at the Culinary Institute of America at Greystone in St. Helena. The Christian Brothers still own this property; Hess Persson Estates has a long-term lease for the winery buildings and some of their own vineyards. And the hillside vineyard that visitors see to the left as they pull into the winery is the Brother Timothy block – the ancient disease riddled vines were eventually pulled out and replanted in 2020.
Old timers will remember the Wine Museum of San Francisco on Bay Street operated by both the Christian Brothers and wine distributor Alfred Fromm of Fromm and Sichel (distributors at the time of Christian Brothers wines) from 1974 until 1983.
Neighboring the winery is Mont La Salle, one of six administrative headquarters for the Christian Brothers in the United States. Mass is offered every Sunday morning at 11am inside the gorgeous Mont La Salle Chapel. Walking the picturesque grounds and gardens among the Spanish and Mission Style buildings does not feel like being in Napa Valley – Santa Barbara, however? Yes. Meeting and corporate space also available as are select guestrooms. And this is one of Napa Valley's most hidden wedding sites – hosting only 16 weddings each year.
Art Gallery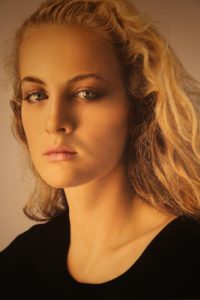 Hess Persson Estates is known as much for its contemporary art collection as it is for its wine and displays the largest contemporary art collection of any Napa Valley based winery. Tours of the art galleries are self-guided, private tours can also be arranged by prior reservation. The collection is highly eclectic; examples include a typewriter with real flames coming out of it, a computer programmed "running" exhibit which changes appearance depending on the days of the year, a series of large rocks scattered on the floor originally treated with high temperatures causing the rocks to change their appearance when they cooled – and an exhibit of numerous human torsos.
The galleries contain one of the most intriguing pieces of artwork in Napa Valley – the incredible larger than life, realistic looking painting of arguably the most beautiful woman in all of the world-famous Napa Valley. Titled Johanna II by Franz Gertsch, this is the centerpiece of the main upper floor gallery. Donald strives to know the artists he purchases work from and often purchases multiple pieces. Hess Persson Estates rotates some of their art on a consistent basis while continuing to purchase new works. This collection on display represents only about 20% of his entire collection.
Hess Persson Estate's production is the best of both worlds, maintaining a large distribution as well as being able to make limited production wines. They produce somewhere around one million cases a year (most of which is from outside of Napa Valley) which for Napa standards is extremely large. Of this, only about 10% of their wine is made in this facility (they also lease a large production winery in American Canyon to the south). While not a small winery they do hand craft a number of small-lot wines, sometimes only a few barrels. These wines are typically only available at the winery. The majority of their wine is distributed nationally and of this, most of their production is Chardonnay and Cabernet Sauvignon.
Select Wines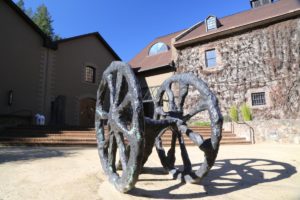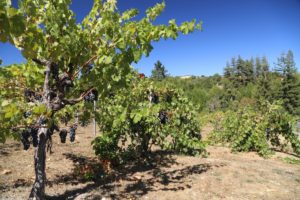 Hess Persson Estates focuses on a variety of wines produced under multiple labels – from both estate owned properties (primarily in Napa Valley) but also from numerous growers around the state. The Hess Select are their large production, highly distributed wines – wines that one would commonly find in grocery stores and other retail outlets – these are primarily produced from Central Coast vineyard sources. The Hess Persson Estates wines are made from grapes grown on their Mt. Veeder estate property and from their other Napa Valley vineyard sites. The Small Block Series are limited production wines that are only available at the winery and are produced from both Napa Valley vineyards and other northern California sites. The Small Block Reserve wines are even more limited production bottlings – primarily from Napa Valley. Other wines are bottled under the Icon brand. These are their most coveted bottlings including the Lion Cabernet Sauvignon and the Lioness Chardonnay.
Hess Persson Estates also produces wines bottled under the brand Artezin. While not owning vineyards specifically for this brand, they source from family-owned farms primarily in Mendocino County. From an initial focus of Zinfandel (they produce several different Zinfandels), production has diversified into wines from Petite Sirah, Charbono and Carignan.
The limited production wines especially from Hess Persson Estates hold their fruit and tannin structure extremely well, even on the older vintages.
The 2017 Hess Collection Small Block Series Reserve Sonoma Coast Ardikian Vineyard Pinot Noir offers an engaging bouquet with aromas of raspberry, chocolate covered red cherry and hints of darker spices in union with old cedar box. The palate offers an elegant complexity – very balanced from start to the end with a noticeable brightness of fruit on the finish including lingering flavors of red cherry, currant and a cola spice. Also, some dried herbs. Seamless and smooth tannins. Partially whole cluster fermented – not filtered. Only 300 cases produced.
The 2018 Hess Collection Lion Tamer Red Blend is 47% Malbec, 24% Zinfandel, 19% Petite Sirah and tiny dollops of Cabernet Sauvignon, Mourvèdre, Petite Verdot and Merlot. Deep purple in color offers a sweetness of aromas including notes of dried herbs, and a floral quality. Ripe dominating fruit shows across the breadth of the palate including blackberry, boysenberry and dark cherry. Very supple – smooth – this wine has no harsh edges. Lighter to medium bodied. Noticeably juicy with a sweetness of fruit – a mouthwatering finish.
The 2011 Hess Collection Mt. Veeder Estate Cabernet Sauvignon showcases what was a challenging, colder vintage, extremely well. One can immediately smell the character of the vintage – especially when comparing to a 'riper' year. The bouquet contains aromas of tobacco leaf, darker spices, dark olive and hints of jalapeno (but these are not green aromatics) and notes of dust. Bright and lively still some 9 years at the time of our tasting after the vintage date. This wine still has plenty of life ahead of it. Higher toned flavors on the palate include red cherry and currant with well-integrated grainy in texture tannins and hints of white pepper that linger.
The 2015 Hess Collection Mt. Veeder Estate Cabernet Sauvignon is 85% Cabernet Sauvignon with the remainder components 10% Malbec and 5% Petit Verdot. Noticeably dark with an opaque density the bouquet offers bold notes of ripe blackberry along with dark licorice, cassis with toasted cedar nuances. As the wine breathes shows mocha and notes of chocolate brownie. Also, slightly savory in its aromatic approach. Rich yet balanced across the palate (a completely different wine then the 2011 vintage) with flavors of currant, cranberry, fig newton and some dessert spices on the finish including clove and vanilla. The finish lingers with mouthwatering acidity with long lasting granular tannins and cracked pepper corn.
The 2014 Hess Collection the Lion is dark ruby to dark purple in the glass with ripe blackberry aromas – think being on the edge of a blackberry thicket on a warm summer day smelling your blackberry juice covered fingers. Also, some dessert spices. A short supple entry quickly leads to a density and complexity. Great acidity – mouth wateringly so with darker fruit flavors including blackberry and plum with some darker spice notes including white pepper. The finer grained tannins feel firm and are long lasting – the texture is arguably one of the highlights of this wine. Has all the 'stuffing' to be able to age for many years. Only 300 cases of this big boy were made. Its origins begin with the Mt. Veeder Estate Cabernet Sauvignon and this wine is a result of both barrel selection and vineyard block selection. And every back label on this bottle contains the following Hess family doctrine: "Live Each Day with the Heart and Courage of The Lion".
The 2004 Hess Collection Cabernet Sauvignon shows a pretty bouquet that is rich in floral aromatics (violets), with a core of sweet, candied fruit. The entry is amazingly soft for still a fairly young wine and has notes of black licorice, black cherry and hints of chocolate on the palate. Broad firm chewy tannins anchor the long finish. During one of our early visits to the property, the oldest wine we tasted, the 2000 Hess Collection Cabernet Sauvignon. It had aged very well.
It is also somewhat rare to find a botrytis late harvest Chardonnay in Napa and in the case of Hess Persson Estates this wine is extremely rare having only been produced 1x to date. The 2006 Hess Collection late harvest Chardonnay is from the Su'skol Vineyard (located in the southern part of Napa Valley). Each year a certain amount of Chardonnay is left to hang on the vines and in every year except 2006 the fruit goes to waste. Conditions need to be ideal for creating the "noble rot", or the grey mold that literally covers the outside of the grapes.
The 2006 vintage is very rich in both flavor and sugar with a moderate alcohol level of 12%. It shows a noticeable weight on the palate or phenolic grip. Notes of honeysuckle and citrus blossom show on the bouquet, leading to tropical fruit flavors that carry across the entire palate. This dessert wine can certainly be consumed by itself. However, we have found another use for rich wines such as this; we pour a generous helping over fresh stone fruit during the summer (i.e., nectarines or peaches…delicious).
Tim and Sabrina also own Stalworth, a premium single vineyard 100% varietal Cabernet Sauvignon made by winemaker Celia Welch. The first vintage of this was in 2018.
The 2019 Stalworth Cabernet Sauvignon, Rutherford is a blend of 97% Cabernet Sauvignon, 2% Petit Verdot and 1% Malbec and was aged in 100% new French oak barrels. This wine is deep ruby and nearly opaque with an amaranthine rim; the bouquet offers ripe and generous fruit aromas including of blackberry, boysenberry, dark plum, and dark cherry. Additional layers include notes of dry earth, cinnamon, dark chocolate, vanilla and caramel. When a wine smells this delicious, you immediately want to try it. The palate sports flavors of blackberry, dark plum, black raspberry, milk chocolate and a complementary influence of lightly toasted oak. This bottling is flavorful, layered and intense, but with all its components in balance. And that includes its textural feel. The polished tannins are well integrated into the seamless, bright and almost chalky-like finish. Like a completed puzzle, all the pieces here are perfectly aligned.
Hospitality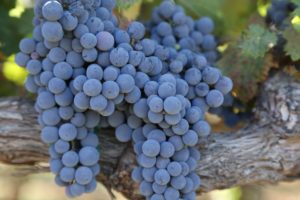 There are very few wineries in the hills of Napa Valley open to the public by walk-in; Hess Persson Estates is one of these wineries. The shortest way to reach Hess Persson Estates is from the city of Napa; despite the winery location that feels far removed from the valley floor, in reality the drive is only about 20 minutes from downtown Napa passing by vineyards before winding up into the rural hills of the Mayacamas mountains.
The tasting bar is in an old stone room made from rock quarried from the hillside located directly behind the winery. This room was built in 1903; at that time workers used materials already located on site as transportation costs based on the type of technology available would have been prohibitive. This was the old "brandy" room as both brandy and still wine were made at the winery. The wooden bar covers 3/4 of a rectangle and in our experience, there are always plenty of staff on hand to service the sometimes-well-packed tasting room, especially on the weekends. Because of their sizable production, a diversity of wines is generally available for tasting.
A rarity at Napa Valley wineries is a vertical available to walk-in guests. Hess Persson Estates generally offers visitors the chance to sample a vertical of Cabernet Sauvignon. A vertical offers the opportunity to compare and contrast wines from different vintages and to examine how the wines have evolved in regard to aromas, flavor and structure.
And if weather permits, seated tastings are also held outside in their courtyard under the shade of various trees.
Blending Session. Hess Persson Estates is one of the few Napa Valley wineries to offer a blending seminar. This highly intimate session is led by one of the winery ambassadors and is curated at your own pace. A welcome wine (rosé) is provided to guests before beginning the blending seminar. Once seated, a bottled wine is offered – with the idea to calibrate your palate and have a sample to strive for when creating your own blends. During our blending session, three 100% varietal components were offered including Zinfandel, Petite Sirah and Malbec. Each varietal features different characteristics which one should note while tasting through them. Write down potential desired blend percentages on the included blending sheet. A pipet is provided – simply suck in wine from each bottle and drop it in another glass to make the sample blends.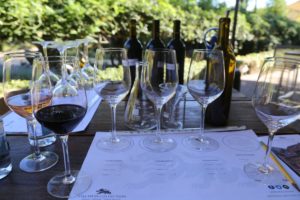 Usually three blends are encouraged but you can certainly create more – and use your host as a resource. Once the final blend has been created pour your desired percentages of wine from each bottle into a graduated cylinder or a beaker – and then pour this into the provided empty wine bottle using a funnel. Once this bottle is filled with the blend proportion of your choice – the host will bring out a pre-printed label to sign and write on the varietal percentages. Then you can hand-cork it and push it in the foil machine for the final packaging touch. It is recommended to drink your bottle of wine early – rather than aging it.
This event is especially popular with couples celebrating special events. This is a personality driven event – it is as fun as you make it or as educational as you want.
The Vineyard Excursion experience is offered spring through fall and gives visitors a chance to explore part of their historic Mont La Salle vineyard on an ATV. This educational vineyard tour gives guests the chance to learn about vineyard management practices including trellising and the family's philosophy on growing grapes. And it provides an excellent overview of their Mt. Veeder estate vineyards along with stellar views from their uppermost vineyard blocks.
A sit-down lunch or cheese pairing follows the tour (prepared by their in-house chef). Wine is served during strategic stops on the tour. Only available by reservation.
We will experience the ATV experience in 2023 or 2024. Updates coming by midyear.
—
Visitors sometimes arrive to Hess Persson Estates on bicycle, cycling along Redwood Road (a scenic and windy at times, steep ride from the city of Napa) – the winery provides a number of bicycle rack parking just below the main parking lots).
The Lions Head Cellar opened in 2018 after being remodeled; the centerpiece is a large stainless steel tank dating back to the days of the Christian Brothers – which was severally damaged in the Napa earthquake of August 2014. Rather than ship this off to the scrap yard, the winery elected to pay homage to both the earthquake and the resulting almost artistic look to the tank after it was damaged.
Hess Persson Estates is well distributed nationally. Joining their wine club gives one access to some intriguing events including one gathering where one gets to blend wines with the head winemaker and the winning blend is announced at the day's end. For more information and or to join their wine club, visit: www.hessperssonestates.com
PHOTOGRAPHY, HESS PERSSON ESTATES
Signs

Grounds

Art

Winery/Barrel Chai

Gift Shop/Tasting Room

Brother Timothy Block

Allomi Vineyard, Pope Valley

Iron Corral Vineyard, Pope Valley

Veeder Hills Vineyard
Photos coming by Spring 2025 or later.
Veeder Summit Vineyard
Photos coming by Spring 2025 or later.
NON NAPA OWNED WINERIES & VINEYARDS
MacPhail Wines, Sonoma County

NOTE:
we keep these notes and photographs here for historical reference only. After about 5 years of being open, this tasting room closed in December of 2019 and we heard the wines are no longer being produced. Before they stopped production of the MacPhail wines, they were sold online and through select direct to consumer pop-up events.
MacPhail Wines (Sonoma County based) was founded by winemaker James MacPhail in 2002 and acquired by the Hess Persson Estates in 2011. Their focus is primarily on hand crafting premium Chardonnay and Pinot Noir from Sonoma County vineyards – along with Pinot Noir from Anderson Valley in Mendocino County. MacPhail Wine does not own vineyards – rather they source fruit from premium sites. During a recent tasting, two of their Pinot Noir wines stood out – both stylistically different from each other but both intriguing nonetheless – the 2016 Mardikian Estate Pinot Noir and the 2016 Wightman House Pinot Noir from Anderson Valley. Interestingly enough, Haig Mardikian, owner of this 30-acre parcel above the community of Freestone has a very strong connection to Napa Valley. His father George Mardikian and his family used to own the Snowball Ranch, the estate that is now the site of Quintessa Winery.
Their production was small – only about 1,500 cases a year. A tasting room was open to the public in the 12-acre indoor/outdoor Barlow Center in Sebastopol. Both indoor and outdoor terrace tastings were available with a good representation of both their Chardonnay and Pinot Noir wines offered on the tasting menu. A cheese plate could be ordered separately to pair with the wines. Wondering about the floor to ceiling sculpture containing numerous red wagons inside the tasting room? The red Radio Flyer wagon was their logo – chosen by James MacPhail as a symbol of his childhood.
Bodega Amalaya, Cafayate Argentina
Hess Family Estates oversees Grupo Colomé which operates both Bodega Amalaya and Bodega Colome and six vineyard properties in far northern Argentina with business offices in Buenos Aires and administrative offices in Salta. Bodega Amalaya is about a 3-hour non-stop drive from Salta – but one certainly would not want to make this drive all in one go. The scenery along the way is rural and closer to Bodega Amalaya becomes desert red rock terrain culminating in gorgeous views from the Tres Cruces Mirador (a lookout point next to the highway).
The Calchaquí Valley is nearly 300 kilometers long, nestled among the Andes mountains – with elevation playing a prominent role in all of its vineyard sites. The six vineyards under the Hess family ownership range in elevation from 1750 to 3,100 meters above sea level. The Altima Maxima Vineyard is the highest commercially producing vineyard in all of South America and is among the highest vineyard sites on the planet (the Pure Land & Super-high-altitude vineyard in Tibet is significantly higher at over 3500 meters).
With these high-altitude sites two factors are extremely important in maturation and development of grapes growing in the region: an extreme thermal shift at times between night and day (up to 24 degrees Celsius) and the intensity of the sunshine. In addition, the soils vary somewhat dramatically between all vineyard sites ranging from heavy cobble alluvial, to sandy, to granitic to volcanic. And the region receives very little rainfall – often an average of only 150mm to 250mm/year.
Amalaya was originally founded in 2002/2003 as a brand part of Bodega Colomé until 2010 when the Hess family purchased an existing winery located within a short drive of the town of Cafayate. In 2019 a visitor center was built next to the existing winery and opened in 2020 to showcase the Alamaya wines. The hospitality center accepts both walk-in visits and experiences only available by reservation. While historically the Alamaya wines have been distributed – select single varietal limited production wines are only available to taste and purchase through visits to the winery.
The name Alamaya translates to 'hoping for a miracle' (in Spanish, the line esperanza for un milagro appears on all the bottles) and the circular image representing their brand represents the circle of life – especially as it relates to seasonal changes in the vineyard. A large stone representation of the brand is located just below the visitor center.
Select Wines
The Amalaya wines are well-made – crafted to be approachable and consumed in their youth. The focus is on the varietals' freshness with wines that showcase fruit rather than additional characteristics from oak. The use of oak on the wines is often minimal – if the wines are aged in wood, typically it's in neutral barrels.
The 2019 Bodega Amalaya Rosé is a blend of 95% Malbec and 5% Torrontes (both varietals are fermented separately from each other – with short contact with the skins and fermented very cold). Pinkish in color offers aromas of strawberries and a citrus blossom note. Balanced and easy drinking features a pleasing balance between texture (rounded mouth feel) and freshness – with bright acidity especially noticeable on the finish. Flavors of strawberry and cranberry. Bottled in screw cap.
The 2019 Bodega Amalaya White is a blend of 85% Torrontes and 15% Riesling is pale straw in color. Aromatically generous the bouquet shows simultaneous floral and tropical notes including a sweetness of fruit. Aromas of citrus blossom, a lemon zest, guava, passion fruit and honeysuckle. And a hint of dry dust. This is a fun wine to smell. Offers flavors of citrus including a lemon lime note – tangy without being tart the finish lingers with flavors of mandarin orange. Very refreshing.
The 2018 Bodega Amalaya Malbec is a blend of 85% Malbec, 10% Tannat and 5% Petit Verdot and was aged in stainless steel tanks and spent three months in bottle before its release. Dark ruby in color offers aromatics of dark cherry, chocolate, vanilla, a hint of old cedar and some darker spices. Fruit forward on the palate, slightly briary with some earthy nuances – features both red and darker fruit notes on the finish including red cherry and currant. A light grip of polished tannins lingers softly.
The 2017 Bodega Amalaya Gran Corte Malbec is 85% Malbec, 9% Cabernet Franc and 6% Tannat. Aged in neutral oak for 12 months. Noticeably dark ruby in color – almost inky like. Very pretty aromatics – primarily darker fruits with both an old cedar, hints of vanilla and a darker spice nuance. Shows plenty of fruit on the palate including flavors of plum and currant – the tannins are tightly woven in their youth but should soften with some age.
The 2018 Bodega Amalaya Corte Unico was barrel fermented in new French oak and spends 35-40 days post fermentation on the skins before being pressed. Only 1,200 cases were produced. This wine is a blend of 90% Malbec, 5% Cabernet Sauvignon and 5% Tannat. Dark red with purplish tinges. An intriguing bouquet features a sweetness of fruit, blackberry, black licorice, old cedar box, baking spices and hints of clove, black pepper and dried herbs. As the wine opens offers more fruit aromatics. The spices on the bouquet follow through to the palate. Features a lovely texture, with a pleasing density and tighter but fine grained yet simultaneously well-integrated tannins.
Total production of their wines is around 70,000 cases each year.
—
Cafayate
One of the region's most hospitable and charming towns, Cafayate is located at about 5,500 feet above sea level, centered around a public square plaza containing boutique shops selling jewelry, art and other artisan crafts, restaurants, a few wine shops/tasting rooms, old men and women sitting on park benches, children playing and on one side of the plaza the impressive Our Lady of Rosary Cathedral. During one of our stops here an old man was bicycling a cart of young grape vines through the plaza. The pace of life seems to be slower – there is no rush, use a stay in Cafayate to re-calibrate, recharge and to clear the mind while enjoying the culinary offerings and wines of the region.
The Museo de la Vid y el Vino is highly worth a visit for any wine enthusiast. Focusing on the wines of Salta the museum highlights the history of the region including the first French varietals, Malbec and Tannat which were initially introduced to the region in the 1800s. The white variety, Torrontes is very popular in the region – a variety native to Argentina resulting from the cross between Muscat of Alexandria and Mission. And other highlights of the museum include numerous wine making artifacts and tools. Several vintages of both Bodega Amalaya and Bodega Colomé are displayed inside the museum. And some of these wines can be tasted at the tasting room on the lower floor in the center of the museum along with select other wines from the region.
Accommodation ranges from hostels to luxury resorts. For the budget conscious traveler who values privacy consider staying at one of several cottages at Shamballa, located about 10 minutes outside of downtown Cafayate. Each cottage features plenty of space; Shamballa is situated among a very quiet and picturesque setting – a small pool is also located on site. And for dining, check out one of the best restaurant scenes in town, Pacha cocina de autor. And there are plenty of wineries within a short drive of Cafayate – some require appointments, and some do not. Especially worth visiting are the friendly folks at Burbujas de Altura, a tiny producer with a tasting room almost next to the side of the road about a 10-minute drive from Cafayate. They produce limited production still wines, but most intriguing is the 100% Torrontés Sparkling Wine, the first of its kind from the region.
—
Estancia Colomé, Molinos Argentina
After visiting more than 650 places and spaces outside of Napa Valley featuring strong connections to wineries within Napa Valley – within the state of California, domestically and internationally we are always acutely focused on identifying some of the most memorable properties and experiences as they directly connect to Napa Valley winery ownership.

Somewhat loosely formulaic in our approach, first and foremost we always look at the vineyard site. Other attributes include history, overall pedigree and feel of the property, elevation of the site, personalities, architecture, wine accolades, creativity and anything else that uniquely identifies a winery. Bodega Colomé is perhaps the most memorable of them all.
Estancia Colomé is located along an approximately 500km triangular section of roads with three towns forming the points of the triangle: the largest city, Salta (with a domestic airport), Cafayate and Molinos. Just getting here is an adventure with plenty of 'wow' desert vistas and at times, rough roads. Driving straight through, allow about 4.5 hours from Salta and about 3 hours from Cafayete. But there are too many distractions along the way, and one will typically take much longer driving to Estancia Colomé from either Salta or Cafayete. Most of the driving is on dirt roads – which during the rainy season can pose challenges especially where the roads cross gravel river washes.
This is a remote property, an oasis if you will among the high desert of this part of Argentina. The winery is in the Calchaquí Valley – extending some nearly 300 kilometers in length with its primary water coming from the Calchaquí River which is fed by tributary streams coming down from the Andes mountains. An abundance of thick gravel soil dominates the region spread by the glacial movement some 10,000 years ago along with alluvial action. The valley is generally quite dry – semi arid. Bodega Colomé is located at 2,300 meters above sea level with several surrounding mountains towering over 6,000 meters above sea level.
Donald first discovered this part of Argentina in 1996; he was already familiar with some of the wines from Mendoza because Hess Persson Estates was importing wines from Bodega Norton. He first heard the name Bodega Colomé while talking to a vintner in the town of Angastaco. Later while staying in a small hotel in the town of Cachi (about a 2-hour drive from Estancia Colomé) Donald decided to try some wines from the local bar. He was initially given a low-quality common type of house wine – he asked for something better and was finally offered an old bottle of Colomé Vino Tinto; he was immediately impressed and inquired about the owner of the winery. He was told that Bodega Colomé was owned by Raul Davalos (whose family founded the winery in 1831 using native grapes – European cultivars were not planted on the property until 1854). The name Colomé is in tribute to a chief who lived in the region during the 1600s named Columin.
Donald wanted to see the winery but was visiting during rainy season (December through March) and the roads were impassable. He and Ursula returned in 1998 and were able to visit the winery for the first time. They told Davalos that they were interested in purchasing the winery and began negotiations but ultimately at that time Davalos was not interested in selling. After building trust and a personal relationship with Davalos, in 2001 Donald finally convinced Davalos to sell. Donald purchased the original winery (dating to 1831) and about 64,000 hectares (158,000 acres – for comparison the total acreage in Napa Valley appellation is around 225,000 acres). Both Donald and Ursula ended up moving to Colomé and lived there for more than 6 years. Due to visa limitations of having to leave the country every 90 days, the Hess's purchased a house in Uruguay to have a place to stay when they made 'visa runs'.
The first wines produced commercially from the estate under the Hess ownership were from 2004 (still using part of the old winery building for production).
Winemaker Randall Johnson told us he remembered visiting Colomé with Hess for the first time in 1998. At that time the original winery on the property was still being used for winemaking. He recalls visiting during harvest and employees sweeping out the stems with brooms from where the material had piled up on the winery floor. And employees on the outside of the building using forklifts to load the piles to be hauled away.
—
Vineyards
Today only about 79 hectares are planted to vines (195 acres) including Malbec, Cabernet Sauvignon, Tannat, Petit Verdot, Syrah, Bonarda and Torrontes and a white variety we were told they refer to as 'mysteriosa' – as they have not yet identified the variety through either Ampelography or DNA testing. Because of the elevation, the vineyards here tend to ripen later then their vineyards at lower elevation near Cafayate. All their vineyards are farmed organically.
In addition to the vineyards planted on site, Bodege Colomé also sources from several other estate vineyards ranging in elevation from 1,750 meters to 3,111 meters. These other vineyard sites are La Brava Estate (1,750 masl) in the northern part of the Calchaquí Valley, El Arenal Estate, the first Argentina property Hess purchased in 1998 (2,700 masl) and Altura Máxima Estate (3,111 masl). All sites feature an often-remarkable difference in temperature between day and night and an intensity of sun exposure not found in lower altitudes. Randall Johnson told us the Guinness Book of World Records sent a team to verify the elevation of the Altura Máxima property; they setup equipment for a week within the vineyard to acquire its true elevation.
Bodega Colomé also produces a wine from some of the original Malbec and Cabernet Sauvignon vines that were planted in 1854 which remarkably are still growing. This vineyard block is located along the dirt road leading to Hotel Estancia (both before and after the gate). While much of this block has been replanted over the years, a few old dames still survive, easily identifiable due to the girth of their trunks.
Winery and Visitor Center
The winery and visitor center are within a 5–7-minute walk of the hotel. Guided tours are by appointment and highlight the history of both the Davalo and Hess families followed by a short tour inside the winery and barrel room. This state-of-the art winery was finished in 2009. The winemaking team has access to both small and larger tanks for fermentation, only French oak is used and at the time they acquired their optical sorter – they were only the fourth winery in Argentina to do so.
A tour is followed by a tasting, either at the bar inside the visitor center (next to a small gift shop) or at small tables outside on the terrace overlooking parts of the vineyard. Usually, 3 to 4 wines are provided for tasting.
The original winery building (the oldest existing winery building in Argentina) is located to the left of the main entrance of Hotel Estancia. In really bad shape when the Hess's acquired the property, this building has since been carefully restored. The building is located in its original footprint – the only more modern addition is the location of the stairs leading up to the second floor. The building was built primarily using homemade adobe bricks (one can still see pieces of straw in these bricks). It is not open to guests.
Hotel Estancia, Colomé
Featuring only 9 suites, a stay here is both an intimate one (from the lack of neighboring guests) as well as highly personalized with very friendly and attentive staff. The sizable rooms are situated around a Spanish style courtyard – each comes with an outdoor terrace. There are no bad views here – just views from different perspectives.
The views from the pool are especially memorable – with panoramic vistas spanning parts of the valley and the Andes – overlooking both small fields of lavender and vines.
The small restaurant serves lunch and dinner – specializing in traditional Argentina cuisine. Breakfast is included with every stay. It is really remarkable to have built and to maintain a luxurious resort in such a remote location.
—
Select Wines
The 2019 Bodega Colomé Torrontes. The few wines we have tried of this variety both from the Calchaquí Valley and from Mendoza have all featured the varietal's inherent aromas – ripe, fruit forward, tropical with plenty of floral notes. This wine is no different – it offers a sweetness of fruit immediately on the bouquet with aromas of ripe red apple, honeysuckle, peach and additional notes of guava, citrus blossom and as the wine breathes further, hints of lime. Shows some roundness on the palate – a nice balance between mouth feel, weight and a fresh acidity. Some tanginess on the finish – but not tart. Very balanced, easy drinking.
The 2017 Bodega Colomé Estate Malbec is 100% varietal but a blend of grapes from their vineyard sites ranging from 1,700 meters up to 3,100 meters. Dark garnet in color with a bouquet showing a sweetness of fruit (blackberry) along with licorice, bittersweet chocolate and hints of anise. Features a pleasing softness from start to finish on the palate with nicely integrated tannins along with a darker spice note including white pepper. Aged 15 months in once used French oak barrels.
The Bodega Colomé Authentico is 100% varietal Malbec, entirely sourced from the Bodega Colomé estate. This wine saw no oak during its fermentation and aging, rather was entirely aged in tank. Its identity focuses on the fruit rather than any characteristics from oak. Is noticeably dark red in the glass with purplish tinges around the rim. Offers a sweetness of fruit including blackberry and blueberry along with notes of cassis. A still tightness of tannins shows in its youth – firm with a robust grip that lingers. Juicy and mouthwatering features some darker and long-lasting spices on the finish. Layered, the wine offers a pleasing density of fruit and is somewhat savory.
James Turrell Museum
The museum opened in 2009 and remains the only museum in the world dedicated to his art. Turrell helped design the layout of the museum which contains 9 separate exhibit rooms featuring select works from over five decades throughout his professional career. Tours are by appointment – available only to the guests of Hotel Estancia and are always guided with tours available in either English or Spanish. Visitors enter the museum by walking through a small demonstration vineyard planted to a number of varieties.
James Turrell is a Los Angeles based artist who is most known for his works with space and light, he has created select framed works of art (some of which are displayed in the main lobby). His works are experiential – one can easily 'lose' oneself in some of the exhibits. One such exhibit is the walk of colors – as one walks the color of light changes – without any sharp edges in corridor one can lose their sense of place and be mesmerized by a certain timelessness that exists in this particular exhibit.
Another highlight is the 'black stairs/blue screen' – not what it initially looks like – as one walks closer, one sees a large room at the top of the black stops. Walking towards the blue, eventually one must stop as the floor drops off while the blue light persists – again one becomes 'lost' in the continuation of the light.
And if one visits the museum before sunset, the final exhibit is perhaps the most fascinating. Visitors enter a room that looks like a mosque with a square opening in the roof – and then lie face up on the provided rugs and pillows and watch the changing sky as it darkens. Best experienced with clouds – the interior lighting will change as the light from the sun dims. Initially the lighting changes gradually but by sunset as the sky darkens quickly the colors of the interior lighting become more dramatic.
When visitors are ready to leave this world-class museum, one might expect to step out into a big city surrounded by traffic, tall buildings and other trappings of urban life. Simply because no museum of this stature would ever be in a remote location like this. So, it's a little bit of an incongruous feeling when departing the museum and immediately finding oneself surrounded by vineyards, the Andes mountains and if clear, brightly shining stars that would never be this bright if one was in a city.
Ursula y Donald Hess Plaza
Within a few minutes' drive of Bodega Colomé is the small dirt Ursula y Donald Hess Plaza – built with funds from the Colome Foundation, a nonprofit that Donald and Ursula created to help fund select projects in the community of Colome. Its focus is on helping women and children – by supporting improvements in nutrition, hygiene, health and education.
The plaza features a small community center – plenty of open space, and its most visible building – a small church which is open to both locals and visitors wishing to use its space for prayer.