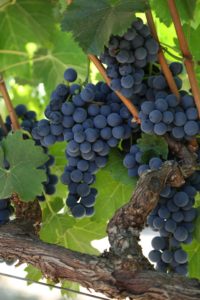 Hertelendy Vineyards (pronounced 'HUR-tuh-LEN-dee') was founded by proprietor Ralph Hertelendy; his inaugural release was from 2013. His parents immigrated from Hungary to the United States and settled in the Oakland area of the San Francisco Bay Area. Ralph is not the first of his family involved in wine. Ralph's great Uncle, Gábor Hertelendy made wine in the small town of Badacsony in the hills on the north shore of Lake Balaton in Hungary where he grew several varieties, providing his white wines to the local cooperative. He grew the very unique Kéknyelű, a Hungarian white wine that is unable to self-pollinate – rather this variety requires both male and female plants. This is an economic hardship as vintners need twice the number of vines to produce half the normal yield.
During one of the annual wine tasting events promoting local producers, held in the center of Badacsony at Hableány (the headquarters for Laposa, a local family-owned winery), we were told there was only one hectare of Kéknyelű in 1990 and today there are slightly more than 40 hectares planted in the region. Unfortunately, due to its very limited production, wines from this variety are not available internationally. Based on our limited tastings of this wine, in its youth it is crisp, refreshing and features citrus like qualities – but with merely a few years of age, it dramatically can change and develop additional complexities in the bottle.
Badacsony is about a two-to-2.5-hour drive from central Budapest. The region's grapes are primarily planted on the hillsides in rocky volcanic soils dominated by white varieties. Gábor Hertelendy's original manor is still standing, today known as the Szedgedy Roza Haz Museum (Szegedy Róza-ház Irodalmi Emlékmúzeum), formerly known as the Kisfaludi Museum. This gorgeous house was built in 1795 and is currently used to display the works and collection of Hungarian romance poet, Sándor Kisfaludy and his wife Róza Szegedy who used to live here. Information is also housed inside about the region's viticulture history located inside the former winery operations room. Two bronze statues of Sándor and Róza are located outside the museum along with a nearby old grape press (perhaps at one point used by Gábor Hertelendy). The museum is open seasonally as is the next door Hertelendy Borozo Vinoteka – serving local wines and small bites.
Several other attractions are located within walking distance or a short drive including small restaurants and wine tasting rooms. Continuing for a very short way up the road from the Hertelendy Memorial Szedgedy Roza Haz Museum is a small parking lot with a short trail leading to a prominent historical rock called Rozsako (Rose Stone, known for its romantic properties) and a picturesque view of Lake Balaton and the surrounding hillsides. One can also access several other trails here including to the Stairs of Death, a steep rocky section of the trail and the nearby Hertelendy Memorial, a stone and marble monument dedicated to Hungarian politician, Ferenc Hertelendy (1859-1919). The plaque, written in Hungarian, roughly translates to: "Ferenc Hertelendy, who was the subordinate of the Hungarian association of Hungarian farmers and the alliance of Lake Balaton, which did a lot in terms of the construction of the northern railway line, which opened the northern shore of Lake Balaton to the development of tourism."
See our photographs at the end of this review based on our personal visits, to some of these places and spaces connected to Ralph's heritage in Hungary and Slovakia.
—
When one meets Ralph, one soon notices his passion, attention to detail and creativity. He admits it took him about a year and a half to design one of his labels – based off of an image of the original Hertelendy Coat of Arms found in Budapest. And another 6 months to get the exact border of his label designed to his exacting expectations. He is as equally detailed when it comes to the wine making side of the business.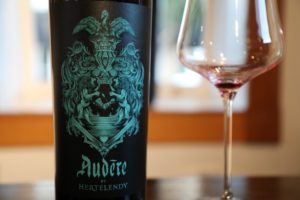 When looking to hire a consulting winemaker Ralph identified his top five winemakers in the valley – reaching out to each of them, not necessarily looking for the most well known in the industry but someone who has spent a career in Napa Valley making standout wines. He hired Phillip Titus in a consulting role (long time winemaker for Chappellet and Titus Vineyards).
Phillip consults for the Hertelendy red wines and Ralph makes the Chardonnay at a custom crush winery in south Napa. Interestingly, this particular winery sits on a fairly solid base of bedrock and remarkably Ralph lost no wines during the Napa earthquake of 2014 (despite being in a winery that stacks 6 barrels high). Nearby wineries located on different soil types suffered major losses as this part of Napa was hit particular hard due to its proximity to the epicenter further south.
When it comes to a particular wine style – Ralph is interested in wines that are complex and layered, including on the finish. He is drawn to wines that bridge both old world and new world styles. As a result, his wines are "big" but with a certain elegance built in. Approachable and ageable are two characteristics of his wines. He always strives to produce a balanced wine.
Ralph has long admired wine-writer Robert Parker and considers him a major role model and influence on his own career. He was honored and perhaps a bit surprised when Robert Parker scored 95 points on the inaugural Hertelendy Vineyard 2013 Cabernet Sauvignon. But this is just the beginning – Ralph continues to seek perfection and be better in all aspects of his own wine making. We all have bucket lists to some degree, one of Ralph's is to earn a perfect 100 score from Robert Parker.
Oak Barrel Winecraft, Berkeley

Ralph showed an interest in fermentation early on when at age 15 he decided he wanted to brew his own beer. He visited the Oak Barrel Winecraft store in Berkeley and asked for whatever kit would make the highest alcohol beer. He was given a kit for a Bavarian brew which would produce almost 8.5% alcohol. While the bitterness did not appeal to his palate, his friends truly enjoyed it. It wasn't until 10 years later that Ralph decided to make his own wine – also in his garage. And Ralph isn't the only Napa Valley vintner who has been influenced by this particular wine shop; during one visit, Timm Crull of The Terraces Winery spotted some small wooden barrels. Learning about their use for making balsamic vinegar inspired Timm to produce his own (incidentally the best hand-crafted balsamic style vineyard in all of the Napa Valley).
The creative elements of wine making appealed to Ralph and deciding he wanted to further his education in the wine industry he worked at Casey Flat Ranch in wine production (their vineyard is located to the east of the Napa Valley) and later took a job in sales for Del Dotto Vineyards. Ralph has also earned his level 1 sommelier certification.
Select Wines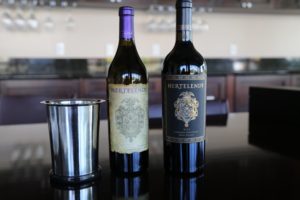 The 2014 Hertelendy Vineyards Russian River Chardonnay plays to a different tune then a number of the Napa Valley Chardonnays we have tried over the years. This wine was built with two clones – old vine clone 4 and the Dijon clone. Each block was picked separately – harvested after the neighboring blocks were already picked. The wine was fermented with indigenous yeasts in new French oak barrels and then aged sur lie in the same barrels for the next 15 months. Bottled unfined and unfiltered. Remarkably this wine does not show a lot of barrel characteristics one would assume might show with this type of oak program. It is very aromatic – revealing aromas of guava, honeysuckle, citrus blossom and melon. The palate is not as creamy as one might expect – the flavor profile is rich and layered with a hint of sweetness. Good acidity shows on a lingering clean finish. Drinks very well by itself.
The 2013 Hertelendy Cabernet Sauvignon (inaugural release) is quite dark garnet color in the glass; it shows darker fruit notes in the glass, seductive and intriguing aromas with a subtle undertone of darker chocolate and in the far reaches of aroma, a lingering spice component (Asian spices). On the palate ripe blackberry and blueberry show – featuring the fruit rather than the oak. The tannins are certainly noticeable but are not grippy or robust in nature nor are out of balance. Very nice texture. Well integrated with the fruit, the finish shows a tartness (red currant) and slightly chalky/earthy tannins, both last for some time. The fruit sources are from select vineyards in Napa including from Atlas Peak and Coombsville.
Ralph purchased a four-acre property on the edge of Howell Mountain (mere feet from being within the actual sub-appellation). Two acres were already planted to Merlot – Both Ralph and his vineyard manager have spent significant attention to detail in improving the quality of production from this vineyard. In addition, they also planted several more rows. The vineyard is planted to Merlot (20+ year old vines).
The vineyard is appropriately named Rockwell Ridge Estate. Sitting at an elevation of just below 1,400 feet, there are excellent views of the Napa Valley in the distance. Ralph grew up in a small community in the San Francisco Bay Area called Rockridge on a street named Rockwell. His vineyard terroir features a significant number of rocks and there is a well on the property. The name Rockwell remarkably ties this all together quite well.
After the purchase of this vineyard, Hertelendy created a new wine called the Signature Mountain Blend. One not knowing that the majority of this wine (82%) is Merlot from their estate vineyard, would perhaps mistake this for a Cabernet Sauvignon based wine. The 2014 was not yet released at the time of our original tasting and visit with Ralph; it also sourced from Atlas Peak and the Pritchard Hill region. This bottling initially shows a hint of dust on the bouquet but as it opens it reveals an aromatic sweetness of fruit with brown chocolate turning to an almost warm vanilla characteristic. The palate alternates between red and black fruit – showing as Ralph calls it, a "purity of fruit". Features well integrated tannins but is noticeably more robust than the 2013 Hertelendy Cabernet Sauvignon.
Proposed Crystal Springs Sub Appellation
A proposed AVA called Crystal Springs was filed in 2020 by Steve Burgess (former proprietor of Burgess Cellars). This AVA is currently under review at the TTB. Ralph became involved in supporting the new AVA; his hillside property would be within it's confines. If approved this will be Napa Valley's 17th sub appellation and the first one since Coombsville received its final approval in December 2011.
Its boundaries will encompass all hillside locations and will range in elevation from 400 to 1400 feet. The proposed sub appellation will be 4,000 acres and will include approximately 30 commercial vineyards. We will update our notes here once we have more information and or if the AVA is approved.
—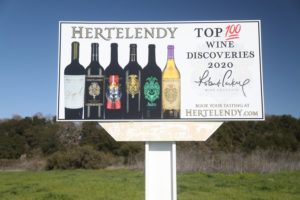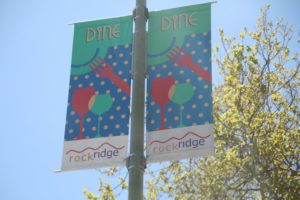 Total production is under 1,000 cases annually. The wine is sold direct and was initially also sold to select restaurants in California including locally at the French Laundry in Yountville, and Morimoto in Napa. Over time they have built up distribution to select locations around the country. The long-time wine tasting room, Vintner's Collective features a number of small premium producers including Hertelendy, and tastings can be arranged there. Ralph also participates in numerous tasting events around the country.
The Hertelendy Foundation was founded in 1997 by Ralph and his family and over the decades has supported a variety of activities both domestically and internationally. Some of their financial support has gone towards humanitarian aid, education, science, culture and environmental causes.
Tastings can be arranged by appointment with Ralph – and are held at the winery where he produces his wines, the hidden away Caves at Soda Canyon (about a 20-minute drive from downtown Napa). For more information about these exciting wines, or to become a wine club member, visit: www.hertelendy.com
Badacsony, Hungary

Szedgedy Roza Haz Museum, Badacsony Hungary

Hertelendy Memorial, Hungary

Matyas Templom, Matthias Church, Budapest
The crypt has not been open during our several visits over the past few years. We hope to gain access to this at some point to see some of the Hertelendy family members.

Budatin Castle, Slovakia
Notes, visit and photographs coming by 2024.
Spiš Castle, Slovakia
Notes, visit and photographs coming by 2024.