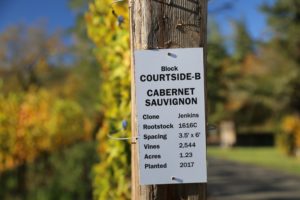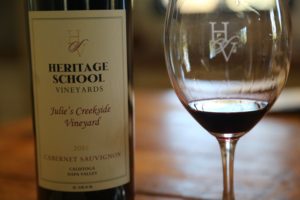 Heritage School Vineyards (originally Harris Estate Vineyards) was founded by the husband wife team of Mike & Treva Harris. We first met with Mike at the estate and then later followed up by tasting at their appointment only outlet – Salon St. Helena in downtown which was only open for a short while (now closed).
Mike & Treva purchased 48 wooded acres here in 1997 and then cleared 7 acres for planting vines; the property features an elevation change of approximately 550 feet. The vineyards are located in a unique part of Napa Valley – in an area known as Franz Valley. The term "valley" is somewhat misleading as this part of the Napa Valley features mostly rolling hills and the few vineyards in the area are generally planted on slopes rather than flat ground. Nearby vineyard neighbor, Mike Grgich of Grgich Hills Winery has farmed this area for many years and some of the fruit from Mike Grgich's vineyard was used in the 1973 Chateau Montelena Zinfandel (same year but a different variety than the winning entry at the Paris Tasting of 1976). Also, a nearby estate vineyard provides fruit for the premium brand, LEVY & MCCLELLAND. This is a fine vineyard neighborhood, albeit well off the radar of most visitors to Napa Valley.
In 2014 Harris Estate Vineyards was acquired by David and Linda Jenkins and later renamed to Heritage School Vineyards. The last we heard, Mike and Treva moved to Park City Utah. Heritage School is an appropriate name for the property – the Heritage School was located on 100 acres and used to house a private school for boys between the ages of 10-15. Incidentally, former runner for the 1968 U.S. Olympic Track and Field team in Mexico City, Ron Whitney was the headmaster at this school for 24 years (he still lives in neighboring Sonoma County).
Note: as of early 2023 this entire property including a Howard Backen designed home and vineyard was listed for sale on Sotheby's International Realty. We will keep a close eye on any potential sale and will update or archive this review depending on if the wine brand continues.
We have a personal connection to this property. For several years, (decades ago) mountain climber and guide Valentin Trenev used to help Ron manage the property and oversee the school. Val potentially helped save my life in Nepal during a serious bout of altitude sickness combined with food poisoning – recognizing the dangerous symptoms of altitude sickness and carrying me on his shoulders at midnight from 17,000 feet to a much lower elevation (with serious symptoms persisting all of the next day). Val was also instrumental in setting up the rock-climbing areas on Mt. St. Helena in Robert Louis Stevenson State Park. And we see Val from time to time in Thailand, where he spends a good portion of the year these days and where we also have a house.
Three uniquely different vineyards are located on the property – all renamed after the Jenkins acquired the property: Missiaen's Hillside Vineyard (arguably the best views from the property), Casey's Lakeview Vineyard and Julie's Creekside Vineyard (planted on site of the former school ball field). Each vineyard is primarily planted with the same clone of Cabernet Sauvignon (337) – however each vineyard features unique soils and microclimates translating to distinctive wines, each representative of the site.
Missiaen's Vineyard features red very rocky soil reminiscent of the soil types you might find across the valley on Howell Mountain or even in parts of Oakville. The wines produced from this vineyard are often high in fruit flavors with higher alcohol levels. The Lakeview Vineyard is situated in very chalky soil and produces wines that often show spices on the palate. Julie's Creekside Vineyard produces a Bordeaux style wine with good acidity; it is this wine of their three vineyards that perhaps has the longest aging potential. And all three vineyards are not harvested at the same time – with time between the first and last harvest often lasting up to a month.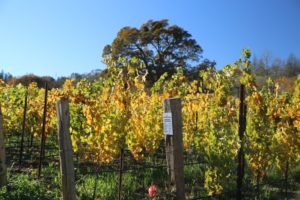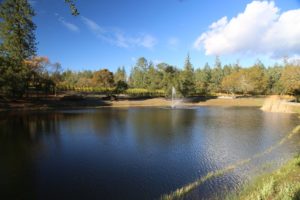 For small production and small acreage the dramatic differences in their vineyards certainly make this property unique. Because of the soil types, these vineyards are a classic example of how different terroir influences the wine flavors and structure. After walking the vineyards for the first time their original winemaker Mark Herold said, "If I can't make great wine from this fruit, you should fire me!"
Thomas Brown has been the winemaker here since 2006; Thomas is one of the busiest wine makers in the Napa Valley. Several producers have showed us lists of all the Napa brands that he consults for and or provides direct winemaking services; this is an extensive list. He is from South Carolina and developed an interest in wine while attending the University of Virginia where his major was not wine related (he studied English and Economics).
He moved to Napa Valley in 1996 and took a job at All Seasons Bistro in Calistoga (known for their California cuisine, wine selection and long time in business – but unfortunately permanently closed in 2020). While there, Thomas met winemaker Ehren Jordan who was working for Larry Turley at the time of Turley Wine Cellars. Thomas took a job with Ehren in the cellar at Turley in 1997 – spent several years there before beginning his own career and starting to consult for various clients (some of which were clients that Ehren was already working with).
And within only 10 years of making wine in Napa Valley Thomas received two 100-point scores from Robert Parker – regardless of what your perception is of scores, creating several wines within a short period of time that receive 100 points from Parker was a watershed moment in Thomas's consulting career.
Today Thomas is highly sought after for his winemaking services, experience and access to premium area vineyards. And while he was once the student, over the years he has become the teacher. We have met with a number of winemakers who worked under Thomas – and consider him one of their mentors. These are winemakers who have gone on to establish their own brands or consult for other Napa based brands.
Heritage School Vineyards uses a 100% new French oak program using the same cooperage, and for the most part the wines from all three vineyards are treated the same. Generally speaking, there are three factors that make great wines, the vineyard location, the winemaker, and the particular vintage. From a quality standpoint, Heritage School has certainly nailed the first two factors.
The estate's first commercial Vintage was in 2002. Right out of the gate they earned a 94 rating from Robert Parker for their Trevas Vineyard wine (now called Missiaen's Hillside Vineyard). At the time, Mike Harris had only one vineyard employee and was personally involved in all aspects of the vineyard management including dropping fruit, canopy management, trellising as well as harvest and final blending decisions.
Select Wines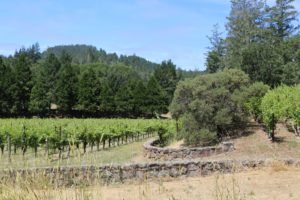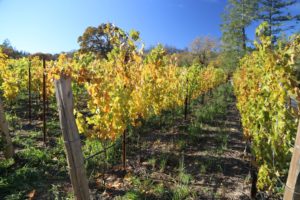 The 2014 Missiaen's Hillside Vineyard Cabernet Sauvignon is noticeably dark crimson in the glass (the darkest of all their 2014 wines). It is the highest vineyard on the property and features some of the lowest yielding vines with grapes that have a very high skin to juice ratio. Showcases darker fruit aromas along with a darker chocolate note on the bouquet with a slight savory quality including a hint of sage. Powerful but balanced on the palate this is a wine more robust in stature then the other wines from this vintage, but still features a pleasing seamless quality across the palate from start to finish. Lingers with gravely long-lasting tannins complemented by plenty of fruit.
The 2007 Harris Estate Cabernet Sauvignon from Jakes Vineyard (now called Julie's Creekside Vineyard) was named after the Harris's original black lab, Jake. This vintage has a very distinctive nose – its earthy, with notes of mushrooms, sweaty leather and black cherry. As the wine breathes a wonderful core of sweet fruit starts to show. The wine is very dark in the glass. The entry is soft, rounded and immediately, despite the 15% alcohol, you can tell this wine has decent acidity. The fruit is lively both on the bouquet and the pleasing palate shows notes of red licorice and tangy cherry.
The 2008 Harris Estate Indulgence is a blend of three Cabernet Sauvignon clones. It shows an appealing bouquet; the aromas are rich, offer red fruit scents and are slightly dusty. It's an elegant nose but it certainly shows ripe California fruit with a hint of spiciness. The palate is bright, lively and shows good acidity. This wine has an especially long finish.
After the Jenkins purchased the property and label, they continued to produce individual wines from their three separate vineyards – as well as the one non-estate wine produced, a Cabernet Sauvignon from the Calistoga AVA. And each of their wines are named after their four daughters, Hannah, Casey, Julie and Missiaen.
—
Heritage School Vineyards does not produce a lot of wine – about 1200 cases of Cabernet Sauvignon annually. As a result, the majority of their wine is distributed through their mailing list. You can occasionally find their wine locally at Dean and DeLuca Wine shop & ACME wine shop in Saint Helena, and on the wine list at Brix Restaurant. And sometimes the Jenkins pour the wines at local premium tastings, including Calistoga Food & Wine, an event held every year at Solage Resort.
Serious wine enthusiasts can request a visit to the estate. For more information and or to join one of the membership levels in their Club 225 (appropriately named after the address of the property), visit: www.heritageschoolvineyards.com