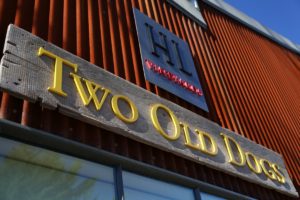 Herb Lamb Vineyards are located on a secluded hillside growing region on mountain slopes just below the Howell Mountain appellation. From their vineyards there are spectacular views overlooking mostly rural hillsides far below and in the distance. In 1987 Herb (died in late 2014) and Jennifer Lamb purchased this tiny 7+ acre piece of property with the intention of growing grapes here. With the help of neighbors they cleared and planted slightly over 5 acres of vines in 1988. Despite not being located in the actual Howell Mountain appellation, this is prime terroir. David Abreu manages a much sought after vineyard just up the road and we've tasted several other delicious wines from nearby growers.
Jennifer has been involved in the Napa wine industry for many years – starting in the 1970's. She originally worked at Beringer Winery and Herb worked at Robert Mondavi Winery. For many years Herb provided vineyard management advice and vineyard supplies to growers including nutrients and composting materials.
Three small vineyard blocks are located on the property- a primary vineyard which produces the fruit for their HL Cabernet Sauvignon and two small vineyards also planted to Cabernet which provides the fruit for their accompanying label, Two Old Dogs. The Herb Lamb vineyard is at about 800 feet elevation and is North East facing – typically their grapes bud out a bit later then the valley and harvest is usually in mid October. They tend to receive cooling afternoon breezes which makes their way over from neighboring Sonoma County and the Pacific Ocean. The growing season is typically long and even. Their wines tend to be lower in alcohol – and show both variety and vineyard characteristics – more Bordeaux like, if you will.
Jennifer refers to the 'quality of life in wines' preferring to drink a wine that has some age and maturity behind it but not to old and not to youthful either. With that said, their wines age quite well.
One local winery, Karl Lawrence started using some of their fruit for their "new blend" in the early 1990's. This wine ended up becoming very popular among collectors. In addition, one of Napa's seven established "cult" wineries, Colgin Estate and their winemaker at the time, Helen Turley discovered the Lamb's vineyard and sourced fruit for a number of years. After seeing your grapes being used as the backbone of premium wines such as these it is only natural you start getting the "itch" to make your own wine. Long time Napa winemaker Mike Trujillo has been making their wine since the beginning.
They produce one wine each year under the HL label, a premium HL Cabernet Sauvignon which comes from specific rows every year and after 10+ years they know the 'sweet' spots in their vineyard. The primary "sweet spot" is 13 rows in the center of the vineyard – the same rows that Colgin used to source from. Their first vintage of HL was from 1997 – a mere 50 cases. Their production has increased somewhat since then but not much. Due to the limited vineyard size only about 12 barrels of wine are fermented and aged each year resulting in approximately 300 cases total. A certain number of magnums of this HL Cabernet Sauvignon are produced and are set aside for charities.
Their companion label is named Two Old Dogs (originally the EII label) and is a tribute to two of their vineyard dogs – one now deceased. Two wines are produced under this label – an estate Cabernet Sauvignon and a 500 case production of Sauvignon blanc sourced from a small vineyard in Yountville. There are several "sweet" spots for Sauvignon Blanc in the Yountville area and we have tried more than a few wines made from this variety grown in that appellation.
The 2007 EII Sauvignon blanc has subtle tropical aromas with some melon, pear and citrus flavors. This is a more flinty steely Sauvignon Blanc rather than some of the viscous ones we have tried. This is not a bad thing, it just depends on your palate and preference. The mouth feel is well rounded.
The 2005 E II Napa Valley Red wine is very approachable now, a cooler year produced more blue berry flavors rather than big blackberry notes. The palate also has a slight herbal or minty quality, and the finish is refined, balanced and very smooth.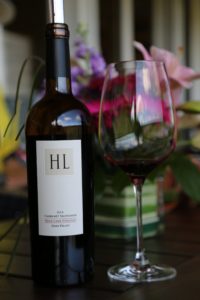 The Two Old Dogs 2013 Sauvignon Blanc is sourced from one of Napa's sweet spots for this variety – in Yountville. This wine strikes a nice balance between two prominent styles of Sauvignon blanc – ripe & creamy (often associated with California) and the more tart and tangy (often associated with New Zealand wines from this variety). This vintage has a lively nose that aromatically shows a pretty collection of tropical notes – yellow pineapple, floral notes – honeysuckle, and the sweet smell of orange blossom as well as just a hint of apricot. The palate is pleasing both in texture and flavor – it is rounded and soft. It shows mineralities with an underlying flint like note towards the finish. Some citrus notes on the palate. A finish that is zesty, clean, lively and very refreshing. For summer Sauvignon blanc lovers – this wine is an easy choice!
The 2011 Two Old Dogs Cabernet Sauvignon initially shows dark fruit aromatics – as it opens showing more red fruit aromas – red currant, red cherry and earth notes with an underlying dusty and dried grass component. The nose is pretty. The palate shows a variety of fruit – raspberry and cherry with lingering bright fruit on the finish – higher toned fruit left by a pleasing afterglow of nuances of coffee, and darker chocolate. Decent acidity. The wine is approachable young especially considering this vintage in Napa was a bit challenging (cool and rainy until late Spring and a harvest that was somewhat delayed by rain). There is a nice balance between tannins and fruit. And the alcohol is under 14% – somewhat rare for Napa these days.
The 2011 Herb Lamb HL Vineyard Cabernet Sauvignon (because of the vintage) is a lighter styled Cabernet Sauvignon compared to what their vineyard normally produces. Red currant, herbal undertones (which dissipates as the wine breathes), floral notes and a hint of white pepper show on the bouquet. The wine has medium viscosity with higher toned fruit on the palate. Lingering notes of a red cherry tartness and subtle flavors of mocha show on the finish along with both oak and grape tannin (the tannins do not dominate). This vintage in Napa has produced a number of fine food friendly wines – especially after a few years in the bottle. This is one of them.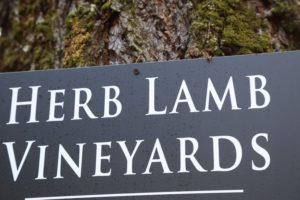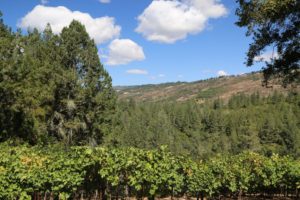 NOTE: Jennifer used to taste guests on both the HL Cabernet Sauvignon and the Two Old Dog at a tasting room on Fulton Lane in St. Helena. However after deciding to no longer produce the Herb Lamb wines and selling the Two Old Dogs label (to the founders of JACK Cellars), she no longer tastes her wines here.
Join their waiting list to receive updates on releases and other winery news. Locally you may be able to find this wine around their release date in fine wine shops such as Backroom Wines in Napa and ACME in St. Helena. They are selectively distributed in parts of the USA including Boston, New Orleans and New York. Internationally their distribution is even less – to London, Copenhagen, Vancouver and Quebec.
For more information and to schedule and appointment, visit: www.herblambvineyard.com
Old tasting room, St. Helena (we keep these photographs here for nostalgia purposes)