Heitz Cellar operates a tasting room located almost directly across from Hall Winery on Highway 29 just south of the town of St. Helena. This tasting room opened in 2002 and is on the location of their original winery site which was founded in 1961 by Joe (passed away in 2000) and Alice Heitz. This makes them one of the older continuously operating wineries in Napa. In fact when they were founded, there were less than 20 wineries in operation in the Napa Valley. It certainly took a while for the Napa Valley to recover from Prohibition and today more than 80 years after the end of Prohibition there are now more than 1,100 producers in the Napa area making wine commercially.
Joe was born in Illinois and grew up on a farm. Vetinery medicine was his first calling; he dropped out of school after World War II started to join the United States Air Force. Through the air force, he was stationed in Fresno – after the war finished, he stayed and went to UC Davis where he graduated with a degree in enology in 1948, three years later graduating with his Masters degree, also from UC Davis (he was one of only a handful of students in his graduating class with enology degrees). Following his graduation he had two job offers, one from the owners of Freemark Abbey at the time and the other from Gallo Winery. He ended up taking the job at Gallo where he worked with Ernest and Julio Gallo for a short while.
Joe received invaluable training for a number of years in the 1950's when he worked with the famed winemaker and soils expert Andre Tchelistcheff at Beaulieu Vineyard. And right before starting Heitz Cellar Joe was a professor and helped setup the enology department at Fresno State in the late 1950's.
Joe's introduction to their St. Helena property came about because of a conversation he had with long time Napa vintner Hanns Kornell (proprietor at the time of Kornell Champagne Cellars located on site of what is now Frank Family Vineyards). Hanns mentioned that an elderly gentleman, Leon Brendel (incidentally the first winemaker at Freemark Abbey) might be interested in selling his property and tiny winery just south of St. Helena. In fact he was, and in 1961 Joe and Alice purchased his 8.5 acres just south of St. Helena. At the time Brendel grew and made only one wine, an obscure varietal called Grignolino. Heitz Cellar still owns Brendel's old sign winery welcoming visitors to come try his Grignolino.
Heitz Cellar made wine here for several years. Their first wines were not estate, but were rather purchased wines in cask or barrel and then bottled under Heitz Cellar. The earliest vintage of these wines that Joe purchased was a 1959 vintage Pinot Noir and several subsequent vintages including some Chardonnay. These wines were from Hanzell Vineyards near the town of Sonoma in Sonoma County – founder of Hanzell, Harold Zellerback passed away in 1963 and his wife Hana soon liquidated their inventory (including several vintages) and sold the property. As a result, some of the first Heitz sold wines were actually from Sonoma County rather then Napa. And Hanzell is still producing wine (no longer owned by the Zellerback family). Heitz also purchased Cabernet Sauvignon from Christian Brothers Winery and bottled it as his own.
Several years later, looking to expand and needing more space for winery operations Joe remembered visiting the old Rossi Ranch at the end of Taplin Road years prior. He and Alice drove up to the ranch, walked up to the wooden porch and knocked on the door of the old white cottage. The owner at the time, Fred Holt & his wife Alice agreed to sell his property (no vines were planted here at that time) to Joe with a handshake that day. Others in the valley heard that Joe was buying the property and one individual offered a higher price – but was refused as Fred honored his handshake agreement with Joe. Joe and Alice purchased this property in 1964 and lived in the old cottage for many years. A small guest house is located next to the winery across from the cottage – the Heitz family used to refer to this as the 'Heitz Hilton'.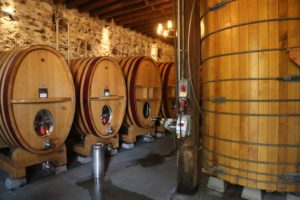 The old stone gravity 2-level winery was built with rock quarried from nearby and dates from 1898. The foundation stone with the date and name of founder, Anton Rossi is located high up on the stone wall above the main winery entrance. After prohibition the winery was owned by a San Francisco restaurateur, A. Valenti (who wasn't at the property very often). A Valenti sold the property to Fred Holt during World War II.
The Heitz family removed the old redwood tanks from within the winery and replaced them with large oak tanks – each holding up to 1500 gallons. Walking into this part of the winery is like walking back decades – these old tanks continue to be used for aging their wines. The bung holes are plugged with wooden bungs and beeswax is used to seal any leaks.
When deciding upon a label Joe decided to see what his family could come up with. David Heitz who was only 10 at the time drew a basic stick man holding up a glass of wine framed by barrels of wine in the background. Liking what he saw, Joe brought this raw drawing to noted painter, printmaker, muralist, and illustrator Mallette Dean who then fine-tuned the original drawing. A beautiful mosaic of the Heitz Cellar label hangs on an exterior wall of the old cottage.
The winery and property is located about 2 miles east of the tasting room just past the driveway leading to Joseph Phelps winery.
Until selling, Heitz was still very much a family owned and operated business overseen by Joe & Alice's children; David as winemaker (over 30 years of wine making experience – this amount of time at the same winery is quite rare) and Kathleen as President. Youngest son, Rollie operated his own winery, Midsummer Cellars which he later closed down and moved to Italy.
However, in April 2018 Heitz Cellar sold to Nashville based Gaylon Lawrence Jr. The sale included 425 acres of vineyards, the winery at the end of Taplin Road and the tasting room on Highway 29 just south of St. Helena.
Today approximately 525 acres of which about 425 are planted to vines are currently owned by Heitz Cellar. They farm their vineyards sustainable and are organically (CCOF certified). In 2019 and 2020 they transitioned to completely biodynmic farming – perhaps the largest vineyard landholder in Napa Valley farming completely biodynamically.
Proprietor Profile
Gaylon is a principal investor in one of the country's largest agricultural businesses, The Lawrence Group (based in Arkansas). In addition to their vineyard holdings in the Napa Valley, the group owns property in Florida, Illinois, Missouri, Arkansas and Mississippi (some 180,000 acres of farmland total focusing on cotton, rice and citrus). The group is also diversified into banking services (initially in 1988 and as of our latest update to this review own 8 community banking companies with three of the companies operating various branches in the greater Nashville). The Lawrence Group also owns select pieces of real estate in Nashville including Peabody Plaza.
Other investments include much of the town of Wilson in Arkansas and U.S. Air Conditioning Distributors – a major HVAC distributor with some 50 branches in select cities in the western USA. And in addition to his Napa Valley holdings, he is a major investor in the former Mare Island Naval Shipyard (Oakland Bay Area, California) with development occurring under the The Nimitz Group with partners winemaker Dave Phinney (founder of The Prisoner and Orin Swift Cellars) and Sebastian Lane (Depiction Wines).
Mare Island, California

Nashville, Tennessee connections

F&M Branch, Napa

Wilson, Arkansas
One stumbles into this town and quickly realizes its significantly different then other small Arkansas farming towns. Located only 45 minutes from downtown Memphis, Wilson is a small town with a very picturesque center (the Wilson Square). Visiting the square almost feels like being on a movie set. Highlights include the Wilson Cafe, Gunn's Supermarket (a remarkably well stocked grocery store for a tiny town), White's Mercantile (owned and operated by Holly Williams, the grand daughter of famous country crooner, Hank Williams senior), The Louis Hotel overlooking Wilson Square, the Hampson Archeological Museum State Park (containing a collection of Native American artifacts) and right on the edge of town – the progressive project-based learning Delta School (K-9th grade).
And events are held throughout the year including the Wilson Wine Experience (select tastings).
The town was founded in 1886 by Robert E. Lee Wilson (initially to support a sawmill but later for cotton farming). The modern-day renaissance of Wilson began after 2010, the year that Gaylon Lawrence Jr purchased the entire commercial real estate in town and much of the surrounding farmland acreage from the Wilson family. Today, Gaylon's firm, The Lawrence Group maintains a presence just off of the square at 1 Park Avenue – located across from the tiny post office.
It doesn't take one long to exit the cozy confines of Wilson for dirt roads running through surrounding cotton fields. And if one drives west about 15 minutes – one will arrive in Dyess, the boyhood town of Johnny Cash.
For more information, visit: www.wilsonarkansas.com
Demeine Estates
Launched in July 2020, Demeine Estates is a Napa Valley based négociant & broker of family owned wineries and brands from both Napa Valley under the Lawrence ownership and one from France. As of our latest update to this review, Demeine Estates represents wines from the following brands or wineries: Brendel Wines (est. 2021), Burgess Cellars, Heitz Cellar, Ink Grade Estate (est. 2021), Stony Hill Vineyard and French based Legras et Haas (est. 1991).
Brendel Wines opened a tasting room in downtown Napa in the historic Migliavacca Building (next to the Goodman Library) in December 2021. View our separate review of Brendel Wines on this website for more details.
St. Helena Tasting Room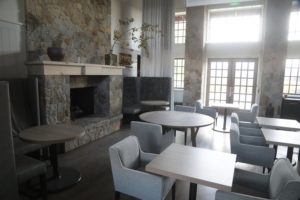 The tasting salon is located in a classy small stone building with sit down tastings held inside as well as outside on the rear terrace. A large arbor providing shade is located over the terrace; this space features excellent views of vineyards spreading out in all directions to the east. Weather permitting, this is a gorgeous spot to enjoy a tasting. The tasting salon is located close to the Wine Train railroad tracks and almost directly across the highway from Hall Winery.
This is an intimate tasting experience as the salon is very small, with a cozy fireplace and several comfortable looking well padded chairs for relaxing. Tasting notes and other details about each wine will be provided as the wine is poured. The small tasting room is in no way a reflection of their winery size. Visits to the tasting room generally require an appointment. Heitz Cellar was one of the very last open to the public Napa Valley wineries to no longer charge for tastings. Complimentary tastings are no longer offered – visitors can select from one of several tastings
The tasting room and building remodel was completed towards the end of 2021. It reopened on December 1, 2021 for tastings. We will visit in early December 2021 or Spring of 2022 and will update our notes and photographs here accordingly.
Estate Experience
Visits can also be arranged by appointment to the winery estate, located at the end of Taplin Road. Visits start at an old airy wooden barn with a welcome glass of current release Chardonnay. The primary tastings take place in the upstairs loft of the old stone cellar next to a number of beautiful wooden casks. This space was renovated beautifully and opened in 2021.
Wine curators (a term suggested by long time Heitz hospitality employee, Joe Grabski) lead guests through the tasting with a focus on their single vineyard Cabernet Sauvignon wines. This is a personalized and enjoyable tasting.
—
VINEYARDS
Martha's Vineyard
Martha's Vineyard (founded by Tom and Martha May – Tom died in 2017) has been family owned since the early 1960s. This is one of the more recognizable and iconic vineyards in all of the Napa Valley. Planted against the western hills of the Oakville appellation, this is arguably the heart of some of the Napa Valley's most prized red wine grape vineyard land. Nearby vineyard neighbors include parts of Robert Mondavi To Kalon, UC Davis experimental vineyard and an Opus One section of To Kalon. The May's connected with the Heitz's in an interesting manner.
The previous owners (two of the Napa valley's most relentless supporters and foodies, and later founders of Bella Oaks Vineyard) Belle and Barney Rhodes had left several bottles of Heitz Cellar for Tom and Martha. This was the first introduction for the Mays to Heitz Cellar. Enjoying the wine and needing to find a buyer for his grapes, Tom drove up to Joe and Alice's home – walked up onto the old porch and knocked on the door. Like a year earlier when Joe purchased this property with a handshake, a handshake would again seal a deal – this time Heitz would purchase fruit from Martha's Vineyard.
This vineyard has been producing premium Cabernet Sauvignon for Heitz since 1965 which he blended with other wine (although there were no vintages from Martha's Vineyard in 1993, 1994 and 1995 due to needing to replant because phylloxera destroyed the vines). In 1966 Joe made the decision to bottle this wine as a single vineyard designate because of its own unique characteristics. Heitz Cellar was the first California winery to bottle a single vineyard Cabernet Sauvignon; today some of Napa's most sought after wines are from single vineyard sites.
Known for its minty, eucalyptus and chocolate aromatics – several giant eucalyptus trees grow on the eastern edge of the vineyard, but these aromatic characteristics probably are not derived from the trees, but rather from the combination of clone and soil type. These qualities are inherent in the wines from this site regardless of vintage.
Trailside Vineyard
This vineyard is located adjacent to Conn Creek Winery along the Silverado Trail across from Highway 128. Prior to Heitz purchasing this vineyard in 1984, the property was home to Shown & Sons Winery whose roots dated back to Santa Clara. In the early 1960s the family used to purchase grapes for hobby winemaking from vineyards in Morgan Hill, truck them back to their home in Santa Clara where they dug by hand a cellar in their backyard for barrel and bottle storage.
The Shown family purchased 80 acres of what is now the Trailside Vineyard in the late 1960s back when it was a prune and walnut orchard. The original Shown and Sons Winery building still stands, adjacent to Conn Creek Winery. For many years it was used as a barrel storage facility for Heitz Cellar. Incidentally Dick Shown's son, Chris operates Brigadoon Wine Company, based in Oregon's Willamette Valley.
A Heitz Trailside Vineyard Cabernet Sauvignon is produced from this property every year. Incidentally, this vineyard used to be planted to approximately 5 acres of Chardonnay and Heitz Cellar used to produced a Cellar Selection Chardonnay every year from this property.
More photos coming soon
Linda Falls Vineyard
Of the single vineyard designate wines Heitz Cellar produces, this vineyard is their most recent acquisition (2013). The vineyard is located in Howell Mountain directly next to Deer Park Road just barely inside the AVA boundary.
Select Wines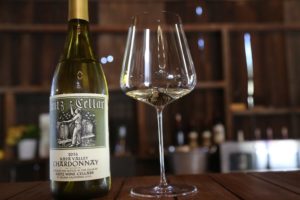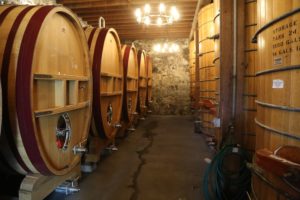 The focus of Heitz Cellar is premium single vineyard designate Cabernet Sauvignon however throughout their history, they have produced wines from other varieties as diverse as Barbara, Riesling, Malvasia Bianca, Pinot Noir, sparkling wines and even a dry Sherry. It should also be noted that Heitz Cellar has produced a Chardonnay every year since their founding in 1961. Since the transition in ownership, the focus of Heitz Cellar is exclusively on Chardonnay and Cabernet Sauvignon. Wines from any other varieties are bottled under other labels (non Heitz Cellar).
Beginning in 2018, Heitz Cellar began producing the Quartz Creek Vineyard Chardonnay, from a vineyard in the Oak Knoll District that they purchased from Burgess in 2014. The site takes its name from when a well was begin dug and the resulting spoils were filled with quartz rock. The 2019 Heitz Cellars Quartz Creek Chardonnay is medium gold in color; the aromatics quickly give reveal that this is not an oaky buttery driven wine from this variety. Rather the aromatics are crisp with notes of green and red apple, kiwi and melon. Shows a little bit of aromatic fruit sweetness as this wine evolves in the glass and warms slightly. The wine is superbly balanced across the palate; offers a rounded slightly creamy texture which is offset nicely with a mouth watering brightness with flavors of citrus zest and a minerality note. Features plenty of liveliness; drink now or feel very comfortable this wine will keep its character for at least 5-7 years of cellar aging.
The Heitz Cellar 2016 Napa Valley Chardonnay. 1/5 of this wine was barrel fermented. No malolactic fermentation. This wine offers pleasant citrus driven aromatics along with notes of baking spices, honeysuckle and almonds. The palate shows notes of lemon, apple with some mineralities mid palate to the finish. Very bright, with a supple mouth feel that is not heavy. Does not show any buttery or oaky characteristics – very refreshing. We last tasted the 2006 vintage of this wine – we noticed a lot of similarities in our tasting notes between the two vintages – exactly 10 years apart.
Heitz Cellar has produced a dry rosé before rosé's of this style became trendy again. Every year they produce a 100% varietal rose of Grignolino. The Heitz Cellar 2018 Grignolino Rosé is noticeably pinkish-salmon color. Well endowed on the bouquet, offers bright fruit with some sweeter aromatics. Aromas of strawberry and notes of jolly rancher flavored watermelon. Also floral. A very food friendly offering with bright acidity and a tartness or zest which lingers on the finish. Previous vintages of this particular wine have been chosen by certain wine publications as one of their top wines of a particular year- truly remarkably considering the competition is often big red wines.
The 2005 Heitz Cellar Zinfandel is not a jammy type of Zinfandel, rather its more lean and focused in style. Offers spicy notes both on the bouquet and on the palate – recommended pairing is dark chocolate.
During one of our earliest visits to the tasting room, we had the privilege of trying an older Cabernet Sauvignon, in this case the 1998 Heitz Cellar Bella Oaks Vineyard Cabernet Sauvignon. Age has treated this wine well; it opens with dark earth aromas, almost forest floor like as well as some tobacco and leather. Ten plus years later, the palate is still very much fruit driven and rich in flavor. The tannins have been tamed by time, but still present excellent structure and in our opinion, this wine could go at least another 10 years!
The 2015 Heitz Cellar Martha's Vineyard Cabernet Sauvignon is dark ruby in color; offers initial aromatics of dried herbs, violets, cloves and cardamom. Shows plenty of fruit including of black raspberry, representative of the vintage (more concentrated fruit than normal, from a year that was in the middle of prolonged drought). As the wine breathes it reveals more of that classic Martha's Vineyard minty character. Offers plenty of red fruits on the palate including cherry, currant and cranberry. A noticeable brightness of fruit and acid lingers on the finish with gravelly, dark and earthy tannins. Also shows a final note of dried tobacco leaf.
The 2013 Heitz Cellar Martha's Vineyard Cabernet Sauvignon offers an elegant bouquet with hints of eucalyptus, wintergreen, sage, rosemary and darker fruits. Also slightly floral with notes of dried rose petals. Savory to. This wine is seamless from start to finish across the palate with flavors of plum and red cherry. Offers fine-grained slightly dusty tannins (not course in feel). The finish is well layered between fruit and structure with hints of tobacco leaf lingering. Thsi is a wine from a vintage that needed time to smooth the rough edges which have turned into complexities, character and depth. We enjoyed this wine 7 years after vintage date and it showed like a younger wine. Tons of life ahead of this beauty.
Lot C-91 a red blend was originally conceived in 1969 by Joe Heitz and produced only that year. This winery only direct to consumer wine was reborn in 2016, nearly 50 years after the inaugural vintage. The 2016 Heitz Cellar C-91 features grapes from Linda Vista, Trailside, Martha's and the vineyard next to the tasting salon on Highway 29. Offers elegant fruit aromatics including of blackberry along with some violet under tones. Also shows dried herbs, sage and some earthy characters along with a hint of menthol as the wine breathes. The bouquet is slightly savory. Shows dark fruit on the palate with dusty integrated tannins lingering on a juicy mouth watering finish. The texture is well integrated; this is a very balanced bottling that subsequently is very approachable. And the Lot C-91 stamped ink-looking font on the back of every bottle comes in 12 different font shapes and sizes.
The 2015 Heitz Cellar Napa Valley Cabernet Sauvignon displays a lively bouquet with aromas of berries, rhubarb, a cherry cola sweetness and hints of dust and as the wine breathes, a kiss of mocha. Mouth watering across the palate – shows the juiciness of a classic Napa Valley Cabernet Sauvignon, not the juiciness of overtly ripe fruit. Flavors of raspberry and red cherry. The tannins are still tightly woven – lingers with a hint of white pepper. Very good value to price ratio.
Heitz produces balanced, food friendly wines – classical Napa Valley Cabernet Sauvignon, if you will from an era that has since been eclipsed by longer hang times, higher alcohol, lower acidity and longer extraction periods – wines that are stylistically different then commonly produced in the Napa Valley today. Unlike most producers, they hold their wines back several years before release. Their wines age exceptionally well, are balanced upon release and remain balanced for many years.
Both the Grignolino and the Ink Grade Ports are an excellent quality to value ratio. Heitz makes these two ports each year. The Grignolino is a variety that is mostly grown in the Piedmont region of Northern Italy. Of 1,000+ commercial Napa Valley wine producers that we have visited and tasted with to date, this is the only winery we are aware of that grows and produces this variety.
After Joe was introduced to this variety through Leon Brendel he kept growing and making this wine. It is intriguing that the Heitz's continue to produce this very obscure (for California) variety. And we have been told that despite the change in ownership, Heitz Cellar will continue to make a wine from this variety along with the Grignolino rosé. This variety used to grow in the vineyard next to the tasting room on Highway 29 but it no longer grows here, as of our latest update to this review Heitz Cellars maintains about 7 acres of this variety on their estate property at the end of Taplin Road.
The 2004 Heitz Cellar Grignolino port-style wine opens up with amazing floral and fruit aromas which quickly invite one to taste. Flavors of strawberry and raspberry show well with delicate tannins anchoring the finish. This wine in Italy is sometimes referred to as "little strawberry" and these fruit flavors are definitely present in this wine.
The Ink Grade Port has been made every year since 1994 and only three times has it been a vintage wine. As a result, most releases are non vintage. With a non vintage wine such as this, consumers get the best of both worlds, bright fruit coming from younger wine as well as the aged characteristics from older vintages. This wine is rich in flavor and alcohol with a sweetness that is perfectly in balance. Flavor, sugar and alcohol are key ingredients in these types of wines and if one of these is out of balance it can be very noticeable.
This wine is certainly not just sugar and alcohol; it has a richness and complexity of flavor not often found in ports priced much higher than this one. The nose is very fruit driven with a palate showing dark fruit including baked black cherry and plum. Each year this wine contains a number of ancient Portuguese varieties which grow on their property on Howell Mountain. Trust us, you will have an extremely difficult time finding these particular varieties grown in other parts of Napa! There are not a lot of Napa wineries making premium ports, and its always a treat when we find one.
NOTE: In 2019, Gaylon purchased the historic Haynes Vineyard in Coombsville (home of the some of the oldest Pinot Noir and Chardonnay vines in Napa Valley – dating back to the late 1960s). Plans call for creating a new brand/winery focusing on the Haynes Vineyard. We will update this review once we have more details and or add a new review focusing on their new brand – but it may not be until 2022 or even further out depending on their progress.
We will close this review with a humorous story. Some years back the famed wine critic Robert Parker said one of their wines was lacking in aromatics. After hearing this, Joe Heitz then sent him a box of handkerchiefs insinuating that Parker had a cold when he tasted this wine. Nice! Sometimes Heitz offers International cruise trips as well – inquire for more details. They have fairly good distribution in all 50 states as well as a number of other countries.
Heitz Cellar never had a wine club during their decades of ownership. After Gaylon purchased the property – a wine club was created offering two membership levels: Heitz Society (6 bottles shipped per year) and the Legacy Collection (12 bottles shipped per year). Either membership gives one rare access to older re-released library wines.
And in 2021 Limousin oak barrels arrived for use in their cellar – these barrels are extremly rare due to their size.
Total production is around 38,000 cases but this will change in the coming years. For more information and or to schedule a tasting, visit: www.heitzcellar.com
NOTE: this review is currently undergoing a major update and will be for all of 2022/2023.