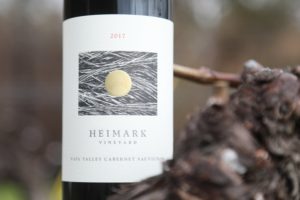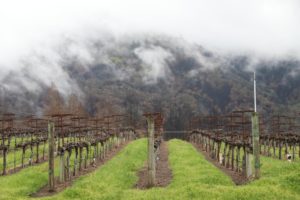 Heimark Vineyard. This special site is hidden away in a part of the valley that often even locals are not aware of. Perched on extremely rocky hillsides at an elevation of around 1,100 feet are 14 acres of vines – located towards the upper reaches of the narrow, windy and steep at times gated Dutch Henry Canyon Road.
The property was purchased in 1997 by Craig and Libby Heimark as a place to retire (although 2+ decades later they have still not retired here) – their primary residence is in Palo Alto. Their three children Jake, Eric, and Julia are also involved. Craig works in banking and finance (previously for Swiss Bank). Their heritage is Norwegian and Heimark refers to two Old Norse words: heiðr (heath) and mork (forest). Some of their relatives settled in North America in the 1600s including those involved in the whaling industry. What is now the Sag Harbor Whaling Museum in Long Island was originally home to one of their ancestors.
Land in this part of the valley was sub divided many years ago into 100 acre sections – including the 100 acre Heimark property. Their site encompasses rugged and rocky hillside but also a more gentle sloping area. These shallower slopes remarkably were not covered in trees like the surrounding steep hillsides – the soils (and they are very rocky) are the result of an ancient landslide. This is where vines were planted for the first time in 1997 – overseen by Mary Hall Maher and Mike Wolf. Mike and his team continue to oversee the vineyard management.
This was a challenging vineyard to plant based on the difficulties of getting equipment to the site (the road is in much better shape now). During the layout of the vineyard, part of the road was actually diverted to another section of their property. The vineyard is organized into 11 different blocks – planted to about 13 acres of Cabernet Sauvignon and a small section of Cabernet Franc and Petit Verdot. Mike calls this vineyard the least thirsty vineyard he works with in the Napa Valley – despite its hillside location and rocky terroir – there is enough water here so that they typically only have to water once or twice during each growing season.
And for 15+ years fruit was sold and the Heimarks made no wine. Tony Soter was one of the earlier buyers and over the years, grapes have been purchased by Arkenstone, Dakota Shy and Lail. In 2018 Arkenstone made the first ever Heimark Vineyard designate. It was Mike Wolf who broached the subject to the Heimarks about making their own wine from the site – referencing all the other premium producers who had been making standout wines from the vineyard. And he introduced them to winemaker Françoise Peschon. 2016 was the first vintage bottled under Heimark Vineyard.
With mostly remote and wild surrounding landscape the site is visited by a variety of wildlife including at times black bear, wild turkeys and deer. Certain rows towards the edge of parts of the vineyard have to be netted (to keep out birds). In 2020 the Glass Fire burned the forest and vegetation almost entirely around the vineyard – but remarkably did not burn the vines themselves even though flames crept right up to the edge.
Vineyard Manager
Mike was born in New York City and grew up just outside of the city. Viticulture was not a part of his formative years – he graduated with a history degree at Alfred University. He first moved to California in 1972 – to Mendocino County as a farm worker helping manage pears, prunes and grapes. Eventually he oversaw vineyard operations at Juliana Ranch in Pope Valley (one of Napa's larger vineyard sites) and in 1994 took a job managing 500 acres for Beckstoffer Vineyards. He branched out on his own in 1997 and formed Michael Wolf Vineyard Services. One of his early clients was Vine Hill Ranch.
Today Mike oversees approximately 500 acres in the Napa Valley and has managed or is managing vineyards for BOND, Harlan Estate, Lewis Cellars, Meteor Vineyards, Scarecrow, and Vineyard 29. And he has also worked with some of the top winemakers in the valley including Celia Welch, Philippe Melka, Bob Levy and Andy Erickson.
In 2015, Mike was awarded Grower of the Year by the Napa Grape Growers Association.
Winemaker
Talented winemaker Françoise Peschon studied enology at the University of California Davis and later apprenticed at Château Haut-Brion in Bordeaux, France. She has built a successful 30+ year career in the Napa Valley helping make wine for other notables including Accendo Cellars, Cornell, Vine Hill Ranch, and her own label with friend Lisa Drinkward, Drinkward Peschon.
She was already familiar with the Heimark Vineyard while working at Araujo Estate Wines (now the Eisele Vineyard). And in 2019 she was named winemaker of the year by the San Francisco Chronicle.
Select Wines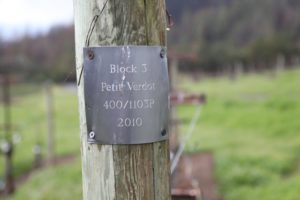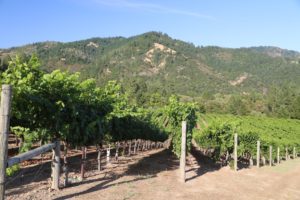 The focus of Heimark's production is a singular expression every year of both their site and of Cabernet Sauvignon. Each wine released to date has been 100% varietal and each vintage sees about 20 months of aging in French oak. Less than 250 cases were produced of their first vintage; subsequent vintages are closer to 500 cases.
The wines we have tried in the past that were crafted by Françoise have always embraced the contributions of the respective sites yet also the 'California maturity' – while simultaneously championing restraint and a noticeable balance.
The 2017 Heimark Vineyard Cabernet Sauvignon is medium to dark ruby in color; the aromatics are refined, showing cherry, boysenberry and subtle hints of cedar. Also a hint of earthiness initially before the fruit opens. The oak is relegated to a supporting role on the bouquet. Offers a brightness across the palate. The integration of all components, the wine's balance and tannin profile are noteworthy characteristics. The tannins are chalky, fine-grained and smooth. If we were to make a visual comparison to this wines texture, it would be gossamer-like. The tannins are nicely integrated – they roll across the palate and linger lightly along with a hint of dried tobacco leaf. A wine well worth seeking out.
—
The label is stylish to match the elegance of the wine. Local artist (Marin County resident) Ido Yoshimoto works primarily with wood and created the textured wood grain image for their label. The gold color represents California's gold rush – the 5 dots on the back label represent the 5 members of the Heimark family and the tiny image of a whalebone represents their whaling heritage.
Sag Harbor Whaling Museum
Visit and photographs coming by Spring 2022.
The wines are very selectively distributed including in Switzerland and in the United Kingdom. Their son Eric lives in London and decided it would be nice to have their wine in select parts of the UK market. And locally certain vintages can sometimes be found through ACME Fine Wines in St. Helena and at K.Laz in Yountville. For more information, to join their mailing list or purchase wine (3 bottles per one wooden box), visit: www.heimarkvineyard.com