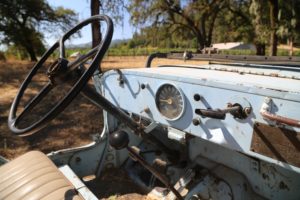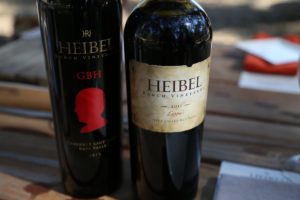 Heibel Ranch Vineyards owner Trent Ghiringhelli and his family have deep roots in Napa Valley, its wine industry and Aetna Springs Resort located close to the Heibel Ranch property (reference our extensive notes and research on Aetna Springs Resort below). The Heibel family originally owned 1300 acres in Pope Valley but it has since been divided among family members. Trent's immediate family owns 185 acres of land of which currently only 1.7 acres is under vine. This is the last of their original family holdings in Pope Valley. With such a small vineyard, Trent talks about production in terms of the number of vines rather than the acreage. Total yields during a normal year are between 4 to 5 tons of grapes from this tiny vineyard.
Pope Valley is a part of Napa that hasn't seen a lot of change relative to the main valley floor. The majority of change has come in vineyards; there has certainly been an increase in vines planted in this area in the past 20 years, although original plantings of grapevines in Pope Valley were well over a century ago.
Pope Valley runs north south just east of the main valley floor. Early settlers first came here during and immediately after California's gold rush to work the mercury mines in the vicinity. stagecoach road crossed over the palisades in the north part of the valley and came out just north of Heibel Ranch.
This is old Napa with less of everything including cars, vineyards, wineries and people. It is quiet here, more rural and about as far from the "wine strip" of parts of heavily traveled Highway 29 as one can find in Napa County.
Hospitality
Trent greets you at the parking lot of the Aetna Springs Golf Course in a 1963 ranch blue military CJ-3 jeep that he's been driving since he was 14 years of age. The original military copper plate still shows the details on the dashboard. Ranch vehicles sometimes have names, this blue jeep is named "sugar magnolia" after a Grateful Dead song. Almost certainly one of Trent's dogs will be hot on the tail of the jeep as Trent drives to his property.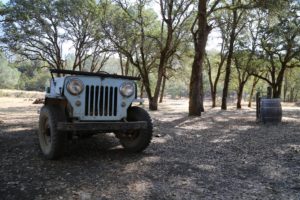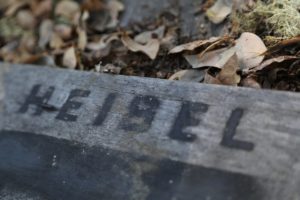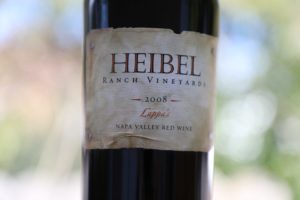 Allow at least 2 hours for his typical tour and tasting. Trent is a wealth of information about Pope Valley, and he welcomes questions. Your tour will pass right next to their estate vineyard. This is rocky soil with piles of well-worn river rock lining the sides of the vineyard, clearly evidence of the hard work that went into preparing this land for planting. And with not a lot of vineyards immediately close by, the grapes are food for hungry birds in late summer – so they cover the vines with netting prior to every harvest.
The tour then winds through the lower part of his property, past a beautiful small pond to a picnic grove where a table is setup for the tasting, paired with cheese and some delicious salami. The tour gives one an idea of the diversity of the property and the silence of this area. Then the wind blows; Trent describes this as "mountain surf" referring to the noise made from blowing through the pines, Manzanita and Madrone – similar to the surf one might hear at the ocean.
There is a reason the "word" springs is in Aetna Springs; Trent's property has seven such springs and this water is used for their vineyard and ponds. A number of these were dug out in the area by Trent's grandfather Etzio on the Ghiringhelli side of his family. An old still they have dated to 1876 is on the property and was used during prohibition for bootlegging spirits.
Interestingly enough, Etzio was arrested during prohibition for bootlegging, but not from the still on the property; he paid the judge in alcohol. In the 1950s he became chief of police for the town of St. Helena. Etzio was a graduate of St. Helena High School; early in his career, he worked for Beaulieu Vineyard and also as a truck driver for the Basalt Rock Company, located south of the city of Napa. In 1949 he and his wife Mildred purchased the Old Oaken Bucket, a tavern, in Rutherford which had already been in business since at least the 1930s. They sold the establishment in 1955. The Old Oaken Bucket eventually become the Pioneer Saloon in the 1970s.
Tastings sometimes used to be held at the restored "social hall" on the Aetna Springs Resort when there was inclement weather. The 2011 film, Twixt in part was shot at the resort and the crew spent about a month filming here. Long time Napa Valley winery owner and film "godfather" Francis Ford Coppola directed this movie. After seeing the unique historic buildings one can see why this was an excellent location for filming a horror movie. Even the landmark Pope Valley Repair & Towing on the corner of Howell Mountain Road and Pope Valley Road makes an appearance in the movie (the name on the side of the building was changed).
Winemaking/Select Wines
Heibel Ranch currently makes several wines including a Sauvignon Blanc blended with Sémillon (from south Napa fruit), GBH – their first wine released and named in honor of Trent's grandfather, Lappas, a mostly estate blend, Dangers, a Bordeaux styled red blend and Captain Bubba named after Trent's stepfather, a retired captain of the El Cerrito Police Department and the only wine in all of Napa that we have ever seen with an image of a police badge on the label. Heibel Ranch also produces a delicious Zinfandel port-styled wine (low in sugar but big in flavor). Their current production of all the wines is about 800 cases of wine annually with longer term plans to develop additional acres to vine.
Trent, who grew up in St. Helena was often around winemakers and the winemaking process. After graduating from University of Colorado at Boulder (with a non-winemaking degree) he worked at ZD Wines for 11 years, starting as assistant hospitality manager and then over the years learned winemaking.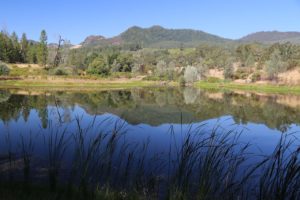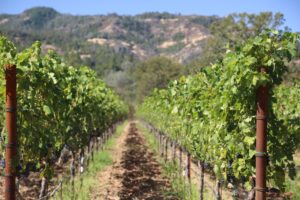 The modern-day history of Heibel Ranch started in 2000 when Trent began conceptualizing growing vineyards and producing wine from the estate. Several years were needed to build a water system from the natural springs on the property and clear and plant the land. The first commercial vintage of Heibel Ranch Vineyards was from 2006. The majority of the vineyard is planted to Cabernet Sauvignon with Petite Sirah and Zinfandel also growing. The vineyard is farmed and certified organic (CCOF).
Heibel Ranch has several good vineyard neighbors; Flora Springs farms their Cypress & Palisades Ranch Vineyard next door and Plumpjack owns and farms the beautiful Oso Vineyard steep on the slopes, just north of Trent's property (formerly owned by Michael Mondavi Family). Pope Valley is cooler in the winter than the main valley floor and a bit warmer in the summer. Heibel Ranch's vineyard often is the recipient of cooling breezes flowing down from the back side of Howell Mountain which helps keep things dry, especially later in the season after rain. Trent typically picks his grapes earlier than the valley floor – often in early October.
Trent lets his vineyard dictate the style of wine. He prefers lower alcohol wines made from grapes which are harvested ripe, but not super ripe (no greenness). His harvesting decisions ensures a lower pH and good acidity and are balanced wines.
The 2010 Heibel Ranch Sauvignon Blanc is blended with 25% Sémillon; the grapes for this wine are from south of Napa in the Carneros region. This wine is a lighter in body but has nice depth of flavors. Trent prefers drinking a Sauvignon Blanc which is more tropical in character rather than grassy or citrus driven. This bottling is golden in the glass and crisp on the palate with some minerality or steeliness initially showing on the bouquet; then the fruit comes forward, including with aromas of pineapple and other tropical notes. The palate is clean and crisp with tropical flavors in part contributed from the Sémillon. The Sauvignon Blanc was fermented and aged in tank while the Sémillon was aged in oak. This versatile wine shows good acidity and flavor and becomes even more alive with a variety of cheeses including aged Asiago that is served with the tasting.
The 2014 Heibel Ranch Sauvignon Blanc is a pretty wine with tropical notes on the bouquet including aromas of pineapple followed by flavors of lychee – especially noticeable on the finish. This is a very well-balanced bottling and will be a crowd pleaser for Sauvignon Blanc enthusiasts of more riper bottlings of this varietal.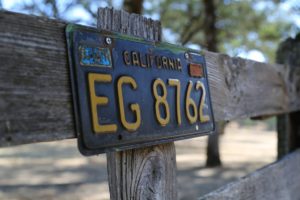 Lappa's was a nickname for Trent's father; it is a shortened version of the Italian slang, "Lappa suc", loosely translated to mean "pumpkin sucker" in Italian. We did not ask for further details. After creating this unique blend in 2006 Trent decided to add more complexity to this wine and now sources a non-estate Cabernet Franc each year. Part of his inspiration in creating this blend was what "unconventional blender" Dave Phinney of Orin Swift accomplished with his "prisoner" label. Dave opened people's eyes and palates to what previously were unorthodox combinations of varietals.
The Lappas blend is created by fermenting each variety separately in T-bins spending approximately two weeks in contact with the skins before pressing off. The resulting wine then spends about a year in oak barrels (mostly new American oak) before being racked off to neutral barrels for another years of aging.
The 2008 Heibel Ranch Lappas shows a sweetly fruited and dessert spice forward bouquet including of blackberry, dark cherry, raspberry and red licorice along with mocha, espresso and milk chocolate. The palate offers flavors of licorice, red cherry, and black currant. A slight presence of dark chocolate shows on the back of the palate. The wine is balanced and well-integrated both with fruit and structure. The tannins are approachable, earthy and linger for quite some time with a slightly dry character and some darker spices including crushed peppercorn and dried tobacco leaf. We tasted this wine 13 years post vintage; the color is medium ruby and still holding nicely.
Much of their wine is distributed direct via their mailing list, but they also can be found at select restaurants in Lake Tahoe. Tours are by appointment and can comfortably accommodate four people in Trent's jeep or up to 8 with a second vehicle. Tastings can also be arranged without the tour. Delectable cheeses, bread and other accompaniments are provided with the tasting. For more information, to purchase wine and to arrange a tour or tasting please visit: www.heibelranch.com
Estate Property

Calistoga Tasting Room
NOTE: this tasting room permanently closed in early Spring 2018. We keep our photographs here for historical reference.

Aetna Springs Resort History + Connection to Heibel Ranch
We have long been attracted to the mystique, history and stories centered around this fabled resort. Perhaps part of this strong attraction is rooted in our own childhood, finding inspiration and treasured memories from vacationing in beautiful places with those who matter the most. This pull towards property is something we understand intimately having spent several weeks of the most formative years of our life vacationing on Lake Tahoe's west shore. Our family always stayed in an old cabin at the no longer existing Tahoe Cedars in Tahoma, our 'own' equivalent of Aetna Springs Resort.
The thriving township of Aetna Springs, a town built around quicksilver (cinnabar ore) mines was located a short distance up Aetna Springs Road to the west of Aetna Springs Resort. This was the site of the first Cinnabar Mine established in Napa County in 1861, the Phoenix Mine. Ultimately 21 miles of tunnels were drilled into the hillsides. For some 40 years between the 1860s and early 20th century, Napa County was once one of the most prominent quicksilver regions in the state. A limited amount of mining in the area was still occurring in the 1950s and 1960s.
Quicksilver from Napa County was an integral part of California's gold mining heritage – as quicksilver transported from Napa County to the Sierra Nevada gold fields was used for extracting gold and silver from the ore bearing rock. While most of the miners were working in the nearby hills, miners also lived on the grounds of what is now Aetna Springs Resort, taking advantage of the natural mineral waters. We've seen several references in old newspaper articles about mining tunnels in or near the hot springs but having been abandoned due to encountering steaming underground water.
The resort has a storied history, serving as playground for some of California's wealthy and Hollywood elite but also as a place for annual family vacations spanning several generations, primarily for those from the cities. Prominent San Franciscans also stayed here including Mark Hopkins and Leland Stanford. And organizations also used the facilities including the Sierra Club, the Napa County Sheriff's Posse, E. Clampus Vitus and the Sonoma County Riding and Driving Club.
The resort was placed on the National Register of Historic Places in 1987. Over the years, the resort has appeared more than twenty times on the Napa County Landmarks annual list of most threatened spaces including most recently in 2022 as number one on the list.
Aetna Springs Resort was founded by Chancellor Hartson (originally from Otsego County, New York and married his wife Electa in 1854) who operated the resort as a health and wellness retreat. Hartson purchased the property in 1877; his work on the property was assisted by William Herkimer Lidell in remodeling some of the original miner's cabins over the next year, converting them into cottages for the resort. Hartson also built a small cottage for his family when they visited.
Lidell was also from Otsego County, New York and was often referred to as W.H. Lidell. A history article dated October 3, 2020, in the Napa Valley Marketplace Magazine titled, Napa's Historic Resorts – Aetna Springs, indicated Lidell was Hartson's nephew.
An article published in the November 21, 1879, issue of the St. Helena Star written by a correspondent of the Dixon Tribune mentions, "three years ago the place was a mining camp". This same article also stated, "… late in the season of 1877 a small bath house was erected and a half dozen miners' cabins were fitted up for campers, and all told perhaps 100 persons visited the springs. In 1878 there was another bath house erected and a small hotel was opened and during the season over 200 visited the springs…"
Early on the natural spring waters became known for their medicinal and curative properties.
In 1879 a sizable gathering of the patriotic ladies (300 people present) celebrated the 4th of July that year at the resort with firecrackers, songs, poetry and speeches.
The September 27, 1879, issue of the Napa Valley Register mentions a library at the resort had just been established and Judge Hartson selected 200 volumes, choosing from both the new and old world and focusing on history, poetry and works of fiction from authors such as Homer, Shakespeare, Charles Dickens, John Greenleaf Whittier and Thomas Babington Macaulay. A billiard room and a piano were also available for guests.
And a year later a post office was established on site with Lidell appointed as the postmaster.
What was one of the early travel pieces written about the resort was published on August 13, 1880, in the Napa Valley Register, written by an author simply listed as Erastus. The piece titled, Trip to Aetna Springs describes his journey by horse and carriage in the company of the express operator William Elgin. The author made this trip in one day, departing St. Helena at 630am with the round-trip taking 8 hours, while visiting the resort for less than 2 hours. He describes the springs, "For bathing these waters have no equal; as a drink they at first taste rather disagreeable, but a person soon becomes accustomed to them, and we were told generally becomes very fond of them before leaving".
Other early accounts testify to miraculous cures after drinking the waters and bathing at the resort. And the frequent ads run by Lidell in the local newspapers supporting the waters' healing powers, certainly helped.
An article in the July 13, 1883, edition of the Napa Register mentions the property had 30 acres of vineyards, 20 acres of orchards and the resort featured 12 cottages accommodating up to 125 people. And the property was open to those wanting to camp.
An article in the September 19, 1962, edition of The Napa Valley Register written by the esteemed historian and university professor Dr. Rockwell D. Hunt mentions he first visited the resort as a camper in 1880 as a 12-year-old boy and notes the long stone wall already existing then around the resort was built by Chinese labor; they had already been working the nearby cinnabar mines. Other articles reference they also built the stone foundations for some of the buildings.
Hartson was a prominent early pioneer in Napa Valley from New York who first arrived in California in 1850 following hopes of striking it rich in mining, but when that didn't work out settled in Napa Valley in 1851. His contributions to the valley were great including being elected as District Attorney in 1851 followed by being elected as county judge. He also served in the state legislature in the 1860s where he introduced a bill to bring the first railroad to Napa Valley and subsequently headed up the group that built it. He was involved in other real estate in the city of Napa and helped organize the Bank of Napa in 1871 and was their first president. He and his family lived in a house on the northwest corner of Third and Coombs Street with their property extending the entire block west to Randolph Street. Hartson Street, slightly south of Fuller Park in Napa is named after him.
His obituary in the September 27, 1889, issue of the Napa County Reporter provided the following glowing summary, "Judge Hartson was the most prominent figure in the social, political and business history of Napa County, without detracting in the least from the reputation of any pioneer or other resident of this community, we can truthfully say that Judge Hartson did more in his lifetime to advance Napa and her best interests than any man that ever lived".
W.H. Lidell managed the property and leased it from Hartson (who died in 1889) for about 15 years until 1892 when his lease expired. He must have been very close to Hartson; a listing in the October 11, 1880, issue of the Napa Valley Register mentions the birth of a son that day. According to both Ancestry.com and the Genealogy Trails History Group, Napa County, they named their son born on October 11, 1880, Chancellor Hartson Lidell.
We have seen numerous ads and articles in local newspapers mentioning Lidell was the proprietor of the resort during this time. In 1888 the going rate for a stay including board and baths was $8 to $10/week. Several ads in the local newspapers from the 1880s mention a mineral water swimming bath, a post office and being a stop for Wells Fargo & Co Express; it also noted the property is free from fogs and annoying mosquitos. Keep in mind that some areas near the San Francisco Bay during these years were populated by huge numbers of mosquitos. In Stewart Duhig's book, Huichica, he references growing up in the early 1900s in Carneros and at times the swarms of mosquitos were so bad one could not even be outdoors.
The same ad noted that the express leaves St. Helena daily except Sundays upon arrival of the train from San Francisco with a route time estimated at 4 hours; today one can drive from St. Helena to the resort in less than 30 minutes with no traffic.
A listing in the April 17, 1891, issue of the Napa Register mentions Lidell leased 1,400 acres in Snell Valley (about 5 miles north of Aetna Springs). Today Snell Valley is home to the Missimer Snell Wildflower Preserve. This same year, Lidell and his wife celebrated their 25th wedding anniversary on the property with the ceremony performed by his wife's father, S.J. Stewart, a judge and also Superintendent of Aetna Springs Resort at that time. The gathering included 300 invites, the cottages were decorated with Japanese lanterns and there was plenty of dancing and a midnight feast. Two years later at age 51 Lidell suddenly passed away at one of the nearby mining cabins.
And not only did visitors come for the waters but starting in 1886 the water was bottled commercially as Aetna Mineral Water and shipped throughout the western U.S. and represented and sold by various agents. Numerous ads listed in newspapers promoted its curative and natural properties. And the mineral water received several awards at the height of its popularity in the early 1900s including receiving a silver medal at the Universal Expedition in St. Louis in 1904 and a gold medal in the Alaska-Yukon-Pacific Exposition held on the grounds of the University of Washington in Seattle. Incidentally a few Napa wines also medaled at this World's Fair. In our research, we have come across various dates as to when the mineral water company closed operations, ranging from 1928 until 1933.
Several of the structures on site were associated with architect Bernard Maybeck during the late 1890s including the large dining hall; Maybeck was known for a number of projects including his design of the domed Palace of Fine Arts Building in San Francisco and the First Church of Christ, Scientist, in Berkeley. His designs also inspired several buildings in various U.S. National Parks. In our research we've come across numerous references that Maybeck designed these buildings but also several references indicating that these buildings were inspired by him but were not his designs (including from Napa County Landmarks).
In 1893 the resort was purchased equally by Len Owens and another gentleman, Mr. Mitchell from Lidell's wife following Lidell's death that same year; Owens later purchased the entire property. Owens was originally from Iowa and was involved in the advertising business in San Francico as part of Owens, Varney and Greene which became Foster and Kleiser Company, one of the West Coast's leading billboard companies. According to his obituary published in the November 2, 1945, edition of the Napa Journal, Len was the father of famed U.S. screenwriter Frances Marion who worked in Hollywood, earning two Acadamy Awards and writing more than 300 film scripts, of which over 100 were turned into films including several starring actress Mary Pickford. Marion wrote, Valley People in 1935, a series of short stories, in part featuring Aetna Springs Resort. Owens was also the grandfather of Caroline Stelling, the wife of Martin Stelling, the owners of the iconic To Kalon Vineyard in Oakville during the 1940s.
As a result of Marion's ownership of the property, she would often frequent the resort with several of her Hollywood friends.
Along with several other men, Owens helped organize a Vintage Festival (Grape Cure Festival) at Aetna Springs Resort, held on September 9, 1909. This elaborate costumed gathering involved a number of speeches, barn dancing, music and prizes were awarded for the best costumes. The event culminated with a large dinner at midnight. It was estimated 250 people attended the event and hundreds of Japanese lanterns were used to decorate the property.
In 1915 Owens negotiated a lease for the bottling rights of the water to a T.W. Mufich of Richmond, CA with full access to the bottling works including packaging and shipping the water. Owens later ran a speakeasy on the property during part of Prohibition. And in 1927 he was part of a group that formed Napa County's first hotel association called the Napa County Resort Owners Association.
He operated the historic resort until March 1944 when he sold to Trent's grandfather, George Bennett Heibel (the namesake for Heibel Ranch Vineyards). George was married to Ruth (who tragically died in a car accident in 1982), and they had 5 children. Heibel started his career washing dishes at the Biltmore Hotel in Los Angeles and eventually became the head chef for the Biltmore. An article we found from the May 7, 1948, issue of the St. Helena Star referenced his strong beliefs on the culinary world, mentioning his thoughts on the decline of culinary architecture and believing fine professional cooking reached its peak between 1926 and 1932. It is too bad that Mr. Heibel wasn't around for the more modern culinary fine-dining scene from the late 1980s through today, especially in Napa Valley. He might have to revise his outlook.
According to a November 24, 1973, article in the Napa Valley Register, Heibel estimated that the primary cottage on the property, the Winship Cottage was built in 1861 but was moved to its present location in 1893. This structure is still standing. It was remodeled by architects, Farr and Ward in 1930. We've seen several other local newspaper articles mentioning this original structure on site dates from the early 1860s probably picking up on Heibel's statements. However, we have come across no articles from the 1870s or 1880s mentioning a building dating to the 1860s.
Ronald Reagan visited the resort on October 24, 1965, as the featured speaker as part of Get Acquainted Day. Tickets were $7.50/person. An article in the September 23, 1965, issue of the St. Helena Star references his upcoming visit as a prospective candidate for governor and also mentions Reagan will fly to here in Walt Disney's personal plane and leave from the Aetna Springs Airport.
Heibel was the Napa County Chairman for the Reagan campaign for governor and introduced Reagan at this event. According to an October 28, 1965, article on page 3 in the St. Helena Star it was during his visit (which drew about 500 people) that he was asked about the probability of his candidacy in the gubernatorial race upcoming in 1966. The article mentions that Reagan said he would try for the G.O.P. lead if he proves acceptable to a large cross section of the party and that a decision would be made in December.
A much more detailed article of his speech appeared on the main page of the same St. Helena Star October 28, 1965, issue and nowhere does it mention Reagan formally declaring his candidacy for governor at Aetna Springs Resort. In fact, one line reads as the following, "…Ronald Reagan, who, in all but formal announcement, will seek the GOP gubernatorial nomination next June." And this article also states Reagan was asked, "are you going to run for governor". His reply indicated he wants to be sure of his acceptability to the party before he makes a formal announcement.
Heibel was quoted as saying, "This is the greatest concentration of people in Pope Valley since the days of the quicksilver mine." And we might add, perhaps ever since, as well.
Reagan would visit Napa Valley twice the next year including in the city of Napa in May at his local campaign headquarters office and then on September 13, 1966, where he stopped and spoke to about 700 people at Charles Krug Winery (admission was free). Peter Mondavi personally gifted him some of the Charles Krug wines while Reagan was on stage. This was the second such gift of Krug wines, as Heibel had gifted him a case of Krug wines when he spoke at Aetna Springs Resort the previous year.
In an article published in the August 11, 1979, issue of the Napa Valley Register, a few days following his death, Heibel is mentioned as recently saying that Mr. Edmund Francis Russ was probably the longest customer of the resort. Russ spent part of his first summer there as an infant in 1879 and then the subsequent 93 consecutive summers thereafter at the resort. Heibel mentioned that one of the cottages, the Russ Cottage was named after him, which is in a bad state of decay as of our most recent visit. Russ lived to be over 100 but unfortunately was not able to stay at the resort following its closing in 1972. Incidentally Russ and his brother co-founded the Olympic Club in San Francisco, a private, athletic and social space for members.
Heibel built a dirt runway nearby and would fly in guests in later years; the runway has since been covered up but if you know where to look you can still spot its 'footprint' as you drive towards Aetna Springs Resort on Aetna Springs Road. The old runway is located close to the Schwartz Creek Bridge which dates from 1912 and is on the National Register of Historic Places. The 9-hole golf course had a very long run but ultimately closed in 2018. It was California's second oldest golf course – opening sometime between 1890 and 1893 depending on which source you reference. In 2010 Golf Digest ranked it fourth on their list of the best 9-hole golf courses in the country.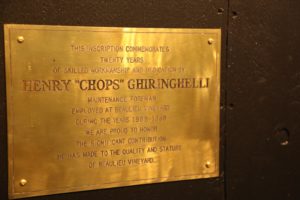 Heibel operated the resort during late spring and summer for nearly 30 years. During his ownership he offered food, horseback riding, picnicking, shuffleboard, tennis courts, swimming, and golfing. He sold the property in 1973 after closing the resort permanently following the summer of 1972 due to difficult economic conditions of keeping the place operating and not being able to expand the resort due to county regulations. He sold the resort to Environnmental Systems International, a Los Angeles based development firm who soon proposed building nearly 1,000 condominiums on site which was rejected by the Napa County Board of Supervisors. At the time of the sale there were 37 cottages on site, some named after prominent Napa Valley residents or long-time guests, and others after well-known personalities such as the Dewey Cottage (Admiral George Dewey). The tradition of naming the cottages dates back to the early days of the resort; one cottage in 1883 was named Nob Hill. The property soon changed hands again, this time to Aetna Springs Resort Inc., also of Los Angeles.
The property was then sold in 1976 to Berkeley based New Educational Development System (NEDS), Inc., a group that had ties to Reverend Sun Myung Moon and his Unification Church. By the early 1980s the property was being used on the weekends for Unification Church gatherings. And ten years after they purchased this site, based on drawn-out legal proceeding, in 1986 Napa County agreed to allow religious and recreational activities to occur at the resort but not educational purposes due to its location in an agricultural zone.
New Educational Development System sold the resort in 2003 to water theme park developer Bryant Morris (who had been leasing the land since 1997). Morris eventually sold the resort, founded Flying Horse wines and then purchased a beautiful stone ghost winery north of St. Helena where his wine operations were centered. In 2010 he sold this property which is now home to Luc Morlet Vineyards.
Remarkably the old resort was not burned by the LNU Lightning Complex fires in 2020 (or the subsequent Glass Fire) although these devastating fires burned extremely close to the resort buildings from a number of directions, including a very short distance away to the west on Aetna Springs Road. However, it did burn onto the golf course which by this time was quite dry due to its closure two years prior.
And a big shoutout to Pina Vineyard Management crews who were cutting fire break lines on the hills west of the resort using bulldozers and other locals including winery and vineyard owners who were helping out. We spent a week during the Glass Fire helping deliver water via flatbed trucks using plastic totes to wineries and properties in need; this is a week we never want to repeat again in our life. The smoke from the Tubbs Fire in 2017 was bad but it was on an entirely different level during the Glass Fire.
In 2007, the old Aetna Springs Clubhouse, dating from 1925 was moved to a new location on private property west of Aetna Springs Resort, and it along with its extensive private collection of mining and other local memorabilia and artifacts was completely destroyed in the LNU fires (owned by Jeff Parady of Bluford Cellars). If there was another word more descriptive than sickening, we would use it to describe the loss of this entire clubhouse and all of its contents.
After numerous attempts by various owners to reinvigorate the old Aetna Springs property, including more recently, Alchemy Resorts (purchased the property in 2018), hope is closer to the horizon than it's ever been when it was announced in early 2023 that Maryland based Weller Development had purchased the old resort as part of a nearly 2,900-acre acquisition.
Plans call for building and opening a Six Senses Resort to be called Six Senses Napa Valley by 2026. The resort plans include 95 guest rooms and 16 branded residences. Six Senses is an international very high-end luxury brand with properties primarily in Asia but also with a presence in the Middle East and Europe. This will be the first Six Senses Resort in the U.S. And if this comes to fruition (we are a little gun shy based on past ownership), this will be the most significant and historically intriguing non winery renovation project in Napa Valley in the 21st century.
We are always intrigued when we discover a connection to Thailand and Napa Valley. We always spend our winters in the country and have been coming regularly since our first trip in 1996. We were happy to hear that the owners of OSHA Thai Restaurant in downtown Napa and Bann at Oak Knoll Napa Hotel have planted a vineyard and are planning to make limited production wines in the future. They will be the first Thai owned winery in Napa Valley.
It's somewhat remote location has been both a blessing and a curse; if it was more centrally located in Napa Valley these buildings would have probably been restored by now. But they are off the beaten path which probably helped avoid some of the vandalism that plagues historical buildings located in more urban locations.
And if this resort is revitalized and current plans come to fruition, we suggest the property be home to an annual wine gala, in part, highlighting Pope Valley wine producers.