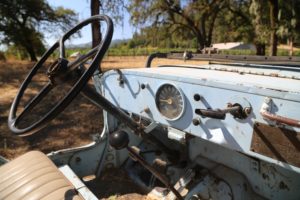 Heibel Ranch Vineyards – Trent Ghiringhelli and his family have deep roots in the Napa Valley and its wine industry. His grandfather George Bennett Heibel (the namesake for Heibel Ranch Vineyards) purchased the historic Aetna Springs Resort in 1945 and ran it for nearly 30 years until he sold it in 1973. George built a dirt runway nearby and would fly in guests in later years – the runway has since been covered up but if you know where to look you can still spot its 'footprint' as you drive into Aetna Springs Resort. The 9-hole golf course (which is still active) is California's second oldest golf course – opening sometime between 1890 and 1893 depending on which source you reference. The resort opened in 1873 and has a storied history, serving as playground for some of California's wealthy and Hollywood elite. Ronald Reagan announced his candidacy for governor of California here.
This is old Napa – less of everything including cars, vineyards, wineries and people. It is quiet here, more rural and about as far from the "wine strip" of parts of heavily traveled Highway 29 as you can find in Napa County.
The Heibel family originally owned 1300 acres in Pope Valley but it has since been divided among family members. Trent's immediate family owns 185 acres of land of which currently only 1.7 acres is under vine. With such a small vineyard, Trent talks about production in terms of the number of vines rather than the acreage.
Pope Valley is a part of Napa that hasn't seen a lot of change relative to the main valley floor. The majority of change has come in vineyards; there has certainly been an increase in vines planted in this area in the past 20 years – although original plantings of grapevines in Pope Valley were well over a century ago.
Pope Valley runs north south just east of the main valley floor. Early settlers first came here during and immediately after California's gold rush and to work the mercury mines in the vicinity. 1100 people were living here in the years after the Civil War to work in the Phoenix Mercury Mine. A stagecoach road crossed over the palisades in the north part of the valley and came out just north of Heibel Ranch.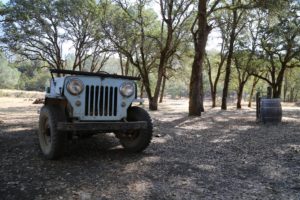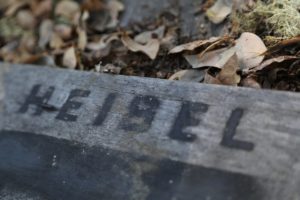 Trent greets you at the parking lot of the Aetna Springs Golf Course in a 1963 ranch blue military CJ-3 jeep that he's been driving since he was 14 years of age. The original military copper plate still shows the details on the dashboard. Ranch vehicles sometimes have names, this blue jeep is named "sugar magnolia" after a Grateful Dead song.
Allow at least 2 hours for his typical tour and tasting. Trent is a wealth of information about Pope Valley and he welcomes questions. Your tour drives next to their tiny estate vineyard. This is rocky soil with piles of well worn river rock line the sides of the vineyard, clearly evidence of the hard work that went into preparing this land for planting. And with not a lot of vineyards immediately close by – the grapes are food for hungry birds in late summer – so they cover the vines with netting prior to every harvest.
The tour then winds through the lower part of his property to a picnic grove. The tour gives one an idea of the diversity of the property and the silence of this area. Then the wind blows and Trent describes this as "mountain surf" – the noise made from blowing through the pines, Manzanita and Madrone is similar to the surf you might hear at the ocean.
There is a reason the "word" springs is in Aetna Springs; Trent's property has seven such springs and this water is used for their vineyard and ponds (a number of these were dug out in the area by Trent's grandfather). An old still they have dated to 1876 is on the property and was used during prohibition for bootlegging spirits. Interestingly enough, Trent's Ghiringhelli grandfather (Etzio) was arrested during prohibition for bootlegging (not from the still on the property however), paid the judge in alcohol and later became a chief of police for the town of St. Helena.
The tasting itself is sometimes held at the restored "social hall" on the Aetna Springs Resort when there is inclement weather. The 2011 film, Twixt in part was shot at the resort and the crew spent about a month filming here. Long time Napa Valley winery owner and film "godfather" Francis Ford Coppola directed this movie. After seeing the unique historic buildings one can see why this was an excellent location for filming a horror movie. Even the landmark Pope Valley Repair & Towing on the corner of Howell Mountain Road and Pope Valley Road makes an appearance in the movie (the name on the side of the building was changed).
If weather is good, a visit will be made to their small vineyard and then Trent will take you to the edge of the mountains where a table is setup for the tasting, paired with cheese and some delicious salami.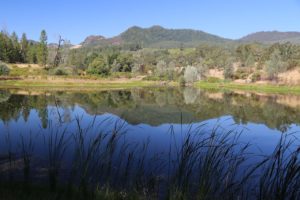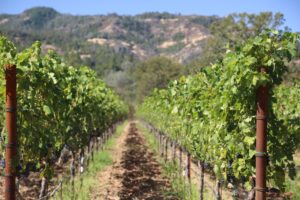 Heibel Ranch currently makes several wines – a Sauvignon Blanc blended with Semillon (from south Napa fruit), GBH – their first wine released and named in honor of Trent's grandfather, the Lappas, a mostly estate blend, the Dangers, a Bordeaux styled red blend and Captain Bubba named after Trent's stepfather, a retired captain of the El Cerrito Police Department (and the only wine in all of Napa that we have ever seen a police badge as the label). Heibel Ranch also produces a delicious Zinfandel port-styled wine (low in sugar but big in flavor). Their current production of all the wines is about 800 cases of wine annually with longer term plans to develop additional acres to vine.
Trent, who grew up in St. Helena was often around winemakers and the winemaking process. After graduating from University of Colorado at Boulder (with a non winemaking degree) he worked at ZD Wines for 11 years, starting as assistant hospitality manager and then over the years learned winemaking.
The modern day history of Heibel Ranch started in 2000 when Trent began conceptualizing growing vineyards and producing wine from the estate. Several years were needed to build a water system (from the natural springs on the property) and clear and plant the land. Their first commercial vintage was from 2006. The majority of the vineyard is planted to Cabernet Sauvignon with Petite Sirah and Zinfandel also growing. The vineyard is farmed and certified organic (CCOF).
Heibel Ranch has several good vineyard neighbors; Flora Springs farms their Cypress & Palisades Ranch Vineyard next door and Plumpjack owns and farms the beautiful Oso Vineyard steep on the slopes, just north of Trent's property (formerly owned by Michael Mondavi Family). Pope Valley is cooler in the winter than the main valley floor and a bit warmer in the summer. Heibel Ranch's vineyard gets nice cooling breezes coming down from the back side of Howell Mountain which helps keep things dry especially later in the season when in some years rain is a factor. Trent typically picks his fruit earlier than the valley floor – often in early October.
Select Wines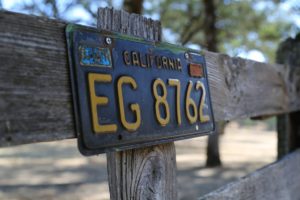 Trent lets his vineyard dictate the style of wine. He prefers lower alcohol wines and fruit that is harvested not super ripe (no greenness). His harvesting decisions ensures a lower pH and good acidity – balanced wines.
The 2010 Heibel Ranch Sauvignon Blanc is blended with 25% Semillon – the fruit for this wine is from south of Napa in the Carneros region. This wine is a lighter in body but has nice depth of flavors. Trent prefers drinking a Sauvignon blanc that is more tropical in appearance rather then grassy or citrus driven. It is golden in the glass and crisp on the palate – with some minerality or steeliness that initially shows on the bouquet – then the fruit comes forward, aromas of pineapple and other tropical notes. The palate is clean and crisp with tropical flavors in part contributed from the Semillon fruit (the SB was fermented and aged in tank while the Semillon was aged in oak). This versatile wine shows good acidity and flavor and becomes even more alive with a variety of cheeses including aged Asiago that is served with the tasting.
The 2014 Heibel Ranch Sauvignon Blanc is a pretty is a pretty wine – with tropical notes on the bouquet including aromas of pineapple followed by flavors of lychee – especially noticeable on the finish. This is a very well balanced wine.
Lappa's was a nickname for Trent's father – it is a shortened version of the Italian slang, "Lappa suc", loosely translated to mean "pumpkin sucker" in Italian. We did not ask for further details. After creating this unique blend in 2006 Trent decided to add more complexity to this wine and now sources a non estate Cabernet Franc each year. Part of his inspiration in creating this blend was what "unconventional blender" Dave Phinney of Orin Swift accomplished with his "prisoner" label. Dave opened people's eyes and palates to what previously were unorthodox combinations of varietals.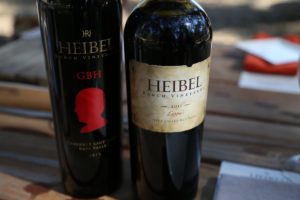 The 2008 Heibel Ranch Lappas shows an refined bouquet, raspberry and red currant. The palate is slightly smoky but soon reveals flavors of licorice, red cherry, and black currant. A slight presence of brown chocolate shows on the back of the palate. The wine is balanced and well integrated both with fruit and structure. The tannins are approachable, food friendly and linger for some time – along with the fruit. Trent uses both American and French oak, both new and neutral oak; he tries to limit the oak during the aging, instead focusing on highlighting his vineyard and the fruit in the bottle.
—
Much of their wine is distributed direct via their mailing list, but they also can be found at select restaurants in Lake Tahoe. Tours are by appointment and can comfortably accommodate four people in Trent's jeep or up to 8 with a second vehicle. Tastings can also be arranged without the tour. Tasty cheeses, bread and other accompaniments are provided with the tasting. For more information and to arrange a tour or tasting please visit: www.heibelranch.com
Estate Property

Old Aetna Springs Resort

Calistoga Tasting Room
NOTE: this tasting room permanently closed in early Spring 2018