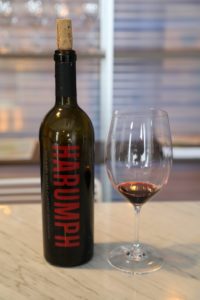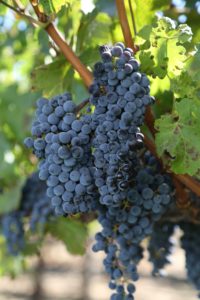 Harumph Wines is a partnership between vintners, Scotti Stark and Michael DeSantis. Scotti is originally from Houston where he was the Wine Director at the popular Pappas Bros. Steakhouse. Serving a variety of Napa wines at the steakhouse, he was already familiar with many of the producers in the valley. He moved to Napa Valley in 2004 to work for Revana Winery. Later he worked at several other premium wineries helping develop their hospitality programs.
Today he manages a number of businesses based on the numerous relationships he has nurtured in the Napa Valley. He runs his own concierge service, does aerial photography for vineyards and real estate, provides hospitality and consultation services for small producers and is creating a wine club for clients focusing on boutique Napa producers.
Michael is from Oregon – came to Sonoma State University where while earning a degree in Chemistry and playing basketball, he became introduced to wine. He started collecting wine and spent his free time learning about the business focusing on wine production. Eventually getting out of medical sales, he turned his interest in wine into a career, mentoring under some of the brightest winemakers in Napa Valley including Thomas Brown, Benoit Touquette and Martha McClellan.
Scotti first met Michael at the old Martini House restaurant in St. Helena and they bonded over their shared passion for wine. Scotti's friends would always ask him "when are you going to make your own wine" and his answer was always the same, "never". However, he changed his mind after Michael was offered grapes from a premium vineyard in the valley (an opportunity to good to pass up).
They bottled their first wine without yet having a name picked out. Several months went by while the wine was in shiners. Then inspiration struck. The genesis of the name Harumph was at a dinner party at a vineyard in the hills above St. Helena. One of their friends and the host, James Leahy (co-owner at Marston Vineyards on Spring Mountain) asked one of the guests to pass a bottle of wine down the table. The bottle was not passed, and James said, "Give the Governor a HARUMPH!".
For those not up on their movie lines or too young to remember this particular movie – that Harumph quote is from Mel Brooks in the 1974 satirical Western comedy, Blazing Saddles (also directed by Brooks). Both Scotti and Michael share a similar appreciation for Mel Brooks and mutually decided this would be a great name for their wine.
Through a strong network of friends Scotti was able to eventually speak to Mel Brooks and tell him about their name choice for the new wine. As it were, Mel has been drinking and collecting fine wines since the late 1960s especially wines from France. Intrigued by their call, he offered to try their first vintage. They sent him two bottles; he later called them and said that he and his friends couldn't just drink one – it was the finest Napa Cabernet Sauvignon he had ever enjoyed so they drank both bottles; he wanted more.
When Mel Brooks tells you something like this you follow up quickly. Scotti and Michael soon took a trip to Los Angeles to meet Mel and bring him more of their wine; he offered to introduce their wine to some of his favorite restaurants in Los Angeles. He has since done so and as a result Harumph Wines are selectively distributed in Los Angeles.
Wanting to create packaging that had an element of fun built into it – their graphic designer came up with an image of a grumpy monkey balancing on a unicycle while holding a half bottle of wine. The intent was to attract people with a bit of whimsy while surprise them with the quality of what is in the bottle.
Scotti's perspective as a sommelier (pouring the wine to the right of the guests – holding the bottle out so one can see the name) factored into the label design. He wanted to create a label that was easy to read at first glance while creating a visual impact. And when one first glances at a bottle of their wine – there is no mistaking their wine for someone else's as the name Harumph is silk screened in large letters down the length of the bottle.
Select Wines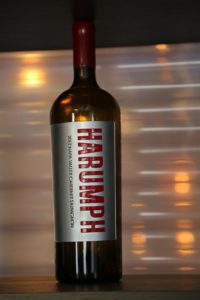 The 2013 Harumph Napa Valley Cabernet Sauvignon shows bright aromatics including aromas of plum with a spicy characteristic (white pepper) and a touch of vanilla. This bottling is a bit savory. Red cherry notes show on the front of the palate leading to more darker fruits. It has good structure mid palate with layered somewhat dusty tannins (with a smoky/spicy nuance) on the finish. Like their 2013 Spring Mountain Cabernet Sauvignon, these tannins also persist for some time.
The 2013 Harumph Spring Mountain Cabernet Sauvignon is fairly dark ruby color in the glass. It shows layered darker fruit aromas on the bouquet along with toasted cedar, blackberry, black cherry, tar, a very subtle hint of mocha and an appealing savory component. Still a very young wine at the time of our tasting – it offers a richness on the palate with dry muscular long-lasting tannins. This bottling has the hallmarks of being able to age for quite some time with decent acidity, tannins and complexity of fruit.
—
Their first vintage was 2011. They originally produced 120 cases but have since grown to around 400 cases per year between the two wines. Distribution is limited to Texas, a tiny allocation to Florida as well as selectively in Japan. Locally they are found at several fine restaurants including Bottega, Brasswood and Morimoto.
Tastings
Visitors interested in trying their wines can either do so by appointment at their office in St. Helena or private tastings by appointment are held in the Winemakers Den at Brasswood Winery located just north of St. Helena. This private room within the Brasswood Winery complex of buildings is a comfortable place to hang out – an hour can quickly turn into two with good friends and excellent wines. Formerly the St. Helena Factory Outlets, the property now features a number of tasting rooms, the physical winery, an art gallery and a restaurant and a gourmet deli.
This is a very unique Napa property. It is approximately 50 acres and straddles two sub appellations including Spring Mountain and St. Helena. While no grapes are currently planted on the property for commercial use, they have up to 20 acres to develop in the future. The property also comes with a variety of valuable permits – one being the extremely rare Napa permit to allow weddings on site.
This "campus" if you will, features four tasting rooms including the main tasting room where most walk-in visitors will taste wines), The Winemaker's Den, an appointment only room across from the main tasting room, the Vintner's Den just outside of the wine cave and one within the winery.
The property allows a number of their custom crush wineries to host visitors.
Food is an integral part of the property. Brasswood Bar + Kitchen is a Gastro Pub; the large window behind the bar looks north towards the actual winery facility; you can watch harvest activities on the crush pad during September and October from your bar-stool seat! Their founding chef has Michelin three-star experience; he joined them previously from The Restaurant at Meadowood, also located in St. Helena. The sizable commercial kitchen easily has enough space to accommodate both the restaurant and the cafe's needs. Weather permitting, guests can eat outside on the patio overlooking the grounds, a great place to see and be seen, inside in the booths or at the bar.
Some of the fresh ingredients used by chef are sourced directly from the property – from a culinary garden growing on the south side of the property.
We always recommend guests coming to Brasswood Estate to arrive early to spend some time browsing the grounds including The Shop at Brasswood + Mercantile. This small store offers a collection of hand selected products from around the globe – it is a unique shopping experience for this part of Napa Valley. Both men and women's fashion, home décor, artisan jewelry, culinary tools, fine textiles, ceramics, hand-blown glass, specialty cosmetics and even a few electronics are available.
And this shop also contains wines from Brasswood wine partners as well as products from Brasswood Spirits, American whiskey, gin and vodka.
—
For more information, to join their mailing list or to join one of three levels in their wine club, simply called 3, 6 or 12 of everything, visit: www.harumphwines.com
Pappas Bros. Steakhouse, Houston