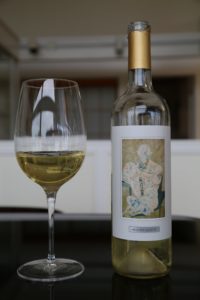 Hard Six Cellars was established in 2012. Proprietors Wayne and Kara Fingerman were introduced to wine through their respective professions. Kara worked in a number of fine restaurants on the East Coast (part of her work entailed taking various wine classes). Wayne's first job on Wall Street included entertainment as an integral part of his job description. His business associates were already wine enthusiasts; over time through a number of wine related business events, Wayne also become more attuned to this world.
They chose Hard Six as their name for several reasons. Most appropriately, the name originates from the game of craps where a hard six is an extremely low probability roll. When it lands it generates a much higher payout than any other combination of six roll. So, in the Urban Dictionary it is defined as "a high risk/ high reward operation". Wayne and Kara turned it a bit on its head, and created the tag line "Our risk, your reward", a reference to the large amount of effort that goes into a start-up winery, and the hopeful high reward it will generate for its consumers.
Continuing to trade fixed income securities, Wayne lives in a world of risk versus reward every day. Perhaps that is what attracted him to extremely challenging and low yielding vineyard sites within Napa and Sonoma. He and Kara currently own three vineyards – all of which vary in degrees of remoteness and none of which are easy to access and all are difficult sites on which to grow.
Their Hennessey Ridge Vineyard is on a ridge top in Eastern Napa County (near Chiles Valley) – planted to merely an acre of Cabernet Sauvignon. Their home and estate vineyard includes two distinctive blocks (both planted to Cabernet Sauvignon – different clones) high on the rugged eastern facing slopes of the Mayacamas mountains in the Diamond Mountain AVA. Diamond Mountain features rugged terroir – these eastern facing slopes are steep and rocky and vineyard sites have to be carefully chosen based on the scarcity of land that can actually be developed to vines.
Their vineyard 'neighborhood' is small but contains several top producers including GTS and Checkerboard. And then there is their rugged, remote and rocky coastal vineyard in Sonoma County – located in the Fort Ross-Seaview AVA (their nearest vineyard neighbor is Helen Turley's Marcassin Vineyard). It is above the fog line and only three miles as the crow flies from the ocean; the access roads are slow winding through canyons and steep hillsides. This is also one of the coolest areas California for growing grapes. They are currently working on a re-plant to transition a portion of the Syrah to other varieties.
The 2015 Sauvignon Blanc is the only wine made from sourced grapes (from a vineyard along the southern part of the Silverado Trail). Bright golden in the glass, it shows aromatics of pineapple, lime and a more subtle note of dried straw. The wine displays nice balance on the palate with a mid-palate richness of flavor and a bit more weight than a typical Napa produced Sauvignon Blanc. A lingering richness of flavor and tartness (lime) lasts for some time.
In 2014 they produced two vintages of Syrah from their Fort Ross-Seaview vineyard separating out the two planted clones into two wines. Moving forward with subsequent vintages they will produce one wine from these two clones. The 2014 Seven Pillar (Estrella River clone) was created through minimalist wine making; fermenting whole cluster, foot-treading, for color and extraction during fermentation and fermenting both the primary and secondary fermentation with indigenous yeasts. Neutral barrels were used for aging – the focus being on the varietal rather than the oak influence.
The resulting wine shows a pleasing pepper spice on the bouquet complemented by a sweet aromatic core of fruit – it is also somewhat floral. Nuances of pepper continue onto the palate; it is a restrained palate with very good acid framed by robust tannins. This wine certainly has plenty of life ahead of it.
The 2014 Jess' Block Syrah achieved a higher ripeness then the Seven Pillar and while it is from the same vineyard, is a noticeably different wine (slightly different steps taken for fermentation). Shows darker and much riper fruit on the bouquet, not as spicy and as it opens notes of tobacco and mocha come forth. Equally as dark in the glass, it is well layered with grippy tannins. Nearly 16% alcohol.
The 2013 Napa Valley Meanmouth Cabernet Sauvignon is sourced from their Hennessy Ridge Vineyard. It shows a lively bouquet with aromas of cassis and cherry cola leading to a bright and lively palate. Great acidity, a richness of flavor and long-lasting mountain tannins make this an exciting wine. And as Wayne says, 'this wine is not done' – it has plenty of life ahead of it.
The 2014 Diamond Mountain Meanmouth Cabernet Sauvignon is dark ruby color in the glass with an elegant fruit dominated bouquet. The palate is layered, dusty/gravelly and shows darker fruits including cherry and blackberry. Chewy, grippy and persistent mountain tannins anchor a long finish. Kara and Wayne's interest in abstract art is clearly evident on their wine bottles and the artwork on the label is as bold as this wine. A dogs' head wrapped in leather and straps, featuring sharp teeth. The artist is Nancy Grossman (well-known for her sculptures of heads).
Their wines are selectively distributed in the Napa Valley at fine establishments including Auberge du Soleil, The French Laundry and Meadowood Napa Valley. For more information and to order wine, visit: www.hardsixcellars.com