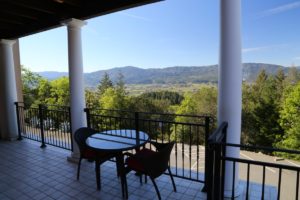 Hall Winery Rutherford is located towards the end of a private road off the main road that leads to the well-known Auberge du Soleil Resort. Hall is one of a limited number of Napa Valley based wineries with more than two wineries and hospitality operations on both properties. This location is for their high-end reserve and estate single vineyard wines; these are wines that are produced in very limited quantities, some of which you can only find by visiting the winery. A visit here is for serious wine enthusiasts.
This winery was founded by Kathryn and Craig Hall (for a more detailed look at the Hall history and their business interests, view our other review of Hall St. Helena on this website). Craig purchased this hillside Rutherford property as gift to Kathryn. These two are some of Napa Valley's most accomplished and successful individuals across a diversity of interests and fields. Kathryn's resume is an impressive one; she was appointed by President Clinton to be the USA Ambassador to Austria (from 1997 through 2001), she was instrumental in developing the nation's first and largest affirmative action program (for Safeway Stores) and co-founded the North Texas Food bank. She has been involved in grape growing for many years; her family has been growing grapes in Mendocino County (to the north of Napa) since 1972.
Craig runs a successful investment business in Texas having founded his first real estate business at the young age of 18 in 1968 with $4000 he had saved up from working since the age of 10.
Both are prolific art collectors – with a public outdoor collection of art (Hall Arts) in the Dallas Arts District and smaller collections at both of their Napa wineries. They collect works of art from relatively unknown artists and visitors will see some of these in front of the winery including two beautiful Monarch butterflies perched on top of a tall pole. Kathryn has a number of butterfly works of art and was asked, "why butterflies?". The answer was simply "who doesn't like butterflies" …perfect!
In late 2014 Hall Wines launched their "Appellation Exploration" experience. This 90-minute private tour and tasting is educational – and focuses on how differences in soils, microclimates and elevation can influence wines. Visitors will taste 100% varietal wines from different sub appellations within Napa Valley. Reserve well in advance – the winery is permitted by the county to host only 14 visitors daily.
The views overlooking the Napa Valley below on a clear day will certainly capture your attention – so will the wines once you start your tasting.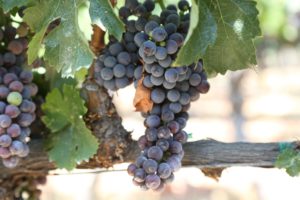 The tour starts in the main upstairs part of the winery – outdoor terraces and a large window provides excellent views of the valley floor and the Mayacamas mountains to the west. A stop will be made in one of their most highly regarded vineyards in their vineyard portfolio (and they have numerous vineyard sources in the valley – over 100) – the Sacrashe Vineyard located next to the winery.
Attention to detail is paramount here. Harvest often takes significant time as they do not harvest the entire vineyard at once, rather they separate the picking down to individual vines and blocks which are then fermented apart from one another. The tank room contains all custom-made tanks. From this room you will proceed into part of their 14,000 square foot cave; a visit here is definitely one of the tour highlights.
The cavern roof is lined with handmade Austrian brick, each of which contains a family crest. This is not the first cellar in this neighborhood to import Austrian bricks. Nearby SLOAN Estates cave, which is much longer than the one here, also used old bricks from Austria. These bricks are old – ranging in age from the 14th through the 20th centuries. Alcoves throughout the cave contain modern works of art which are displayed on a rotating basis. And when you are walking through here you can imagine a choir singing – the Hall's brought the the Vienna Boys Choir over to christen this cave when it first opened.
Tours end in the tasting room. This is no ordinary room – a brilliant chandelier containing hundreds of Swarovski crystals hangs from the ceiling; its shape represents grape roots as one would see them growing in soil. A massive mahogany table with inlaid white onyx is in the center of this room (this onyx changes color with a turn of a knob controlling the sunken lights). A tasting typically includes four appellation specific red wines.
Select Wines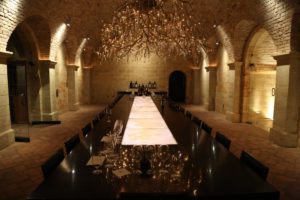 Two exceptional wines are the following. The 2004 Kathryn Hall Cabernet Sauvignon (sampled on our first visit) is an elegant European styled Bordeaux blend with seductive aromas including cigar, blackberry and cedar and some hints of currant as the wine opens up with lots of fruit on the mid palate. This is a well-balanced wine with a complexity of flavors including plum and nuances of roasted coffee. As a side note this wine pairs wonderfully with blue cheese.
During a follow up visit we tried the 2011 Kathryn Hall vintage. This younger vintage is equally as impressive. The nose is bright and lively showing notes of black current, blackberry and as it opens mocha and coffee grounds along with hints of sage. There is a sweet core of fruit throughout the palate – with good acidity. There is a lot of life in this wine from the bouquet through to the finish. Like the earlier vintage we tried during our first visit, this vintage is also very food friendly. Also of note this particular wine drinks well young – we also tried a barrel sample – about 14 months – and already it was showing quite nicely.
The 2012 Hall Vineyards Stags Leap Cabernet Sauvignon is initially a bit closed aromatically. It takes a while to open but when it does it shows aromas of red cherry – almost cherry 'piesque' with some pretty floral notes (violets) and hints of brown chocolate. The entry is soft on the palate and becomes more complex towards the finish. Good tannin structure – well integrated with the fruit on the finish.
A spectacular wine is the Hall Vineyards 2005 Diamond Mountain 100% Cabernet Sauvignon which incidentally is their first release and was only available at the winery. The palate is big yet exhibits some restraint showing broad depths of flavor and a mouth feel that you can only have with such a well balanced wine (that as a bit of age on it). The nose is full of exotic spices, the palate shows notes of chocolate and black cherry which lead to well integrated and refined tannins on the finish.
The 2012 Hall Vineyards Diamond Mountain Cabernet Sauvignon, while much younger is more robust as compared to the earlier vintage we tried – also from a vineyard at elevation (1500-1600 feet). With a complexity of brooding dark mountain fruit, good acidity and lengthy tannins – this wine should continue to improve for many years.
—
For elegant ambiance combined with art and world class wine, a visit to Hall Rutherford is certainly a unique experience in Napa Valley.
Visit: www.hallwines.com
Hospitality

Winery/Cave

Sacrache Vineyard