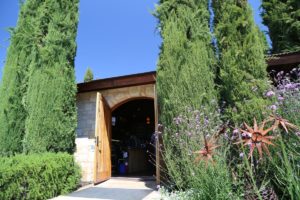 Hagafen Cellars has been producing excellent award winning wines since their first vintage in 1980; a single wine – Johannisberg Riesling which was made at Louis Bertolucci Cellars (Madonna Estate on the Napa side of the Carneros District). This first vintage was made as a Kosher wine. Production has certainly grown since then, but they are still considered boutique with an annual production of about 10,000 cases. The winery was founded by Ernie and Irit Weir in 1979 with initial help from rabbi Zach Berkowitz and Marin County teacher at the time, Norman Miller (who was in charge of sales and marketing). As a side, Irit founded the Acupuncture Clinic of Napa in 1987 (still operating in the city of Napa). She is also an artist and some of her works are available for sale at the winery.
Ernie grew up in Los Angeles and majored with a degree in Sociology from UCLA. He came to Napa in 1973 to learn more about the wine business and began working at Domain Chandon (which was a time by our count when there were less then 40 wineries in all of Napa who are still in existence today). Ernie worked at Domain Chandon for more then 20 years including as their vineyard manager. While there he started Hagafen Cellars on the side – making wines for the first 20 years at other wineries. In the early years he was entirely purchasing grapes from vineyards he did not own. In 2000 he built a winery and tasting room located just south of the Stags Leap District along the Silverado Trail. Hagafen owns the surrounding approximately 11 aces of vineyards planted entirely to Cabernet Sauvignon.
Ernie and Irit also own the Wieruszowski Vineyard (where they live) in Coombsville – east of the city of Napa. They grow several varieties here including Cabernet Franc, Syrah and what is very rare for Napa these days, Riesling. In additional to their own vineyards, they source grapes from premium sites within the Napa Valley as well as from nearby counties.
The winery is set back from the Silverado Trail against the base of the southern Vaca mountain range. The entrance is on a long gravel road which bisects the vineyards. A visit here feels like 'old Napa' – no flash, a small tasting bar and affordable very well-made wines. Friendly and very personable hosts help complete your tasting experience.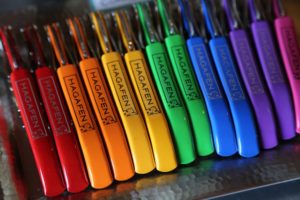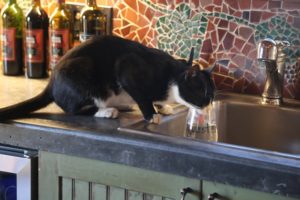 "Hagafen" in Hebrew literally means "the vine". This was California's first Kosher winery – there are only three other producers we are aware of currently making some Kosher wines in the Napa Valley – Padis Vineyards, (which Ernie makes), Marciano Estate and One Hope Winery. Covenant Wines founded by vintner Jeff Morgan used to be based in the Napa Valley until he moved his operations to Berkeley, years ago. Kosher wines in part mean that no animal products are used during the making of the wine including egg whites, which are often used during the fining process. Rather than fully boiling or nearly boiling the wine for longer periods Ernie uses a flash pasteurization technique which quickly heats the wine and then as quickly, cools it back to room temperature.
For a wine to be kosher, only Sabbath-observant Jews may touch any part of the wine making process – from picking the grapes to crushing until either the bottles are sealed or the wine is pasteurized.
Normally, one tour is offered daily at 1030am (an appointment is required) – but please check availability directly with the winery. This tour starts in the vineyards, visits their production facilities and usually lasts about 20 minutes. It is one of the shorter tours in the valley but is a good basic introduction to a small winery.
Have you noticed fans in vineyards but never knew their purpose? As you drive in you will have an intimate view of one fan located next to the driveway. These are for frost control – usually during March when vines begin to bud out and temperatures at night sometimes are freezing or below freezing. Cold air sinks to the lowest parts of a vineyard; if the tender young buds freeze, the crop for later that year will be damaged or destroyed. These fans turn on when the temperature falls to a few degrees above freezing and displaces the colder air below with the warmer air above – essentially keeping the 'fruit zone' slightly above freezing.
We can't say enough about the quality of their wines as well as the variety. This is old school Napa, a rare experience where guests can enjoy wines other then the ubiquitous Chardonnay and Cabernet Sauvignon. And there are plenty of wines to choose from; during our last visit, 20+ wines were listed on their tasting sheet (of which you pick 5 to taste).
In addition to the Hagafen label, Ernie produces two other labels; Don Ernesto – featuring wines that are typically lighter in style and very approachable young – not to mention available at consumer friendly price-points and the Prix wines (reserve wines) which are produced in very limited quantities and are only sold at the winery.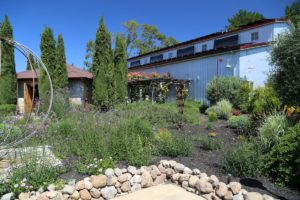 Their wines have a long history of being served at Presidential State dinners and other White House functions dating back to President Reagan. Coveted menus from these meals line the walls of the tasting room. And based on placing very highly in numerous state and national wine competitions over the years and Ernie's 'proclivity for bling' as one of their tasting room employees eloquently stated, wine bottles containing medals from various awards line the counters above the tasting counter and on some of the shelves.
Visitors typically can choose from two tasting options (although the staff is flexible on what they pour based on visitor preferences) including the primary Hagafen Tasting and the higher end Prix & Library Tasting. It is somewhat rare to be able to walk into a Napa tasting room and be able to try older vintages – during one of our visits, wines up up to 18 years old were available for tasting.
Select Wines
Perhaps in a nod to his time working with sparkling wines at Domain Chandon, Hagafen produces one sparkling wine each year and is one of only a limited number of Napa wineries who make sparkling wines on a consistent basis. We have tried several vintages of their Brut Rosé over the years – this wine is usually dark pink in color. It is always a refreshing way to start their tasting – especially if you are here in the morning.
Hagafen produces several Rieslings (has produced a Riesling every year since their first vintage in 1980) – and refreshingly they label each one as being dry, off dry, or sweet which quickly eliminates the often confusion around this variety in regards to residual sugar and palate preference. Enjoy a sweet Alsatian style Riesling? The 2017 Napa Valley Riesling contains 4% Residual Sugar and originates from vineyards in Yountville. It is very difficult to locate a Napa grown Riesling due to the small acreage planted in the valley. This wine simply smells good – it is very floral showing aromas of honeysuckle and citrus blossom. An appealing palate strikes a nice balance between sweetness and acidity with both a simultaneous tartness and sweetness that lingers on the finish. Very clean on the palate, this is a superbly balanced wine. Great with Thai food.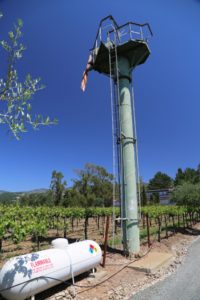 The 2013 Prix Reserve Merlot from the Jaeger Vineyard Block 4 is a beautiful wine from this variety. The Jaeger's an influential Napa family with deep roots in the valley (but very much stay out of the limelight) who have been involved in multiple wineries over the years as well as prominent wine organizations; fruit from their vineyards is highly sought after. This wine shows pretty aromatics with both fruit (red cherry, currant) and secondary aromas including toffee and cinnamon. Big but balanced – the wine shows intense flavors – both red and darker fruits including black cherry. Features long lasting fairly robust tannins.
A couple of wines used to be made with varieties not usually found at Napa wineries including Tempranillo and a Roussane & Marsanne blend (however, these are no longer produced).
Hagafen has also produced late harvest wines of Chardonnay and Sauvignon Blanc. It is very rare to find a late harvest Chardonnay in the Napa Valley – the 2006 Prix Reserve Late Harvest Chardonnay was one of the finer ones of this style that we have tried from a Napa Valley based winery.
—
The winery and tasting room were fortunately spared during the terrible fires in October 2017, although the guesthouse on site and equipment located behind the winery was destroyed. During these fires vineyards typically were excellent fire breaks – unfortunately a section of their vineyard was burned.
For more information and or to join their wine club, visit www.hagafen.com