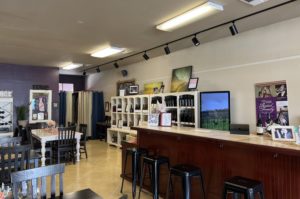 Gustavo Wine is operated by long time Napa winemaker, Gustavo Brambila. The retail/tasting room is located just down the street from the Napa Wine Train and across the street from Gott's Roadside (upscale burgers). What used to be Copia, the nearby center for Wine, Food & Arts is now The CIA at Copia (owned by the Culinary Institute of America). This center initially attracted a number of nearby tasting spaces all of which are located within several blocks of CIA at Copia. Since Copia was founded, additional tasting rooms have also opened in this part of town.
This is the Oxbow District of Napa; this neighborhood is located just east of downtown Napa and has become a destination in and of itself for small restaurant spaces inside Oxbow Public Market, a diversity of tasting rooms all within a short walk of each other and for the social aspects. It is easy to whittle away several hours just in this part of town, simply visiting several of the tasting rooms.
Their original tasting room was located in downtown Napa on First Street (a partnership between Gustavo Brambila and Thrace Bromberger). Along with Vintner's Collective, this was the city of Napa's first winery collective having opened in 2002. No longer a collective, the tasting room focuses on Gustavo Wines although as of our latest update to this review, a separate space is available inside for those interested in tasting wines from Encanto Vineyards. Long time business partner, Thrace Bromberger retired and moved on to another wine related position.
Born in the tiny town of San Clemente, Jalisco in Mexico Gustavo moved to Napa Valley with his father Jose in 1953 who began working at Beaulieu Vineyard helping with winery maintenance needs. Jose spent more than 30 years Beaulieu Vineyard until retiring in 1998.
Gustavo remembers the first time he became interested in wine; his father brought home a bottle of juice from crushed Muscat grapes. He remembers the diversity of aromas from this variety and its sweetness and compared it to a cream soda. Deciding not to drink the rest of the juice he put the cap back on and put it in his mother's refrigerator and forgot all about it. His memory was quickly jarred two weeks later when the inside of the refrigerator was covered with fermenting juice and shards of glass as the bottle had exploded. His mom wanted to know what had just occurred; Gustavo told her he wasn't sure, but he was going to find out.
Through his father's connections he took an internship at Beaulieu Vineyard in 1967. It was here he met one of Napa Valley's most accomplished winemakers André Tchelistcheff and also a young winemaker named Mike Grgich. Grgich encouraged Jose to send one of his children to college to study winemaking.
Gustavo recalls at the time colleges were not producing a lot of winemakers, but that Fresno State had well established viticulture and oenology programs. Perhaps preferring to stick closer to home he attended the University of California Davis. He was one of the first Latino graduates from UC Davis's Fermentation Sciences program.
After graduating Gustavo took a job at Chateau Montelena working alongside Mike Grgich (who he had met a number of years prior while interning at Beaulieu Vineyard). Gustavo is spotlighted in the feel-good wine movie Bottle Shock which loosely tells the story of the 1976 Paris Tasting in which wines from several Napa wineries outscored the French entries in this now famous blind tasting (including the 1973 Chateau Montelena Chardonnay).
Later in 1977 Gustavo followed Mike Grgich to a winery (Grgich Hills) that Mike had founded with his partner Austin Hills; Gustavo worked on their first harvest. Not only did Gustavo help create the winning Chardonnay in the Paris Tasting of 1976 but several years later his work with Mike Grgich would again be rewarded. The Great Chardonnay Showdown was organized in 1980 in Chicago. Over 200 Chardonnays were entered in this competition with some international wines also represented. By the end of the competition Grgich Hill's first Chardonnay vintage, the 1977 had triumphed over all the entries.
Gustavo spent more than 20 years at Grgich Hills. During the end of his tenure there he started making his own wine. This was in 1996 with merely 250 cases. A 50 case Zinfandel was his first release. At the height of his production, he produced almost 8,000 cases each year. Today their annual production is closer to 2,500 cases. It was also in 1996 that Gustavo left Grgich Hills to spend time building his own wine brand. However, word got around that he had left, and Tony Peju of Peju Winery brought him on board to help oversee quality control at Peju Winery for several years.
Today Gustavo focuses on Gustavo Wine and consults as a winemaker for several clients (small premium producers).
The focus of his winemaking is to stay true to the variety, creating balanced food friendly wines in the style of the 'old world'. He strives to create wines that don't necessarily taste the same each year – respecting the vintage variations based on any given growing season. In 40+ years he told us he has never had one wine taste exactly like another wine. He wants to create the best possible wines from the fruit that is presented to him in the winery.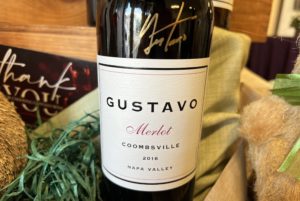 Gustavo owns a vineyard management company, and conveniently his son Brendan manages a number of the Napa Valley vineyards that the wines for Gustavo are sourced from. Vineyard sources are extremely important, and he chooses them carefully – looking at a number of key components per site including the soil, water availability, sun, and wind. The keys to growing good wine start in the vineyard and he has carefully trained his son to have the necessary tools to manage the vineyards to create the style of wines (in the vineyards) to be synergistic with how he makes the wine in the winery.
His wines well-balanced and all have mouthwatering acidity and tannin integration; these characteristics are especially important. Stylistically he is not making wines that are high alcohol in which the varietal characteristics are lost. He wants fruit to arrive at the winery – already in balance.
Select Wines
The 2018 Gustavo Oak Knoll Chardonnay is an outlier in Napa Valley, a distinctive bottling that would stand out in a blind tasting of contemporary Napa Valley Chardonnays. For reference, we tasted this wine 5 years post vintage date and when it was presented to us at the tasting room, we were told to enjoy it with an open mind. It is deep gold in color; the aromatics are sweetly fruited with a honeyed note. This wine offers scents of stone fruits, citrus, baked apple, pear and dried straw. The palate leads with its creamy and rounded textured supported strongly by an energetic thread of acidity. It shows flavors of kumquat, dried orange peel, red apple and lemon juice. The brightness continues to persist for quite some time on the finish.
The 2013 Gustavo Oak Knoll Chardonnay is made in a white Burgundian style. 90% of this wine was fermented in stainless steel tanks with 10% in oak and only about 15% went through malolactic fermentation. The nose shows citrus blossom, a minerality (pencil shavings) and a toasted baking spice component. The palate offers a richness of flavor finely balanced between both a crispness and slight weighty viscosity. The finish is lively with lingering notes of lime and a slight dry component with delicate tannins lingering after the fruit.
In building Napa Valley Cabernet Sauvignons over the years, Gustavo has experimented with fruit from a variety of the various sub appellations within the valley. He enjoys the complexities that blending fruit from various terroir brings to a finished wine and strives to create this wine each year to showcase different nuances found in different parts of the valley. Ultimately, he found vineyards that blended well together from Coombsville, Atlas Peak and Rutherford.
The 2018 Gustavo Cabernet Sauvignon Coombsville is medium ruby in color; nothing dominates the bouquet, rather each aroma is fairly subtle. This wine offers scents of red plum, dried herbs including a hint of oregano and dark chocolate. This is a balanced and bright bottling with flavors of plum, chocolate and on the finish, crushed peppercorn. It is a savory showing, with a mouth-watering finish accompanied by earthy and a pixelated texture of tannins along with a lingering dryness. We immediately thought of pairing this wine with a tri-tip from Buster's BBQ in Calistoga.
The 2016 Gustavo Merlot Coombsville is medium in color with some brickish notes starting to show on the rim of the glass. We tasted this wine 7 years post vintage. The bouquet is a bit shy and needs tome air and time to evolve in the glass. It offers aromas of red cherry, cranberry, red licorice and white pepper. The higher toned aromatics continue onto the palate. It offers flavors of red cherry, currant and cranberry, lingering with a slight tartness. This is a savory showing with energetic acidity, persistent and slightly drying densely woven tannins. The finish lingers with flavors of plum and notes of crushed peppercorn.
The 2014 Gustavo Sierra Foothills Barbera. Aromatically this wine is voluptuous and generous perhaps leading one to think the palate may be jammy or too ripe. Not so, on the palate there is a core of higher-toned fruit with flavors of red cherry and strawberry, along with noticeable anchoring acidity. The tannins are soft and well-integrated lingering both on the front and sides of the palate. We tasted this bottling again 9 years post vintage date. The color had started turning a brickish red; the nose initially was a bit closed but opened to notes of old parchment paper, white pepper and raspberry. It was showing a bit of bottle bouquet compared to the first time we tried it in its youth. This wine finishes with some dark spices including pepper, which outpaces the fruit on the finish. The tannins were as soft as when we first tasted this wine around 2018.
The 2011 Gustavo Atlas Peak Merlot is a sizable wine both aromatically and on the palate. The rich bouquet shows ripe blackberry and dessert spices. The entry is soft but quickly gains complexity of flavor. The slightly dusty tannins are well integrated. Like Gustavo's other wines this Merlot shows excellent acidity. It is juicy, with a mouthwatering finish.
Every so often the winery will re-release older vintages. Such is the case with the 2008 Gustavo Russian River Pinot Noir. The bouquet is bright, lively and appealing. It shows a dusty component, tinges of mocha – both of which are anchored by aromas of strawberry and raspberry. This wine has good structure from the mid palate to the finish with notes of cranberry and red cherry showing on the palate. This wine offers very good acidity with both fruit and wood tannins anchoring the finish.
All their small production wines are single varietals (usually in quantities of fifty to two hundred cases. However, Gustavo makes two wines that are blends from all Napa Valley fruit: the Third Bottle Red and the Third Bottle White. These are two wines priced very affordable and are styled to be ready to drink young. The name, "Third Bottle" has an interesting story. One year, Gustavo was hosting a New York distributor of his wines, and by the end of the evening all present had enjoyed a significant amount of wine. Late in the evening they weren't sure what they were drinking anymore (palate fatigue) but they realized they had run out of wine. Gustavo sent someone to his cellar, and they opened and then returned with a bottle of 1969 Beaulieu Vineyard Georges La Tour Private Reserve. When morning came Gustavo discovered this rare and expensive bottle of wine was 90% full and clearly the guests were in no position to either enjoy the significance of this bottle or the wine itself.
Thus, the idea and name for this wine was conceived. It is an easy to drink affordable well-made wine that one can reach for later – after enjoying the older or rarer wines.
—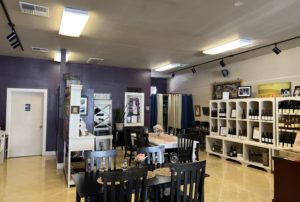 Visitors to the tasting room will notice select pieces of art by various artists. Often, they feature an individual artist. Serious wine enthusiasts can make an appointment to taste the wines in their small tasting room adjoining the winery in a business park south of the city of Napa (about 15-minute drive from their primary tasting room). Several flights are offered including one featuring all Cabernet Sauvignon. Tastings often showcase older vintages.
The Gustavo wines are reasonably priced, often less than one would pay from some of Napa's more well-known wineries. Part of the reason for this is a much lower overhead of housing the winery in a business park rather than on a vineyard site further up valley.
To purchase wine, to join their wine club or for more information visit: www.gustavowine.com