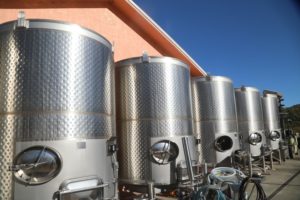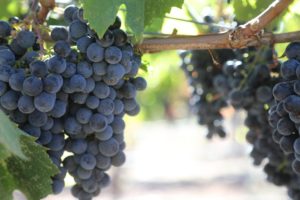 Guarchi Family Wines. The first vintage of Guarachi Family Wines was in 2007. Proprietor, Alex Guarchi began Guarachi Family Wines by purchasing fruit from a number of prominent vineyards, both in Napa Valley and in Sonoma including Gap's Crown, William Hill's Broken Rock Vineyard and from Beckstoffer owned Las Piedras and To Ka Kalon. His last vintage of Beckstoffer designated vineyard wines was in 2018. His impetus for purchasing vineyard land was because of a Pinot Noir made by Paul Hobbs from Gap's Crown Vineyard which earned a high score. As a result of the subsequent demand, the next year Alex no longer had access to this coveted block within the vineyard.
His first vineyard purchase was Sun Chase Vineyard in the Petaluma Gap of neighboring Sonoma County. This vineyard is 250 acres of which approximately 39 acres are planted to Pinot Noir (roughly 60%) and Chardonnay (roughly 40%) divided into 20 separate vineyard blocks. A number of mostly Sonoma County producers craft vineyard designate wines from the site. Alex purchased Sun Chase Vineyard in 2013. In 2014 he purchased Meadowrock Vineyard on Atlas Peak.
Years ago, we drove onto a special property high on the slopes of Atlas Peak, neighboring the stunning Antica Vineyard and within a short drive of the iconic Stagecoach Vineyard. At the time, this was home to Astrale e Terra, a producer for some nearly 20 years with noted winemakers such as Pam Starr, Bill Ballentine and for a time, Scott Harvey was their consulting winemaker. This was the vineyard that Alex purchased; it is a 50-acre site of which approximately 29 acres are planted to vines separated into 13 distinctive blocks.
This site is located within Soda Canyon and Foss Valley; from the top of this site, on a clear day one has spectacular views overlooking Foss Valley and nearby vineyards. The property ranges in elevation from about 1400 to nearly 1800 feet and sits above the fog line. The growing season is long with lots of sunshine. However, sunshine doesn't necessarily translate to warmer growing conditions primarily because of the elevation and it's more southern location which is closer to the moderating influences of the San Pablo Bay. Temperatures tend to be fairly moderate allowing for long hang time and slow development of flavors.
As soon as Alex purchased this site, he realized he wanted to get the most possible out of the vineyard, but realized the site needed significant work. He estimates they replanted about 2/3 of the vineyard; today it is primarily planted to Cabernet Sauvignon but with tiny amounts of Malbec and Petit Verdot. A block of Syrah has since been grafted over to Cabernet Sauvignon – although Syrah does so well here that eventually a small block may be developed to both Syrah and more Petit Verdot. They continue to fine tune their vineyard practices and in 2021 produced a single block bottling from Meadowrock (blocks 11 and 12) and a two-barrel production of Calera clone Pinot Noir from Sun Chase Vineyard.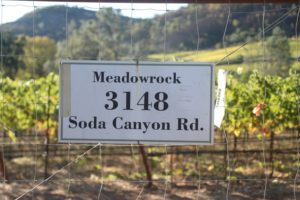 The property is managed by Atlas Vineyard Management Inc., whose employees work extremely closely with winemaker Julian Gonzales, who Alex refers to as having been 'born between the vines' due to his innate knowledge of vineyards. Julian has been making the Guarachi Family Wines since the first vintage – initially as assistant winemaker to Paul Hobbs (who crafted the first 6 vintages) and now as head winemaker. Julian is meticulous in the vineyard with harvest decisions, sometimes made not row by row but as detailed as vine by vine. He will flag individual vines so that harvesters know which ones to pick. And based on this particular site, harvest often lasts up to 30 days between their first and last picks. And with the intensity of sunshine at this elevation, Julian is extremely careful with how tannins are managed, resulting in specific vineyard and cellar decisions.
The previous owner had made wine on the property, but after the transition in ownership, Alex had the building remodeled and sprayed with fire retardant material on the exterior. This saved the building in the 2017 Atlas Peak Fire, as the fire burned right up to its exterior walls and scorched some of their outdoor plumbing but did not actually burn the structure.
In addition to using grapes for their own wines, grapes are sold from Meadowrock Vineyard to a select number of producers. And Alex is a partner in the 383-acre Fern Creek Vineyard in Dallas, in Oregon's Willamette Valley.
Select Wines
The 2018 Guarachi Sun Chase Vineyard Chardonnay is deep gold in color; its aromatics are immediately engaging and include yellow pineapple, honeysuckle, baked pear and Golden Delicious apple complemented by pretty baking spices deeper into the bouquet including vanilla and a hint of caramel. Offers an intensity of fruit spanning the length of the palate with flavors of red apple, honeycomb, ripe tangerine and melted butter. Its texture is lightly rounded and creamy, a gentle viscosity which is complemented by a bright and lively finish filled with flavor. Its balance is its hallmark. This is a beautiful bottling. This wine was aged 11 months in 100% French oak.
The 2018 Guarachi Sun Chase Vineyard Pinot Noir is medium ruby in color; offers aromas of ripe raspberry, darker spice notes, red licorice and dried rose petals along with old cedar box and mocha. As the wine opens, shows additional notes of dried sage and other dried herbs. Smells and tastes like the varietal. This wine offers plenty of layers across the palate with flavors of cherry cola, raspberry and lingering notes of rhubarb. Its texture is rounded with a finish offering slightly dusty light tannins along with a noticeable juiciness. This wine was aged for 11 months in 100% French oak and is a blend of two Pinot Noir clones: 72% clone 777 and 28% Swan clone.
The 2017 Guarachi Meadowrock Vineyard Cabernet Sauvignon is very dark ruby in color; the aromatics are a mix of ripe blackberry, boysenberry jam, Santa Rosa Plum, some initial notes of sweaty leather, freshly baked chocolate brownie and Graham Cracker. Also offers a hint of old cedar in the background and rhubarb stem. The fruit is forward and center on the bouquet with the oak being a complementary characteristic. This is high altitude Atlas Peak at its finest. Offers flavors of dark cherry, blackberry and black currant. The tannins bring a noticeable mountain grip, chewy, firm and extra-long lasting. Juicy. Mouthwatering. Lingers with cracked peppercorn and hints of dried tobacco leaf. There is plenty of depth and character in this wine to enjoy now, but it has all the 'stuffing' to be able to last for years to come.
Total production each year is about 1,500 cases. The wines are sold in a variety of ways including to restaurants with small percentage sold direct to consumer.
Guarachi Wine Partners (formally TGIC Global Fine Wine Company)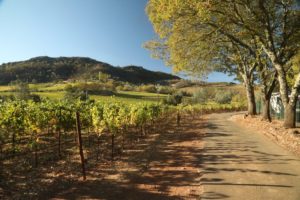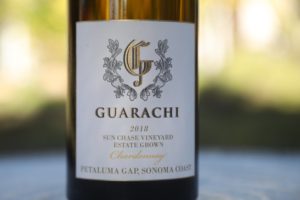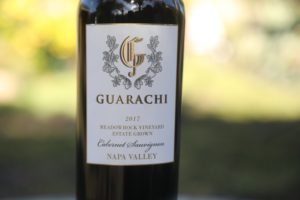 Alex was born in Santiago Chile and during his youth, nurtured a dream to play futbol in the United States. He came to the U.S. on a soccer scholarship at age 18, arriving in California two days before the 1976 Bicentennial. His goal was to play for the San Jose Earthquakes but a major foot injury while playing for San Jose State University derailed his career. He spent a year recovering and after graduating from San Jose State with a degree in business, he thought about importing wines from Chile to California because he noticed imported wines in the local shops were mostly from Europe.
He recalls most people thought he was a bit crazy as no one would be interested in those wines. One individual did not, a man who became his mentor – George Tralle who had a long career in Silicon Valley including providing microchips to the Department of Defense. In 1984, both Alex and George financed their startup business. In the early days the business struggled; their focus was on selling imported Chilean wines in the San Jose Bay Area including in Napa and Sonoma. Their first client in Chile and resulting wines sold in California were from Viña San Pedro. But Alex noticed that wine buyers in this part of the state were partial to wines from the surrounding wine country rather than imported bottlings.
So, Alex moved to Los Angeles and began operating out of a rented house and garage/cellar in Studio City. He recalls the space had no air conditioning; when the temperatures warmed up as it invariably does in Los Angeles, especially in Autumn hundreds of termites would exit the walls and run among the boxes of stored wines. Not an ideal situation. Ultimately, he found better success in the Los Angeles market with consumers more willing to trying wines from South America. Three years after he began importing Chilean wine, he began importing wines from Argentina.
There is no secret bullet to success but for Alex it was an entrepreneurial spark, believing in himself, to the core, developing an emotional attachment to his business and being able to take rejection. No after no after no, but little by little his persistence and efforts paid off and the early relationships he developed resulted in a growing business. And his timing; he took advantage of a market that was not yet developed; simply put, he created it.
He compares building relationships in the wine business to going on a first date. You don't tell the girl you love her right away, but if things look promising, you ask for a second date.
The big break for his business was when a friend introduced him to Costco; eventually Costco became his number one client with imported wines from Alex's portfolio represented through the country at their stores. Alex was instrumental in helping build sales for a number of now well-known luxury wineries including Viña Montes, Achaval-Ferrer and Bodega Norton among others and simultaneously changing people's perceptions of these wines, helped in part by the fact that these wineries improved the quality of their wines. And Alex insisted on better quality wines to make his job easier, selling in the U.S. market.
Guarachi Wine Partners is headquartered in Woodland Hills, California and since its inception now selectively distributes internationally including in Canada, China and Japan. For more information visit: www.guarachifamilywines.com
Meadowrock Vineyard, Atlas Peak

Sun Chase Vineyard, Petaluma Gap
Photos coming in 2023.