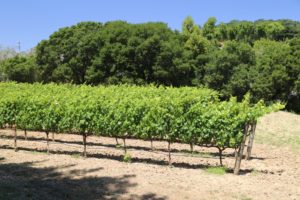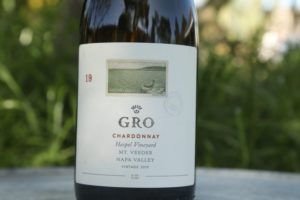 Gro Wines was founded with the 2009 vintage by winemakers husband and wife, Lars Bjorkman and Molly Hill. Lars was born and raised in Fresno; within 6 weeks of his family moving from Sweden to California. They lived in a rural part of the southern central valley; he remembers their home surrounded by vineyards planted for quantity including raisin and table grape varieties. His father collected and drank wine; Lars recalls various trips his father took to Napa to stock up on good wines.
When he was offered a scholarship at the University of California, Davis to play football, Lars readily accepted. He wasn't completely sure of a career path at age 18; the first class he took was an introductory course to viticulture and enology. This class hooked him to the world of wine and eventually he completed his degree in viticulture and enology. Over the years he has worked in both Sonoma, Napa and Australia; since 2006 he has been the Associate Winemaker at Saddleback Cellars in Oakville along with Nils Venge.
Molly is originally from Santa Barbara and is also a graduate of the University of California, Davis. Early in her career she spent short times working at Beringer Vineyards and Domain Carneros. Later she was assistant winemaker at Sequoia Grove Vineyards (where we first met her) and then later head winemaker; she spent 18 years at Sequoia Grove before stepping away from her position in late 2021 to focus her efforts on Gro Wines.
Winemakers are often exposed to a variety of vineyard sources; two winemakers have an even greater reach of such properties. Such is the case for both Molly and Lars through their wine making day jobs. Lars first discovered the Ruhl Vineyard through his early years making wine at Saddleback Cellars. He recalls tasting this Chardonnay with a number of other Chardonnay wines and being very impressed due to its character – allowing him to easily pick it out from the lineup of Chardonnays they were tasting at the time.
The first wine released under the Gro label was a 2009 Chardonnay from the vineyard formerly known as Ruhl Vineyard on Mt. Veeder (now known as Haspel Vineyard). Perhaps one does not associate Mt. Veeder with this particular variety, and for good reason as the largest sub appellation in Napa Valley Mt. Veeder typically offers rugged, 'high altitude' terroir best suited for Cabernet Sauvignon and other red varieties. However, part of Mt. Veeder extends fairly far south – touching the Carneros District and directly overlooks the San Pablo Bay. This is the overall coolest part of the appellation.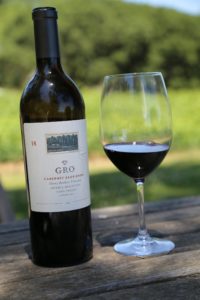 The vineyard wraps around the side of a knoll – offering up mesmerizing views of the southern part of the valley – both overlooking parts of Carneros and around the city of Napa in the distance. The vineyard is planted at an elevation of just under 1000 feet separated into three blocks – all with dramatically different exposures. Due to the elevation here, unlike in nearby Carneros, they are often above the fog in the mornings. There is also often a breeze blowing through. The vines generally do not have any problems with powdery mildew.
Saddleback continues to purchase fruit from this vineyard as does Gro Wines. Lars and Molly have worked with this vineyard for every vintage since their inaugural release. It is an interesting vineyard site – it is one of the furthest southern vineyards in the Mt. Veeder appellation and perhaps the furthest south Chardonnay vineyard in this sub appellation. Lars picks all three blocks at the same time.
Lars is the primary winemaker for Gro Wines and works closely with his vineyard sources. He is attracted to specific vineyard sites – places that encompass a diversity of surrounding vegetation in particular. Spending summers in Sweden as a child – he was introduced to foraging and a variety of aromas and flavors. This early imprint left a lasting impression and today, an appreciation for special and unique vineyard sites. It is no coincidence then that their wines are made from two unique hillside vineyard locations.
All their wines are 100% varietal.
Select Wines
Lars prefers Chardonnays that are not heavily oaked. He maintains a cautious oak regiment for this wine – using about 15% new French oak, conducting a long cool fermentation partially in stainless and putting some of the partially fermented wine into barrels to continue fermentation. The wine does not go through malolactic fermentation. This wine is made entirely from Dijon Clone 76, one of several so-called clonal numbers of the same name. Dijon Clone 76 tends to produce lower yields, with richer flavors at a lower brix than some other Chardonnay clones. The 2019 Gro Chardonnay Haspel Vineyard Mt. Veeder Napa Valley is medium to deep gold in color; the bouquet offers rich aromatics including of yellow pineapple, nectarine, mango, honeysuckle and some other influences including of caramel, brown sugar, butter, honeycomb and notes of crème Brule. The palate is appealing and is well layered with a slightly creamy texture; shows flavors of mandarin, melon and honey. The finish is long lasting and richly flavored but also shows a brightness of acidity to keep things interesting. 225 cases were produced, 14% alcohol. This is not an oaky showing of this variety.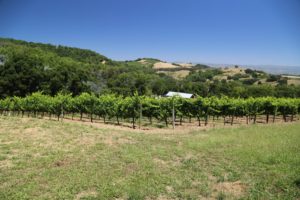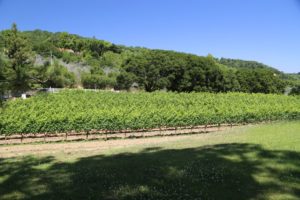 The 2015 Gro Chardonnay underwent similar cellar processing with about 20% new French oak used; this wine is initially very floral including aromas of honeysuckle. Shows an appealing mix of desert type spices including toffee and brown sugar some of which carries on to the palate including on the finish. Flavors of citrus and honey along with a subtle mineral component show on the palate. Superbly balanced. The acidity is all natural. Creamy without being buttery. Shows a gentle weight on the palate with a richness of flavor. A truly memorable Chardonnay.
We have visited the Henry Brothers Vineyards on Howell Mountain several times (since purchased by Outpost Winery). The soils are red, rocky and at altitude (nearly 2,000 feet). A number of premium producers source fruit from this vineyard including Gro Wines. The 2013 Gro Cabernet Sauvignon is super limited – only 80 cases are produced. This wine is very dark in the glass, purplish with dark dusty fruit driven aromas including blackberry with notes of cedar box. Layered and aromatically generous, it also shows chocolate and brown sugar. Mouth filling with flavor, the wine is voluptuous showing blackberry and ripe dark cherry flavors. Chalky somewhat chewy tannins are fairly well integrated into the long finish.
—
Gro in Swedish means pretty much what grow means in English – to germinate or referring to fertility. And the stamp-like image on each wine label honors Lars' Swedish heritage and his family's connection to the Swedish archipelago not far from Stockholm. Each variety they make is referred to on their label as a specific archipelago and correlates to a specific location within Sweden.
Total production of the two wines is under 400 cases primarily sold through their mailing list although they have some select distribution in Texas and parts of California. In Napa Valley one can sometimes find their wines at Solage in Calistoga and Backroom Wines in the city of Napa and at La Bodega in Sebastopol in neighboring Sonoma County.
And from a long time, traveler, it is admirable that Gro Wines donates $3 from the purchase of every case sold to the Fund for Education Abroad (FEA). This organization provides scholarships and support to students from the USA to study abroad (exposing them to a variety of different cultures and experiences not available in their home states).
For more information and to join their mailing list, visit: www.growines.com