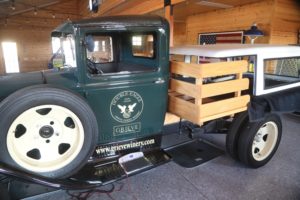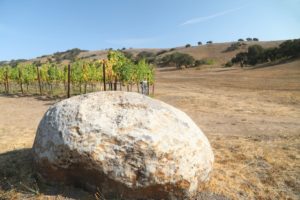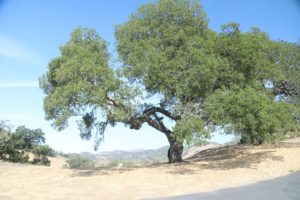 Grieve Family Winery. Seemingly so far off the beaten path and without any reasons for visitors to Napa Valley to ever visit, is Lovall (pronounced love-all) Valley, this secret slice within Napa Valley. Often shrouded in fog, its micro-climate is among the coolest parts of Napa Valley. Due to its geographic location with only one in and out access road, this valley identifies more with Sonoma County than Napa Valley despite being almost an equidistance between the city of Napa and the town of Sonoma.
This valley is located only within about a 10-minute drive to the plaza in the town of Sonoma. Lovall Valley is a mix of residences located on large lots interspersed with small family-owned vineyards. There are no physical wineries here; Grieve Family is the only producer and grower of wines in the valley while all the other vineyards are entirely grower-owned.
Despite its isolation, Lovall Valley has its own unique history, some of it directly related to its secluded location. According to an article in the December 16, 1930, issue of the Napa Journal, a gun battle was fought in Lovall Valley between Prohibition officer M.J Buckley and several Bootlegger residents at a farm owned by Antone Providenty where a 700-gallon still (valued at $35,000) producing illegal alcohol to be sold in San Francisco was discovered. Approximately 170,000 gallons of grain mash were also discovered. Another article around the same time mentions this was one of the largest stills ever discovered illegally operating in Northern California. Davis was wounded in the fight, as was another local rancher 39-year-old Hugo (Ugolino) Prasso who soon died of his wounds.
In the subsequent testimony as highlighted by a front-page article in the December 19, 1930, issue of Santa Rosa's Press Democrat, it was mentioned that Prohibition agent Buckley was intoxicated at the time of his shooting, but he was ultimately cleared of any crime. This was not the first raid on Davis's property.
Despite being towards the latter end of Prohibition, it appeared Prohibition agents were very active in the region. We found reference in another article about another major illegal still uncovered on the Sonoma County side, only a week after the Lovall Valley discovery.
Later records show by the 1950s only a few homes were built in Lovall Valley along with a dairy. The Nicholas family (George and his wife Eileen "Johnnie") moved to Two Rock in Sonoma County in 1938 and started breeding turkeys. By 1939 they had moved their operations on site of what is now Scribe Winery. Their business was called Nicholas Turkey and Breeding Farm. Records shows that George purchased several hundred acres in Lovall Valley in 1957 to expand his operations and eventually operated a huge turkey farm across several locations, at one point housing some 50,000 birds.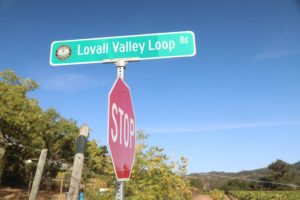 We have seen references in old articles indicating that at the height of his operations his turkey eggs were producing 140 million turkeys around the world and he had 60 percent of the breeding behind the world's turkeys. In the 1950s he developed a strain of Turkey later known as the Nicholas White. Remarkably the operations continue today as Valley of the Moon Turkeys but based in West Virginia.
As as side, this was not the only sizable Turkey farm in the area. We remember accompanying family around Thanksgiving time every year in the late 1970s and early 1980s to another turkey farm, what was the Gordenker Turkey Farm located near the intersection of Trinity Road and Highway 12. At the height of their operations, they had more than 45,000 turkeys roaming on 400 acres.
And Lovall Valley has a long history of fires burning its landscape including in August 1886, and in July 1926 in which 1600 acres within the valley burned including destroying a ranch house and several outbuildings, about 400 acres in 1966 and in 2017 in which a barn burned to the ground on the Grieve Family Winery property but not the primary family home.
The first sizable modern-day vineyard was planted in 1993, 14 acres split equally between Cabernet Sauvignon and Merlot. Today the valley is planted to about 65 acres of grape vines spread among small family-owned vineyards, primarily to Cabernet Sauvignon and Merlot but also smaller plantings of Barbera, Cabernet Franc, Nebbiolo, Pinot Grigio and Syrah.
—
David Grieve is the founder and CEO of A&C Ventures (1992), with an unassuming headquarters based off of the plaza in Sonoma. This private real-estate investment company has 220+ holdings in more than 30 states totaling more than 4 million square feet of retail space. Tenants housed in their properties are often name brand establishments including stores such as Sears, CVS, Walgreens, Ralphs, Taco Bell, Safeway, Ross, JC Penny, Office Max and numerous others. David is also co-founder of Diversified Restaurant Group (DRG), a company that now owns more than 200 Taco Bell and Arby restaurants in California and Kansas.
In 2000 David and his wife Kathleen (both originally from Michigan) moved from San Francisco to the country and purchased 10 acres in Lovall Valley on property which included an existing home. A 50-acre contiguous property that was first planted to grapes in 2000 by viticulturist Ron Wicker (reference Napa Valley's Wicker Vineyards) came up for sale in 2004 and they soon acquired it from the previous owner, Dan Parks (the owner of Inn at Sonoma and Sonoma Creek Inn). The vineyards have been managed by Dirt Farmer & Co vineyard management company since they were planted. Today 17 acres of grapes are planted, separated into 4 unique blocks (all on less than 5% slope), including what is the largest and currently only planting of Sauvignon Blanc in Lovall Valley, 12.5 acres. Yields of this variety are fairly low – often 2.5 tons per acre. The Grieves also sell some of these grapes to selected producers. The remainder of their vineyard is planted to Merlot.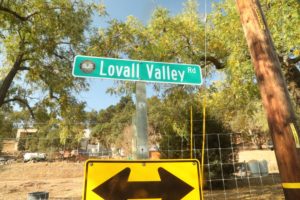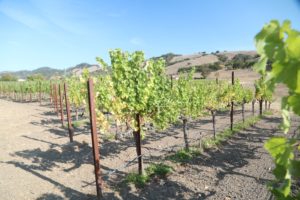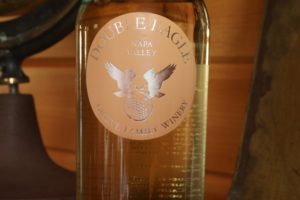 The property is at an elevation of between 500 and 600 feet featuring Perkins Gravelly Loam soils (originating from volcanic and sedimentary rock) on top of a hard pan. A small seasonal creek runs through their property (Huichica). Lovall Valley might be one of the coolest growing regions within Napa Valley. Due to its proximity to the San Pablo Bay and its bowl shape, a marine layer often blankets the valley in the morning with cold air trapped within its geographical confines until much later in the day. These cooler conditions often prolong the growing season with harvest typically 2-4 weeks later than the floor of Napa Valley.
For several years only home wine was produced from the young vines, and it was a time the Grieves experimented with harvest dates, picking some of the Sauvignon Blanc early and fermenting that separately from later harvested Sauvignon Blanc. In 2008 they took the next step with the release of their first commercially produced wine from the estate. Vance Rose was their winemaker from 2008 through 2017. In 2018 the Grieves hired Philippe Melka and Maayan Koschitzky. Both men were initially attracted to the region because they had never heard of this party of Napa Valley but also because of its cooler weather and the fact that the Grieves were focused on growing Sauvignon Blanc. Incidentally Philippe produces some of the finest Sauvignon Blanc coming from Napa Valley for a variety of clients.
—
Select Wines
With a strong focus on estate grown Sauvignon Blanc, Grieve Family produces two distinctive wines from this variety each year and bottles one under their estate only label, Grieve Family Estate Wines and one as Double Eagle. The vineyard is planted to two clones of this variety, 06 and 376 (an ENTAV authorized clone).
The 2019 Double Eagle Sauvignon Blanc is pale yellow in the glass; this wine offers a diversity of floral aromatics including honeysuckle and jasmine. The bouquet is well layered and as it evolves in the glass offers aromas of pineapple, nectarine and pineapple guava. The bouquet favors tropical aromatics rather than the more green and grassy aromas that often this variety produces from cooler weather sites. Immediately noticeable is its balance and its approachability. Its slight rounded texture is complemented nicely with a brightness, mineralities and a lingering flavor of lemon/lime zest. Begs another sip. Prior to fermentation, the grapes for this wine were whole cluster pressed and cold soaked. After primary fermentation was complete, the wine was aged in both French oak barrels and concrete egg tanks.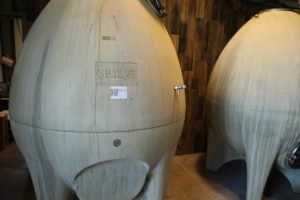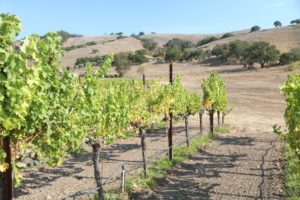 The 2018 Grieve Family Vineyard Sauvignon Blanc is medium yellow in the glass; this wine offers a much different bouquet than the 2019 Double Eagle bottling. Needs some time to tease out the aromatics but when it evolves, reveals notes of honeydew melon, cantaloupe and dried straw. Offers a raciness of aromatics. Offers plenty of complexity on the palate to be intriguing to anyone who enjoys drinking very thoughtfully made Sauvignon Blancs, but especially to serious Sauvignon Blanc enthusiasts looking for more richness and depth in wines of this variety. The palate shows flavors of pear, red apple and melon, lingering with a nice zing of acidity but without any tartness.
Grieve Family also sources red Bordeaux grapes from select vineyards on the floor of Napa Valley and also from the nearby Bravo Vineyard in Lovall Valley. Wines that include both estate and non-estate fruit are bottled under the label, Double Eagle wines. The label for these wines is an image of two eagles and a golf ball representing both David's love of golf and the rarest shot to make on a golf course.
The 2018 Double Eagle Red Wine, Napa Valley is a blend of 91% Cabernet Sauvignon and 9% Merlot from vineyards in both Oakville and St. Helena. The wine is dark ruby with purple tinges on the rim of the glass; it offers expressive darker fruit aromatics on the bouquet including ripe plum, blackberry and cassis. The fruit is complemented with notes of lightly toasted cedar, hints of clove and dark chocolate. Rich in flavor across the palate. Despite its youth (tasted 3 years post vintage date), shows mature, approachable and broadly dispersed tannins. Lingers with a medium grip. The density of the beautiful tannin texture is clearly felt, but without being heavy or drying on the slightly savory finish. It was fermented in stainless steel tanks and then aged in French oak barrels for 20 months (60% new oak).
—
Total production each year usually is between 1,500 and 1,700 cases with no plans to grow production. The wines are made at a state-of-the-art winery in the Oak Knoll District. Double Eagle Wines are more distributed than the estate wines with select distribution in around 20 states. For more information and to purchase wines from this unique producer, visit: www.grievewinery.com