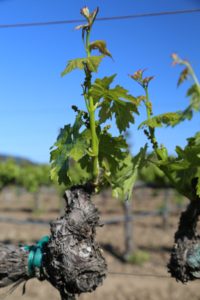 Gridley Family Cellars is run by the husband wife team of Andy Gridley & Susan Durbrow. They both attended Fresno State (unbeknownst to each other) where they took Enology courses; Andy majored in Ag Business and Susan was Wine Marketing. Several of Andy's roommates were from prominent Napa wine making families and as a result he enjoyed a number of high end Napa vintages as well as the benefit of having knowledgeable guides when he visited the Napa area.
As fate would have it, (a story you can only have with winery owners), Susan decided to visit Rombauer's tasting room and it is here that she met Andy. After a number of years of both working in the wine industry Andy decided he wanted to make wine commercially. When it came to needing high end vineyard sources it also helped that he was still in contact with his wine making friends from college.
Susan's favorite varietal is Cabernet Franc and her only requirement was that they use this varietal for their wines. They source grapes from Napa however Cabernet Franc represents less than 2 percent of all wine grapes planted in the Napa Valley. In addition they like to source Cabernet Franc from warmer growing regions within the valley which narrows down high end vineyard sites even more. Some Cabernet Francs you may have tried has a sort of green aroma, a little bell pepper flavors almost perhaps like biting into a green wine stem. These flavors are from what are called pyrazines, an organic component that can be mitigated by a few factors. Gridley carefully selects their vineyard sources (warmer weather sites for optimal ripeness), looks for good vineyard management and is meticulous during the winemaking.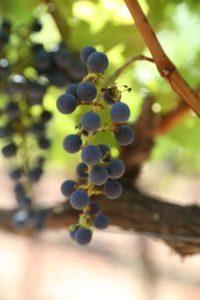 For a winery to be focusing entirely on the Cabernet Franc varietal in Napa Valley is rare indeed; in fact this is the only Napa winery we know of that solely produces 100% Cabernet Franc – however there are two other Napa wineries also focusing on Cabernet Franc; Lang & Reed and Virage. Gridley Family Cellars first commercial release was in 2004 and was merely several hundred cases. Later productions are between 500 and 600 cases. Susan is the winemaker.
Cabernet Franc is a very aromatic wine by nature and Gridley runs with this aspect in their wines as well as structuring the wines so the tannins do not dominate. The 2004 has some exotic spices in the nose with touches of cedar. The mouth feel is oh so smooth and velvety with great fruit. The palate finds notes of raspberries, black cherry and currant. The 2005 is again a very aromatic wine but the nose is more fruit driven then the 2004. Elegant is a word that can easily describe the bouquet on this wine.
Gridley also makes very small quantities of Cabernet Franc Rose – using the French saignee method by bleeding off juice early on in the fermentation. Look for the simple Scallop shell on every label. Rather than displaying an entire family crest which is used by some vintners, they took the image of this shell from their family crest. Susan was born close to the ocean, and Andy grew up on the beaches of Southern California so this logo ties their backgrounds together quite nicely…or maybe it is a hint that their wines are good with shellfish!
Both Andy and Susan work in the wine industry by day and run Gridley Family Cellars during "non working" hours. You can find their wine at Silenus Vintners near the town of Yountville. This is a tasting collective featuring the wines of a number of small boutique producers. What differentiates this collective from other Napa collectives is all wineries represented make their wine here. Visit: www.gridleyfamilycellars.com
NOTE: Possibly no longer producing. Checking for more information and may archive this review at some point.