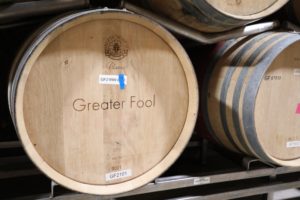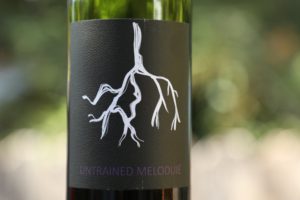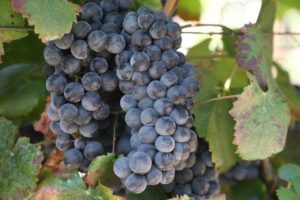 Greater Fool Wines. Is it the greater fool who sits on the side line with a dream but never pursues it, or is it the one who takes a risk but then fails? To winemaker Julian Christian and his wife Kathryn Siegfried the answer is simple. Don't wait. Pursue a dream and follow its course, however it develops. And they have done so, uprooting careers and locations, having founded Great Fool Wines. The first vintage of Greater Fool Wine was in 2019.
Julian was born on a naval base in Puerto Rico and spent his youth living in different parts of the U.S. due to his father working in the Navy. Julian started working in restaurants at an early age; while in his early twenties he was a server at what was Peter Shears Downtown, a restaurant in Canton, Ohio. During the Hall of Fame Week in 2004 one of its patrons was former Pittsburg Steelers running back Franco Harris. Julian recalls Franco's eyes lit up when he saw that the restaurant carried Cakebread Chardonnay. He quickly ordered a bottle and invited Julian order to try the wine. Julian was also excited by his first taste of Cakebread and recalls over the next two weeks he sold the rest of the restaurant's inventory of Cakebread Chardonnay. Sales were easy, all he had to say to engage customers was something like, "I just met Franco Harris and this is his favorite Chardonnay". Soon he received a note from the irritated bartender informing him she was out of Cakebread Chardonnay and would he please start selling something else.
By 2019 he was working as assistant manager at the historic seafood restaurant, Bender's Tavern in downtown Canton. The manager at the time, Jerry Rector and Julian's wine mentor invited him on a trip to Napa Valley to meet some of their suppliers. The trip was inspiring; Julian remembers the great hospitality he and his boss received from visits to Viader, Robert Foley and Crocker & Starr among other stops. Upon returning to Ohio, Bender's Tavern sponsored his studies to become a sommelier through the Master Court of Sommeliers.
Continuing to pursue his interest in wine, Julian returned to Napa Valley in 2014 by himself and when he received the same generous hospitality from other wineries, he realized the valley's generosity and good will is a genuine part of the community. It was during this trip he met a number of individuals within the wine industry, several whom he would later work with.
By 2016 Julian wanted to pursue winemaking in Napa Valley. He sent his resume to approximately 40 different wineries but the response was tepid resulting in only several Skype interviews. The 40 asks reminds us of vintner Jan Krupp who once told us he called about that many wineries asking if they wanted to buy his first harvest of grapes from Stagecoach Vineyards before he had one positive reply. So, Julian decided to visit the valley and drop off his resume to a number of wineries in person. At the time, Rudd Winery was undergoing construction and replanting and their normally closed gate was open. So Julian drove in knocked on one of the doors and proprietor Leslie Rudd personally answered and accompanied him to the front office. He also visited Cakebread who soon hired him as a harvest intern, his first wine position in Napa Valley.
Later he would work in the cellars at Hourglass winery with winemaker Tony Biaggi and also Bucella Winery. And a 1.5 year stint at Bouchon in Yountville and at ACME Fine Wines in St. Helena.
The Greater Fool Wines are harvested for freshness and vibrancy sourced primarily from family owned micro vineyards in Napa Valley and Sonoma County. These wines are often co-fermented with the intent to create a more balanced wine in its youth. And these are not meant to be wines which are a 'meal in the glass' but rather pair well with a meal.
Julian first met winemaker Dave Phinney (Orin Swift, the Prisoner, D66) at a trade show in 2014. He sold some of Phinney's wines at restaurants and became familiar with his various brands and was inspired by his creative labels and marketing ideas. In part, this inspiration led to some of the creatively named Greater Fool Wines and also their labels (typically designed by Julian and Kathryn).
Select Wines
The 2022 Greater Fool Wines Toxic Positivity, Napa & Sonoma County is 68% Grenache, 25% Cabernet Sauvignon and 7% Viognier of which 62% is from Sonoma County and 38% from Napa Valley. This wine was made both by direct pressing and also saignée; all the varieties were co-fermented together and for one month underwent weekly battonage while aging in 25% new French oak barrels for a total of 9 months. This wine is medium salmon in color; the aromatics are delicate and elegant and include strawberry, white nectarine, guava and raspberry. The nose becomes a bit more floral as it evolves including notes of citrus blossom. Its texture is creamy and rounded which is complemented nicely by its mineral laden and lively palate. It reveals flavors of cranberry, pomegranate and grapefruit. This is an easy drinking wine which offers plenty of layers both on the bouquet and the palate. And it's label is a play on 'rose colored glasses' using an image of a pair of pink heart-shaped glasses that Julian and Kathryn's daughter often wears. This wine is perhaps best paired with the song, Rose Colored Glasses by country music artist, John Conlee.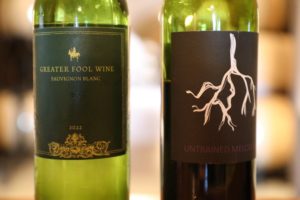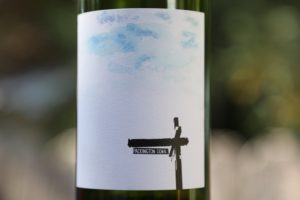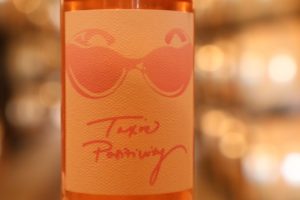 The 2022 Greater Fool Wines Sauvignon Blanc is 100% varietal with 81% from Napa County (Frediani Vineyard in Calistoga) and 19% from Sonoma County (DeNatale Vineyard in the Russian River Valley). While it has never been identified, the Sauvignon Blanc from the Frediani Vineyard is probably the musque clone of the variety. All lots for this wine were co-fermented together and then pressed directly into one stainless steel tank and then aged in a combination of 25% new and 75% used oak barrels sur lie for 10 months. This wine is pale to medium yellow in color; the attractive bouquet offers aromas of guava, white nectarine, passion fruit, pear, honeydew melon and a floral note including of star jasmine which becomes more pronounced as the wine breathes. Its acidity is as Julian describes, "laser like" – it is bright and full of energy like a whirling dervish. The palate offers flavors of guava, pomelo, limeade, lemongrass, grapefruit and lemon juice. This would be an ideal wine to enjoy after tasting through a lineup of fruit forward, heavy textured Napa Cabernet Sauvignon bottlings.
The 2020 Greater Fool Wines Untrained Meloduié, Napa Valley is a red blend of 38% Charbono, 17% Petite Sirah, 17% Valdiguié (all three varieties co-fermented together) along with 15% Cabernet Sauvignon, 12% Merlot and 1% Sauvignon Blanc. The grapes for this wine were primarily sourced from the historic Frediani Vineyard in Calistoga. This wine is deep ruby; it smells savory and fresh with aromas of plum, red cherry, violets, a darker tobacco spice note and dried sage. Fresh, juicy and bright across the palate, it reveals primarily red fruited flavors including cherry, plum and currant. Julian attributes some of its lift to the Valdiguié. Its textural feel is somewhat creamy with rounded tannins showing more on the front of the palate than the back. It lingers with mouthwatering acidity and a light dust/drying note. This wine was aged in 33% new French oak for 17 months. This is an enjoyable highly food-friendly bottling. And the name is in part tied to an image that Julian sometimes has of his uncle (a trained vocalist) belting out the words to Unchained Melodies while standing among the old vines (some 130 years old) in the Frediani Vineyard.
The 2020 Greater Fool Wines Paddington Down, Napa Valley Red Wine is 89% Cabernet Sauvignon and 11% Merlot. The Cabernet Sauvignon is clone 337 from a tiny vineyard in Deer Park (near Bremer Estate) and the Merlot is from the historic Bedrock Vineyard in Sonoma Valley. This wine is deep ruby in color; its floral notes are immediately present including aromas of violets and rose petals. It also offers scents of pipe tobacco, a light note of sage and a hint of mocha deep in the aromatics. This wine is fresh and bright across the palate showing primarily red fruited flavors including currant, cranberry, red cherry and red plum. It is a balanced bottling with fine-grained and rounded tannins anchoring a supple finish. It also lingers with a light note of dried tobacco and a subtle citrus character. Due to the vintage, this wine was made in a more delicate style including a gentle and shorter extraction and both less time in new oak during its aging; it was aged in 50% new French oak for 17 months. Incidentally, this wine pairs very well with salami.
The 2021 Greater Fool Wines Paddington Down is 64% from Sonoma County and 36% from Napa County. It is a blend of 53% Cabernet Sauvignon, 41% Merlot and 6%% Petit Verdot. This wine was created with two co-fermentations: Cabernet Sauvignon, Merlot, and Petit Verdot from the Bedrock Vineyard in Sonoma Valley and then blended with a co-fermentation of additional Cabernet Sauvignon from Deer Park and Merlot from Coombsville. This wine is deep ruby and opaque with an amaranthine rim. It saw more new French oak than the 2020 vintage (75%) and was aged for 20 months. The bouquet offers depth and layers with aromas of blackberry, dark cherry, blueberry and a light note of espresso. The bouquet becomes even more expressive of the fruit as it evolves in the glass. Equally as layered on the palate, this wine reveals vivid flavors of plum, blackberry and dark cherry. We tried this wine merely two years post vintage and it is extremely youthful and highly energetic. It reminds us of a teenager about to take a trip somewhere new and the resulting built up of energy and excitement. The pixelated and tightly woven tannins are long lasting. This wine is going to cellar well for a number of years. The image on the front label of is of the Paddington Down street sign in Jackson Township near Canton – the street that Julian and Kathryn last lived on before moving to Napa Valley.
And Kathryn's mother owns the tiny Durbin Vineyard in St. Helena. planted to Cabernet Sauvignon. This site was originally planted by David Abreu who maintained the vineyard for several years; winemaker Philippe Melka also sourced fruit for several of his clients. The property was previously known as Alante Vineyard which produced a wine under that label for several years.
The Caves at Soda Canyon
The Caves at Soda Canyon is a premium underground winery located on a 41+ acre property. The wine cave offers both production and hospitality space for a limited number of small wineries who produce their wines here including Greater Fool Wines. It is located about 20 minutes driving from downtown Napa.
This winery provides several well lighted interior alcoves for tastings as well as a beautiful space on an outdoor terrace overlooking much of the central to southern part of Napa Valley. Often it is breezy out here but its worth a visit for the beautiful vistas. Blankets are always provided for visitors regardless of the time of year as the cave stays at a constant chilly temperature.
Select Greater Fool Wines are included with a visit and tasting at the property and are always hosted by either Kathryn or Julian.
The wines are very selectively distributed in parts of Ohio and locally in Napa Valley including through one of the wine clubs at St. Helena based ACME Fine Wines. Total production has grown in the first few years and is now around 600 cases annually. For more information, to schedule a tasting or to purchase wines, please visit: www.greaterfoolwine.com