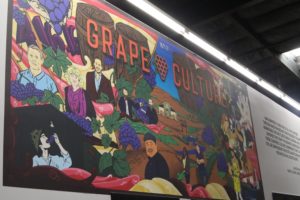 Grape Culture is not only the name of a Napa Valley winery, but it refers to a way of living, embracing wine, people, places and history. The winery name is an homage to the book, Grape Culture, Wines, and Wine-Making written in 1861 by Agoston Haraszthy, the founder of Buena Vista Winery in neighboring Sonoma County and one of California's earliest wine pioneers. This book is the compilation of his personal journals written while visiting European wine regions in 1858 while collecting an amazing amount of detailed information about both European and California agriculture and his travels.
Grape Culture was founded in 2019 by winemaker Collin Cranor. His friend and winemaker Craig Ploof helps oversee their winemaking. Collin's winemaking background began in Livermore rooted in his father Jeff's wine business. Jeff began a brand in Burlingame called Satyrs Pond, making wines for club members. Collin recalls when the recession hit in 2007/2008, he began helping his father at the winery, initially simply sweeping floors and keeping things clean. With his father, he began Nottingham Cellars in 2009 when he was in his early 20s, choosing the name to reflect the area's heritage: for a brief period in 1869 and 1870, the U.S. post office in what is Livermore, was called Nottingham. Collin quickly learned winemaking which was coupled with an enthusiasm to better his skills; he is a self-taught winemaker.
They grew this brand significantly over the years and continue to produce wines bottled under this label. Today the focus of Nottingham Cellars are wines from select heritage vineyard sites in parts of Northern California. Collin met Craig in 2009 and in 2018 Craig began helping Collin produce wines. Craig spent 14 years working at Stephen Kent Winery, initially in the tasting room but soon in production.
Collin spent his formative wine making years in Livermore, learning winemaking and was part of a group of small producers trying to build an identify and brand recognition for Livermore Valley. Over time due to challenges in the market in regards selling wines from Livermore, rising costs of related goods and difficulties in changing people's perception about Livermore wines (or finding that people knew nothing about the area other than perhaps Wente Vineyards), they decided to move to Napa Valley. A simple question by Collin to Craig, "what do you think we could do if we were to get our hands on some great Napa Cab?" eventually led them to Napa Valley. They began sourcing from select Napa Valley vineyards in 2019.
Sometimes Silicon Valley is used to describe what Napa Valley might have become without the protective boundaries of the Agricultural Preserve in which agriculture was replaced with urban sprawl and corporate business parks. But Collin makes a different comparison between the two valleys. He compares the two regions in that that both have attracted top talent, investors and doers – a culture that promotes and embraces new talent, innovation and ideas.
Select Wines
In 2021 Grape Culture sourced Sauvignon Blanc (Sauvignon Musqué clone) from a small vineyard in St. Helena. Collin mention that with this clone, "if it tastes good in the vineyard, then it's too late" referring to non-desired characteristics obtained from over ripeness. Rather they styled this wine to capture the variety's freshness both on the bouquet and the palate and their earlier harvest reflects this. The 2021 Grape Culture Napa Valley Sauvignon Blanc is well layered on the bouquet with layers of floral aromatics including citrus blossom, jasmine and hints of honeysuckle. As the bouquet evolves it shows stone fruit including nectarine and white peach. The first word we wrote was balance when tasting this wine. It is clean and crisp across the palate with flavors of apple, kiwi and gooseberry. Lingers brightly with plenty of 'motion' due to the acidity. As Colin stated, "this wine is higher toned, but the curves are all in the right place".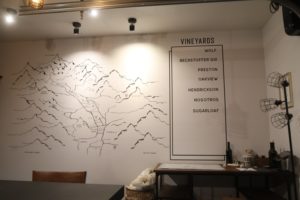 Typicité (the word for typicity in French) refers to the purity of how well a grape variety reflects its inherent varietal characteristics. This is certainly an appropriate name for a variety such as Pinot Noir which when grown in the proper location and made to be a Pinot Noir, shows a very strong typicity. As of our latest visit to the winery, this is the only wine being bottled under this label.
The 2019 Typicité Gap's Crown Pinot Noir, Sonoma Coast (this very cool vineyard site is located in the Petaluma Gap about 1,000 feet in elevation) is medium ruby in color. About 1/4 of the grapes were whole cluster fermented with partial carbonic fermentation in an open top stainless-steel tank. Collin and Craig's philosophy when working with this variety is to, "keep it pretty". The aromatics are bright and appealing with notes of raspberry, cherry cola and red licorice, along with light aromas of chocolate. An initial sweetness of fruit hits the front of the palate with flavors of red cherry and a lingering note of licorice on the finish. It is nicely balanced from start to finish with bright fruit and a hint of earthy but well-integrated tannins.
High Tide is 100% varietal Napa Valley Cabernet Sauvignon sourced from select vineyards throughout the valley. The name pays homage to Robert Mondavi whose philosophy was, "a rising tide carries all ships", referring to his relentless promotion of Napa Valley as a whole, rather than just his own winery. His beliefs were that improving the reputation of the valley as a whole will improve the stature of individual wineries. The idea for crafting this wine was to source from a variety of different terroirs in the valley ranging from north to south and from valley floor to mountain.
The 2019 Grape Culture High Tide is produced from vineyard sites in Atlas Peak, Calistoga, St. Helena and Yountville. It is opaque and dark ruby in the glass with violet hues on the rim; the bouquet initially offers aromas of sandalwood, old cedar box and cassis. As the wine opens, shows aromas of sage, dried herbs and a meaty note along with plenty of fruit including aromas of plum. This wine has broad palate appeal; it smells good, and it tastes good. Sometimes that is simply the best wine description. The wine is juicy and lively across the palate with flavors of blackberry and boysenberry. Finishes savory with youthful still tightly grained tannins, mouthwatering acidity and notes of darker dried tobacco leaf.
Next Episode is named in homage both to those who built the wine industry in Napa Valley as well as to their own 'episode' in winemaking, referring to the current generation of Napa Valley winemakers who continue to strive for excellence. The 2019 Grape Culture Next Episode Cabernet Sauvignon, Wolf Vineyard St. Helena is 100% varietal. The bouquet offers sweet aromatics including dark cherry and black licorice along with darker spices and some hints of mocha. The wine is juicy across the palate with flavors of blackberry and boysenberry. The dark and light gravelly tannins are still a little tightly wound in their youth. One non-technical term to describe this wine is, 'a crowd pleaser.'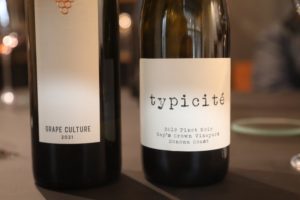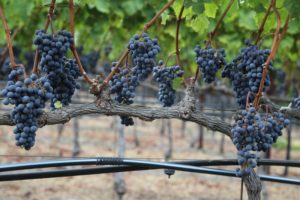 The 2019 Grape Culture Lifted is from the Hendrickson Vineyard located on Atlas Peak at about 1,500 feet, bordering Stagecoach Vineyard, an appropriate name considering the site's elevation. We have been in this part of Atlas Peak a number of times; the soils are iron rich, red and extremely rocky. This 100% varietal Cabernet Sauvignon is dark ruby in color with well-layered darker fruit aromatics including dark cherry and blackberry. The bouquet is clearly about the fruit aromatics, but it is also complemented with light aromas of mocha and chocolate. Offers plenty of mountain depth and character across the plate with flavors of blackberry and plum. Lingers savory with bright acidity and long-lasting tannins showing a robust grip.
The 2019 Grape Culture Georges III Vineyard Rutherford Cabernet Sauvignon is 100% varietal; this wine is dark ruby in color and offers aromas of blackberry and boysenberry along with a cigar/dried tobacco leaf note and hints of mocha. This is a quintessential Napa Valley Cabernet Sauvignon that is loaded with intensity of flavor, depth across the palate and structure. The tannins are persistent, chewy and frame a very long finish.
On a whim, Collin reached out to viticulturist Brenae Royal, who oversees Louis Martini's historical Monte Rosso Vineyard in neighboring Sonoma County. Short story, they ended up getting access to several of the Zinfandel blocks including some of the oldest Zinfandel on the property and began making a Zinfandel from this property in 2020.
Hospitality
Visitors will typically meet with either Craig or Collin or both at their industrial park located winery about a 10 minutes' drive south of the city of Napa. This space was formerly used as storage and was converted to a winery after they moved here in 2021. They completed their first full harvest in the space in 2021. This is a working winery and visitors will often see direct winemaking in action, especially during harvest.
A cozy tasting room is directly next to their wine operations. One cannot miss seeing the prominently displayed quote on the exterior wall of the tasting room, taken from Agoston Haraszthy's book Grape Culture, "I was gratified to find that of all the countries through which I passed, not one possessed the same advantages that are to be found in California; and I am satisfied that even if the separate advantages of these countries could be combined into one, it would still be surpassed by this state when it's now dormant resources shall be developed".
And a hand painted grape themed mural is next to the Haraszthy quote, created by friend and artist Sean Machoff. It includes several images including one portraying a likeness of Golden State Warriors basketball player, Stephen Curry.
—
Total production is around 1,000 cases but continues to grow. Locally select Grape Culture wines are found at K. Laz tasting salon in Yountville, ACME Wines in St. Helena and at Solage in Calistoga. For more information including to purchase these limited production wines and or to make an appointment for a tasting, please visit: www.gcnapa.com