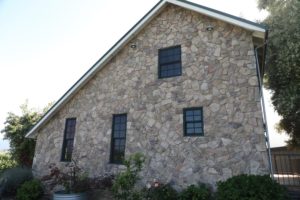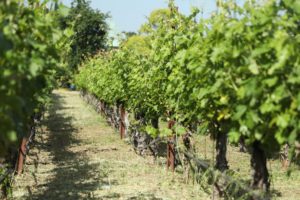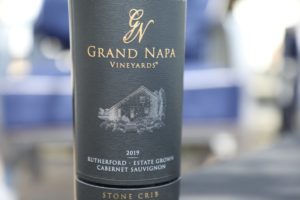 Grand Napa Vineyards was founded by Dwight Bonewell. After graduating from the University of Minnesota, while in his early twenties he immediately took a job at a small brokerage firm on Wall Street. Two weeks after he started, on October 19, 1987, the stock market crashed. His company survived as it was under ownership of much larger banks. This was quite an introduction to finance for someone still in their early twenties. But his time in New York led to other opportunities, while working in the city he discovered a love of hero sandwiches. Eventually he returned to Minnesota, changed careers and started a hero franchise restaurant group (A.G. Hero). Later he became an owner in several restaurants in Minneapolis including Harry's Food and Cocktails and 101 BLU. He was not the only one in his family in the restaurant business; his grandfather Harry cooked at a number of hotel restaurants in St. Paul and his brother Brad Bonewall operated La Pizza Fresca Ristorante for nearly 30 years in New York City until its closing in 2019. Brad continues to own and operate the popular Manhattan Espresso Café.
Recognizing 'house pour programs' were an integral part of a restaurant's operation and operating revenue, Dwight decided to source private label 'house' wines for his own restaurants. He traveled to California to do so, visiting Lodi and in 2008 sourced his first wines, a Chardonnay, Merlot and a Cabernet Sauvignon. During one of his trips to Lodi he saw an ad for bulk wine listed in Napa Valley. He traveled to Napa to sample this wine – it was from Rutherford. He enjoyed his time in the valley and began to frequent more often, purchasing more wine, and shipping it to Lodi where it was then bottled and shipped to Minneapolis.
While this was happening a group of investors wanted his expertise on opening restaurants in China. So, Dwight visited China for the first time in 2008 and met with them. Ultimately it was not a right fit but while in the country he noticed there were no wines from California and few people were actually drinking wine. In the states, distributors noticed his house wines and asked if he could expand production and produce non-private-label wines. He began doing so; and with wines to sell and a potential lucrative market in China waiting, he began to attend various wine trade shows in China. It took him 5 years to establish his business in China; during the height of his operations, he was shipping over 50 containers of wine a year from California to China.
In 2012 he spotted a guesthouse for rent on Craigslist located in Rutherford. He agreed to meet the real estate agent at a set time but ended up visiting the property well before their agreed upon time. He remembers thinking how similar the buildings resembled something that would be found in the woods in the upper Midwest part of the country. He knocked on the owner's home; she was home. They both connected over several topics including the fact some of her family lived in Minnesota. The real estate agent arrived and informed them that she had some twenty people interested in renting the house. But the owner had already made up her mind and informed her that she would only rent to Dwight. Ultimately, he purchased the property in 2018.
Dwight recalls the transition from the world of restaurants to the world of wine. When operating his restaurants in Minneapolis he remembers thinking, "I can't do this for the rest of my life". And then after he started working with wine, he remembers thinking, "I can do this for the rest of my life".
In addition to the Grand Napa Wines, Dwight produces a number of different wine labels from both Lodi and Napa Valley as part of the West Coast Wine Group. This business also offers private label wine services for clients.
Property History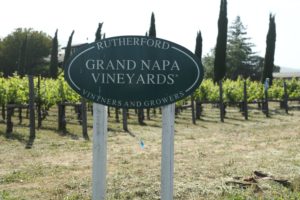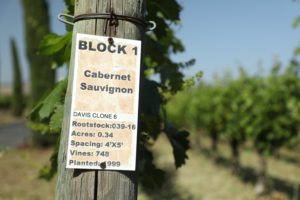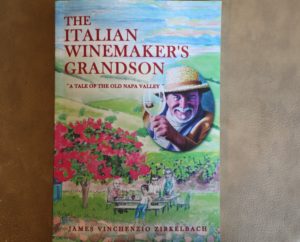 The Grand Napa Vineyards property is only 1.37 acres. It used to be larger but with easements taken by the railroad and Caltrans ultimately about an acre of its original parcel size was lost. The property and vineyard is located directly next to Highway 29 in Rutherford. Nearby neighbors include Inglenook and Peju Vineyard. It was purchased in 1925 by a Gerolo Alta, Italy born couple Salvatore (died 1978) and Rosalia (died 1953) Curtoni.
Train tracks pass in front of the property; they used to be used for passenger service; today they are used only by the Napa Valley Wine Train. Two years after the couple purchased this property a terrible accident occurred in front of their house involving a truck carrying passengers staying with the Curtoni's. At that time trees partially blocked the view of the railroad tracks and according to an article in the St. Helena Star dated Friday, September 16, 1927, a Dodge truck leaving the Curtoni property crossed the tracks and was struck by a Southern Pacific passenger train killing one of the men and severely injuring the other two, while one man leapt for safety and was uninjured.
The couple deeded the property to their daughter Gemma in 1947. During the Curtoni ownership the property was planted to a variety of fruit trees and also wine grapes. They also operated a slaughterhouse in the old barn on site and would sell the meat to primarily local Italians.
During their ownership, Salvatore painted the exterior of their stucco house pink in homage to Rosalia's favorite color. Decades later Dwight would create a label as part of his West Coast Wine Group in honor of this house, a rosé bottled as the Big Pink.
In 2019, the Curtonis grandson James Vinchenzio Zirkelbach wrote a book about his family and time spent with his grandparents on the property, titled, The Italian Winemaker's Grandson, a Tale of the Old Napa Valley.
The owners prior to the Bonewell family, Margo Culcasi & David Slaby purchased the property in 1997 while it was in bankruptcy. After they acquired the property, besides having to restore the buildings on the site, the vineyard also needed immediate attention. Unfortunately like a number of area vineyards the vines were planted on AXR-1 rootstock, the infamous French crossed with American rootstock that ultimately proved to be highly susceptible to a disease called phylloxera. They were able to harvest a small number of grapes from the last of the dying vines in the last few years of the 1990s.
During their ownership, the vineyard was completely replanted in 1999 to primarily Cabernet Sauvignon with a small amount of Cabernet Franc. They produced wines for several years under the label Slaughterhouse Cellars – a name that perhaps was most uniquely appealing to steakhouses offering up Napa Valley Cabernet Sauvignon. The name of their brand paid homage to the old wooden slaughterhouse on the property. And the name tied in with the nomenclature of their names; coincidentally the first initials of their last names are S & C the same as the first letters of Slaughterhouse Cellars.
The old slaughterhouse was torn down and a stone building with similar footprint was then built in 1999/2000 with some of the original wood used for the interior of the structure. And the old hoist used during the slaughterhouse operations was preserved and is housed inside the current structure.
Note: those who mention Napa Wine Project and join one of their three wine club offerings, the Explorer Collection, Reserve Collection and Signature Collection will receive a complementary bottle of their current release Brut Rosé Carneros sparkling wine.
Select Wines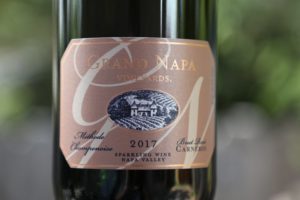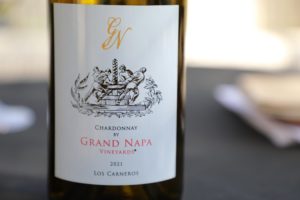 The 2017 Grand Napa Vineyards Brut Rosé Carneros (Méthode champenoise) is a blend of 54% Pinot Noir, 43% Chardonnay and 3% Pinot Gris. This sparkling wine was aged for 3 years before disgorgement. It is medium copper in color; the bouquet is fresh and fruity and offers a diversity of aromas including of red and green apples, ruby grapefruit, honey, tangerine, raspberry, wild strawberries, some light yeast nuances and citrus blossom. Balanced, crisp and lively across the palate, its flavors mirror some of the aromatic characteristics especially that of citrus including lime, grapefruit and kumquat. It also offers notes of green apple, raspberry and sour cherry. The acidity is firm and fresh on the palate and lingers with a noticeable persistent brightness and light tartness. It is completely dry.
The 2021 Grand Napa Vineyards Carneros Chardonnay was aged for 6 months in one stainless-steel tank and 20% twice used oak barrels. The oak is clearly not the focus of this wine either on the bouquet or the palate and stylistically that is refreshing. 70% of this wine was allowed to go through malolactic fermentation. It is medium to gold in color; the nose immediately offers white spring floral aromas including of honeysuckle and jasmine, with a honeyed and sweeter note as the wine opens further. It also shows scents of red apple, pear, cantaloupe, pineapple and some light stone fruit notes. The lightly creamy texture is supported nicely by an accompanying brightness from the acidity. This very balanced bottling reveals a wide swath of citrus flavors along with apple and apricot. It drinks very well by itself, but we could also see pairing it with fresh caught lobster from the Sonoma Coast. Santa Rosa Seafood please.
The only estate wine produced each year is a Cabernet Sauvignon made with the same percentage of grapes as planted in the vineyard (98% Cabernet Sauvignon and 2% Cabernet Franc). Almost every year both varieties ripen around the same time and as a result are harvested together. The exception to this for some reason was in 2022 when the Cabernet Franc ripened later than the Cabernet Sauvignon – perhaps altered by the significant extended heat spike around Labor Day weekend that year.
The estate Cabernet Sauvignon is named the Stone Crib in honor of the prominent triangular shaped building on the property, easily seen from Highway 29. The 2019 Grand Napa Vineyards Stone Crib Cabernet Sauvignon is deep ruby in color; its aromatics are immediately appealing including of cherry, dried herbs, sage and a light toasted oak spice. As the wine continues to evolve in the glass it reveals a note of cardamom spice. Somewhat savory. The palate offers flavors of plum, blackberry and cherry. One notices a certain freshness on the finish; it is bright and red-fruited showcasing a rounded texture from the tannins. And the finish continues for some time. The tannins are dense, dusty and almost chalky in their feel and are well-integrated, even in this bottlings early years. This wine spent 22 months aging in 70% new French oak barrels and 30% in twice used barrels. Total production each year varies but is usually between 150 and 200 cases; 2018 was the first bottling from the property labeled Grand Napa Vineyards. The image on the front label is of the stone building on the property which replaced the original slaughterhouse.
Other wines are produced include a Pinot Noir from Carneros and mountain wines including from Mt. Veeder, Atlas Peak and Spring Mountain.
The first vintage of Grand Napa Vineyards was in 2007. Winemaker and Burgundy, France born Stéphane Vivier Vivier, formerly of HDV and currently winemaker at Long Meadow Ranch's Anderson Valley Estate, is their winemaker.
Total production as of our latest update to this review is 4,500 cases per year and growing. When they started building the brand, the wines were also sold to several wine clubs including Santa Rosa based Wine Country Connection with a Yountville located wine shop and tasting space. The wines are sold both direct to consumer, but they have cast a select but wide net of locations around the country and planet for wine distribution. This includes of course Minnesota where Dwight was born and raised. And internationally in parts of Japan and Korea. Locally one can sometimes find the wine at the Oakville Grocery.
For more information and to purchase wines, visit: www.grandnapavineyards.com