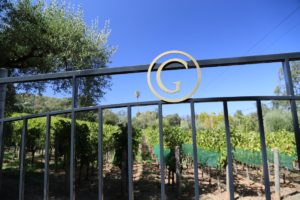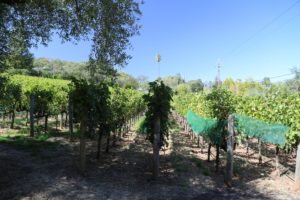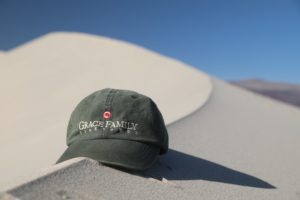 Grace Family Vineyards (not to be confused with Grace Vineyards in China or Grace Wines in Japan) was the 500th visit with a commercial Napa wine producer that we made on this project and as a result was a truly a milestone for us. We of course had researched this winery for a long time; besides the top reviews of their wine, we knew about their remarkable international humanitarian efforts. After leaving a meeting with Dick Grace you cannot help but be touched by his passion, generosity, energy, inspiration and ability to use his winery to do what few people in this world are able to do – make a difference in the lives of ordinary people on an international scale. They were one of the first high-end wineries in Napa Valley – charging $25/bottle for some of their earliest vintages which at that time was among the most expensive in the valley! Today if you are lucky enough to be on their mailing list the bottles are several hundred dollars each.
Dick was born in Honolulu Hawaii; his grandfather John Grace was co-founder with his brother Walter of Grace Brothers, a business they started in the 1920s brokering sales involving construction equipment and materials. The company later incorporated in 1931 and began selling and renting various equipment. They continued to grow acquiring additional companies related to paving and construction. Over the years they have been involved in most of Hawaii's major construction projects including building freeways and have paved the majority of Hawaii's roads. Today the company has a number of offices and subsidiaries in Hawaii (on multiple islands) and is known as Grace Pacific LLC. And they are part of an organization with an acronym non-related to the Napa Valley, called NAPA (the National Asphalt Pavement Association). They are headquartered in Kailua, near Honolulu with multiple locations throughout the state.
Dick's family first came to Napa Valley in the mid 1970s and like a number of vintners in the valley we've met with; his foray into vineyards and winemaking was purely accidental. As Dick admits he never originally had the "green thumb" – his extent of growing was a few radish seeds in a petri dish in Biology class which promptly germinated and then died the next day! This is ironic considering his son is now his own vineyard manager. Dick came to a tasting at Freemark Abbey and the owner of The Wine Country Inn at the time, Ned Smith (still there by the way), showed him some nearby real estate that contained a large run-down Victorian with much of the property suffering the throes of abandonment. Incidentally, Ned's son Jeff would much later start Hourglass. After looking at the property for merely 15 minutes Dick and his wife Ann decided to purchase it on site with the seeds of a vision that would eventually lead to one of Napa's most sought after wines.
When we caught up with Dick Grace he had just returned from a long trip to Asia – part of which was focused on efforts to help victims of the terrible earthquake in Sichuan, China that occurred in mid 2008. He spoke of meeting a policeman who ran into a burning building after the earthquake to rescue a child. He came back out with the child, already partially on fire – threw the kid to a bystander and immediately ran back into the building to get another child in what was a total selfless act. Dick spent 4 years in the military and now travels the world for his Grace Family Foundation; he knows and has seen his share of heroism. He spreads his help around globally – medical clinics, orphanages, cafeterias, food for schools, eye doctors and getting people off the streets and trained for job skills. A thick album full of photos is a testament to those his foundation has helped. You can clearly see the evidence of Grace's support in this album – photos of injured or otherwise neglected small children are shown next to pictures of their smiling faces, taken much later in life. The contrast between these photos is enough to convince anyone the power someone has in their grasp to help others.
Dick is not a hands-off helper – he is often on site of major natural disasters finding out where his foundation can be most useful. Case in point was after the 2004 tsunami he was on a small island in the middle of the Andaman Ocean helping 16,000 survivors of the 24,000 who lived here before the Tsunami hit. At the time of this review, Dick is 70, an age when many people are already retired however he keeps a packed schedule and is busier than people half his age. In addition, his foundation runs several major projects including a medical clinic in Katmandu Nepal which sees hundreds of clients daily. What the Grace Family has done with their wine is essentially use it as a vehicle to help close the gap between those who are needy and those that are not… using "wine as a catalyst for healing the planet". Due to his wine, he has met people in positions to financially help from around the world who are now part of his humanitarian efforts. Initially he was more focused on fundraising and then distributing the money – now he hand-picks places and projects to support as well as devoting his efforts to raising consciousness about charitable endeavors. He often brings potential donors with him on trips. As Dick says, for the cost of one bottle of wine at a fine restaurant you can educate, clothe and feed well, a child for an entire year. That helps put his charity efforts in perspective….it doesn't take much.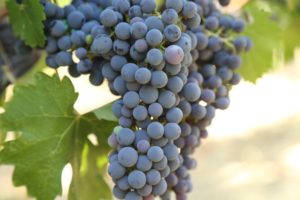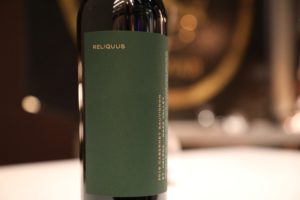 Over lunch in the mid 1970s a friend told Dick that part of his land would make a wonderful vineyard. Thinking this would be a good experience for the family with no thoughts about any commercial wine ventures, they planted 1 acre of vines. Jim Barbour (very early in his career) and well-respected viticulturist Laurie Wood planted the first vines in 1976. Their philosophy in the late 1970s regarding the spacing of grapevines was ahead of their time. They felt that grapevines need to struggle to build character and as a result they planted the vines very close together – much more so than most of the vineyards at the time. Closer spacing means much more labor-intensive work as well as lower crop yields. During the first harvest, they brought the grapes to Caymus winery in bins sitting in the back of a number of station wagons. These grapes were going to be used in a blend for Caymus but after Charles Wagner the owner of Caymus tasted the fruit, he decided it was such good quality that it deserved to be made as standalone wine…thus the beginning of Grace Family Vineyards. A young Randy Dunn was Caymus's winemaker at that time.
Their first harvest was in 1978 and the wine was made at Caymus Winery for a number of years until the winery was built on their property. The small but very functional winery is located merely feet away from the closest grapevines. Only the highest quality French oak is used with aging ranging anywhere from 18 to 40 months. Only one vintage saw 40 months – when for whatever reason the fruit really benefited by this extra aging. Gary Brookman who also makes wine at Miner Family has been their winemaker since June of 2001. Other notable winemakers for Grace Family have included Charles Wagner, Gary Galleron, Heidi Barrett and Helen Keplinger. Harvest is always a fun time at the winery – since day one it has always been about friends and family helping pick the grapes. Each year more than 100 people show up to help with the crush – with a number coming from around the world.
They have several small vineyards planted on the bench-land hillsides of the Mayacamas mountains north of St. Helena and the grapes for their Grace Family Cabernet Sauvignon come from these vineyards. Dick's son Kirk is a vineyard manager in the Valley and of course manages his family's vineyards. All their vineyards have been farmed organically since day 1, no herbicides or pesticides are used. They have always tried to stay away from the high alcohol highly extracted wines – rather focusing on picking, if possible, when the flavors are there but high sugar levels have not yet been reached.
Select Wines
Grace Family produces three wines: historically the Grace Family Estate bottling from their property in St. Helena and Blank, from a vineyard in Rutherford. And a more recent bottling, is Reliquus.
During our visit with Dick, we tried several barrel samples of the 2007 vintage, the first being the 100% Grace Family Cabernet Sauvignon from their estate vineyards. While still very young, this wine already has their noted elegance in the bouquet with a core of layered beautiful fruit that carries all through the palate with flavors of black cherry and plum with a noticeable dustiness anchoring the finish. This wine is soft, elegant supple and very smooth.
The 2007 Grace Family Blank Vineyard is always sourced from a vineyard located in Rutherford and was planted with cuttings from the Grace property; the site has its own unique soil and microclimate. This wine contains more of a spicy herbal note to the bouquet, but it is just as soft and refined as the wine from their estate vineyard. Historically this wine takes a bit longer to evolve than the estate vineyard, but at the time of our taste, already showed a core of rich fruit on the palate.
—
The Grace's have long used their mailing list as their primary distribution of wine. With several thousand people waiting to get on this list, the best way to buy their wine is online – try K&L Wine Merchants or Wally's Wine or you can sometimes find certain vintages at some of the high-end wine shops in the Napa Valley – ACME Wine in St. Helena or V Wine Cellars in Yountville. All large format bottles are kept exclusively for charity with some of their donations topping the $100,000 mark. The Grace's were involved in the original annual Napa Wine Auction which takes place every June and always raises millions of dollars for charity.
Transition in Ownership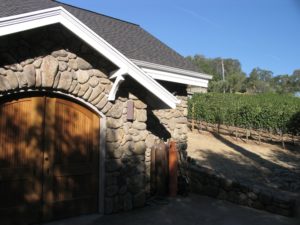 In April 2019, Grace Family Vineyards (winery, property and label) was sold to Kathryn (Kate) and Jeremy Green. Kate's background is in management consulting and Jeremy founded and is the portfolio manager of Redmile Group, LLC, a significant investment firm whose primary portfolio is health care. He is also the board chair for Prince's Trust USA, whose parent organization was started by King Charles (then Prince Charles of Wales) focusing on assisting young people in need with programs and services available in more than 20 countries.
The Greens also own what was the Van Asperen Vineyard located off of White Sulphur Springs Road, west of St. Helena. This site was named after the Ernie and Virginia Van Asperen who used to own this property; they were founders of Round Hill wines and of Rutherford Hill Winery. Incidentally the Van Asperen's primary residence was located on top of a knoll on this property they called Round Hill (the namesake for their wine brand).
In 2016 the Cornelius Grove Vineyard was added to the Grace Family portfolio.
Since the Green's purchased Grace Family, with help from winemaker Helen Keplinger and Master Gardener Kendall Smith, a one-acre block of Cabernet Sauvignon dating back to 1957 has been carefully and thoughtfully invigorated. This is among the oldest Cabernet Sauvignon in Napa Valley; other old Cabernet Sauvignon sites include one of Grgich Hill's vineyards and MacDonald in Oakville, both with vines dating back to the 1950s. And Scarecrow at the end of Niebaum Lane has a limited number of original Cabernet Sauvignon vines dating back to the 1940s.
Not yet confirmed, but we were notified that Homage Wine is now an accompanying wine label to Grace Family Vineyards. The inception of Homage was a 5-acre vineyard in Calistoga founded by husband-and-wife Avia and Simon Hawksworth who sold this brand to Kathryn but did not sell her the Homage property.
NOTE: we need to meet with Kate or Helen to significantly update this review and discuss the latest at Grace Family Vineyards and taste current release wines.
—
When we met Dick, he had given away over 9,700 watches helping spread his humanitarian efforts; each watch contains a simple message "Be Optimystic" which is a statement that is essentially integral to their success. We highly value the watch he gave us. For more information or to join their wait list, visit: www.gracefamilyvineyards.com.