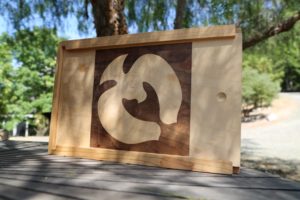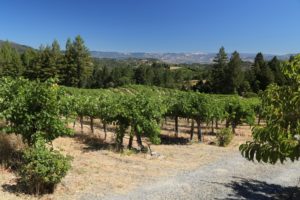 Godspeed Vineyards is managed by a father son team Larry and David Stricker. Founder, Larry Stricker, is a renown architect of International world-class resort hotels who decided to become a grape grower and vintner in the mid 1980's. He designed the Phoenician in Scottsdale, Arizona, the Marriott Desert Springs Resort and number of properties in Hawaii.
He produced his first vintage in 1991. Their vineyards range in elevation between 900 and 1500 feet on the slopes of Mt Veeder (for reference, Mt. Veeder's summit is 2690 feet in elevation). Their higher vineyards often receive a dusting of snow in the winter. Some redwood trees surround the vineyards; the Strickers decided to leave all redwoods when they originally planted the vines.
Cabernet Sauvignon does very well here; this variety from their vineyards is highly sought after and often commands a much higher price than other area Cabernets. Several buyers have been from out of state including one from New Hampshire who hauled the grapes over 3000 miles in a refrigerated truck!
Godspeed's original harvests were initially sold to other premium wineries; today they select the finest blocks for their own wine while still selling grapes to other wineries.
They concentrate on two European food-friendly styled wines, a Chardonnay and a Cabernet Sauvignon. Mt. Veeder Cabernet fruit in particular is known for its small dense clusters, fruit quantities that are always significantly below the tonnage produced by the nearby Napa Valley floor grown vineyards. Despite being above the valley fog on average it can be colder up here than the valley floor and when it warms up later in the day the mountain slopes help mediate the heat. This makes for a very long harvest often stretching up to parts of 3 months.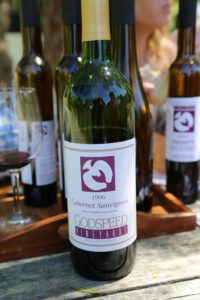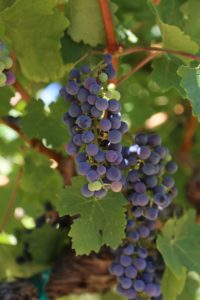 During harvest silver colored strands blow in the wind to discourage birds from eating the actual grapes. You may also hear the "cries of wounded birds" but pay no attention as these noises are coming from speakers strategically located throughout the vineyards to help keep the birds from attacking the ripe fruit.
Godspeed has the luxury of holding back wines far beyond the normal time when most area wineries release their wines. Typically their Cabernet Sauvignon won't be released until it has aged 6 years – and always sees three years in barrel. For the price their wines are some of the better values within the Napa Valley area (especially for a small hillside producer).
Because of the quality of fruit and the style of their Chardonnay, this wine will hold up well with a few years of aging. Over time Larry has decided to use less oak during the aging of this variety – today only about 15% new oak is used. The 2009 (seven years old at the time of our tasting) shows notes of red apple, caramel with pear nuances on the bouquet. It is soft and rounded on the palate – with a textural pleasing creaminess. This is a balanced wine that has certainly developed additional complexities because of it's extended time in the bottle. Good acidity.
The 2006 Cabernet Sauvignon is hitting its stride – at the time of our tasting, 10 years after harvest. Like the other vintages of Cabernet Sauvignon, this wine is 100% varietal. On the bouquet it shows riper plum notes, black cherry and a sweetness – aromatic hints of clove and cinnamon. The bouquet has plenty of life and has held onto the fruit quite well over time. This wine has great acidity and is superbly balanced. Juicy, mouth watering with a red cherry tartness lingering on the finish. Slightly chewy tannins. Very food friendly.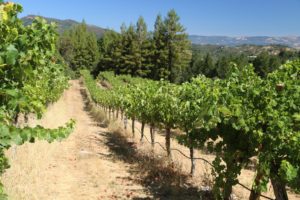 In 2010 Godspeed released their annual Cabernet Sauvignon, but this vintage was a commemorative wine dedicated to a select group of Olympians including Gretchen Fraser, a Gold and Silver medal winner who participated in the 1948 Winter Olympics held in St. Moritz, Switzerland.
Godspeed creates a very unique blend each year (Trinity), roughly with the same percentage of three varieties – including Malbec, Cabernet Sauvignon and Syrah. The 2009 Trinity shows a smoky note on the bouquet (Larry attributes this nuance in the wine from the Malbec planted on site.) Also pretty fruit aromas including blueberry and red cherry. It is a beautiful blend that is very much balanced between fruit, acidity and structure. Earthy somewhat dusty tannins anchor a long finish along with hints of mocha. Nice texture. This is Larry's go to BBQ wine.
In 2010 and 2011, Larry harvested his Chardonnay after it had been afflicted with Botrytis. He did not have much of this wine between the vintages – only about a barrel and a half. He noticed that each vintage produced slightly different characteristics (the 2010 more orange peel zest aromas and the 2011 more honey notes). He combined the two to create this non vintage wine (75 cases produced of half bottles). On the bouquet it shows golden honey aromas, caramel and a dried nectarine/peach component. On the palate it is shows a lovely balance of sweetness and fruit (apricot, honey). For dessert lovers, this is a rare wine produced under the Godspeed label – that is well worth pursing.
An appointment here is for the serious wine enthusiast as they are not open to the general public. A visit is all about the vineyards, the wine and the views in an intimate setting. While the location feels far removed from the traffic of the often busy Highway 29, in reality it is only about a 15 minute drive to the valley floor. And visits include some rare tastings of older vintages. Total annual production is around 1,500 cases.
For more information, visit: www.godspeedvineyards.webs.com
NOTE: possibly no longer producing – last vintage on their website is 2013.