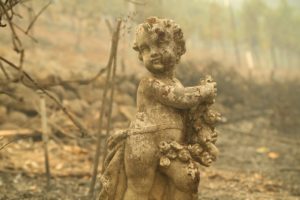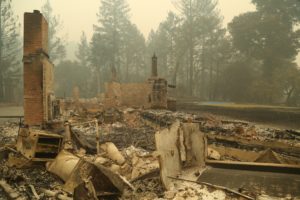 Of all the bad winery and vineyard news that has been reported from the Glass Fire, from a historical point of view – the loss of La Perla hurts *the most*. I mean this was a significant loss, not only for Spring Mountain Vineyard but for all of the Napa Valley. The winery was storing number of old wooden carriages up there dating from the late 1800s, historical winemaking equipment, records, other historical items of interest etc. All gone. And the gorgeous Draper House, perched on a knoll next to some of the best vistas in all of the Napa Valley, with its Thomas Church designed gardens – all gone. The two military barracks built in response to Pearl Harbor are also gone.
The wood carriage near Chateau Chevalier, on the Spring Mountain Vineyard property dating from the 1890s burned up totally. Its not like the Napa Valley has an abundance of these buildings 🙁 Remarkably Chateau Chevalier survived – the aggressive clearing of brush and grass all around the exterior certainly helped its cause.
I know the power of properties well. The feeling I had when walking into old cottages on the west shore of Lake Tahoe prior to being torn down- that my family had stayed in for 4 generations and built cherished memories with both family and friends – was a powerful pull I will never forget. I've never felt something that strong in my life.
Deer Park in particular and parts of Howell Mountain are destroyed. Diamond Mountain was also hit. Numerous homes were destroyed. One we visited early in the week on Heitz Way was still standing – (a friend of the family) surrounded by still flaming hot spots both up in the trees and on the ground. One of their family members stayed up all night spraying the home – and the defensible space behind was well cleared of brush and grass. The fire came right up to the front of the house and scorched the walls but remarkably did not burn the structure.
Prior to the Glass Fire, one of Napa Valley's most prized but private historical collections focusing on wine and mines completely burned in Aetna Springs at Bluford Cellars. The devastation from that fire on the backside of Howell Mountain was bad.
Unlike the 2017 fires in the Napa Valley, from our drive among the most destroyed parts of the valley, this fire appears to have been more devastating to vineyards.
Along with the Tedeschi Family, I've been helping out anyone that needs help this week – we've been doing gasoline deliveries, water deliveries (with two flat beds and 8 totes, at one point we delivered well over 2,000 gallons to one small winery fighting fires coming from behind their property, stopping by friends and small wineries that we mutually know – and any other logistical services. With an adaptor to hook up to a fire hydrant – filling these plastic totes has gone remarkably fast – although we now have a newfound respect for the 'power of the pressure'. And a perspective of where these hydrants are located throughout parts of the north valley.
It felt really good to be directly helping out with the firefighting efforts – and with my extremely intimate knowledge of the valley and where people live, I was able to help firefighters from out of the area identify particular homes, wineries and terrain.
The Tedeschi's have been heroes among many many many others this week – even helping stop the fire as it came right to the edge of Calistoga burning along Highway 29. At least some of the transformers near Calistoga burned – somehow massive generators were moved onto the site already north east of town, heard them most of the night from Calistoga.
Arguably Spring Mountain sub appellation was hit the worst – driving into numerous properties and up Spring Mountain Road with flames still burning in places – the devastation can only be described as apocalyptic. Tiny sections of Spring Mountain survived most did not. It was extremely disheartening to drive past Sherwin Family and Behrens Family among others – hopefully they can rebuild.
At last count the following wineries have sustained significant or total damage to either the winery or other related property: Behrens Family Winery, Bluford Cellars (LNU complex prior to Glass Fire) Burgess, Cain, Castello di Amarosa, Dutch Henry, Eeden, Fairwinds, Flying Lady, Hourglass, Hunnicutt, Marston Family Vineyard, Merus, Ritchie Creek (not producing), Schoolhouse, Sherwin Family, Spring Mountain Vineyard, Sterling, Terra Valentine & Tofanelli.
There might be a few more that will trickle in; we will update this list accordingly.