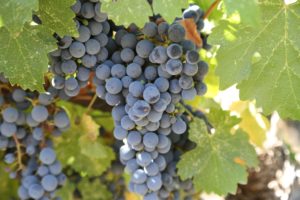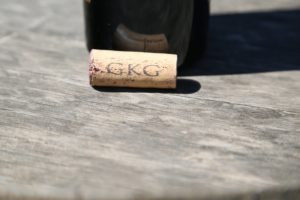 GKG Cellars. When one meets Greg Gorman for the first time, one quickly realizes his enthusiasm for life and people, his passion for wine, and perhaps one is a bit wowed by his photographic accomplishments. After-all he is the one who shot the now iconic black and white photo of Andy Warhol among his numerous other contributions to the film and photo world – spanning a decades long career in Los Angeles since he moved there at the age of 20.
Asking how he got into wine initially, his answer was simple, "by drinking it". He recalls buying his first case of wine in 1974, a Marqués de Riscal Rioja Reserva and even the price all these years later, $6.99 a bottle. While shooting photographs of actors during the filming of the movie Tootsie in New York in 1982 during his down time he would often visit premium restaurants and wine shops. It was here he was introduced to a number of Italian wines, starting his love of wines from Italy. His introduction to Napa came later – and not through the normal channels that most people use to visit the valley.
In 1992 Greg was one of the photographers profiled in American Photo Magazine – highlighting their various passions. For Greg it was all about the wine – he posed holding a bottle of 1982 Silver Oak and a larger format bottle of 1982 Chateau Petrus (the Petrus being a gift from Julio Iglesias after a photo shoot). Somehow Silver Oak spotted the feature and invited Greg to visit the winery – this was his first trip to Napa Valley.
Over the years and many visits later, he has come to know many of the vintners in the valley – and considers many of them close friends. But it wasn't until one day in 2007 that a phone call from St. Helena ultimately led to his own Napa wine. Although not immediately. Karen, the owner of ACME Wines in St. Helena knew that vintner Dave Phinney was looking for a photographer to shoot an image for a new label. She already knew Greg and when she told him of the project – he was immediately intrigued having already been familiar with Orin Swift Cellars and some of the wines that Dave produced.
Agreeing to the photo shoot in exchange for wine – Greg held the photo shoot in Dave's offices in downtown St. Helena. Long time vintner Vince Tofanelli (whose old head pruned vineyard in Calistoga provided some of the fruit for Dave's new wine) came down to the office along with a tattoo artist who created a temporary tattoo on his weathered hands. Greg recalls the lighting on the day of the photo shoot was excellent with sunlight streaming in through the upstairs office windows (and not needing to add much in the way of artificial light). The resulting image is now one of Napa's most iconic and recognized labels, Papillon.
Greg has since done additional photo shoots for Dave including of Mannequin and the Funeral Pyre wines in which some 200 computers were lit on fire in a dramatic fashion – with select images chosen from the burning.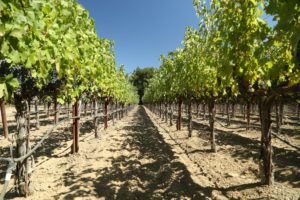 During a dinner with Dave Phinney, Dave posed a question similar to the following to Greg, "is there anything you would like to do in Napa Valley" and as they started talking more Greg realized it might be nice to make his own wine. 2006 was the first vintage – although the first vintage sold and released was from 2007. While Greg lives in Los Angeles he is often in the Napa Valley and his palate is an integral part of whenever they do their final blending sessions.
The wine making is each year is highly focused – creating one Cabernet Sauvignon from the same block within the historic Lewelling Vineyards in St. Helena each year. Lewelling Vineyards is one of the oldest continuously-owned family vineyards in Napa Valley with family roots dating back to 1864 when the family patriarch John Lewelling moved to St. Helena. The vineyard itself is located at the base of the Mayacamas mountains on the western side of the valley. The vines grow on rich benchland soils; several premium producers source from this vineyard – Greg was introduced to the property by Dave Phinney.
Select Wines
In a rather remarkable vintage variation, it is interesting to try both the 2014 and 2015 wines side by side.
The 2014 GKG Cellars Cabernet Sauvignon reveals a pretty bouquet with layers of dark fruit including blackberry and black cherry; a sweetness shows as the wine breathes including hints of Graham cracker. Well layered on the palate including an intensity from mid palate through to the finish. Shows flavors of dark plum, hints of tobacco with more red fruit showing on the finish including raspberry and hints of mocha. Somewhat savory; like the 2015, shows excellent acidity. There are no harsh edges to the tannins – the finish is smooth. Compared to the robust 2013 vintage in general the 2014's are more approachable in their youth including this wine.
The 2015 GKG Cellars Cabernet Sauvignon is aromatically elegant – showing bright aromatics of red fruit including cherries with notes of cedar box and a sweetness of crème de cassis. As it opens becomes a bit more floral. Medium bodied on the palate this wine is extremely approachable in its youth. Shows a nice seamless quality between fruit, acidity and structure. Offers good acidity with flavors of berries, and red licorice. Also a perceptible dry rock element. Polished tannins lead to a very clean finish. Drinks very well by itself.
—
And if you are wondering what the K stands for in GKG Cellars – it is Greg's middle name, Kemp. The wines are selectively found in both northern and southern California including locally at Back Room Wines in Napa and Acme Fine Wines in St. Helena. In Los Angeles the wines are found at Ago, Chateau Marmont, Spago and at Wally's Wine.