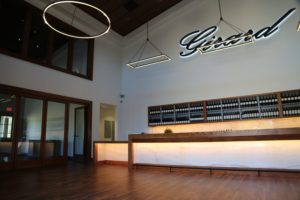 Girard Winery. In the years since its founding vintage (1975) Girard has somehow survived the decades and undergone a remarkable transformation both in various site locations, wines produced and ownership. Its roots are with Steve Girard (died in 2004), an integral member of Kaiser Corporation who served as president and executive of several Kaiser companies and his son Steve Jr. The Girard family decided to purchase land in Oakville (Steve Girard was getting ready to retire from Kaiser); they acquired land bordering the Silverado Trail and Oakville Cross Road in 1974. At the time, they also owned property in Yountville near Domain Chandon. Ultimately Steve Jr ran the operations and built a winery in 1980.
At one point the Girard wines were served at the White House and also taken on a state visit to China by President Reagan. Steve Jr. eventually sold the winery in 1996 to Leslie Rudd, the current site of Rudd Winery. Steve and Carol Girard then moved to Oregon to focus on Pinot Noir and built and operated Benton-Lane Winery located northwest of Eugene before selling in early 2018 to Napa Valley based Huneeus Vintners (owners of Quintessa Winery). Steve Girard and Augustin Huneeus Sr. were longtime friends. We have visited Benton-Lane Winery – see our photographs at the end of this review.
Girard Winery stopped producing wines for several years until vintner Pat Roney, a founding partner of Vintage Wine Estates based in Santa Rosa (along with Leslie Rudd of Rudd Winery – died in May 2018), Michael Stewart and Chuck Sweeney, one of the founders of Napa's Vine Cliff Winery, purchased the Girard Winery name in 2000. Today Vintage Wine Estates has become a significant player in the wine worlds of Napa and Sonoma and beyond- with the acquisition of a number of winery properties and vineyards in both counties. In Napa, as of our latest update – in addition to Girard, they own Clos Pegase, Cosentino, Delectus and Swanson (all reviewed separately on this website).
Pat was past President of several Sonoma Valley wineries & the iconic wine shop, Dean & Deluca. He is also a partner in the well-regarded custom crush facility south of the city of Napa, Bin to Bottle.
And the wines have been made in a number of locations over the years, including at a small winery on Pritchard Hill above Oakville where we first visited Girard many years ago. This property is currently owned by Napa Valley vintner Dave Del Dotto.
Calistoga Winery
After breaking ground in May 2017 by early fall 2018 construction was completed on a 32,000 square foot solar powered winery – located almost across from Clos Pegase at 1077 Dunaweal Lane (just south of Calistoga). The location is certainly convenient as the parent company, Vintage Wine Estates – also owns Clos Pegase. Up until the winery opened, for a number of years, Girard was technically a Sonoma County winery as the wines were made in a warehouse location near the town of Sonoma.
The hospitality center opened in mid-October 2018 and the first harvest in the winery was also this same year. The property was planted to approximately 5 acres of vines in 2019 (varieties used in their Artistry Blend) plus two blocks in the front of the winery – both head pruned, one for mixed whites and one for mixed blacks/reds. All of these vines are not trellised, rather are head-pruned, a tribute to how vines in the valley used to be managed. Acreage in the back (on the south side of the winery) is planted to several Bordeaux varieties.
Visits are available by appointment – and wines available for tastings tend to be more limited production wines focusing on wines from vineyards in Calistoga. And some of their wines are rare finds for Napa Valley including an old vine Gamay and a Mourvèdre. Some of their neighboring vineyards are quite historic – an old vine head-pruned Zinfandel block borders the western part of their property (which they source fruit from) and the old vines of Tofanelli Vineyard (planted in the 1920s) borders the western side of their property.
Weather permitting, guests can enjoy wines outside on their patio overlooking vineyards. The interior is spacious with seated tastings in one of their private rooms adjoining the main entrance.
Select Wines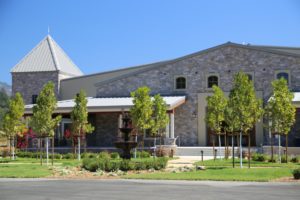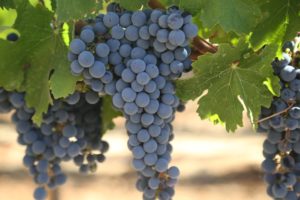 Girard's motto could easily be "high quality wines at affordable prices". In general, their wines have appealing mouth feels (even in their youth), big aromatics and are reasonably priced. While Girard sources grapes for many of their wines, they also own several vineyard parcels in the Napa Valley. One is 5 acres surrounding the winery in Calistoga and the other is a small piece of land planted to Sauvignon Blanc located several miles north of St. Helena.
The 2017 Girard Mixed Whites, North Coast is a blend of Viognier, Riesling, Grenache Blanc and Albariño. Straw yellow in the glass, initially smells sweet – very tropical in its aromatic presentation with aromas of guava, passion fruit and ripe peach. Rounded and very soft – almost oily in feel, this wine is like velvet on the palate. Finishes clean with a slight tang of citrus. Two takeaways from this wine are its lovely aromatics and its very supple texture across the palate.
The 2016 Girard Mourvèdre, Napa Valley was sourced from the Juliana Vineyard in Pope Valley. Originally all of this variety was going to be a component included in a GSM blend, but their winemaker decided it was too good on its own and made a separate 100% varietal Mourvèdre bottling. The wine spends 16 months in oak before being bottled. Offers a pretty bouquet that is fruit forward and slightly savory. Layered but very balanced, the wine focuses on the depth of flavor rather than structure. Fresh, lively with plenty of red fruit flavors the wine shows excellent acidity. A clean finish lingers with fruit rather than tannin (this is a variety that sometimes is known for its tannic nature) along with a hint of mocha. Very approachable.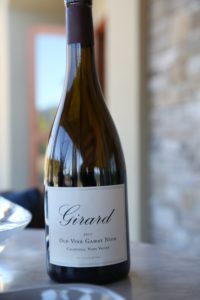 Under the impression that a 100% malolactic fermented Chardonnay always produces a wine that is buttery. Not so. The Girard Chardonnay uses a type of yeast that doesn't create huge amounts of diacetyl, the byproduct of fermentation which commonly contributes a "buttery" characteristic to Chardonnay. As a result, the 2007 Girard Russian River Chardonnay is crisper than one would expect, with lively fruit anchored by a long-lasting finish with a generous helping of toasted almond and other nut-driven nuances. This vintage delivers an impressive amount of fruit both on the bouquet and the palate.
A wine of note is the 2006 Girard Old Vine Zinfandel. This is 77% Zinfandel (some vines up to 100 years old) with 23% being a mix of Rhone varieties. We've long wondered which vineyard is the highest one in Napa County. Look no further – the Harris Blue Ridge Vineyard which provides some of the Zinfandel fruit for this wine is Napa County's highest vineyard at about 2700 feet in a remote part of the county on the slopes of Mt. Vaca next to the Solano County line. Other high vineyards in the Napa Valley are on Howell Mountain (Black Sears), Atlas Peak (Kongsgaard) and Mt. Veeder (Merryvale owned Altezia, formerly Lampyridae), but certainly none as high as this one. The style of this wine is more refined and elegant rather than being dominated by ripeness and high alcohol with overly spicy notes that we've tried in Zinfandel from other Napa producers. Today Cosentino Winery (part of Vintage Wine Estates) produces a Zinfandel from this vineyard.
Harris Blue Ridge Vineyard

Girard is best known for their Artistry blend which incorporates five primary Bordeaux varieties. Aside from the great aromatics and appealing fruit characteristics on the palate, the price of this wine has always been attractive. Their Petite Sirah tends to be a muscular styled wine from a small berry clone sourced from a fairly warm weather location (Calistoga) – as a result produces very rich concentrated flavors.
Their Limited Release wines are generally under 1000 cases and are not sold online or distributed.
The 2005 Girard Diamond Mountain was their first vintage using Diamond Mountain fruit; their winemaker had past experience with grapes from this appellation; this is a very appealing wine. Smooth and soft with juicy fruit this wine sees extended maceration; texturally the tannins are well managed. The Girard Cabernet Franc is only bottled as its own variety during "high quality" years and when produced is only available in limited quantities.
And in 2017 a 2014 Girard Cabernet Sauvignon was served at a US State dinner in which US President Donald Trump hosted Chinese President Xi Jinping.
CLOSED SPACES
The Flight Deck, Santa Rosa
Also under ownership of Vintage Wine Estates was The Flight Deck tasting room. It was originally located in downtown Healdsburg (neighboring Sonoma County) on the east side of the downtown plaza (see our photos below) but for a short while moved to Santa Rosa Airport (STS). It was located outside of the actual airport terminal and was open to all visitors – not just those who have boarding passes. Unfortunately, it closed before we even had a chance to visit.
This tasting room offered a number of wines from the wineries within the Vintage Wine Estates Portfolio, including from Girard Winery and others based in Napa Valley. Visitors were able to order wines by the glass or opt for one of their tasting flights. This tasting room also included a wine shop.
The site can was also used to host private events such as dinners or lunches. And The Flight Deck offered their own wine club called Kitchen & Vine.
Original location

Yountville Tasting Room
This space closed permanently on May 31, 2021. For many years, Girard operated a beautiful tasting room open to the public, located right next to Kelly's Filling Station & Wine Shop in north Yountville (called NoYo if you are a local, a Yountie). This tasting room is in Washington Square, a collection of small shops and tourism related businesses within walking distance of a number of hotels, restaurants and other tasting rooms. Yountville is small enough that if you are up for a walk, you can make this tasting room and this part of town a a morning or afternoon destination. The tasting room is modern with both a tasting bar and tables for seated tastings. A sandpapered effect on the white paint on the walls provides a nice touch in the main room.
Girard used to offer two private by appointment sit down tastings in their Yountville VIP lounge. Both tastings included current releases as well as select limited release and library wines – one tasting is paired with a variety of cheeses and charcuterie items. As with the town of Napa, Yountville has seen a significant increase in premium tasting spaces.
During the summer, Girard's Yountville tasting room was regularly open later than most tasting venues – usually until 7 or 8pm. They were also setup to host private events from several to 100 people including receptions or full-service sit downs. As they say at Girard, there is "always something happening at the tasting room". Special days included chocolate and wine and cheese pairings, a library wine day and more.
—
For more information, to schedule a tasting and or to join one of their wine club options, visit: www.girardwinery.com
Winemaking

Hospitality

Winery Construction

Benton-Lane Winery, Willamette Valley OR (not associated with Girard Winery)